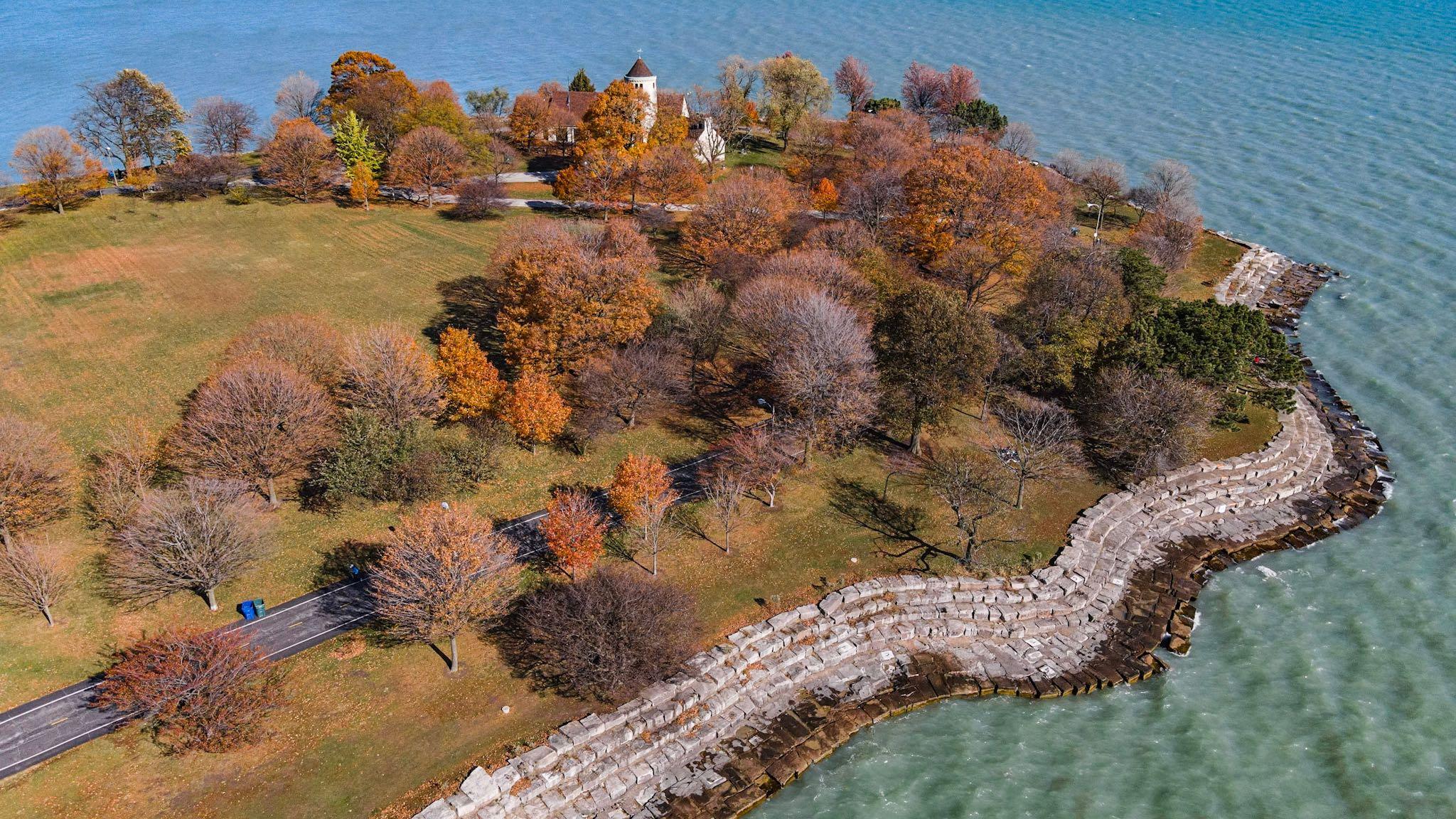 Promontory Point, on the south lakefront, is beloved for its natural aesthetic, designed by noted landscape architect Alfred Caldwell in 1937. (Preservation Chicago / Eric Allix Rogers)
A federal evaluation of Chicago's shoreline by the U.S. Army Corps of Engineers will no longer include Promontory Point — because the Point is getting a review all its own.
On Monday, the Corps, city of Chicago and Chicago Park District — all partners in the Chicago Shoreline Project — announced that work on the lakefront project will move forward in separate phases.
Since 1996, nine miles of the city's shoreline have been rehabilitated to guard against future erosion and storm damage. In late 2022, the Corps' Chicago District received funds to develop a General Re-evaluation Report for the remaining miles of Chicago's lakefront, along with any rehabilitated sections that aren't performing well. The study is expected to cost $3 million and be completed in 2025, according to a statement from the Corps.
Promontory Point was carved out of the scope of this general review because the money for the planning of its rehabilitation is coming from different sources.  
The city is picking up the $5 million tab to fund the design of shoreline protections for the unique peninsula, which juts into Lake Michigan between 54th and 56th streets. Any design is expected to incorporate preservation of the Point's historic stair-step limestone revetment, officials said. The city will issue a request for proposals later in 2023.  
The Corps received $450,000 in federal funds to perform a third-party review of whatever design the city selects for Promontory Point. According to the Corps, this activity was originally authorized by Congress in 2007 but had not been funded until now.
Given Promontory Point's listing on the National Register of Historic Places and its current application for Chicago landmark status, the review by the Corps will need to consider whether a design meets standards for both storm risk reduction and historic preservation.  
"The project partners are confident that the city's design, coupled with the third-party review, will result in a rehabilitation plan that preserves the limestone and historic character of this important segment of shoreline in a manner that is consistent with the Secretary of Interior Standards for Historic Preservation," the Corps said in a statement.
Disentangling Promontory Point from the broader shoreline project will allow design and construction at the Point to move forward sooner, the Corps said, adding that there will be opportunities for public input at various stages of the process.  
Contact Patty Wetli: @pattywetli | (773) 509-5623 |  [email protected]
---