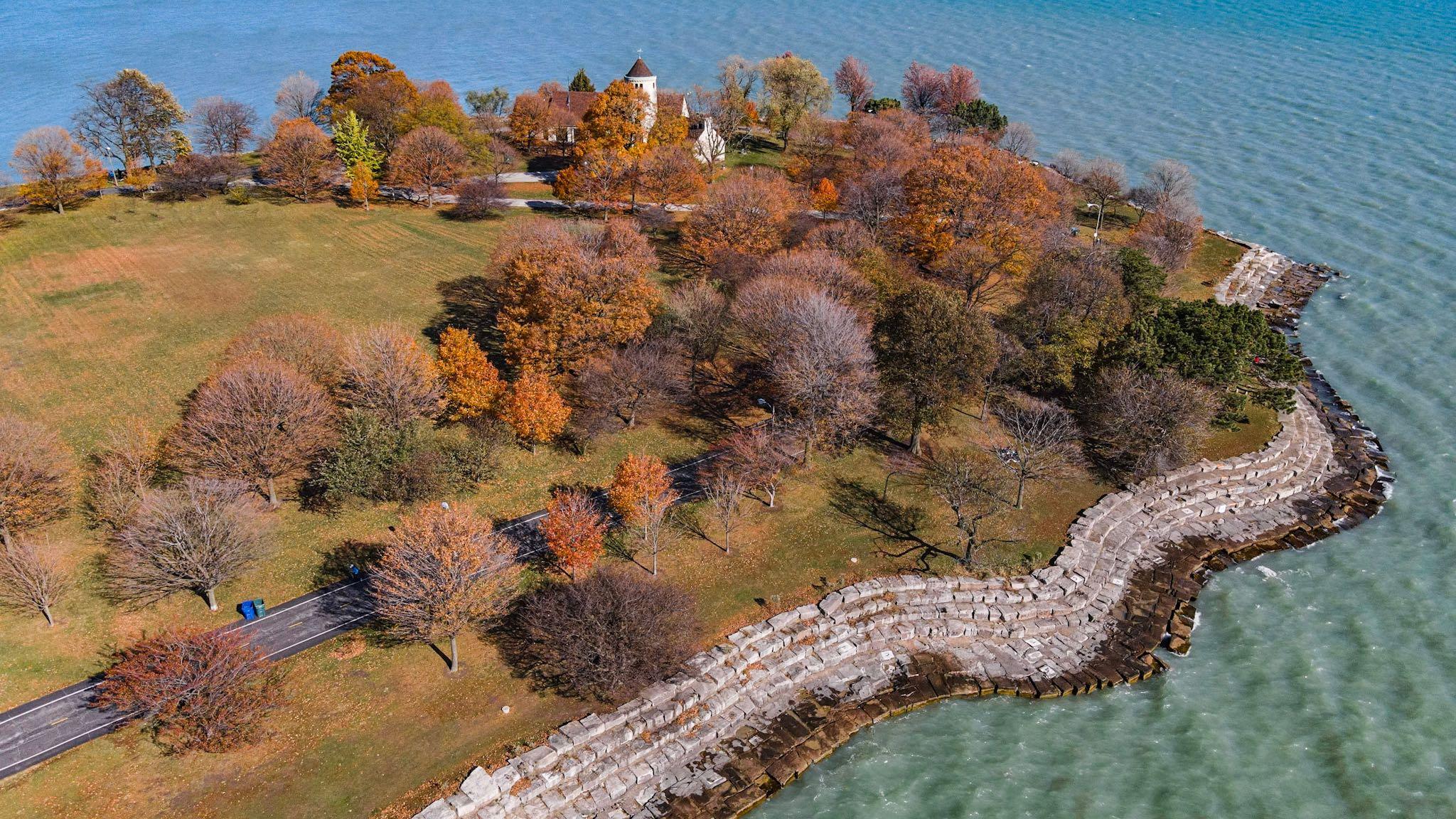 Promontory Point. (Eric Allix Rogers / Preservation Chicago)
Concerns that the Chicago Park District would derail the bid to landmark Promontory Point proved unfounded, as the district's Board of Commissioners unanimously voted Wednesday to consent to the proposed designation.
Applause rang out from supporters of the Point as Myetie Hamilton, board president, announced, "Motion carried."
"This is a tremendous moment for the community and for Ald. (Leslie) Hairston, who have been fighting side by side for 23 years to protect and preserve the unique and historic limestone revetment at Promontory Point. We are now one step closer," Jack Spicer, founder and president of Promontory Point Conservancy, told WTTW News.
The stair-step limestone revetment became a point, no pun intended, of contention back in 2001 when a proposal was floated to replace the rocks with concrete, as part of a shoreline protection project.
Fans of the rocks beat back that plan, and today the revetment at the Point is the lone remnant of a limestone wall that used to stretch for miles along the Chicago lakefront.
The Army Corps of Engineers replaced the limestone with concrete elsewhere along the lakefront as part of a shoreline protection project. With the Army Corps revisiting protections on the south lakefront, the Point's limestone once again appeared vulnerable to removal — Preservation Chicago even placed the Point on its "most endangered" list.
Heather Gleason, director of planning and development for the Park District, told board members the Park District, along with the Army Corps and Chicago Department of Transportation, believe they can create a solution that manages erosion at the Point while maintaining the limestone.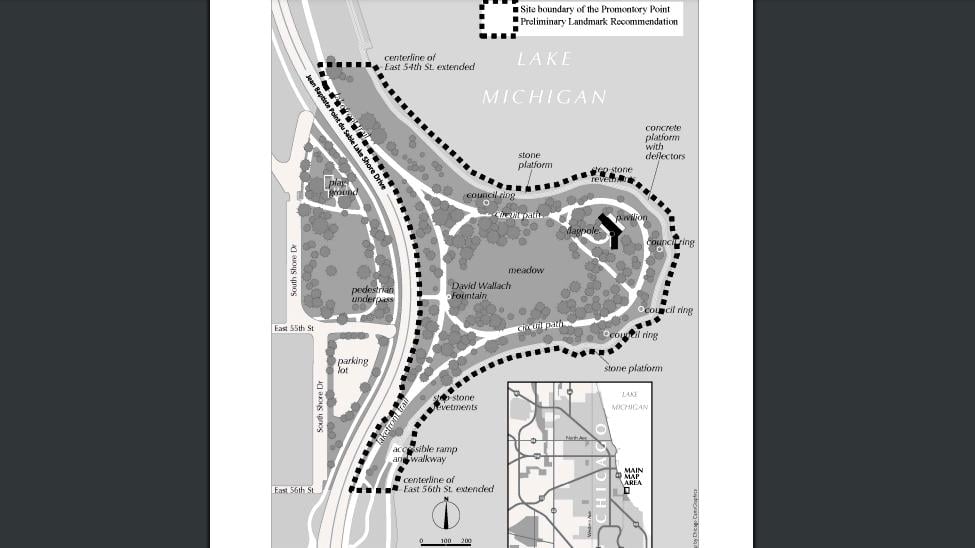 Map of the proposed landmarked features of Promontory Point. (City of Chicago)
Promontory Point, a manmade peninsula that juts out into Lake Michigan between 54th and 56th streets, was built between 1922 and 1939. The landmark designation proposes to preserve not only the limestone revetment but also the general landscape plan designed by famed landscape architect Alfred Caldwell, among other features.
Though Promontory Point is listed on the National Register of Historic Places, Chicago landmark status affords even greater protections, giving the Commission on Chicago Landmarks review authority over any work permits.
The commission has already given the Point preliminary landmark status, which affords the same protections as a final designation during the landmark process. A final vote from the commission and City Council approval are next steps for the Point.
Spicer said advocates for the Point will continue in their watchdog role, making sure standards and legal guidelines for preservation are followed by all the various agencies and commissions involved.
Contact Patty Wetli: @pattywetli | (773) 509-5623 |  [email protected]
---