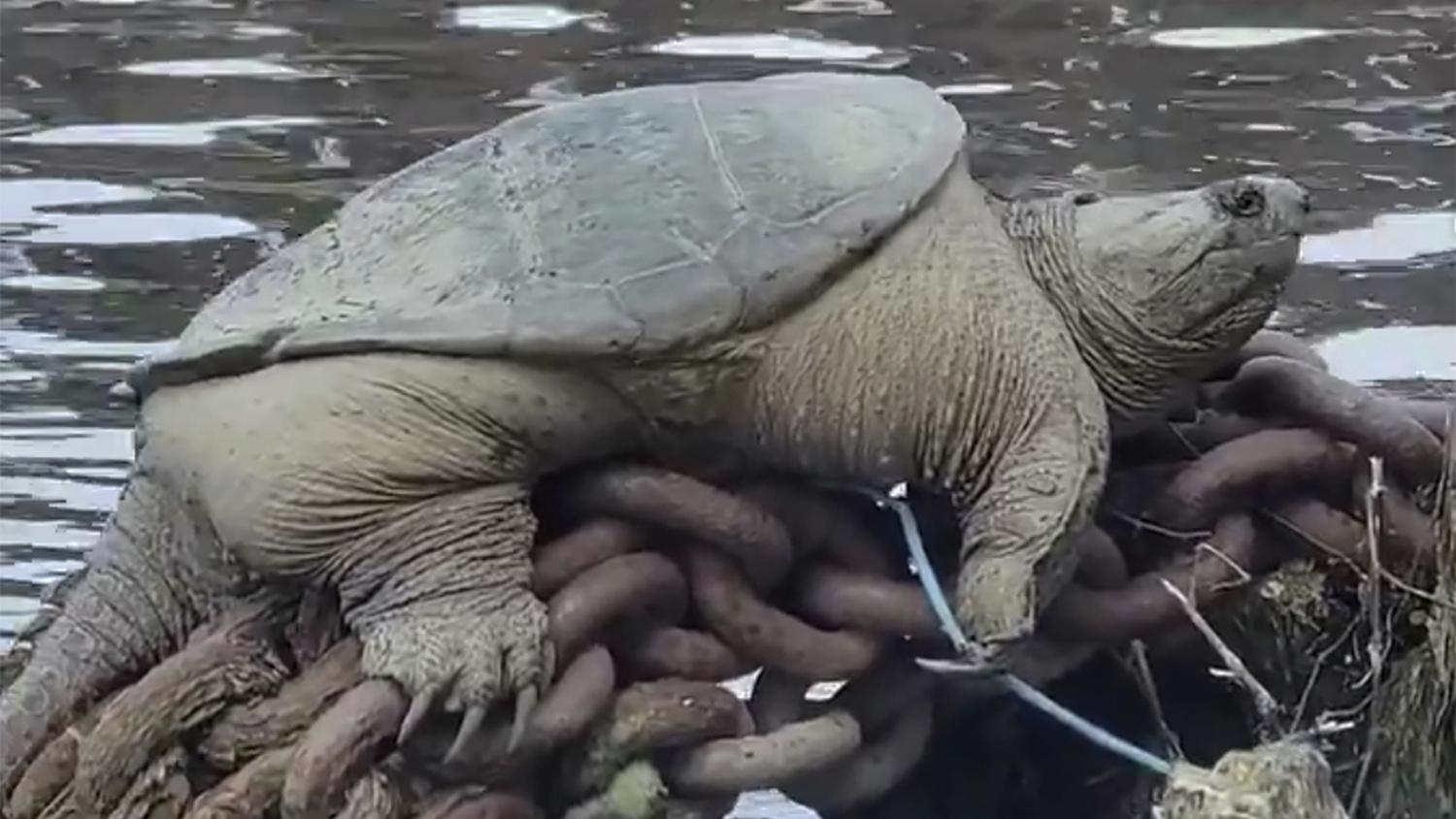 This photo provided by Joey Santore shows a snapping turtle relaxing along a Chicago River. Footage of the plump snapping turtle relaxing along a Chicago waterway has gone viral after Santore, who filmed the well-fed reptile, marveled at its size and nicknamed it "Chonkosaurus." (Joey Santore via AP)
Move over Chance the Snapper, there's a new viral sensation in Chicago.
"Chonkosaurus," a super-sized snapping turtle spotted sunbathing in the Chicago River, has become the darling of the internet and global media outlets thanks to a tweet shared by Joey Santore, known to WTTW News fans as "the YouTube botanist with a thick Chicago accent and foul mouth."
Chicago River Snapper aka Chonkosaurus. Great to see this beast thriving here on what was once such a toxic river, but is slowly getting cleaned up & restored. Somebody planted a bunch of native plants up the river from here, too. I can only wonder this things been eating. pic.twitter.com/u6bhlpo4p5

— Joey Santore (@JoeySantore) May 6, 2023
What separates Chonk from Chance is that the alligator, captured in Humboldt Park's lagoon, was likely an illegal pet dumped into the pond. The turtle, on the other hand, is a native, thriving in a waterway that, as Santore mentioned, is seeing a resurgence in wildlife thanks to restoration efforts.
Projects to improve water quality and habitat range from the installation of floating wetlands to dam removal to enhanced wastewater processing.
With Chonk drawing so much attention to the river, it's worth mentioning that Friends of the Chicago River will celebrate its annual River Day on Saturday, with cleanups scheduled at more than 70 sites.  
For a better chance of seeing Chonk or one of his relatives up close, Shedd Aquarium and Urban Rivers both have volunteer opportunities that'll get you on the water, or consider joining Friends of the River in July for its annual float party. 
Just remember, snapping turtles are named that for a reason — hands off.
Here's what else caught our attention this week.
Greenhouse Gases
The U.S. Environmental Protection Agency proposed new pollution standards for power plants this week, and while environmental organizations have largely cheered the news, some have responded with a, "Yes, but...."
In order for coal and natural gas-fired plants to meet the EPA targets, they will likely have to rely on technologies including carbon capture and storage, as well as clean hydrogen — neither of which has been widely adopted in the U.S.
Carbon capture in particular has generated heated debate in states like Illinois, where opposition is mounting against the construction of underground pipelines to carry the toxic carbon dioxide gas under farmland, rivers and other property. Storage of the gas, via injection into rock such as Illinois' sandstone, has also raised questions about potential leaks. 
A bill has been introduced to the Illinois legislature (HB3119/SB2421) that would put in place protections such as requiring environmental impact and geohazard analyses.
"The impacts of fossil fuel generation go far beyond the fenceline. That's why HB3119 is needed in Illinois — to set meaningful climate standards for all facilities attempting to use capture carbon technology and ensure Illinois' communities and the climate are protected at the next steps of the carbon capture industrial cycle, through pipelines and at disposal sites," said Christine Nannicelli, Sierra Club Illinois' Beyond Coal senior campaign representative, in a statement to WTTW News.
---
Birds
It's World Migratory Bird Day on Saturday and this year's event isn't just a call to action for the protection of migratory birds but also the water and aquatic ecosystems the birds rely on for life. 
Among the scary stats: 35% of the world's wetlands have been lost in the last 50 years.
In Chicago, the Great Lakes piping plovers have become the poster child for birds endangered by loss of shoreline habitat. As a reminder, here's what World Migratory Bird Day is fighting for:
It's Your Daily Imani!
Friday, May 12, 2023
Imani is confirmed present at Montrose this morning.

Demond Rock McDonald (Imani, Montrose Beach Dunes, Chicago, May 2023) #piperwatchchi2023 #chicago #birdwatching pic.twitter.com/mqznnzv4yL

— Chicago Piping Plovers (@ChicagoPiping) May 12, 2023
---
Parks
Supporters of Promontory Point on Chicago's south lakefront are celebrating the Point's recent designation as an official city landmark. As a reminder of how long people have been fighting to preserve the Point's natural limestone steps, Promontory Point Conservancy shared this video, dating back to the original opposition against the Army Corps of Engineer's plan to replace the rocks with concrete.
Watch the video and tell us this footage from 2001 doesn't look positively ancient. 
Missing the Point from Joe Winston on Vimeo.
---
Tweet of the Week
For everyone marveling at Chonk, the husky turtle, here's a reminder that far, far larger creatures once roamed Illinois.
Happy #FossilFriday! Check out this collection of mammoth teeth we're using for a collections-based research project with a student at @VanderbiltU. These teeth come from a variety of places, including Illinois. #fossils pic.twitter.com/LxU6JvGFHJ

— Illinois State Museum (@ILStateMuseum) May 12, 2023
---
Contact Patty Wetli: @pattywetli | (773) 509-5623 |  [email protected]