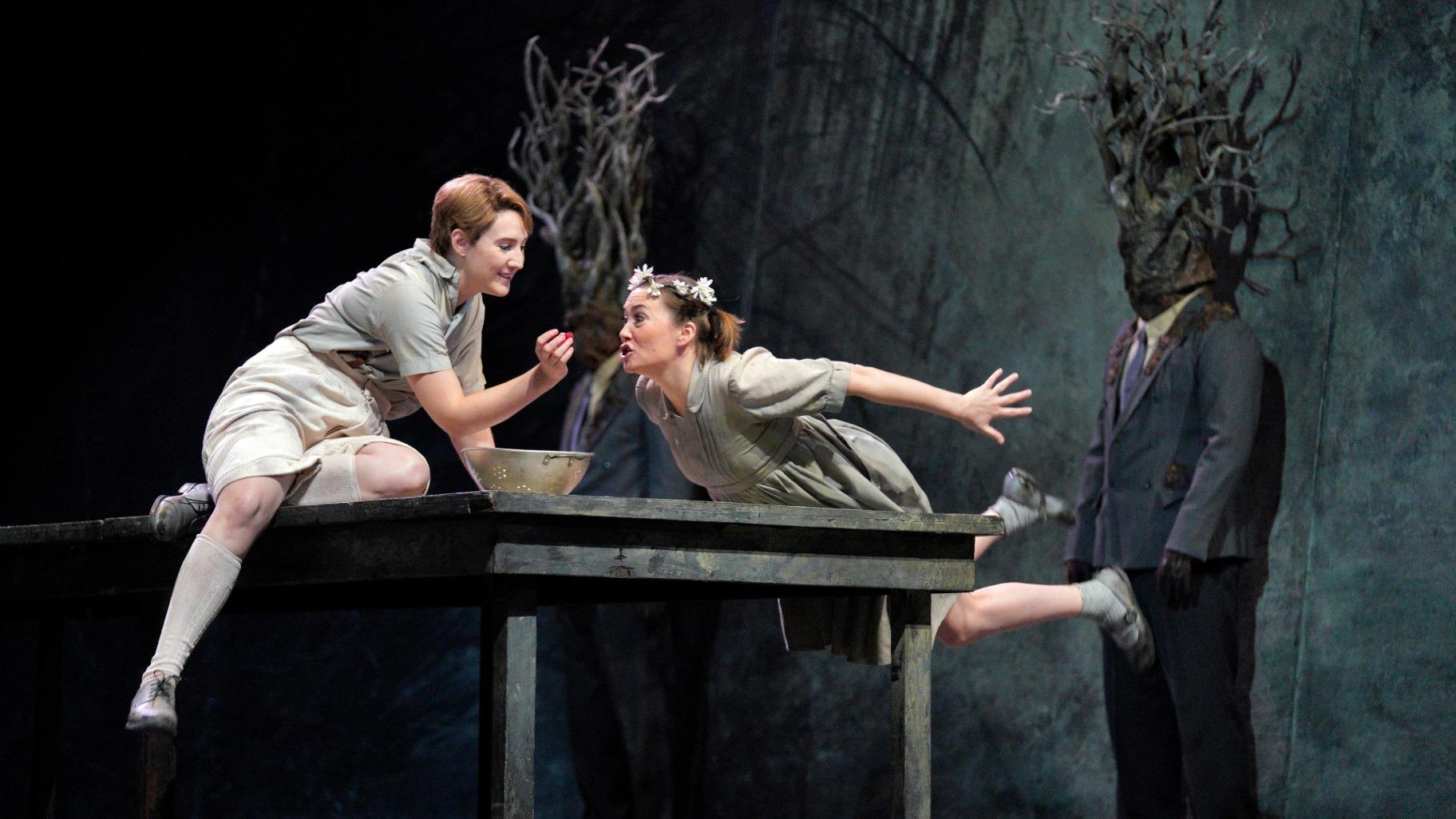 Samantha Hankey as Hansel and Heidi Stober as Gretel. (Cory Weaver)
Fairy tales do come true, but sometimes they arrive on the stage in the most fantastical way. An ideal example of just how wonderful such a transformation can be is now on stage at the Lyric Opera House, where a production of Engelbert Humperdinck's "Hansel and Gretel" — with a libretto by Adelheid Wette, based on the ever-popular story by the Brothers Grimm — proves to be an altogether richly imaginative dramatic, musical and visual treat.
Sung in German with English supertitles, the original and wonderfully ingenious production devised by British director Richard Jones is now in a captivating revival ideally directed by Eric Einhorn. And it comes with a brilliant set design by John Macfarlane (lit by the ever-brilliant Jennifer Tipton). Crucial to setting the theme of the opera are the act-defining curtains emblazoned with the subtly changing image of an empty white dinner plate with a blood-red edge framed by a knife and fork. At one point, the image of a truly ghoulish open mouth with giant white teeth appears. Along the way, other features of the set are the all-important ovens that suggest the story's theme of hunger (whether for food or emotional connection), in addition to a dreamy forest and a giant edible gingerbread house.
Before the start of the opera's opening night performance, Anthony Freud, Lyric's president and general director, made the noteworthy announcement that Sir Andrew Davis, who served as Lyric's music director from 2000 to 2021, has been named its music director emeritus. Davis has conducted 700 opera performances at the Lyric alone. And from the moment he arrived on the podium Wednesday night to lead his 701st performance, it was clear that Humperdinck's beautiful score, the splendid musicians of Lyric's orchestra and the production's ideal cast were in superb hands.
The opera's exquisite overture was exceptionally alluring, as was the later arrival of a spirit-raising group of children with heavenly voices who are part of Uniting Voices Chicago (formerly called the Chicago Children's Choir), led by its outstanding chorus master, Josephine Lee.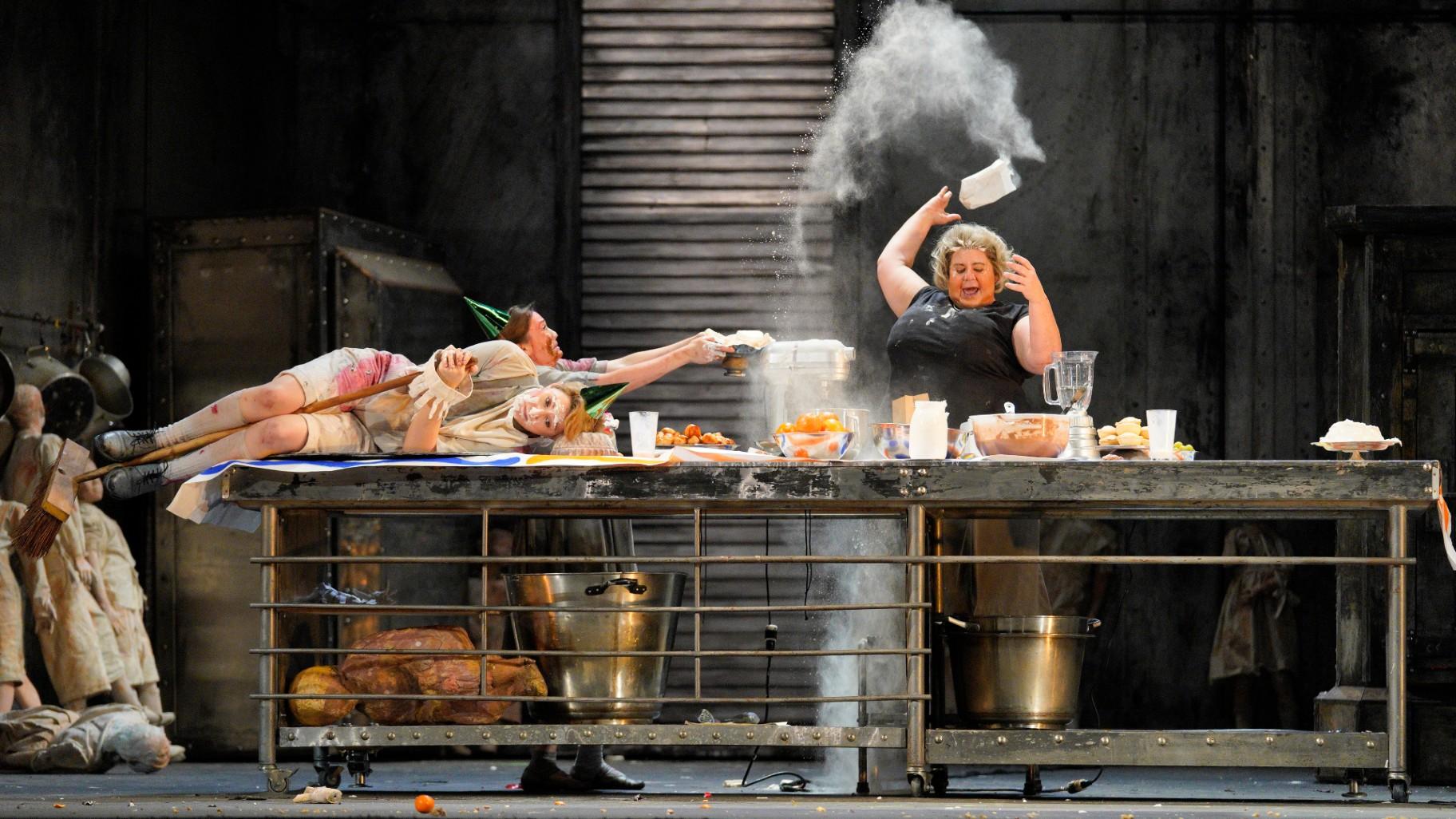 Samantha Hankey as Hansel, Heidi Stober as Gretel and Jill Grove as the witch. (Cory Weaver)
But back to the story, and to the leading performers who are excellent actors, as well as singers.
At the center of this tale, of course, are the ever-hungry siblings. Mezzo-soprano Samantha Hankey takes a deft turn in the pants role of Hansel, and, as Gretel, his high-spirited sister, soprano Heidi Stober gives a most engaging performance. Both singers are deft movers and display a great deal of youthful energy that suggests their affection for each other, as well as their frequent bursts of frustration.
Soprano Alexandra Lo Bianco plays their mostly angry and unloving mother, while the exceptionally rich-voiced bass-baritone Alfred Walker portrays their father in a way that suggests both his affection for his children and his indulgence in alcohol. The family's largely empty plates and shabby kitchen capture their situation.
And then things begin to change in many directions as Hansel and Gretel's mother sends the children into the forest that is home to a wicked witch (played by Jill Grove, an expertly mean mezzo-soprano). Hansel and Gretel have been ordered to collect strawberries, but they hungrily devour them and are then put to sleep by the Sandman (soprano Denis Velez, who later plays the Dew Fairy who awakens them). It is at this point that the children see the mouth-watering gingerbread house. And it is now that the witch makes plans to roast Hansel in her giant oven.
Of course, you surely know how all this ends (with great thanks to Gretel). And, finally, a family is reunited.
"Hansel and Gretel" has a very limited run, with just a handful of remaining performances through Feb. 5 at the Lyric Opera House, 20 N. Wacker Drive. For tickets, visit lyricopera.org/hanselandgretel or call (312) 827-5600.
Follow Hedy Weiss on Twitter: @HedyWeissCritic
---