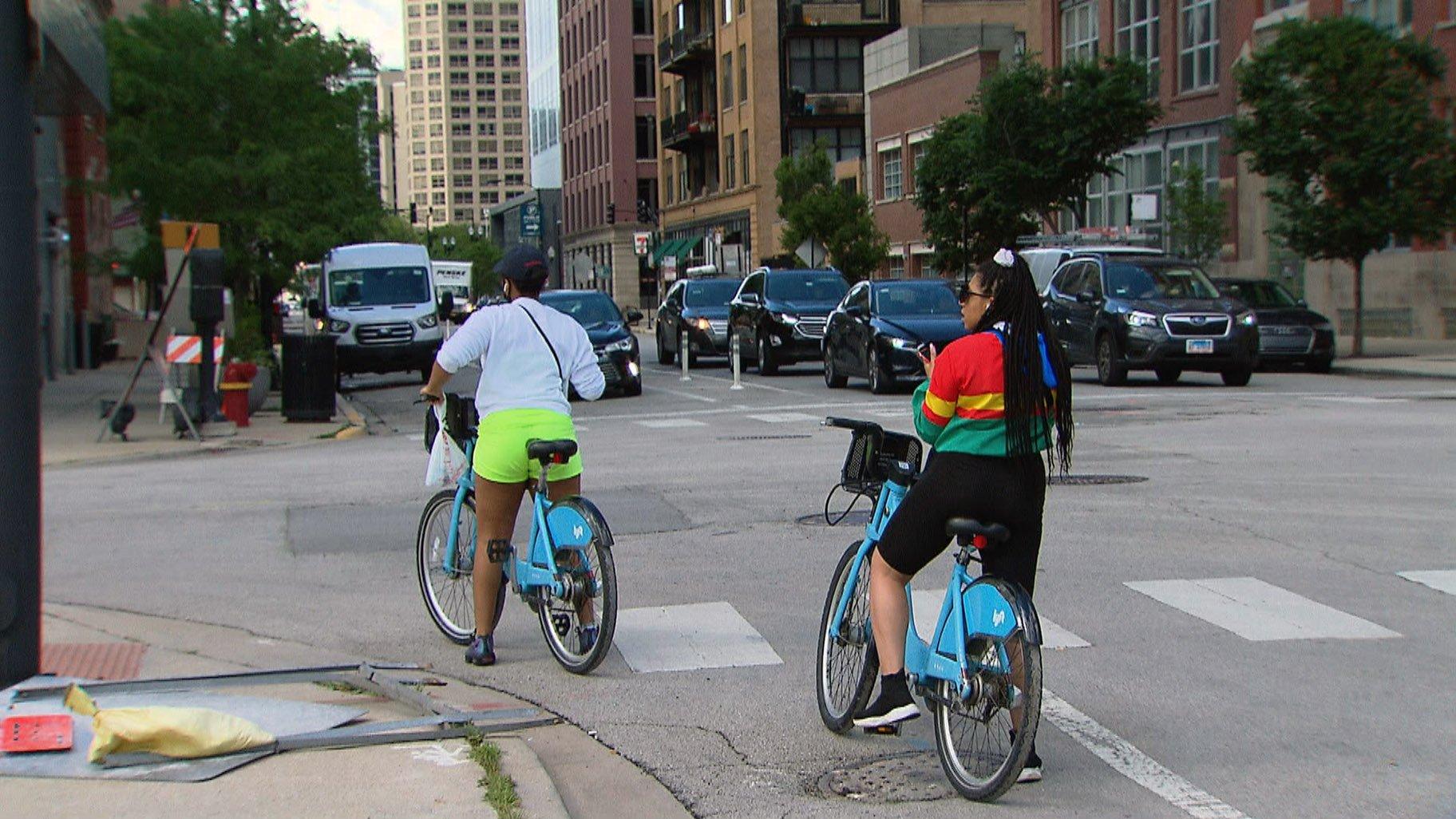 (WTTW News)
A proposal designed to clear blocked bicycle lanes spurred by the death of a 3-year-old girl in Uptown in June cleared a key city panel on Thursday.
The vote by the City Council's Transportation Committee took place six months after 3-year-old Lily Shambrook died while riding in a carrier on her mother's bicycle. After a ComEd truck parked in a bike lane forced her mother to go around the vehicle, a semi-truck struck the bike, killing the toddler.
The measure set for a final vote Wednesday would give employees of the Department of Finance — not just members of the Chicago Police Department — the authority to order the vehicle blocking the bicycle lane to be ticketed and towed.
It does not make any sense to require that a Chicago police officer document that a bicycle lane is blocked before a tow truck from the Department of Streets and Sanitation is summoned to remove the vehicle, according to supporters.
The measure would also require signs to be posted if a bicycle lane must be closed to allow permitted work to take place warning bicyclists about the closure and telling drivers they must yield to those on two wheels.
Violating that provision could trigger fines of between $500 and $2,000, and lead to the revocation of the firm's permit, according to the ordinance.
The proposal would also increase the fines for those who park in bicycle lanes without causing a crash from $150 to $250.
If approved, the measure would also require the Department of Finance to propose a pilot program to test how to automate enforcement on the ban on blocking bicycle lanes by Feb. 15.
A separate measure, backed by Ald. Andre Vasquez (40th Ward) and Ald. Brendan Reilly (42nd Ward), would have allowed any resident to submit a complaint about a blocked bicycle lane to the city's 311 system with a picture. That measure did not advance.
Chicago Department of Transportation officials told WTTW News they use complaints to 311 "to guide enforcement and identify hotspots to improve public safety," not issue tickets.
Chicagoans can send in 311 requests virtually at 311.chicago.gov and using the city's CHI311 app.
For years, cyclists have complained that the city has fallen down on the job when it comes to enforcing people who drive or park their cars in bike lanes. The obstruction forces cyclists to enter mixed traffic, which can be potentially dangerous.
Contact Heather Cherone: @HeatherCherone | (773) 569-1863 | [email protected]