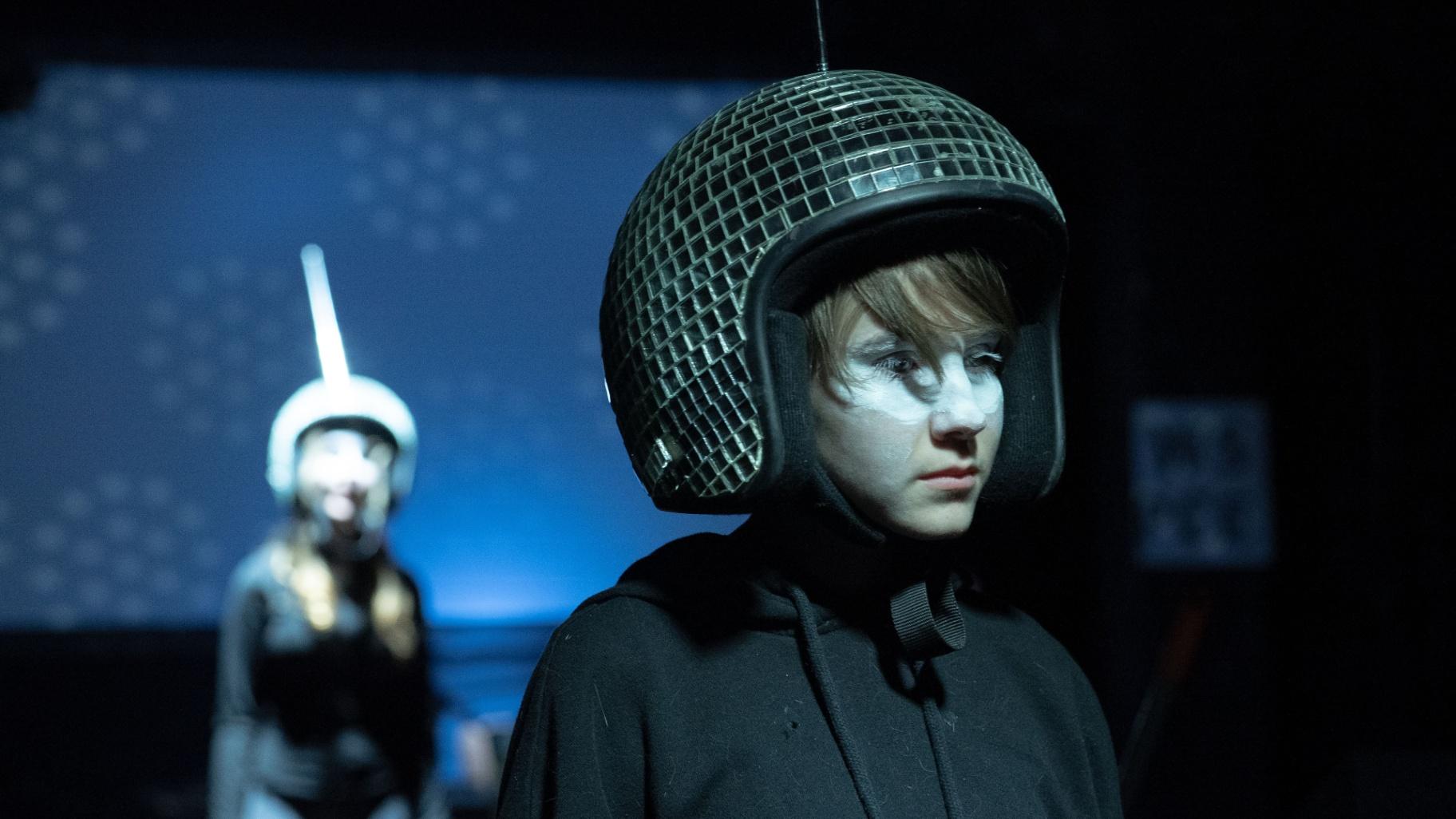 Frank Maugeri addresses the possibility of going to space in his latest production, "The Icicle Picnic: Journey for the Sun." (Liviu Pasare)
Given the current state of planet Earth — whether in terms of brutal wars, ugly politics, urban violence, ecological meltdown, looming pandemics and financial chaos — the concept of heading to outer space might not seem altogether out of the question. And leave it to Frank Maugeri to address the possibility of doing just that in his latest production, "The Icicle Picnic: Journey for the Sun." Maugeri has been an ingenious creator of theatrical spectacles for three decades; his biography for his current company, the aptly named Cabinet of Curiosity, credits him as "artistic director, producer and designer of unique art, education, ceremony and events ranging from intimate miniature scale to mammoth public spectacle."
Staged in the intimate 100-seat downstairs studio space of the Chopin Theatre (a unique building located in Chicago's Polish Triangle that dates back to 1918 and has been kept alive and thriving for years by Zygmunt Dyrkacz and Lela Headd Dyrkacz), the production features a cast of five experienced performers, as well as the initial appearance of six "pageant ensemble youth performers." And winningly stealing some of the spotlight during the course of this 75-minute quasi-science fiction work are a number of fantastic puppets that range from a gargantuan, silvery robot to a giant sun to a small but expressive man in the moon. They are the wonderful creations of set, prop and mask designer Caitlin McCloud.
But back to the humans for a bit, with Michelle Billingsley, Sadie Roz Glaspey and Mark Piekarz as three siblings who run a down-on-its-luck drive-in movie theater somewhere in Indiana. Their popcorn machine takes on human form by way of Yuri Lane, a most engaging jazz-meets-beat box musician and actor who welcomes the audience in fine style. Joining this eccentric gathering is a most engaging cow played by Time Brickey, a terrific tap dancer and actor. Forming something of a talking chorus are the six members of the show's youth ensemble (Avie June Schubert, Selah Herrera Helphand, Delilah Lane, Theo Maciukenas, Lorenzo Borutzky and Cat Nichols).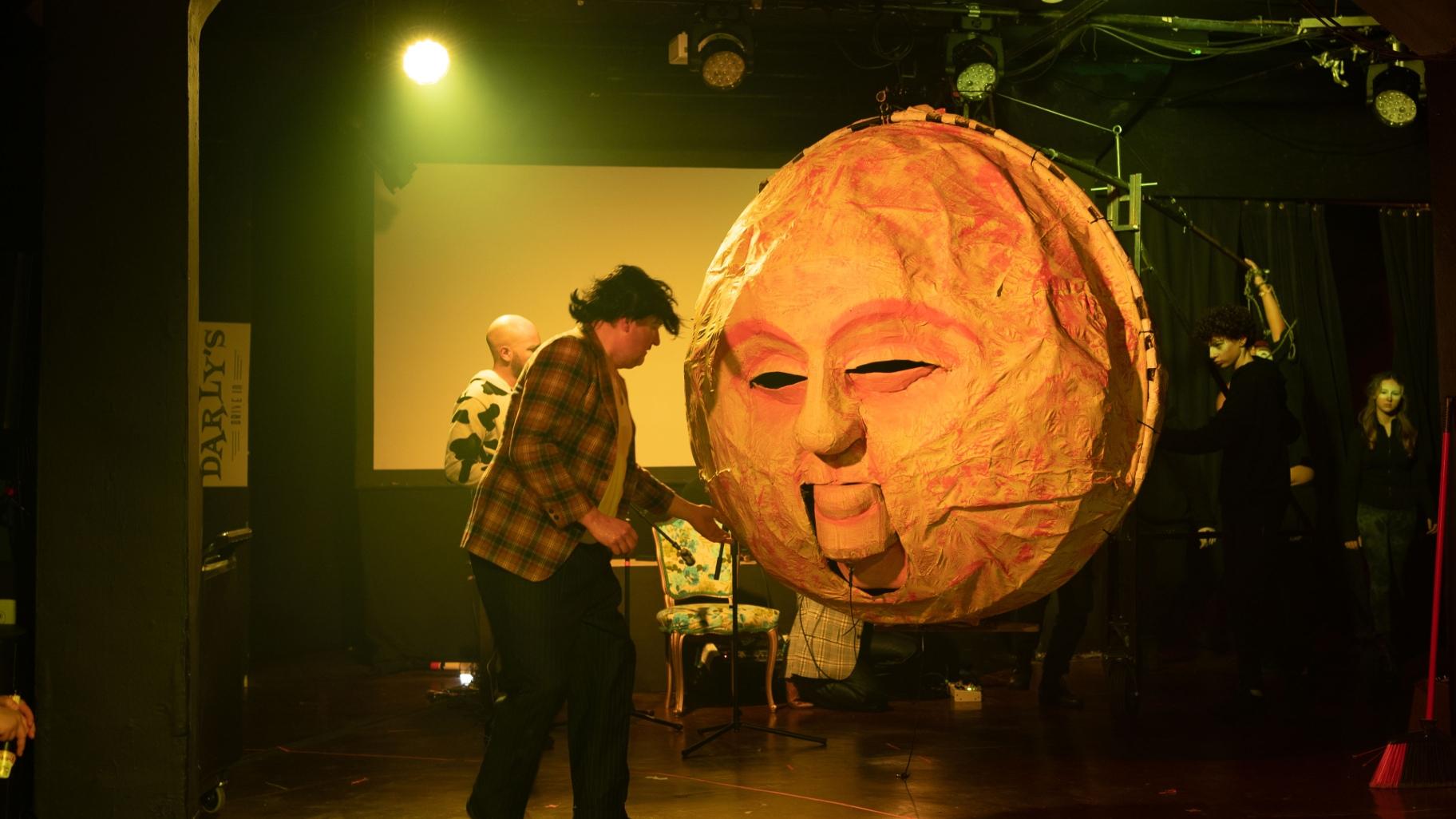 Frank Maugeri addresses the possibility of going to space in his latest production, "The Icicle Picnic: Journey for the Sun." (Liviu Pasare)
What sets the story in motion is the realization that Earth is getting hotter and hotter. Interplanetary radio warnings from outer space suggest that earthlings had better save themselves by embarking on the long journey to outer space (a place they've never known), even if they really have no idea how this can be done. And at this point, I should confess that some aspects of the story (written by Seth Bockley and "collaboratively directed" by Maugeri and several of the actors) had me a bit lost at times. At moments the dialogue itself got lost, whether as a result of a lack of vocal projection and diction or amplification.
Yet the overall journey was great fun and full of imagination, wit and craftsmanship. And the hope-filled, upbeat conclusion of the show was a genuine spirit lifter, with the native inhabitants of outer space making the spot-on observation that while earthlings have made many serious mistakes over the years, they still deserve to survive due to their many inspiring innovations, artworks, songs and more.
"Journey for the Sun: The Icicle Picnic" runs through Jan. 15 at the Chopin Theatre, 1543 W. Division St. For tickets, visit cocechicago.com.
Follow Hedy Weiss on Twitter: @HedyWeissCritic
---