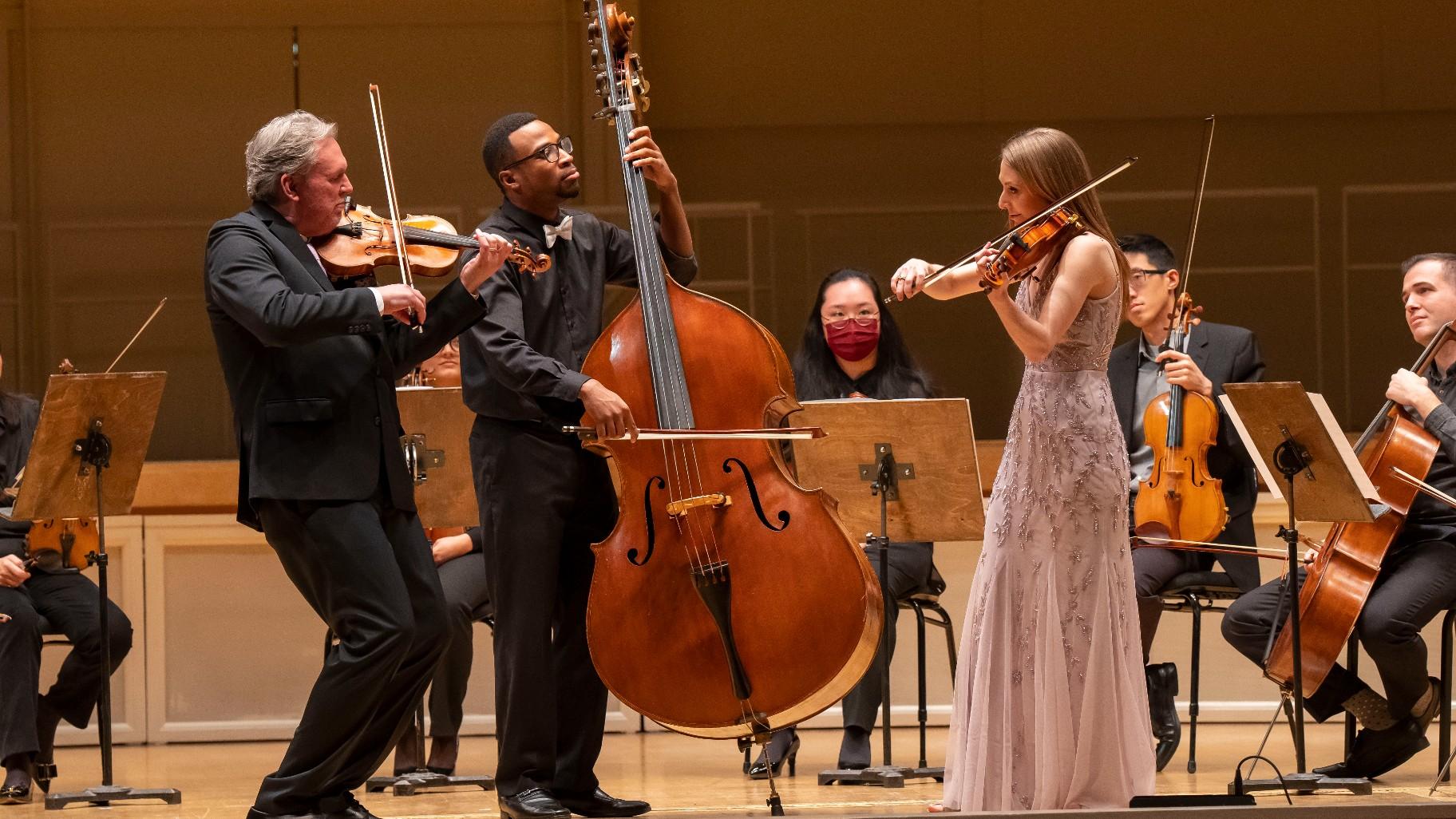 Violinist Mark O'Connor, bassist Xavier Foley and violinist Maggie O'Connor perform an encore at the CSO MusicNOW concert on Nov. 21, 2022. (Credit: Todd Rosenberg)
Something old, something new and something subtly borrowed. Altogether, something totally original is created.
That only begins to capture the captivating intermarriage of classical, modern, jazz and Irish music at the root of the immensely engaging works that comprised "Common Ground," the CSO MusicNOW concert performed at Orchestra Hall last week.
The exhilarating program featured five works by two composers — bassist Xavier Foley and violinist Mark O'Connor. All were superbly performed by various combinations of the composers, plus musicians drawn from the Chicago Symphony Orchestra, and guest violinist Maggie O'Connor.
Serving as the engaging host was Jessie Montgomery, the CSO's current Mead Composer-in-Residence (and a gifted violinist), who engaged in brief conversations with the two composer/musicians before the performance of each piece, and illuminated the influences and thought processes that went into the creation of the work.
Overall, the concert served as a wonderful example of new works that are highly original hybrids of several different musical styles.
Opening the program were two pieces by Foley, the Georgia-born graduate of the Curtis Institute of Music — a prize-winning, classically trained double bass player with a flair for both jazz and the Irish music he said he first heard on his computer when he was in sixth grade.
For his "Irish Fantasy," he paired with CSO violinist Matous Michal, playing a jig-like piece that was a rich weave of high and low strings, with a winningly tweaked Irish dance rhythm, and a powerful, decidedly modern attack on the bass. A brief but terrific piece.
Next was Foley's "Etude No. 10 (The Dance)," a rare solo work for double bass that was brief but bravura. Infused with a richly rhythmic, at moments playful mix of sounds both classical and modern, Foley drew on the seductive tone of his instrument and engaged in some dramatic bowing.
Then came O'Connor's "String Quartet No. 3 (Old Time)," dating from 2007, and performed by Michal and the composer (on violin), Danny Lai on viola, and Chris Wild on cello. Before it began O'Connor told some wonderful stories about his early connection to the CSO (including an encounter, at the age of 12,  with conductor Sir Georg Solti), and his desire to put "contemporary twists and turns on American fiddling" that would transform it into classical music.
The Quartet opened with the violins playing intense traditional dance music before shifting into a bit of dissonant subtext, with each instrument displaying its distinctive voice and the shifting subtleties and intensity of the music.
The viola took hold in the second movement with a beautiful romantic passage and a hint of something else at work, with a familiar Irish sound evoked by the cello. The third movement began with rapidfire Irish-style fiddling that was a fascinating hybrid of virtuosic classical playing and modern intensity. And the fourth and final movement suggested a beautiful reel — but one that could make you think about the complex rhythmic intensity of Irish country music in a new way.
The fourth piece on the program was the world premiere of Foley's "Good Times," a CSO MusicNOW commission scored for two violins (Susan Synnestved and O'Connor), violist Lai and cellist Wild. A quietly seductive work awash in lovely melodies and rhythms, at its most intense moments it also brought Stravinsky to mind before breaking out in wonderfully melded, danceable riffs. Another brief but beautiful work.
Closing the concert was O'Connor's "Strings and Threads Suite," a rollicking compilation of 13 largely familiar folk tunes — from "Sailor's Jig" and "Pilgrim's Waltz" to  "Cotton Pickin' Blues" and "Sweet Suzanne" — that were driven by a virtuosic assemblage of CSO string musicians including the previously mentioned players, as well as violinists Mihaela Ionescu, Nancy Park, Hermine Gagne, Gabriela Lara, and violist Beatrice Chen, and including Foley, and O'Connor and his wife, Maggie O'Connor, a terrific violinist and personality, dressed in an eye-catching sparkling gown.
The O'Connors engaged in a rousing, flirty, high-energy back and forth (she in jazzy riffs and he in a more bluesy vein), with impeccable support from the ensemble. And after many rounds of applause there were two rip-roaring encores that had the audience dancing in their seats by way of "College Hornpipe" and "Sweet Georgia Brown." Great fun.
Follow Hedy Weiss on Twitter: @HedyWeissCritic
---