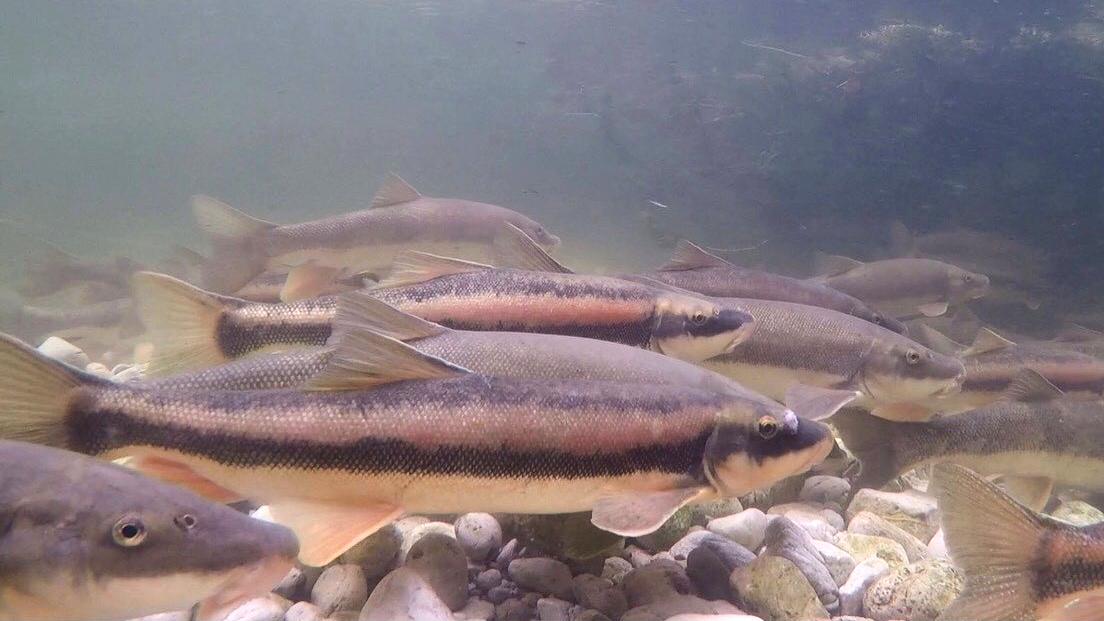 A group of suckers on the move in Door County, Wisconsin. (Courtesy of Shedd Aquarium)
Walking along Lake Michigan or the Chicago River, it's difficult to see beyond the murk and imagine an underwater world teeming with life.
But it's there, promises Karen Murchie, a research biologist at the Shedd Aquarium.
"There's so much activity that is happening," said Murchie. "We have tons of charismatic species in our local waters."
Among them: the sucker, a freshwater fish species that's been dubbed "the wildebeest of the Great Lakes."
The nickname refers to the suckers' "mighty migration," one that, while lacking the grandeur of the wildebeest's pilgrimage across the Serengeti, is impressive nonetheless, Murchie said. 
"I feel like I'm (suckers') PR agent because they haven't tended to get as much love and attention in this area, but they're a really cool species," she said.
Every spring, she explained, suckers begin their annual exodus from the waters of the Great Lakes and head into tributary rivers and creeks to spawn.
"The suckers are very numerous in all five of the Great Lakes and you can get really anywhere from hundreds to thousands or tens of thousands of suckers in the creeks and rivers in the spring," Murchie said. "It's right after ice is off and the snow is melting. It's been a quiet river or creek, and all of a sudden it's full of life with these suckers."
To learn more about the suckers' migratory habits, which haven't been researched extensively, Murchie microchipped 300 of the fish found in a creek in Sturgeon Bay, Wisconsin. Her aim was to see how loyal they are to a particular spawning site. 
In 2019, 204 out of the 300 tagged returned, she said. 
Three years into an ongoing study of suckers, Murchie continues to collect data that ultimately could detect the effects of climate change on the Great Lakes.
She's recruited dozens of volunteers to assist in the monitoring of 17 sites across the sucker's range, from Highland Park to Wisconsin's Door County peninsula, to the Upper Peninsula on the south shore of Lake Superior. Due to COVID-19, six of those sites were out of commission in 2020, but Murchie said she was still able to obtain plenty of solid information.
What Murchie is investigating via her community science project is whether temperature, among other environmental cues, serves as a trigger for the fish to begin migrating. By documenting, over the course of several years, the timing of the spring arrival of the suckers in creeks and rivers, Murchie should be able to discern whether or not the fish are on the move earlier in the year due to warming. 
Here's why that matters: Suckers' waste product provides nutrients for algae, at the bottom of a stream's food chain. "Suckers are basically little gardeners, fertilizing creeks in the spring," said Murchie. The algae, in turn, is eaten by aquatic insect larva, which are themselves food for fish or birds and bats. 
If the suckers' timing is off, it could throw this is entire delicate ecosystem out of whack.
Ecosystem collapse isn't something most Chicagoans think of as happening in their own backyard, if they think of their backyard as an ecosystem at all. That's what makes the work of a freshwater scientist like Murchie more challenging to communicate than, say, her counterparts working to save Australia's Great Barrier Reef.
"We're really trying to not only understand some of the human impacts that we've had on our important local waters," she said, "but also to look for ways to connect with people to say, 'Hey, these amazing species are here. This is what we have to protect.'" 
The Shedd's freshwater projects also include amphibian habitat restoration, an urban aquatic ecosystems research program and freshwater mussel research.
This year, the Shedd's team collected and tagged mussels from 16 different species.
"A lot of times when people hear 'mussels,' they think of the invasive mussels — the zebra and the quagga mussels — but they don't necessarily think about, 'Oh, we've got this whole host of native freshwater mussels in there,'" Murchie said. "The mussels are acting as the livers of the rivers, if you will. They're stabilizing the sediment and keeping our tributaries clean."
It's not glamorous work, but it is occasionally weird.
Under the cover of darkness this past summer, Shedd researchers undertook a project on the Chicago River that passersby could easily have mistaken for a rogue art installation.
Picture plexiglass contraptions lit up with glow sticks — "Like you'd use at a rave," said Murchie — placed under water. The glow tubes were used to lure larval fish, which are attracted to light, and the contraption was, well, a trap.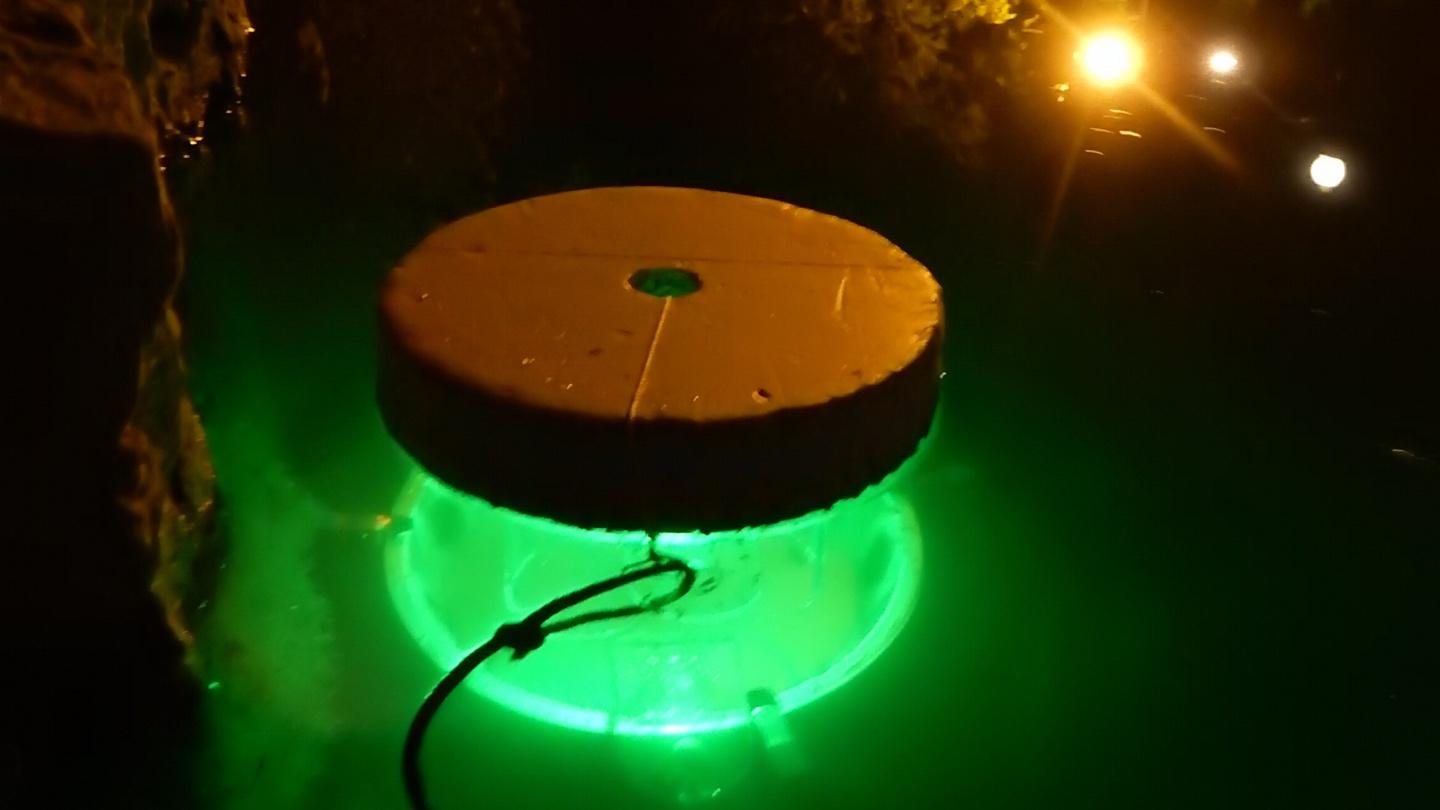 Traps lit with glow sticks attract larval fish in the Chicago River. Scientists from the Shedd are comparing and contrasting larval populations in the river's north and south branches and along the Wild Mile to determine whether floating islands of habitat have any value for aquatic life. (Courtesy of Shedd Aquarium)
Researchers snared the larval fish — the most recently hatched baby fish — in order to compare and contrast the numbers trapped in the north and south branches of the river with those previously recorded along the "Wild Mile," a stretch of artificial floating islands.
"A lot of the understanding of what these artificial floating islands do, people have looked at them in terms of what's happening on the top side of the island. We see turtles using them as basking platforms, or birds stopping and hanging out in that area, or butterflies," Murchie said. "But to a lesser extent, we don't really know are they having a lot of value to the aquatic community. So the larval fish sampling was to see, are we seeing more baby fish around these floating islands? That would be an indicator adult fish might be using them as habitat for spawning."
Healthier habitat for fish equates to a healthier environment for humans, a connection Murchie said she thinks is becoming increasingly apparent to a growing number of Chicagoans.
"We live in a really water-heavy city. We're on Lake Michigan, we have these amazing giant urban rivers that do hold a lot of life. I think people are really understanding how important it is," she said. "I think people, since they couldn't travel as much this year, were spending a lot more time outside their own homes and maybe appreciating what was closer by."
---
Contact Patty Wetli: @pattywetli | (773) 509-5623 |  [email protected]
---