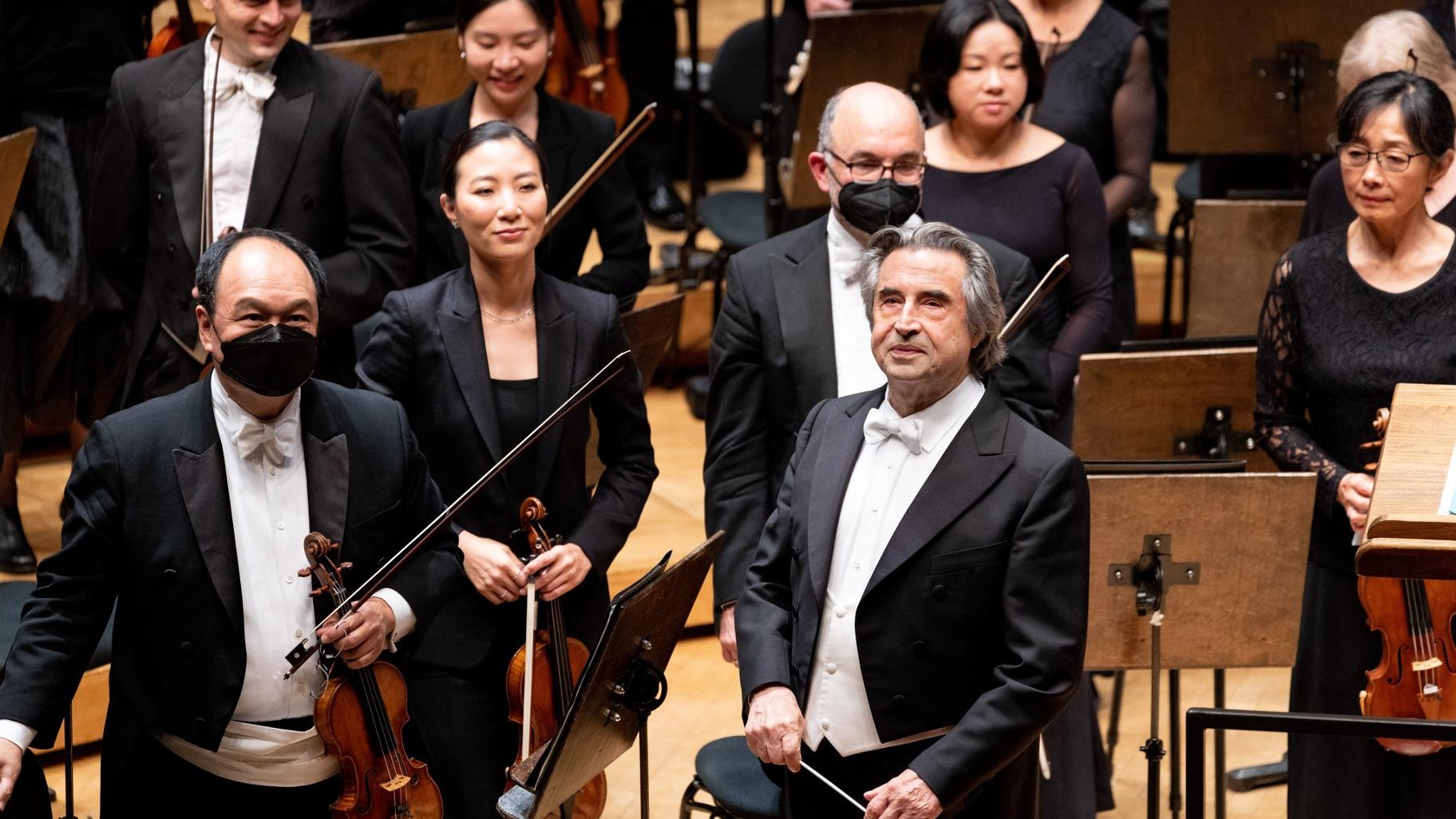 The Chicago Symphony Orchestra performs on Oct. 6, 2022. (Credit: Anne Ryan)
A symphonic poem of exceptional beauty by Cesar Franck. A thrilling, grand-scale performance of a masterwork by Modest Mussorgsky. And a breathtaking rendering of a Mozart piano concerto featuring a young, award-winning pianist who stepped in to replace a revered keyboard artist in ill health.
That is just a brief outline of this past Thursday evening's thrilling concert by the Chicago Symphony Orchestra. And without question the music spoke far louder than any words can possibly suggest.
To start at the beginning, there was Franck's grandly dramatic work, "Le chasseur maudit (The Accursed Huntsman)," a vivid 15-minute piece dating from 1882 that I had never heard played live before. It spins the story of "the savage Count of the Rhine," who had the audacity to charge through the fields on a hunting spree amid Sunday morning church bells, and who, in the process, was severely punished for his sacrilegious behavior.
The piece opened with the blazing sound of hunting horns countered by the beautiful sound of church chimes, and this ideally established the tension between these two worlds as the French horns blazed amid the lyrical sound of the winds and strings. A certain quietude suddenly shifted to an explosive, high-speed "big bang," with Maestro Riccardo Muti and the orchestra ideally capturing a kind of controlled frenzy, from a furious storm of sound to a sudden calm. Thrilling.
Then it was on to Mozart's exquisite "Piano Concerto No. 27 in B-flat Major," which was composed in 1791, just months before his death at the age of 35, and scored for a reduced orchestra of strings, one flute, two oboes, two bassoons and two horns.
Eric Lu performs with the Chicago Symphony Orchestra on Oct. 6, 2022. (Credit: Anne Ryan)
Arriving on stage as soloist was tall, pencil-thin Eric Lu, the 24-year-old Massachusetts-born pianist who has won multiple international competitions, performed with many orchestras throughout Europe and the U.S, and was making his debut with the CSO as the replacement for Maurizio Pollini, the acclaimed 80-year-old Italian pianist.
With his exceptionally long, slender fingers that moved across the keyboard with remarkable fluidity, and with a touch that was at once crystal clear and sublimely expressive, Lu's playing was absolutely stunning and brought fresh life to a familiar work. Gentle, yet at times fiercely energetic, Lu's fingers danced on the keys with both lightness and virtuosity, and he meshed ideally with Muti and the orchestra. To borrow a line from Shakespeare, his interpretation of Mozart came "trippingly on the tongue," with the subtlest shifts in intonation and speed. He made you listen in a special way, with the music taking on a quality of pure poetry.
The concerto's third movement opened with the orchestra at fiery speed and continued with a kind of playful call-and-response brilliance with Lu, a musician who clearly is made for Mozart.
And then came the equally thrilling second half of the concert with a rousing performance of Modest Mussorgsky's 1874 suite, "Pictures From an Exhibition," a celebration of the work of the all-too-brief life of his friend, the Russian-bred artist Victor Hartmann. Originally written for piano, it was later brilliantly orchestrated for a grand-scale orchestra (including a massive assemblage of percussion, two harps, celesta and more) by none other than Maurice Ravel. And from the moment of its familiar opening, with the brass sounding a welcome call into a musical "gallery" evoking the spirit of 10 Hartmann paintings, this was an enthralling experience that in many ways turned the orchestra itself into a great gallery of sound and a multitude of moods.
The choice of this work was planned well in advance of Russia's invasion of Ukraine this past February, so the music of its magnificent final segment, "The Great Gate of Kiev" (inspired by an architectural design made by Hartmann), came with an exceptional emotional heat. The sounding of bells, the clash of cymbals, and the full power of the orchestra signaled a sense of victory. I hope that at some point this work can echo real life.
NOTE: In the next few months, the CSO will be led by a wide variety of guest conductors and guest artists, and will accompany the Joffrey Ballet (Nov. 10-12) in a performance of two world premiere pieces. One will be choreographed by Cathy Marston and set to Wagner's "Siegfried Idyll," and the other by Annabelle Lopez Ochoa set to Rameau's "Suite from Platee"). Also on the program will be Mozart's "Symphony No. 34" and Ravel's "Le tombeau de Couperin."
Also of note, Itzhak Perlman will bring his klezmer program, "In the Fiddler's House," to Orchestra Hall on Dec. 4.
Muti will not be back on the podium in Chicago until Feb. 23-25, with a program of Schumann and Tchaikovsky. But beginning in late January, he will take the CSO out on the road for a North American tour that will begin in Arizona.
For tickets visit cso.org or call 312-294-3000.
Follow Hedy Weiss on Twitter: @HedyWeissCritic
---