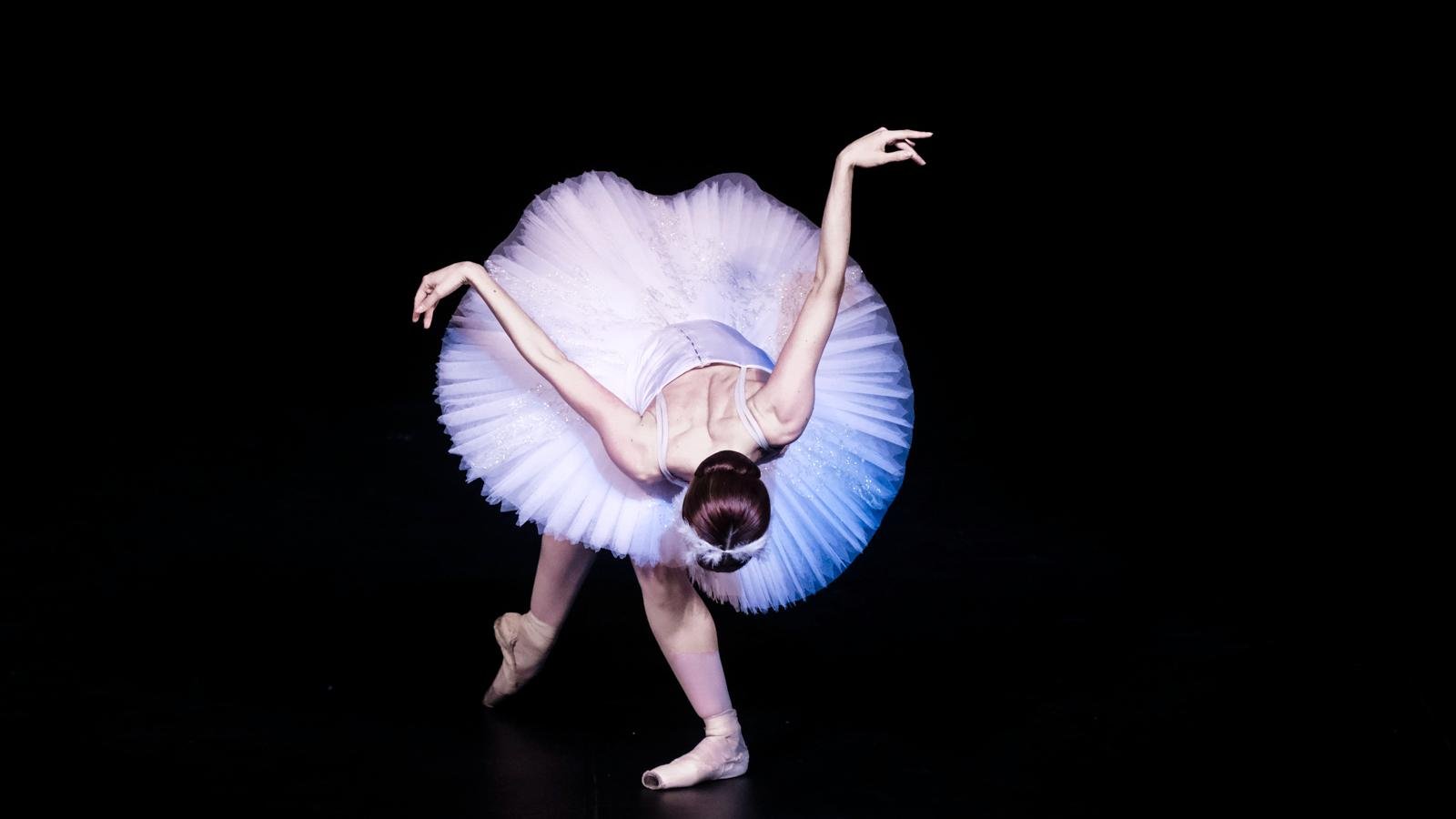 Kristina Kadashevych of the Kyiv City Ballet. (Courtesy of Kyiv City Ballet)
Excellent timing is among the many traits that are essential to dancers, and the Kyiv City Ballet has certainly earned a reputation as a company with precise timing that went far beyond skillful pirouettes or grand jetes.
One day before Ukraine was invaded by Russia earlier this year, the company unknowingly boarded one of the last flights out of Kyiv to Paris, the first stop on a planned tour. The company has not returned home since then, as France gave the group shelter, and it is now embarked on a 15-city tour of U.S. cities.
One of those destinations was a brief stop for two performances this past weekend at the Auditorium Theatre. Not surprisingly, it attracted impressively full and notably enthusiastic houses in Chicago. (And ironically enough, the company danced on the same stage where the Eifman Ballet of St. Petersburg, Russia — a company long familiar to this city's audiences — had to cancel its visit this past May).
The Kyiv City Ballet, comprised of a number of experienced soloists, as well as many young dancers, is led by its founder, Ivan Kozlov, a choreographer who, as it happens, was a former dancer in the Eifman company. Kozlov was among several choreographers whose work was on display at the Auditorium in a program that subtly captured elements of the temper of these times, as well as the company's roots in classical ballet.
I will start at the program's knockout grand finale when the male dancers were given the chance to perform a sensational display of their brilliant "character dancing" skills — celebrating a traditional form of thrillingly acrobatic and playfully competitive folk dance that only the most highly trained dancers can carry off. The men were notably dressed in bright blue and yellow T-shirts (the national colors of Ukraine), with the backdrop for the sequence a projected image of the beautiful blue and gold facade of St. Michael's Golden-Domed Monastery in Kyiv.
"Thoughts," the deeply moving opening work on the program — with haunting modern choreography by Vladyslav Dobshynskyi, and a score featuring work by such contemporary composers as Nils Frahm, Burkhard Dallwitz, Max Richter and Lisa Gerrard & Patrick Cassidy — centered around a desperately lonely man (the superb Dobshynskyi) trying to make contact with an elusive woman, and surrounded by a crowd of people from whom he seems isolated. And while there was no date of its creation on the program, in many ways it seemed to suggest the despair of the pandemic era, as well as the particular passive-aggressive nature of the central character. Quite a psychologically-driven, beautifully choreographed and formidably danced work.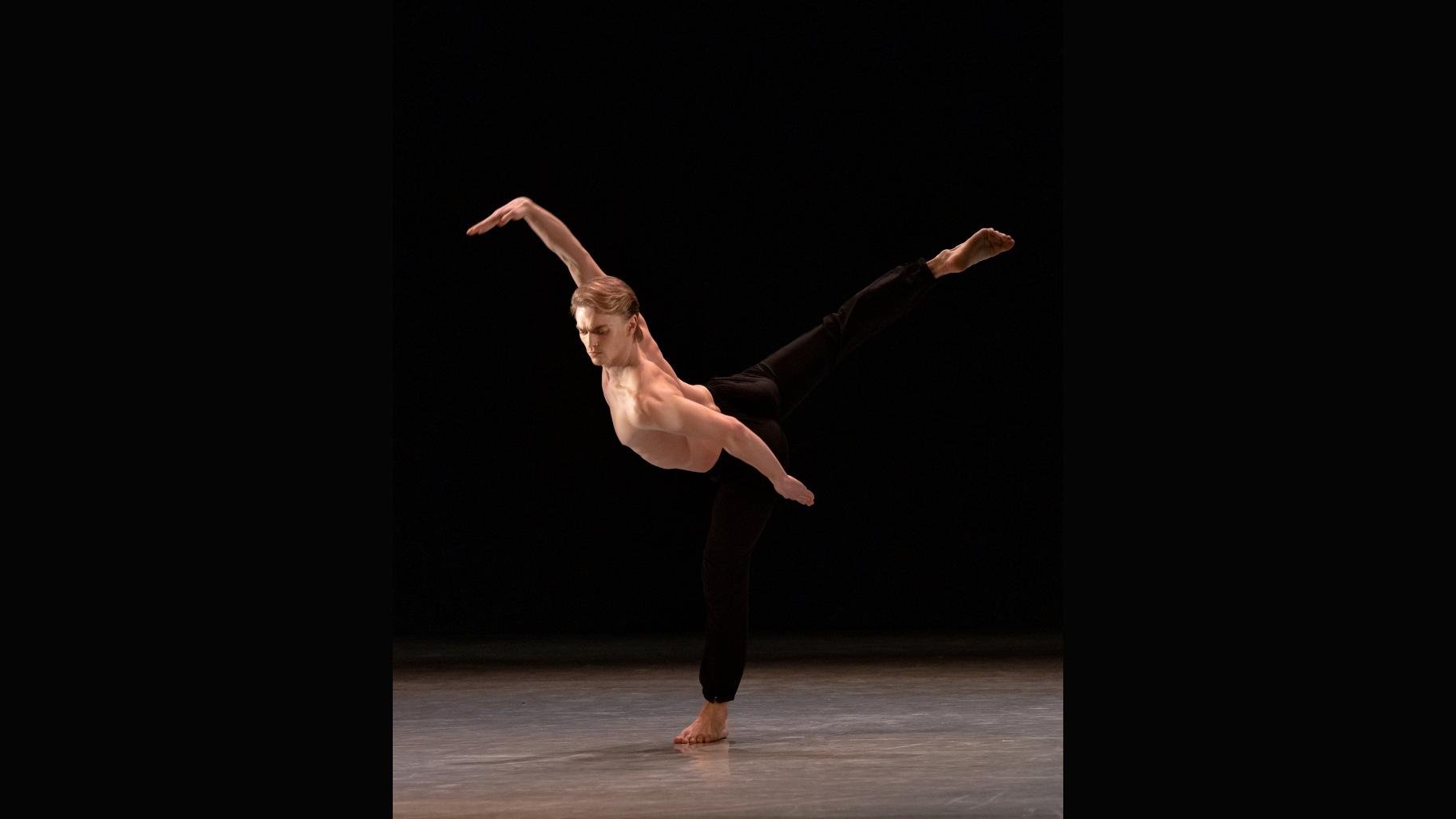 Vladyslav Dobshynskyi of the Kyiv City Ballet. (Courtesy of Kyiv City Ballet)
Next came "Tribute to Peace," a mostly playful look at romance and social class choreographed by Kozlov and Ekaterina Kozlova, and created especially for the company's 2022 tour in the U.S.
Set to the ever-engaging music of Edward Elgar, the English composer, with a colorful urban street scene and park bench forming the primary backdrop, it unfolds in a series of mostly playful vignettes of a somewhat earlier era. And it conjures a vast array of personalities who more often than not become attached.
The dramatic characterizations in this piece are as engaging as the dancing is wholly delightful, with a shy guy surprised that he can attract a beautiful girl; a macho guy assuming he will easily get what he wants; a couple of well-to-do, self-important older men arrogantly strutting around in their fancy suits and hats thinking they can buy a woman; a couple of traditional love matches taking hold, and more.
Although the title of the work is a bit deceptive, as a program note explains: "With so much darkness surrounding us in the world, this ballet steps away from the outside world and shows what could be." And with its mix of mischief, mayhem and happy endings it is a total charmer.
Also part of the program was a sampling of highlights from three ballet classics originally choreographed by Marius Petipa (and adapted by Kozlov), with all set to the music of Ludwig Minkus. Aside from the excellent dancing of Chebykina (who spun off a remarkable number of fouette turns), many of the performances here were solid but not quite stellar. The dancers may well have been exhausted, or simply not yet at their peak, although they were top notch in the two more contemporary pieces, and in the all-male character dance "competition" that had the audience on its feet and cheering at the end.
The company will now make brief stops in Detroit, New York, Texas, Tennessee, Oklahoma, New Orleans and beyond in the coming month.
Follow Hedy Weiss on Twitter: @HedyWeissCritic
---