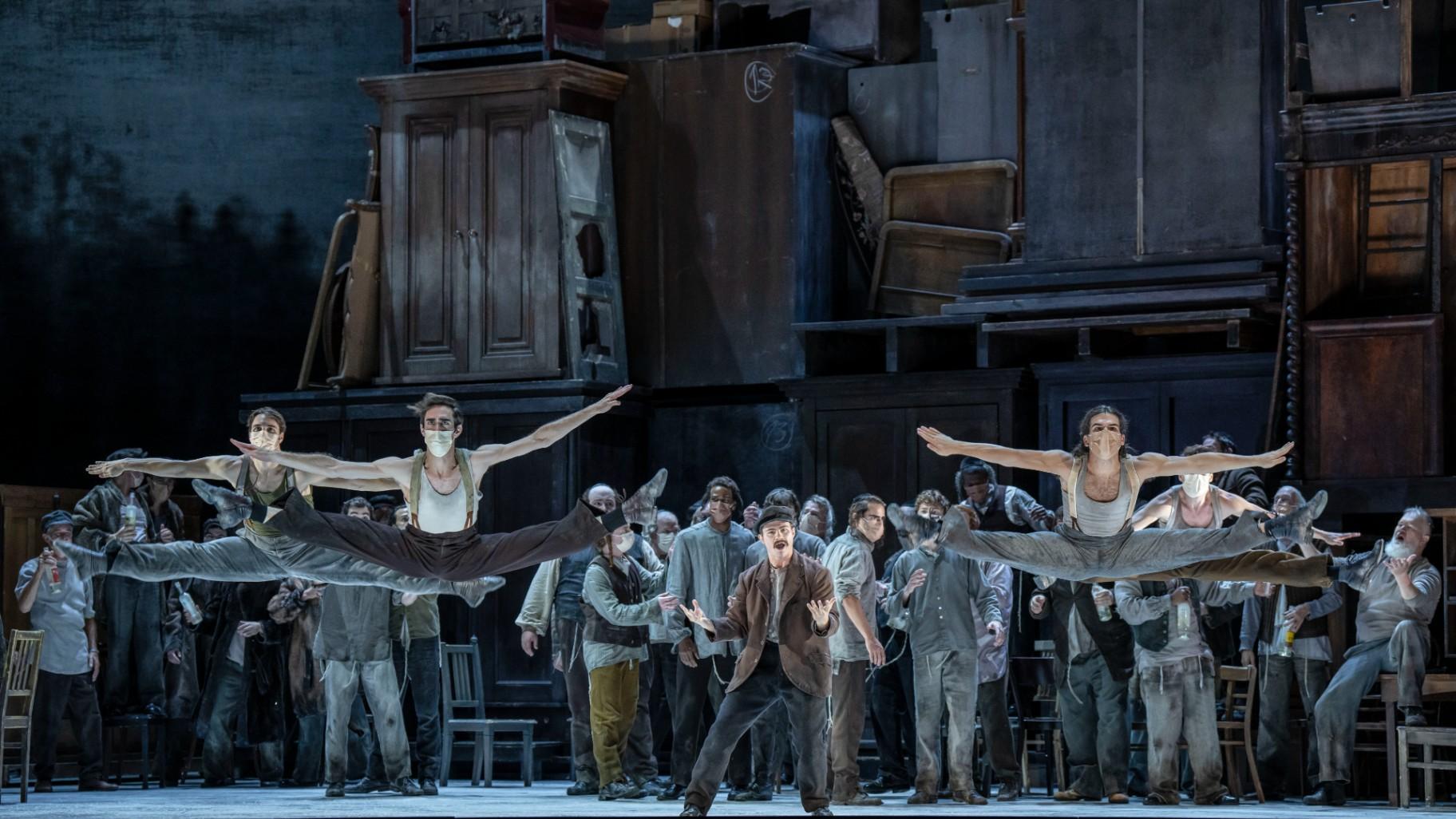 Dancers fly during Barrie Kosky's production of "Fiddler on the Roof" at the Lyric Opera House. (Credit: Todd Rosenberg)
"Tradition" is the word that, more than any other, drives "Fiddler on the Roof," the extraordinary musical by Jerry Bock and Sheldon Harnick that arrived on Broadway in 1964 and has remained a beloved audience magnet ever since. It is the dramatic shifts in social and emotional traditions, as well as the fallout of political chaos, that are at the very core of the story in this unique work that is based on stories originally spun by Sholem Aleichem.
Director Barrie Kosky's grandiose production of the musical, that originated at Komische Oper Berlin in 2017, and arrived on Chicago's Lyric Opera stage on Saturday evening, also breaks with tradition in terms of its design and overall scale. And in the process, this accounts for both significant gains as well as a loss of intimacy and a bit of the musical's folkloric spirit.
Scaled to opera house grandeur, Kosky's production involves a total of 100 performers including a cast of strong actors, an ensemble of sensational dancers, a large chorus and the full Lyric Opera Orchestra. It also houses a remarkable, highly original, continually morphing, but at times somewhat distracting set designed by Rufus Didwiszuz (and beautifully lit by Marco Philipp) that is far more surreal than real.
While there are many scenes of both immense emotion and rich comedy, the overall grandiosity of this production at times seems in contradiction to the actual roots of the work — a tale that unfolds in Anatevka, a Jewish shtetl in the Pale of Settlement of Imperial Russia, circa 1905.
Of course this is where a poor milkman, Tevye (in a deftly played, solidly realistic performance by Steven Skybell) must face constant adversity as he tries to support his wife and five daughters, deal with the crippled horse that can no longer pull his heavy cart, and face a series of life-altering events. (In November, Skybell will return to the role of Tevye in Joel Gray's much-heralded all-Yiddish production of the musical in New York.)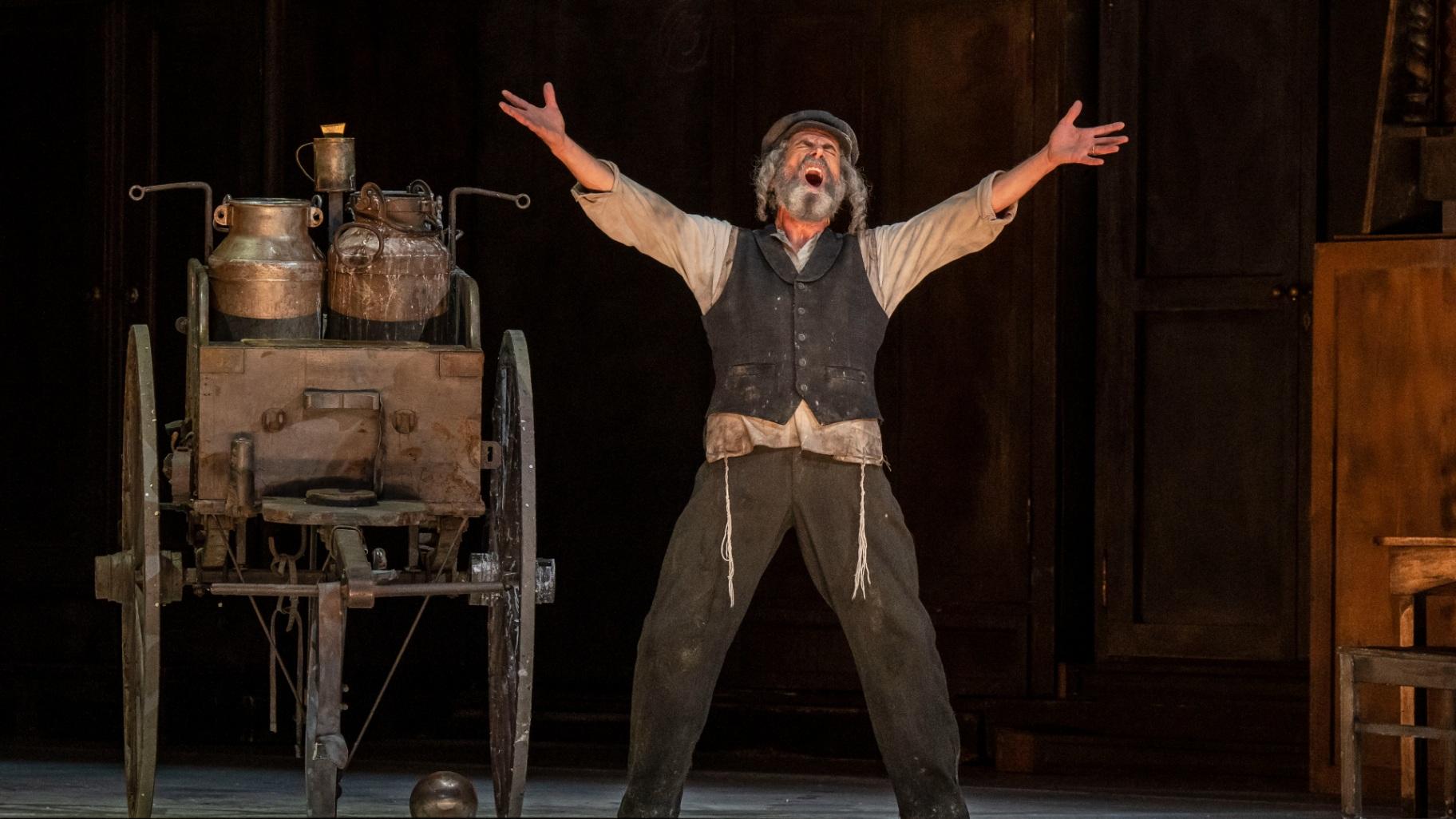 Steven Skybell as "Tevye" in Barrie Kosky's production of "Fiddler on the Roof" at the Lyric Opera House. (Credit: Todd Rosenberg)
The show's opening scene immediately signals a sense of change as instead of the usual "fiddler on the roof," it is a young boy, clearly of this moment in time, who zips on stage on a motor scooter. He is played by Drake Wunderlich, a gifted, self-assured 5th grader and award-winning violinist in the Chicago Youth Symphony's Concert Orchestra. And he initially emerges from a double-doored closet that eventually is replaced by a massive and chaotic mountain of wooden doors and furniture that suggests both Tevye's house, and the village of Anatevka, whose Jewish population will soon be similarly upended.
The initial crises that Tevye must face are generated by his three oldest daughters who are ready to marry. And in this society, the choices of husbands is traditionally made and approved by the father, with even their spirited mother, Golde (Debbie Gravite) unable to interfere. But radical change is in the air as his oldest daughter, Tzeitel (Lauren Marcus), refuses to wed her father's choice of Lazar Wolf (David Benoit), the rich old butcher, and is determined to marry Motel (Drew Redington), the poor young tailor she loves, who is a true nebbish (one of this matchless Yiddish words), but comes into his own once he acquires a sewing machine.
Next in line is Hodel (Austen Danielle Bohmer), the brainy girl who falls for Perchik (the golden-voiced Adam Kaplan), a brainy student revolutionary from Kyiv who she eventually follows to Siberia, where he has been sent into exile because of his revolutionary views. And then there is the bookish young Chava (Maya Jacobson), whose marriage to Fyedka (Michael Nigro), an empathetic non-Jew, is the one thing Tevye absolutely cannot accept. (Clearly, a strong streak of burgeoning female independence is also at work throughout this musical.)
But there is far greater upheaval still to come in the form of an order from the local Russian officials that the Jews of Anatevka must leave their homes in three days. And so the diaspora from their beloved town begins, with the great pile of doors, beds and other furniture whittled down to practically nothing, and Tevye, his wife, and their two youngest daughters headed to America.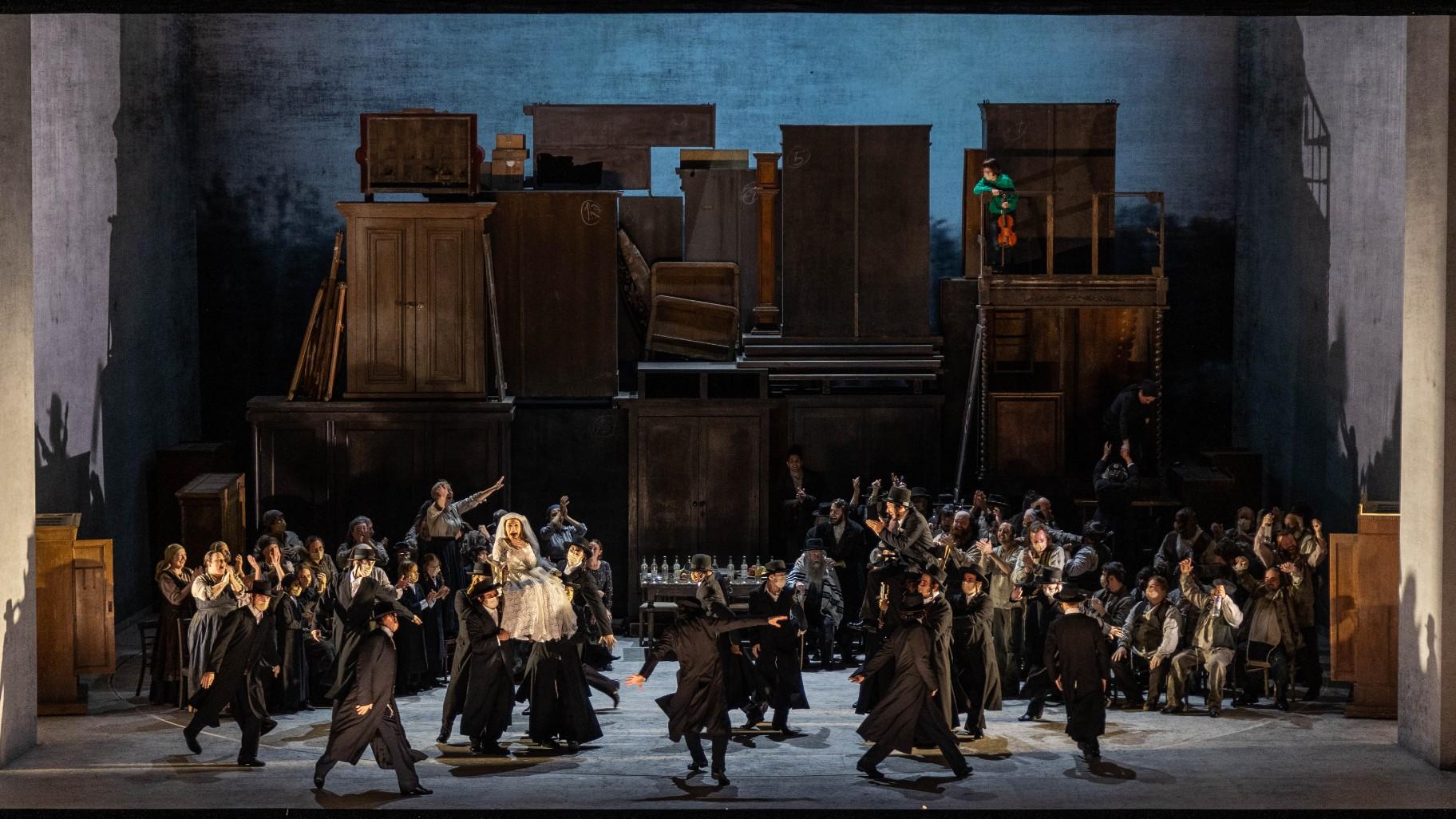 The company performs in Barrie Kosky's production of "Fiddler on the Roof" at the Lyric Opera House. (Credit: Todd Rosenberg)
The brilliance and agelessness of this musical, as well as its remarkable score, is unquestionable. And while it is in many ways utterly specific to its time, place and humor — and yes, to its powerful sense of "tradition" — it also captures the unsettling impact of generational upheaval, and the universal feeling of despair that comes with the loss of a homeland.
The Lyric Opera Orchestra, superbly directed by Broadway veteran Kimberly Grigsby, is ideal. But what rightfully drove the opening night audience into a state of utter awe and exhilaration were the 13 sensational dancers who carried off the iconic bottle-balancing dance spectacle (devised by Jerome Robbins, the genius behind the musical's original production), along with additional work by choreographers Otto Pichler and Silvano Marraffa.
"Fiddler on the Roof" runs through Oct. 7 at the Lyric Opera House, 20 N. Wacker. For tickets visit lyricopera.org or call 312-827-5600.
Follow Hedy Weiss on Twitter: @HedyWeissCritic
---