From left, Cindy Gold, Celeste M. Cooper and Sydney Charles in Steppenwolf Theatre's "The Most Spectacularly Lamentable Trial of Miz Martha Washington" by James Ijames. (Credit: Michael Brosilow)
Inserted into the program for Steppenwolf Theatre's production of James Ijames' simultaneously wildly entertaining and highly explosive play, "The Most Spectacularly Lamentable Trial of Miz Martha Washington," is a concise and eloquent note from the Pulitzer Prize-winning playwright in which he explains the intention behind his work.
"I don't come here to shame the founders (of our country), or in the case of my play, their spouses," he writes. "I come here to test the strength of their ideals."
What he does not say is that in order to accomplish that goal he has created a richly satirical historical burlesque that is at once terrifically clever, directed with great flamboyance by Obie Award-winner Whitney White, and vividly performed by a cast of seven multitalented actors.
Of course the verdict in this "spectacularly lamentable trial" is "guilty as charged" — a stinging indictment of a country that supported slavery at the very same time it was fighting for its freedom.
The show is set as Miz Martha (ideally played by Cindy Gold) is on her death bed in the Mount Vernon, Virginia, mansion and plantation she shared with her second husband, George. She would die in 1802, at the age of 70,  just three years after the death of George who, as it happened, left a will that included instructions that her many slaves were to be granted their freedom upon her death.
As it turns out, she did not emancipate any of them, including her devoted but intensely conflicted caretaker, Ann Dandridge (beautifully played by Nikki Crawford), the "dower slave" she inherited who was the daughter of Martha's immensely wealthy father. In other words, she was her half-sister, as well as her slave.
That fact is in many ways the realistic backbone of the production. But what drives the show's "spectacular" elements are the sardonic, rip-roaring and rebellious antics of Martha's other enslaved people who are uniformly played with great show-biz exuberance by Sydney Charles, Carl Clemons-Hopkins, Celeste M. Cooper, Victor Musoni and Donovan Session.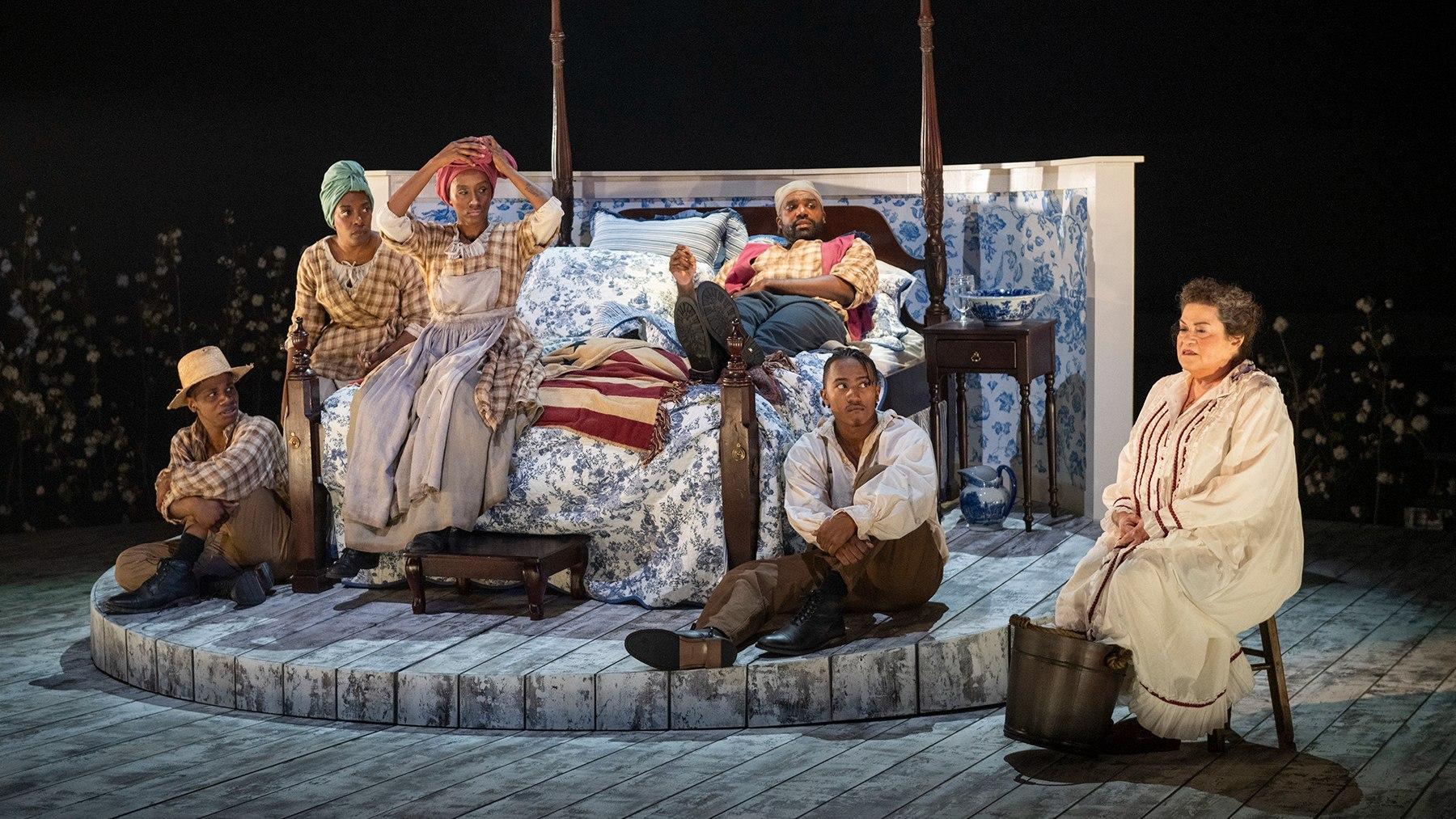 From left, Donovan Session, Sydney Charles, Celeste M. Cooper, Carl Clemons-Hopkins, Victor Musoni and Cindy Goldin in Steppenwolf Theatre's "The Most Spectacularly Lamentable Trial of Miz Martha Washington" by James Ijames. (Credit: Michael Brosilow)
At any given moment the performers sing, dance, jump rope, fight, simulate both a drag routine and a quiz show, and engage in every form of mockery imaginable. But of course beyond their playfully fantasized rebellion and their highly stylized trial of Martha lies the humiliation, pain and anger they have endured for years. And they have no intention of ushering this "first" First Lady toward a peaceful death.
Clint Ramos' flexible set (with lighting design by Amith Chandrashaker) captures the facade of Mount Vernon that is encircled by a dense garden of puffy white cotton plants, with Miz Martha's bed looming large at many points. Izumi Inaba's costumes are a fanciful generational mix. And Fan Zhang's sound design and original music is ideal.
To be sure, Miz Martha is indicted and convicted as charged. But when the courtroom is a theater, justice is achieved in the most unconventional way.
"Miz Martha Washington" runs through Oct. 9 at Steppenwolf Theatre, 1650 N. Halsted. For tickets visit steppenwolf.org or call 312-335-1650.
Follow Hedy Weiss on Twitter: @HedyWeissCritic
---