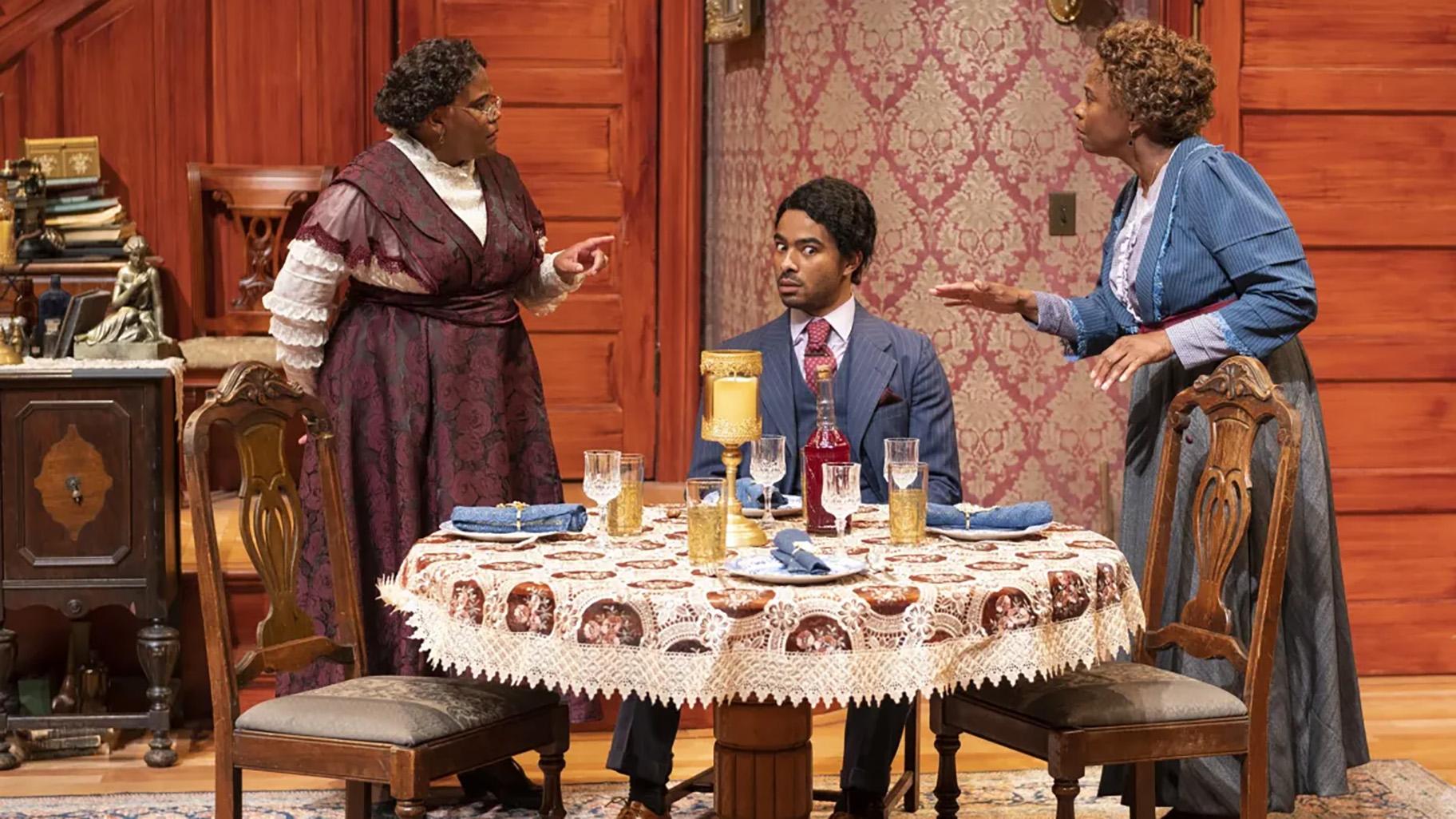 Celeste Williams, Eric Gerard and TayLar in Court Theatre's production of "Arsenic and Old Lace." (Credit: Michael Brosilow)
Court Theatre has opened its 2022-23 season with "Arsenic and Old Lace," Joseph Kesselring's maniacally zany 1941 Broadway hit that is probably most widely known by way of its 1944 film version starring Cary Grant and Boris Karloff.
The play is a decidedly uncharacteristic choice for a company that tends to produce literary classics and intellectually challenging contemporary works. But with its exceptional cast, stunning set and the galvanic direction of Ron OJ Parson (whose recent Chicago productions, including "Two Trains Running," "Relentless" and "Pearl's Rollin' With the Blues," were all stellar), it is simply wildly insane big fun. And as a program note explains, while the play's 1941 premiere was dubbed "a comedic break for audiences from the devastation of World War II ... today it is being revived to offer relief from the pressures of politics, social crises, economic recessions, and impending acts of devastation."
To be sure, this grand-scale production knocks the stuffing out of an insanely wacky play. And it no doubt does the same to the mental and physical endurance of its seemingly exhaustion-proof cast.
A dark comic look at the criminal mind in all its many (and often truly insane) guises, the show hones in on a total madhouse of a family comprised of both male and female homicidal maniacs, a certifiably delusional man, an alcoholic plastic surgeon, a young couple on the brink of marriage and several lost-in-the-dark police officers. And as they all interact in the handsome Brooklyn, New York, home owned by two deceptively genteel spinster sisters who operate the place as a modest boarding house for lonely old men, they generate a state of total absurdity. (Adding a touch of "inside" comedy to the play is the fact that the man planning to marry the spirited daughter of a minister just happens to be a theater critic, and the only relatively sane member of the family.)
Despite their warm-hearted veneer, the two Brewster sisters — Abby (TayLar) and Martha (Celeste Williams) — have been engaging in the business of poisoning the lonely old men who have come to find rooms in their house by giving them welcoming glasses of elderberry wine spiked with arsenic and cyanide, and then seeing to it that their corpses are piled up in the basement.
Meanwhile, their certifiably delusional, horn-blowing brother, Teddy (Allen D. Edge), who is wholly convinced that he is President Theodore Roosevelt, believes he is overseeing the construction of the Panama Canal in that basement. An additional corpse (or two), hidden inside a window seat of the house, begins to cause additional problems.
Enter, unexpectedly, another brother, Jonathan Brewster (A.C. Smith), whose grotesque face is the work of Dr. Einstein (Guy Van Swearingen), the alcoholic plastic surgeon he hired to disguise him, and keep him from being recognized by the police who were pursuing him for serious crimes. The inebriated doctor totally botched the job and left him looking like the monstrous Frankenstein monster famously played by actor Boris Karloff.
Jonathan is determined to knock off his normal brother, Mortimer Brewster (Eric Gerard), the theater critic, who begins to know far too much. And Mortimer is desperate to keep his pretty girlfriend, Elaine Harper (Emma Jo Boyden), an independent-minded minister's daughter, out of harm's way without fully explaining all the bedlam in the house, and his realization of what his seemingly soulful aunts have actually been up to for years.
Each and every performance in this production (including those by Thomas J. Cox, Norm Boucher, Matthew Lunt and Alan Gilmore) is exceptional. And the manic energy required — both physical and mental — as well as the all-important timing and rapid-fire interaction in the show is impeccable. (It would be no surprise to learn that a portable oxygen machine is waiting for these actors in the wings.)
Veteran set designer John Culbert has created a handsome multi-storied house for the Burrows that many in the audience wish they could live in, with excellent lighting design by Jared Gooding, sound design by Sarah Ramos and fight choreography by Sam Hubbard.
And the moral of the story? It might be that no one and nothing is quite the way it might seem. Or that comedy can be deeply rooted in insanity. Or that families are as twisted and unpredictable as the world at large.
However you might interpret "Arsenic and Old Lace" there should be loud applause for Kesselring who created an enduring farce that still makes laughter the ideal antidote to the often poisonous nature of human behavior.
"Arsenic and Old Lace" runs through Dec. 4 at Court Theatre, 5535 S. Ellis Ave. For tickets visit CourtTheatre.org or call 773-753-4472.
Follow Hedy Weiss on Twitter: @HedyWeissCritic
---