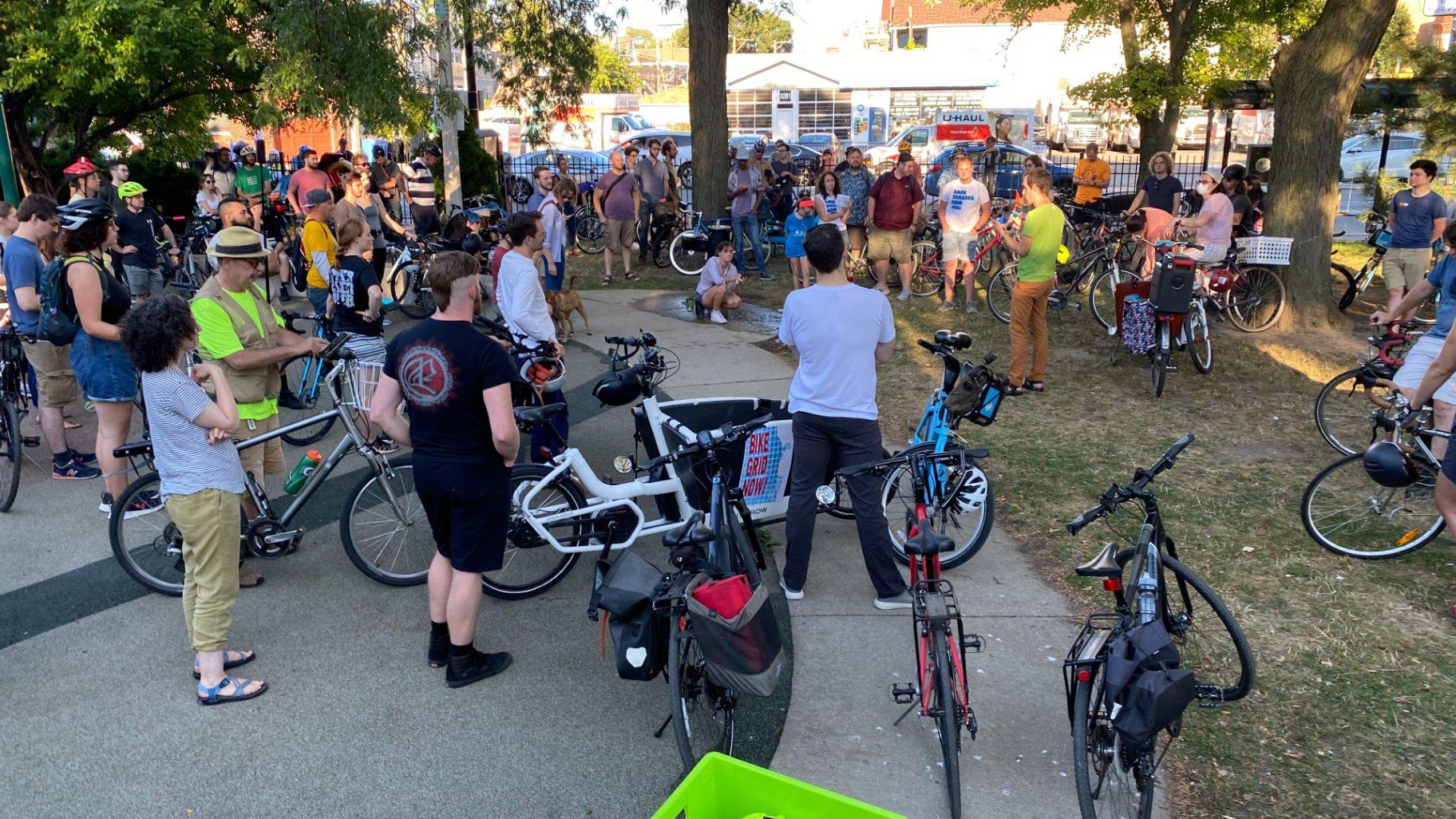 Advocates rally in Roscoe Village's Fellger Park on Sept. 7, 2022, calling on the city to include more infrastructure upgrades for cyclists, bus passengers, and pedestrians during an upcoming resurfacing of Belmont Avenue. (Nick Blumberg / WTTW News)
A group of cyclist, pedestrian and public transit boosters demonstrated in Roscoe Village and Lakeview on Wednesday evening, blasting the city for what they call insufficient infrastructure upgrades planned for an upcoming resurfacing of Belmont Avenue.
The groups say they don't just want things like protected bike lanes, signal priority for buses, and other improvements to be limited to this stretch of street, calling on the Chicago Department of Transportation to "perform critical safety and quality-of-life upgrades" in the course of every major street resurfacing citywide.
"We're not interested in the scraps the city's offering," said Kyle Lucas of Better Streets Chicago.
CDOT's resurfacing project along Belmont from Southport to DuSable Lake Shore Drive is set to include sidewalk improvements for people with disabilities, asphalt and pavement repairs, and concrete bus pads to reduce wear and tear on the roadway at bus stops, according to the city.
"Chicago is absolutely committed to prioritizing protected bike lanes wherever feasible and is adding more than ever this year and next. CDOT is working to not only grow our bike network in terms of miles, but also upgrade existing lanes by replacing flexible posts with concrete protection," a CDOT spokesperson told WTTW News in a statement. "CDOT has been in close communication with the 44th Ward regarding the upcoming work on the eastern part of Belmont Ave, which also includes new pedestrian curb extensions and more appropriately marked driving lanes."
Jeremy Frisch, who lives nearby, started a petition this year after he learned the planned resurfacing was not set to include protected bike lanes or more significant transit improvements.
"I got mad – mad that … CDOT has the audacity to propose more of the same unsafe (bike lane) design. Mad that I have to worry that I may not come home to my wife and 2-year-old just because I wanted to bike to pick up a library book. Mad that CDOT and our elected officials think car storage is more important than my life or my two-year-old's life when we use our family bike to get around the city. Mad that a busload of people on our city's eighth-busiest bus line have the same priority as a single driver in a private vehicle," Frisch said.
In its statement, CDOT touted new painted bike lanes on Belmont; the addition of so-called "bike boxes," a painted area designated for cyclists to wait at red lights; protected bike lanes between Kimball and Western; and neighborhood greenways on streets running parallel to arterials.
"Belmont narrows significantly east of Clark Street, so a low-stress option for people accessing the Lakefront Trail is to use existing bike routes on Southport or Halsted to connect from Belmont to the School/Aldine neighborhood greenway to the car-free DLSD underpass. Part of CDOT's efforts to build a connected and low-stress bike network includes creating routes that run parallel to busier streets, so people can comfortably bike to their destinations," the statement said. "Belmont Avenue and its surrounding streets are a critical part of CDOT's goals to build a connected network of low-stress bike routes stretching from the Lakefront to the west side."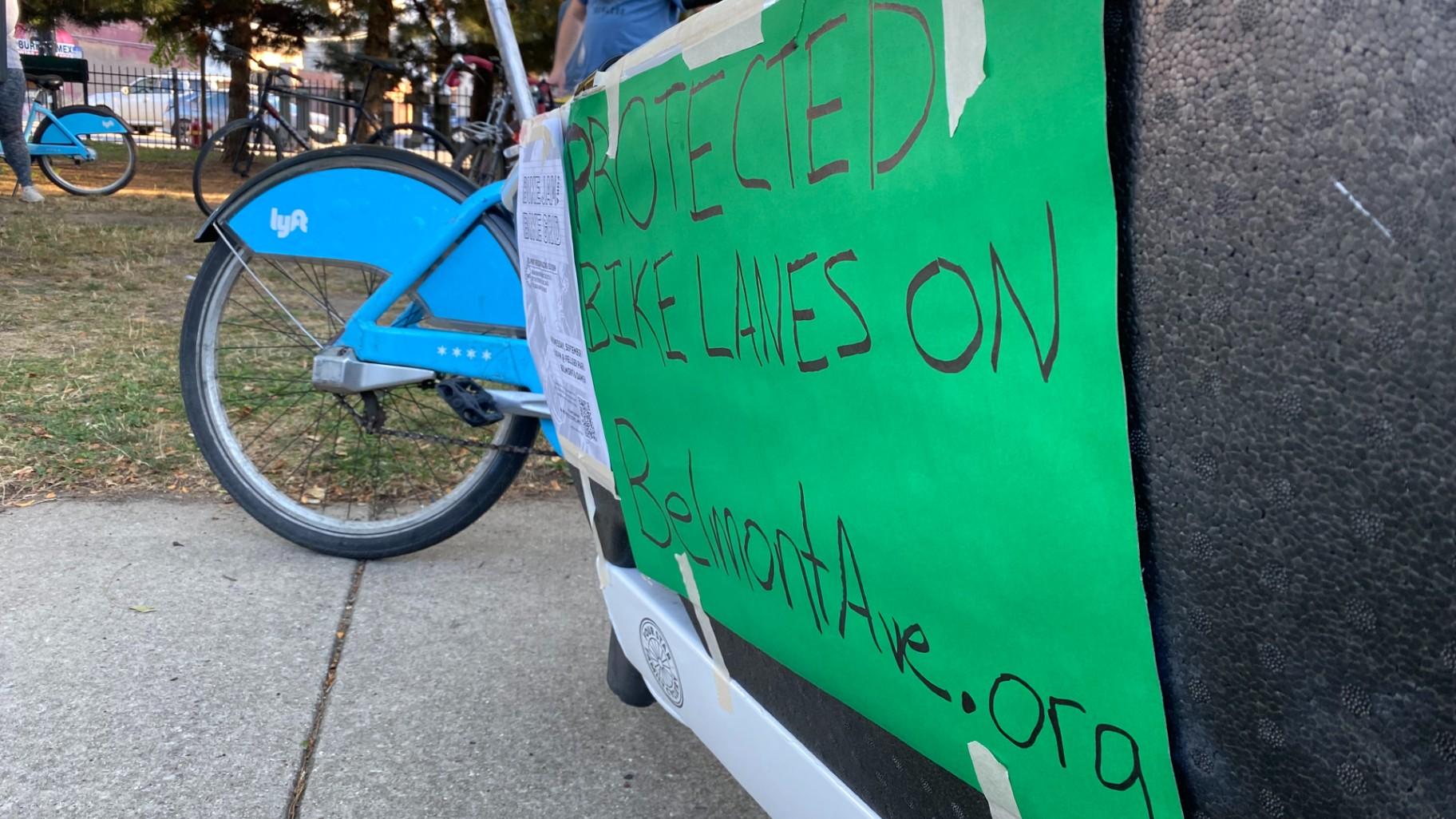 Advocates rally in Roscoe Village's Fellger Park on Sept. 7, 2022, calling on the city to include more infrastructure upgrades for cyclists, bus passengers, and pedestrians during an upcoming resurfacing of Belmont Avenue. (Nick Blumberg / WTTW News)
Rally attendees organized by the groups Better Streets Chicago, Chicago Family Biking, Urban Environmentalists and Chicago, Bike Grid Now called on the city to create four travel lanes east of Halsted Street, two for buses and cars with protected bike lanes in either direction; an additional lane for loading and parking zones west of Halsted; protected intersections with prohibited right turns on red; and signal priority for the #77 CTA bus, along with more bus shelters and boarding islands for passengers.
The group demonstrated in Fellger Park at Belmont and Damen avenues before biking down Belmont to the Lakefront Trail — with a planned stop at 44th Ward Ald. Tom Tunney's office, whom organizers called on to do more for cyclist and pedestrian safety. The ride was a "bike jam," an act of civil disobedience where a slowly riding group of cyclists take over all travel lanes in one direction.
---
Video: A group of cyclists form a "bike jam" on Belmont Avenue, demonstrating for infrastructure improvements amid a recent spate of cyclists and pedestrian deaths on Sept. 7, 2022. (Nick Blumberg / WTTW News)
Advocates say the improvements are especially critical amid a spate of deaths in traffic crashes this year. Twenty-eight pedestrians and four cyclists have been killed on Chicago streets so far in 2022, according to city data. Among those killed were 2-year-old Rafi Cardenas, who was struck while crossing the street on his scooter, and 3-year-old Lily Shambrook, who was killed while riding in her mother's bike carrier.
Rebecca Resman of Chicago Family Biking described close calls with drivers as "terrifying" when cycling with children. She said city law that prohibits children over 12 from riding on the sidewalk means Chicago leaders must make streets safe for cyclists of all ages – and for people using a variety of transportation means.
"Spoiler alert: when you make streets safer for biking, you make them safer for everyone," Resman said.
Factoring in cyclist, pedestrian and transit upgrades would become standard operating procedure each time CDOT resurfaces a roadway citywide under an ordinance introduced by Ald. Matt Martin (47th Ward) in June.
"No one I've talked with ever thinks about the ward they're in when they're walking or biking somewhere …  it stands to reason that we should building out infrastructure accordingly," Martin told WTTW News in August. "What we want to do is ... when you dig up (an arterial) street to put down a fresh layer of asphalt, you're also thinking about what sort of other improvements we want to put in place. It's great from a safety standpoint, but it's also good for the city's bottom line – because at the end of the day, no one wants a situation where you have a fresh layer of asphalt, two months later a utility comes in, two months after that you're doing a bump out or a pedestrian refuge island. That makes no sense."
The ordinance, which Ald. Daniel La Spata (1st Ward) joined as co-sponsor, has been referred to the city council's Committee on Pedestrian and Traffic Safety.
Contact Nick Blumberg: [email protected] | (773) 509-5434 | @ndblumberg
---