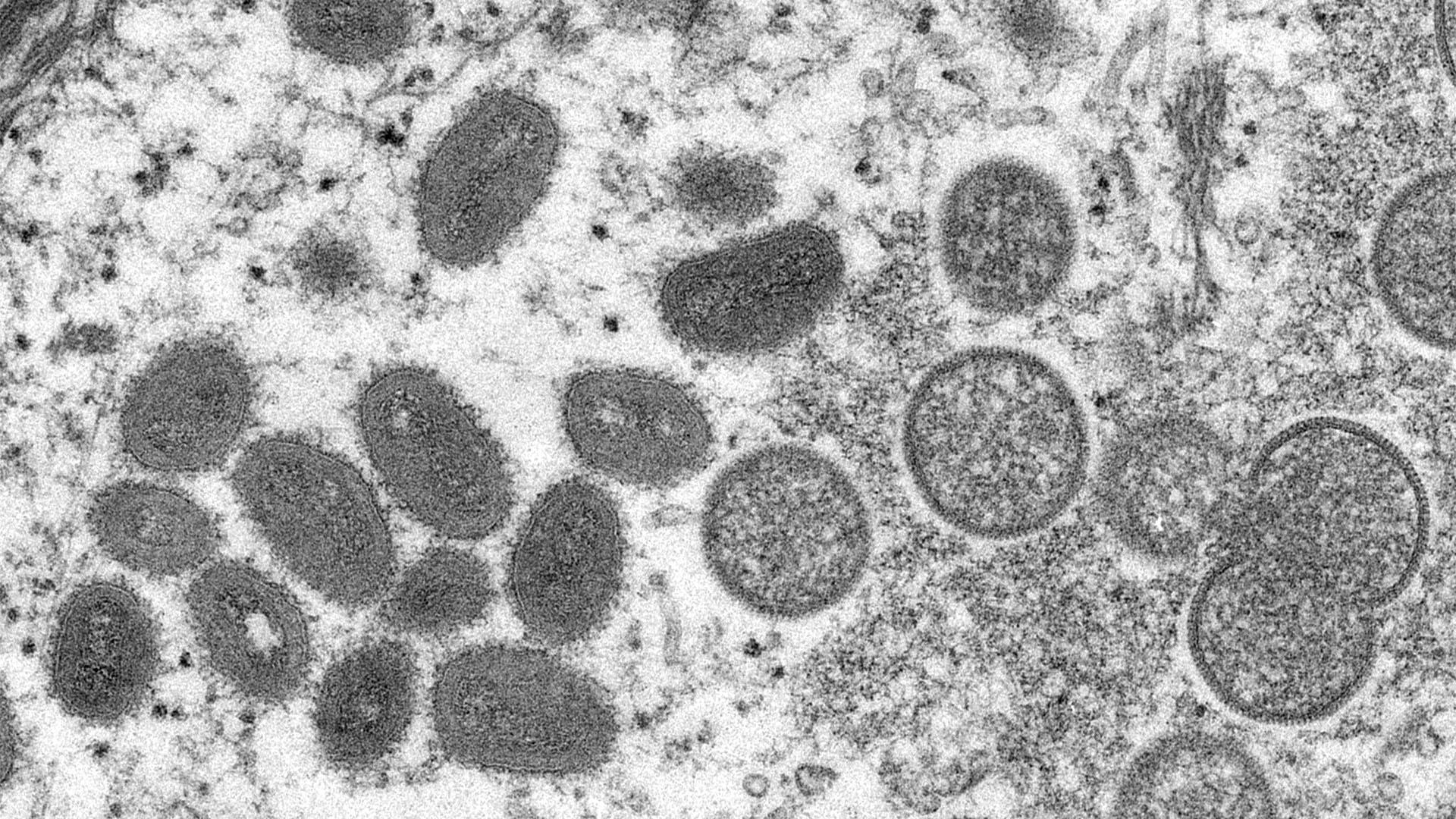 This electron microscope image shows mature, oval-shaped monkeypox virions, left, and spherical immature virions, right, from a human skin sample associated with a 2003 prairie dog outbreak. (Cynthia S. Goldsmith, Russell Regnery / CDC)
The Chicago Department of Public Health announced Wednesday that 326 Chicagoans have tested positive for monkeypox. The city's first case of the virus was diagnosed on June 3.
Most of the cases in the city have been in men, with a median age of 35, according to Chicago Department of Public Health officials who say anyone can contract the virus. No one has died from the virus and 4% of local cases have required hospitalization, according to officials.
Monkeypox is primarily affecting and spreading among gay, bisexual or other (cis or trans) men who have sex with men, who have intimate sexual contact with other men in social or sexual venues, or who have multiple or anonymous partners, according to CDPH.
"(Monkeypox virus) is not a 'gay disease'," said CDPH Commissioner Dr. Allison Arwady, in a statement. "There's nothing inherent in the biology of the virus that limits it to men who have sex with men. The virus spreads through tight-knit social networks; it does not discriminate."
Symptoms of monkeypox include a rash or sores that look like pimples or blisters that can appear anywhere on the body, fever, chills, fatigue and swollen lymph nodes.
The virus is primarily spread from person-to-person through direct contact with a rash or sore, or intimate activities, including sex or kissing. It can also spread through respiratory droplets following prolonged face-to-face contact, as well as items that have been contaminated with fluids or sores, such as bedding.
Most casual day-to-day activities, like shopping in crowded stores, going to a bar or restaurant, taking public transportation or using gym equipment or public restrooms pose little to no risk for contracting the virus, according to Arwady, who urged people to assess risk factors for activities.
"For instance, avoid sharing drinks or cigarettes or vape pens, and if you have sex with a new partner, take some time to talk about MPV, look for symptoms on your bodies, and if you have rashes, sores, or are feeling sick, don't engage in any skin-to skin physical contact," Arwady said.
While the general risk of getting monkeypox is very low at places like clubs and festivals, officials are encouraging individuals to think about how much close, personal, skin-to-skin contact is likely to occur at an event and to avoid contact with any rashes or sores on others.
"And most importantly, if you start to exhibit symptoms, see a health provider and get tested right away," Arwady said. "If you test positive, we can vaccinate your recent close contacts to help stop further spread of the virus."
There is no test available for people without symptoms, according to officials who say the test is done by taking a swab of the rash or lesion at a doctor's office or clinic.
The monkeypox vaccine is a two-dose regimen and is in limited supply, according to officials who are prioritizing first doses to those at highest risk, including anyone who has had close physical contact with someone diagnosed with monkeypox or whose sexual partner was diagnosed with the virus in the last 14 days.
A limited supply of vaccine is available through some health care providers to reach people at higher risk of exposure to the virus, including gay, bisexual or other (cis or trans) men who have sex with men who have intimate or sexual contact with other men in a social or sexual setting, or have intimate or sexual contact with multiple or anonymous partners, or have given or received money or other goods/services in exchange for sex, according to officials.
Officials are not currently recommending vaccination for the general public. For more information about monkeypox, visit CDPH's website.
Contact Kristen Thometz: @kristenthometz | (773) 509-5452 |  [email protected]
---