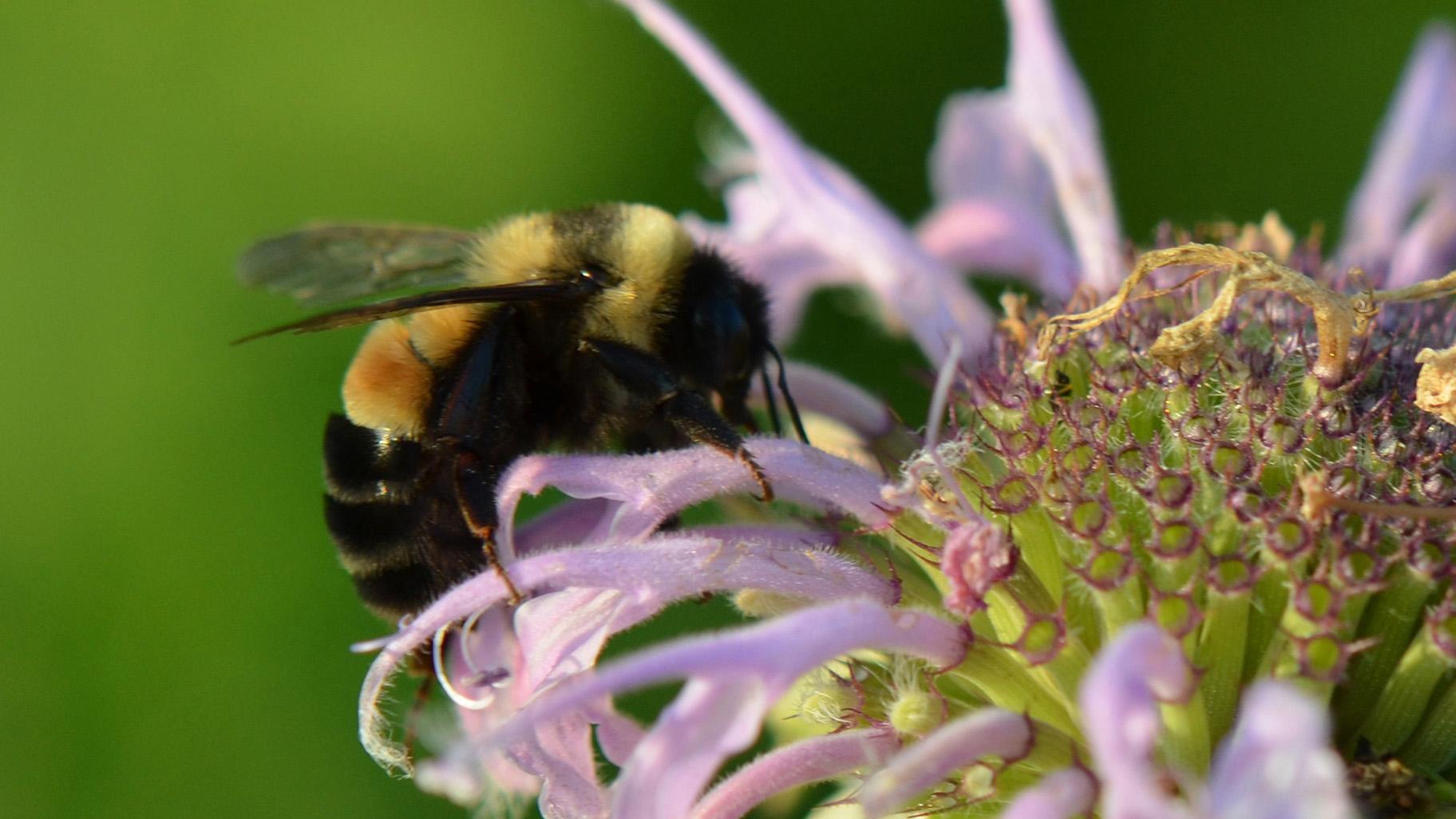 The rusty patched bumble bee, pictured here, was the first bee in the continental U.S. to receive an endangered species listing. More bumble bees are now being considered. (Courtesy U.S. Fish and Wildlife Service)
A community science project has turned up a sighting of the federally endangered rusty patched bumble bee.
The bee was logged at the outset of the fourth annual Backyard Bumble Bee Count, which kicked off Saturday and runs through Aug. 1. The crowd-sourced data gathered during the backyard count will be used to document bumble bee occurrence and abundance. 
By Monday morning, the count had notched nearly 4,400 observations. While the common eastern bumble bee (Bombus impatiens) accounted for roughly one-third of the early tally, plenty of bees with less familiar names have been spotted as well, including the golden northern bumble bee (Bombus fervidus) and the lemon cuckoo bumble bee (Bombus citrinus). 
Among the exciting rarities recorded: A lone rusty patched (Bombus affinis), visiting a church garden in the Minneapolis/St. Paul area, and an American bumble bee (Bombus pensylvanicus), spied in the greater Houston metropolitan region.
Both the rusty patched and American bumble bees have suffered precipitous population declines. In 2017, the rusty patched was the first bumble bee ever placed on the U.S. Endangered Species list and an application to add the American bumble bee is currently under federal review.
The rusty patched is at the center of an ongoing fight to save ancient Bell Bowl Prairie in Rockford. A plan to bulldoze the prairie in order to pave the way for an expansion of the Rockford Airport has been on hold since summer 2021 due to the discovery of the bee on site. The latest developments regarding Bell Bowl will be discussed at a public meeting Tuesday at 7 p.m.
Meanwhile, several days still remain in the backyard count. To submit observations, simply join the Backyard Bumble Count Project at iNaturalist.  ​
The #Backyard #BumbleBee count is happening this week! Spot bees and upload info to iNaturalist to help researchers learn how bumble bees are doing and how to protect them.

Join the project: https://t.co/jCse3EMnE1 pic.twitter.com/0tRIrj2vqV

— Chicago Wilderness (@chiwilderness) July 25, 2022
---
Contact Patty Wetli: @pattywetli | (773) 509-5623 |  [email protected]