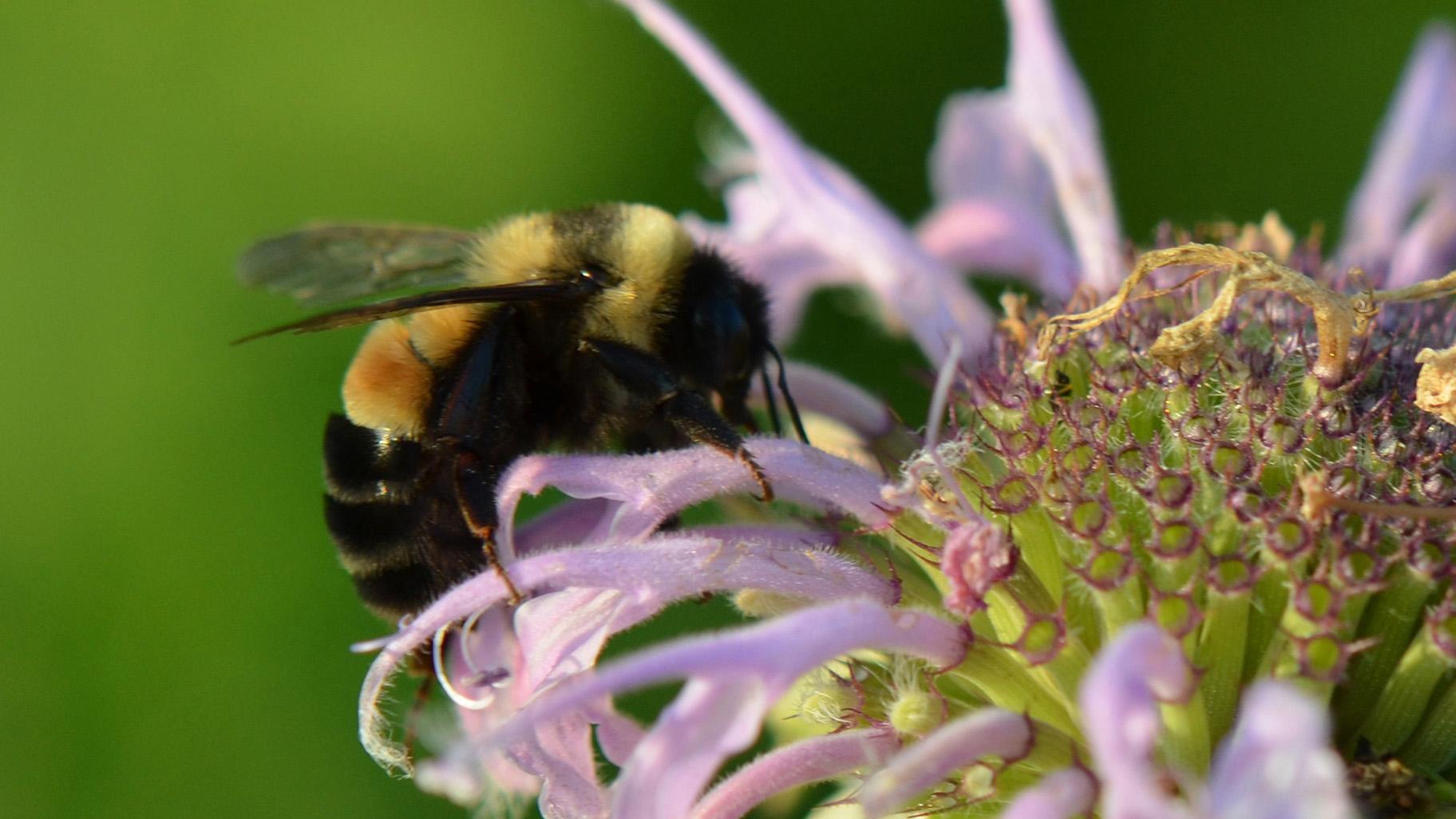 The rusty patched bumble bee, pictured here, was the first bee in the continental U.S. to receive an endangered species listing. More bumble bees are now being considered. (Courtesy U.S. Fish and Wildlife Service)
The Lake County forest preserves are abuzz with exciting news.
Officials are reporting that nine rusty patched bumble bees — a federally listed endangered species — were found during a recent survey. The bees were spotted at six different preserves.
"We're ecstatic to see these elusive bumble bees in the forest preserves," Pati Vitt, director of natural resources for the preserves, said in a statement. "Increased monitoring and awareness, including a new program that trained volunteers in the field, are factors in spotting additional bees."
In 2017, the rusty patched (Bombus affinis) was the first bumble bee ever placed on the U.S. Endangered Species list, following a steep 87% decline in numbers in just 20 years. An application to add the American bumble bee to the endangered list is currently under federal review.
The rusty patched is at the center of an ongoing fight to save ancient Bell Bowl Prairie in Rockford. A plan to bulldoze the prairie in order to pave the way for an expansion of the Rockford Airport has been on hold since summer 2021 due to the discovery of the bee on site.
The cause of the bee's decline is unknown, but evidence suggests the interaction between an introduced pathogen and exposure to pesticides, specifically insecticides and fungicides, may be to blame, according to the U.S. Fish and Wildlife Service. Remaining populations are under additional stresses from habitat loss, non-native and managed bees, and the effects of climate change.
Once widespread throughout the eastern U.S. and Midwest, populations of the rusty patched are now concentrated in a handful of strongholds, including northeastern Illinois, which is among the areas where conservation efforts have been prioritized. 
Though the bees are considered habitat generalists — found in prairies, woodlands, marshes and even residential gardens — they require an abundance of diverse flowers to provide sufficient food. 
Vitt credited restoration projects at preserves such as Pine Dunes in Antioch for meeting the bees' needs. 
"Finding these bees tells me that our efforts are working. The preserve was largely agricultural, so the likelihood of rusty patched bees living there was quite low before restoration efforts took place," she said. "Restoring land provides a place for native plants and wildlife. It also increases biodiversity and makes our landscapes sustainable for future generations."
Contact Patty Wetli: @pattywetli | (773) 509-5623 |  [email protected]
---