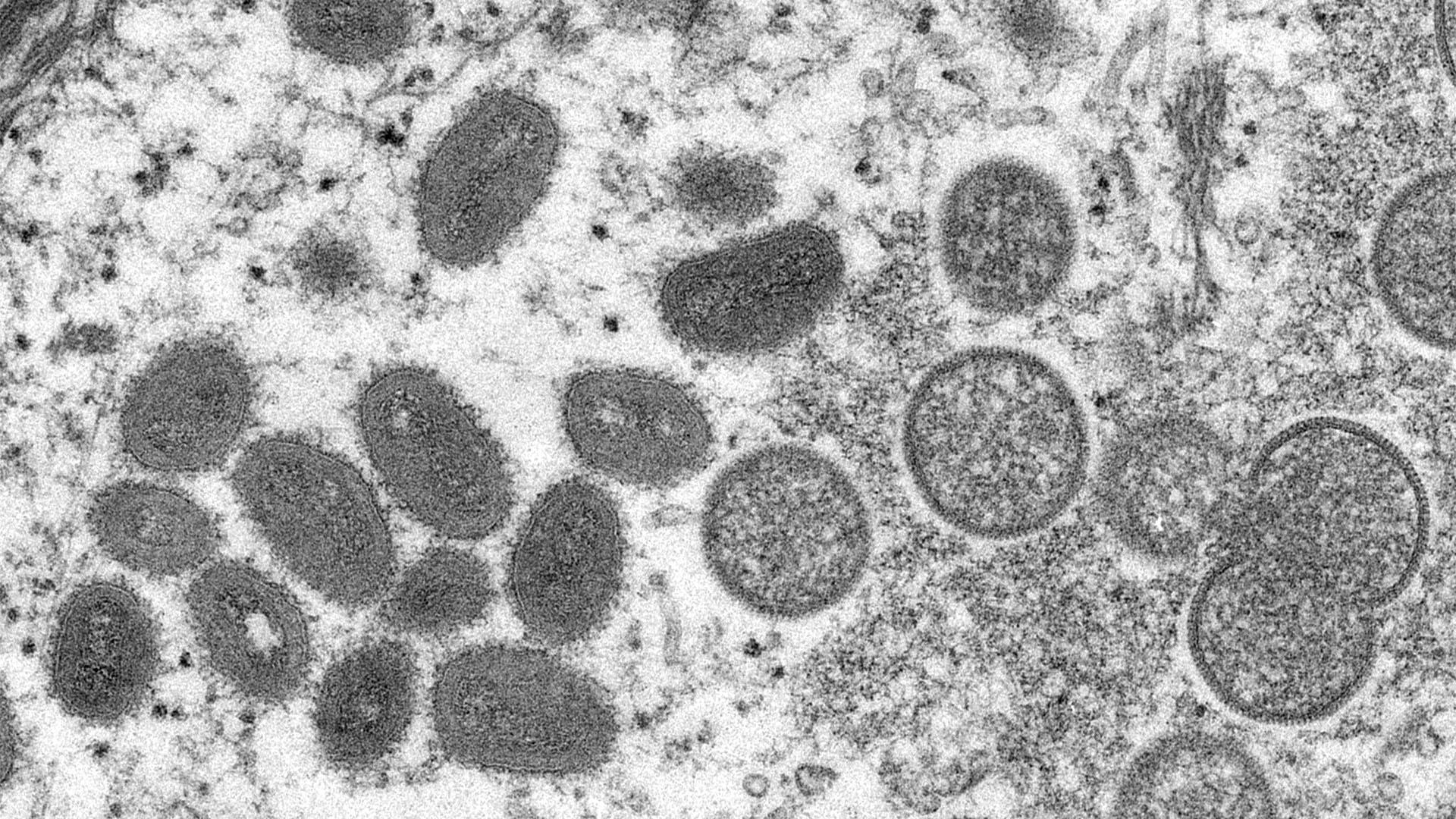 This electron microscope image shows mature, oval-shaped monkeypox virions, left, and spherical immature virions, right, from a human skin sample associated with a 2003 prairie dog outbreak. (Cynthia S. Goldsmith, Russell Regnery / CDC)
More than 100 cases of monkeypox have been confirmed in Chicago since the first probable case of the rare disease was discovered locally in early June, according to city health officials.
Chicago Department of Public Health officials announced Monday that 105 Chicagoans have been diagnosed with monkeypox, with the majority – but not all – cases occurring among gay, bisexual and other men who have sex with men.
CDPH Commissioner Dr. Allison Arwady said the spread appears to be through "tight-knit social networks," but emphasized that anyone can spread the virus.
Monkeypox, which originates in wild animals like rodents and primates, is spread to people via infected animals, with most cases occurring in central and west Africa.
However, person-to-person transmission is possible through close physical contact with monkeypox sores, items that have been contaminated with fluids or sores or through respiratory droplets following prolonged face-to-face contact, according to officials.
Chicagoans can get vaccinated against monkeypox if they've been exposed to someone with monkeypox. Gay, bisexual or men who have sex with men can also be vaccinated if they have intimate or sexual contact with other men in a social or sexual setting, or have intimate or sexual contact with multiple or anonymous partners, or have given or received money or other goods/services in exchange for sex, according to officials.
At this time, officials are not recommending vaccination for the general public, including men who have sex with men without other risk factors. Vaccines are being administered to those at the highest risk of exposure in order to interrupt transmission, according to Massimo Pacilli, CDPH's deputy commissioner for disease control.
"I want folks to know one of the reasons why we can't give out (vaccine) broadly is (we need) to make sure we have enough for known contacts because that can prevent disease in the highest risk folks," Arwady said, adding as the city receives additional vaccines, it'll open up vaccination to a larger population.
City officials have received 5,409 vaccines so far and expect to receive an additional 7,493 in the coming weeks.
Monkeypox belongs to the same virus family as small pox and can cause fever, body aches, chills and fatigue. People can also develop a rash that looks like pimples or blisters.
Anyone who has symptoms or develops an unusual rash should isolate themselves and see a doctor or call 312-746-4835 to get connected to care, according to officials.
Contact Kristen Thometz: @kristenthometz | (773) 509-5452 |  [email protected]
---