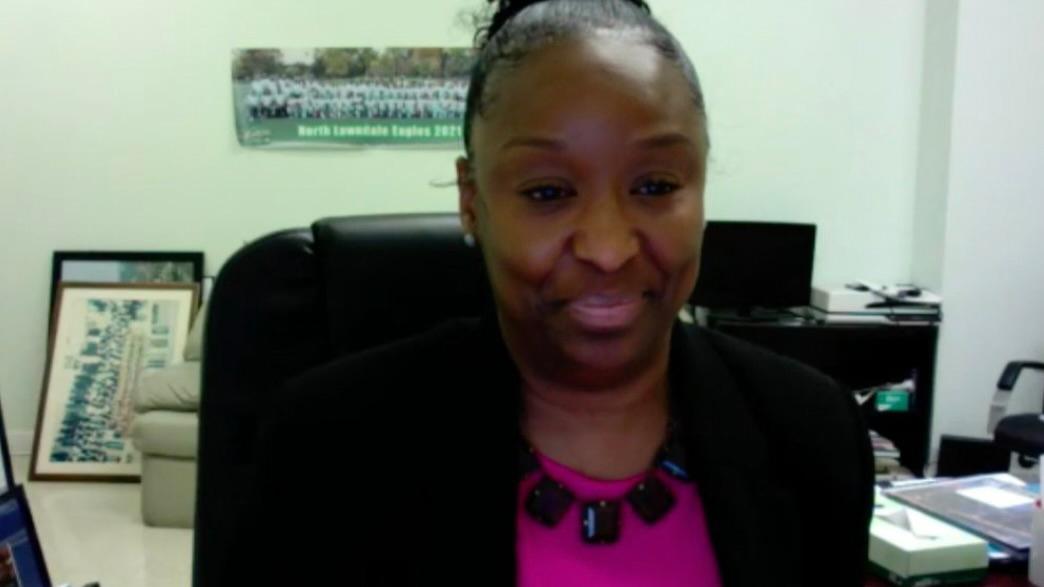 Monique Scott appears before the Chicago City Council's Rules Committee on June 21, 2022. (City of Chicago)
Monique Scott is one step away from filling the 24th Ward seat on the Chicago City Council left vacant by the resignation of her brother, Ald. Michael Scott, Jr. — all without answering a single question about how she would represent North Lawndale.
Mayor Lori Lightfoot's second appointment to the Chicago City Council advanced Monday on a unanimous vote of the City Council's Rules Committee during a meeting that lasted less than five minutes.
No members of the public spoke during the meeting. Lightfoot announced her decision to tap Scott in a news release just before 4 p.m. Monday, a city, state and federal holiday to recognize Juneteenth. The deadline to sign up to speak during Tuesday's virtal meeting was 10 a.m. Friday, according to the rules published by Rules Committee Chair Ald. Michelle Harris (8th Ward).
Scott did not speak before the unanimous vote, which sets up a final vote by the City Council at its meeting set for Wednesday. After the vote, she thanked members of the City Council.
After the vote, Ald. James Cappleman (46th Ward) welcomed her to the City Council: "If you are anything like your brother, you're wonderful."
Scott laughed as she responded, "I'm better."
Lightfoot defended her decision to pick Scott to serve on the City Council and replace her brother after casting an early ballot in the June 28 primary.
"It's an easy, frankly lazy throwaway to say, 'Oh she's the alderman's sister,'" Lightfoot said. "Look at who she is. Look at what she's been able to do with her life. Look at how committed she is to the 24th Ward … and then make your assessment."
There has been no public examination of Scott's credentials to serve on the City Council, nor has she taken questions from the news media. 
In contrast, when Lightfoot picked Ald. Nicole Lee (11th Ward) to replace convicted former Ald. Patrick Daley Thompson, she introduced her at a news conference five days before the final vote. Lee also faced gentle — but probing — questions during an in-person confirmation hearing.
Scott has worked for the Chicago Park District since 2014 as a park supervisor. The resume she submitted as part of the application process says she worked as a volunteer for her brother's campaign. Former Ald. Scott was first elected to the City Council in 2015 and was re-elected in 2019.
Michael Scott, Sr., the siblings' father, served as president of the Chicago Board of Education during the tenure of former Mayor Richard M. Daley.
If Monique Scott is confirmed by the City Council as expected, she will have a leg up if she decides to run for a full term in the next municipal election, set for February 2023.
Contact Heather Cherone: @HeatherCherone | (773) 569-1863 | [email protected]
---