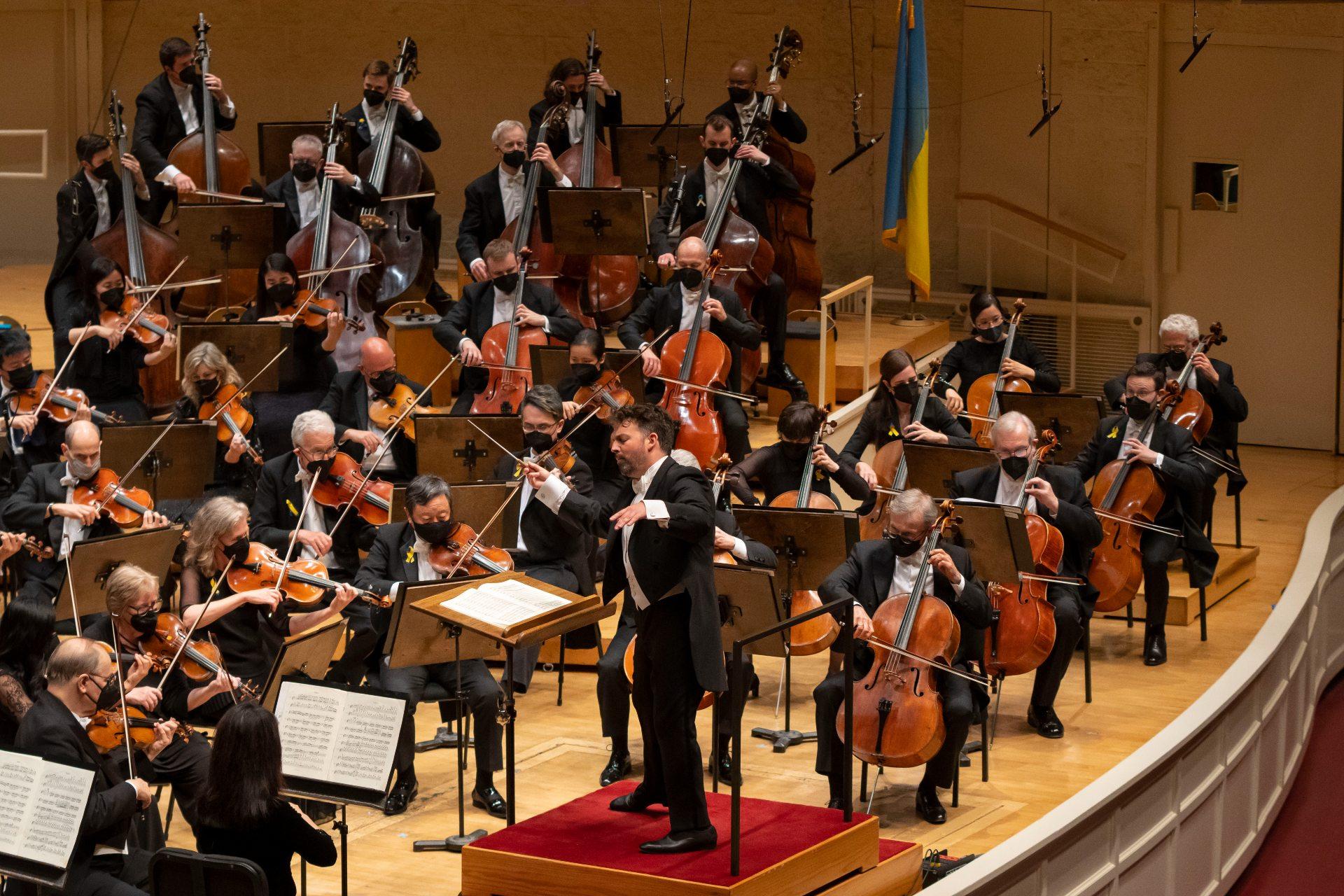 Conductor James Gaffigan leads the Chicago Symphony Orchestra in a program with works by Saint-Saëns, Saint-Saëns Mussorgsky (Orch. Rimsky-Korsakov), and Tchaikovsky. (Photo Credit: Todd Rosenberg)
Although they were performed earlier this month, and are now beyond their "attendance dates," three recent concerts by the Chicago Symphony Orchestra – led by two different guest conductors and featuring two different guest violinists – deserve to be chronicled. They were memorable for a great variety of reasons.
On June 10, James Gaffigan – the wonderfully animated New York-bred conductor with a wide range of orchestral and opera credits who has just been appointed music director of Komische Oper Berlin – led a program of five truly magical pieces with the Georgian-born violinist Lisa Batiashvili as soloist in works by two late 19th century French composers, Camille Saint-Saens and Ernest Chausson.
The concert opened with a rousing performance of Saint-Saens' aptly titled "Bacchanale," the wonderfully seductive ballet segment from his opera, "Samson and Delilah," that pays homage to Bacchus, the Greek god of wine and ritual madness. Alternately wild and rhapsodic, with castanets and cymbals enhancing the sound of the full orchestra, which was in its usual stellar form, it ideally set the pace for the rest of the evening.
Next came Batiashvili (dressed in an elegant tomato-red gown), to play Chausson's "Poeme for Violin and Orchestra," with its pensive, lyrical opening enhanced by her beautiful, singing tone and the music's heartbreaking quality that led to a burst of increasingly intense passion. Saint-Saens' seamless use of the violin soloist was notable in both the work's grandly dramatic passages and its final moments of calm.
And then it was back to Saint-Saens, with Batiashvili returning to the stage for the composer's "Introduction and Rondo capriccioso." An opening passage paired the violinist with the gentle plucking of strings by the orchestra. And from there it was on to a beautiful theme of notable yet delicate speed – full of powerful bowing, a forceful exclamation, and an absolutely golden tone. A powerful blast of timpani flipped the mood, with Batiashvili joining the full orchestra in conversation and moving to a rapid-fire finale.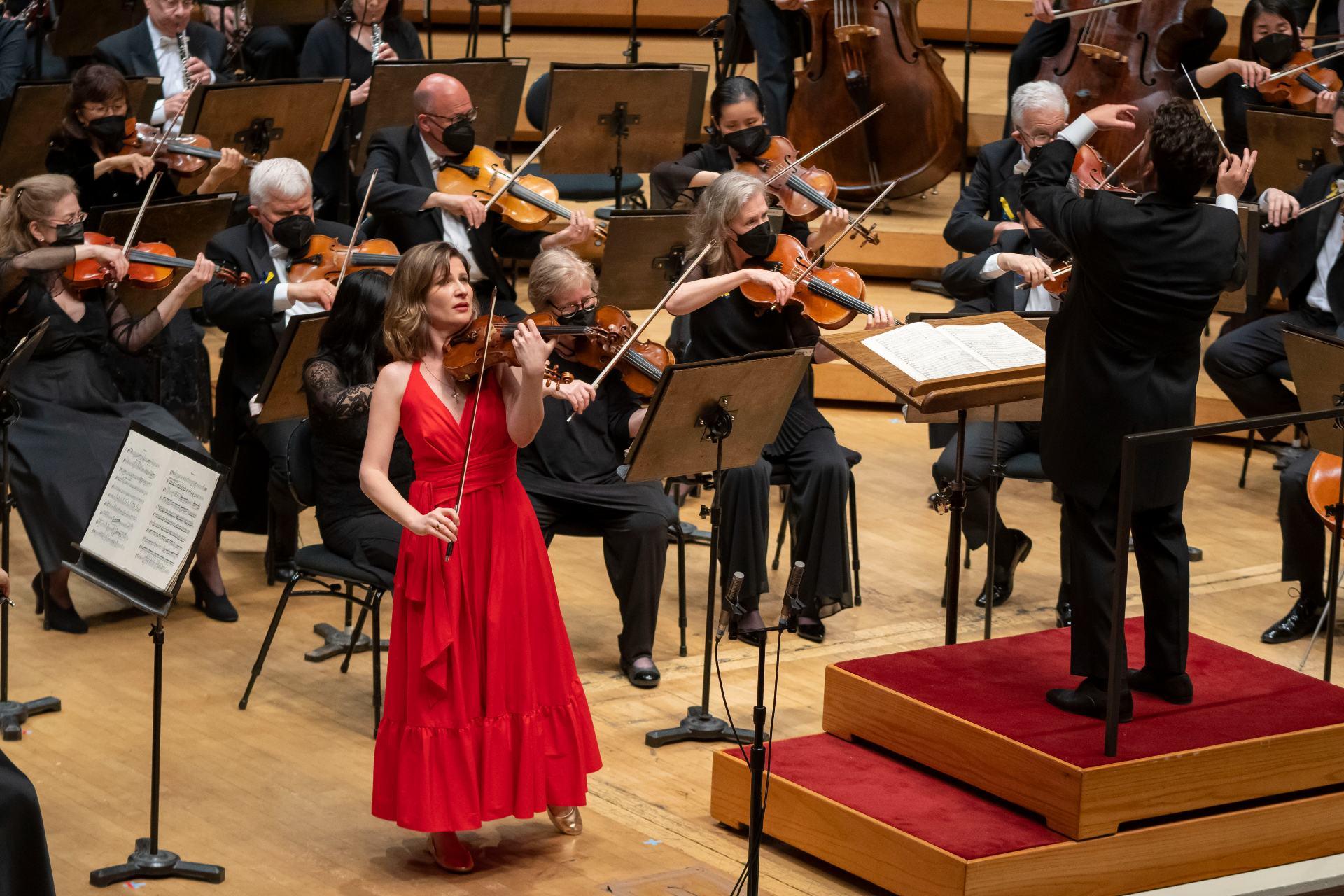 Conductor James Gaffigan leads Violinist Lisa Batiashvili and the Chicago Symphony Orchestra in a program with works by Saint-Saëns, Mussorgsky (Orch. Rimsky-Korsakov), and Tchaikovsky. (Photo Credit: Todd Rosenberg)
The second half of the concert began with Mussorgsky's "A Night on Bald Mountain," brilliantly orchestrated by his friend, Rimsky-Korsakov, who outlived him. The work made extravagant use of the percussion section, from its wild opening with the clash of cymbals and pounding of timpani, to the stormy sound of what suggested a wild cavalry led by Satan. Gaffigan (who moves like a dancer) fully captured the high theatricality of the work, as did the orchestra, with notable clarion calls from the brass, a thrilling use of the strings and winds, and then the calming sound of church bells, a dreamy riff on the harp, and a marvelous turn on clarinet by John Bruce Yeh. From there it was on to a dreamy ending.
Closing the concert was Tchaikovsky's widely familiar but ever rapturous "Romeo and Juliet, (Fantasy-Overture)," which at one time the composer planned to expand into  an opera, though that never happened.
While I confess that this evocation of Shakespeare's play will never have the same impact of Prokofiev's stunning ballet score for the story, there is still an undeniable beauty to be found in Tchaikovsky's 21-minute work. It grabs hold with its mournful opening, and then moves on to a passage of great speed and fury, a beautiful, dreamily romantic theme, and a shift to a tragic, pounding intensity.
And now a brief recapitulation of two earlier concerts impeccably conducted by Esa-Pekka Salonen, the music director of the San Francisco Symphony who also happens to be a gifted composer.
The first concert opened with "Entr'acte," a brief but intriguing piece for string orchestra by Caroline Shaw, a Pulitzer Prize-winning composer wholly new to me. Full of shifting modulations – sometimes lyrical, sometimes spacey, and at one moment semi-silent, it was at once quirky and intriguing, with notable sequences of plucking by the bass and cello players, and an ingenious use of all the potential of the strings.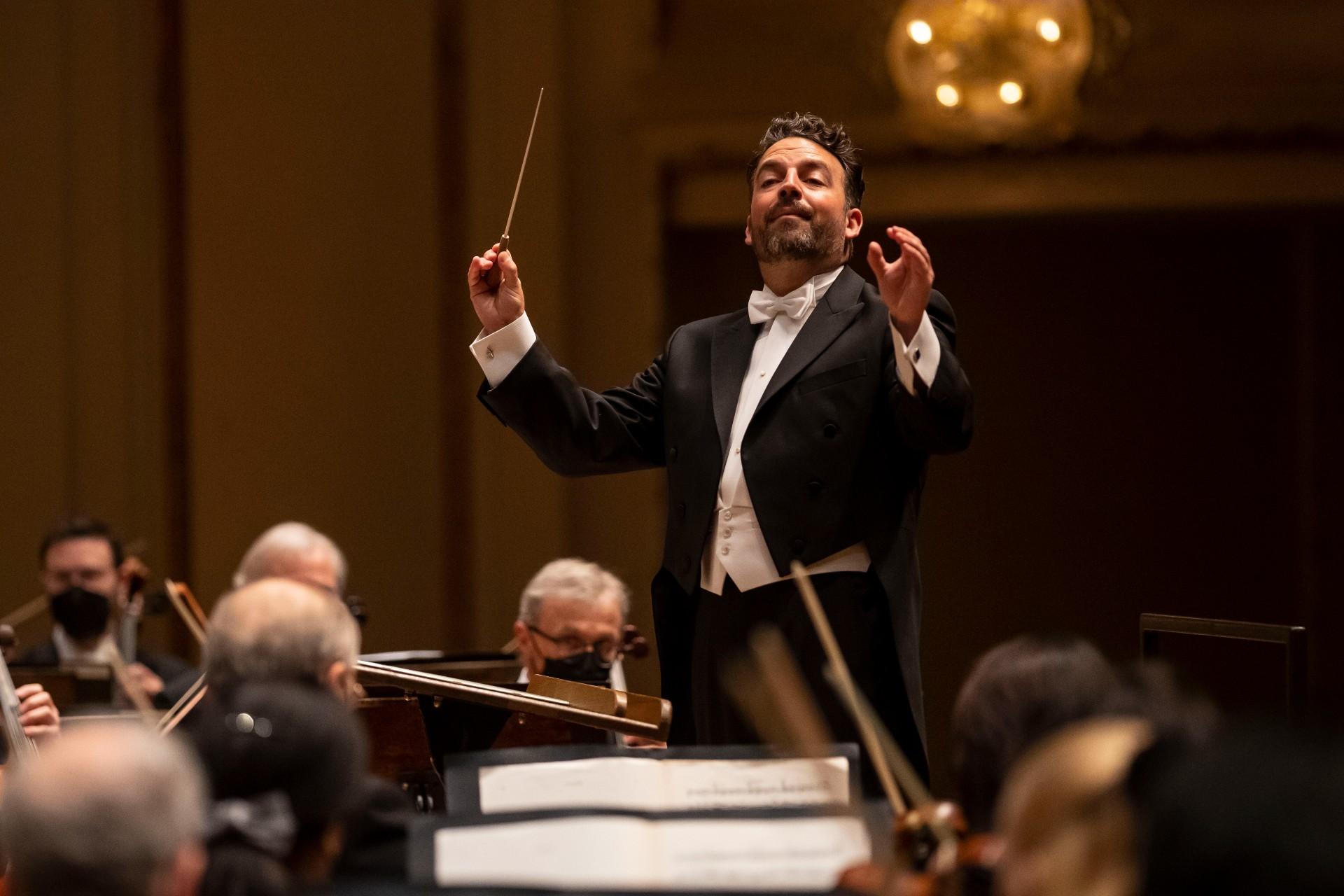 Conductor James Gaffigan leads the Chicago Symphony Orchestra in a program with works by Saint-Saëns, Saint-Saëns Mussorgsky (Orch. Rimsky-Korsakov), and Tchaikovsky. (Photo Credit: Todd Rosenberg)
Then it was on to "Gemini," a superb piece by Salonen from 2019. As he explained to the audience, the work – which features a vast and varied percussion section – is meant to capture the myth of the twins: Castor, the immortal son of Zeus, and Pollux, a mortal fathered by a Spartan king both born to Leda. (Remember, this is a myth.) The first half of the piece captures Pollux, beginning with a mystical-impressionistic quality (with Cynthia Yeh on vibraphone), and the sound of flutes. Then for Castor the full orchestra creates a great whirlwind of sound with strings, horns and percussive sound effects. (I definitely want a second hearing of this work.)
The second half of the program was devoted to Ravel's sumptuous "Daphnis and Chloe, Choreographic Symphony in Three Parts," featuring the fully masked Chicago Symphony Chorus and an extravagant use of percussion (drums, cymbals, castanets, crotales, tam-tam, glockenspiel, xylophone and wind machine), as well as two harps and a celesta. Created as a score for Diaghilev's Ballets Russes, the work has a haunting cinematic quality with the chorus adding a heavenly air, and the orchestra churning up a wild hurricane of sound. Pure sonic magic for 50 minutes, with Salonen in total control.
One week earlier the conductor led another concert that began with an enchanting fairy-tale-like rendering of Ravel's "Mother Goose," and closed with Stravinsky's "Symphony in Three Movements."
In between was an obsessive new work by the classical-meets-pop American composer Bryce Dessner. His new "Violin Concerto," featuring the ceaseless, repetitive, altogether obsessive bowing by Finnish violinist Pekka Kuusisto, who was backed by the equally unrelenting bowing of the CSO's violinists, also set a vast percussion section to work. But mostly what was generated was a sort of compulsive sound rarely heard from violins in a classical music environment. And by the end I could only think that Kuusisto must travel with a suitcase full of violin strings and might have to completely restring his instrument after every performance.
Note: Maestro Riccardo Muti, who returned to Chicago this week, was scheduled to conduct a program (running Thursday through Saturday) featuring Beethoven's "Violin Concerto" (with guest violinist Anne-Sophie), and Brahms' "Symphony No. 1." But on Thursday morning he positive for COVID-10. Stepping in as his last-minute replacement is Lina Gonzalez-Granados, the Sir Georg Solti Conducting Apprentice of the CSO.
Coming up next week (June 23, 25 and 28) will be the much-anticipated concert version of Verdi's opera, "Un Ballo in maschera (A Masked Ball)" featuring Francesco Meli, Luca Salsi, Damiana Mizzi, Joyce El-Khoury and Yulia Matochkina, and the Chicago Symphony Chorus. No word yet about Muti's return. For tickets, visit cso.org or call (312) 294-3000.
On Monday, June 27, at 6:30 p.m. Muti is scheduled to lead a free concert in Millennium Park's Pritzker Pavilion. The program will include Shostakovich's "Festive Overture" and Tchaikovsky's "Symphony No. 4."
Follow Hedy Weiss on Twitter: @HedyWeissCritic
---