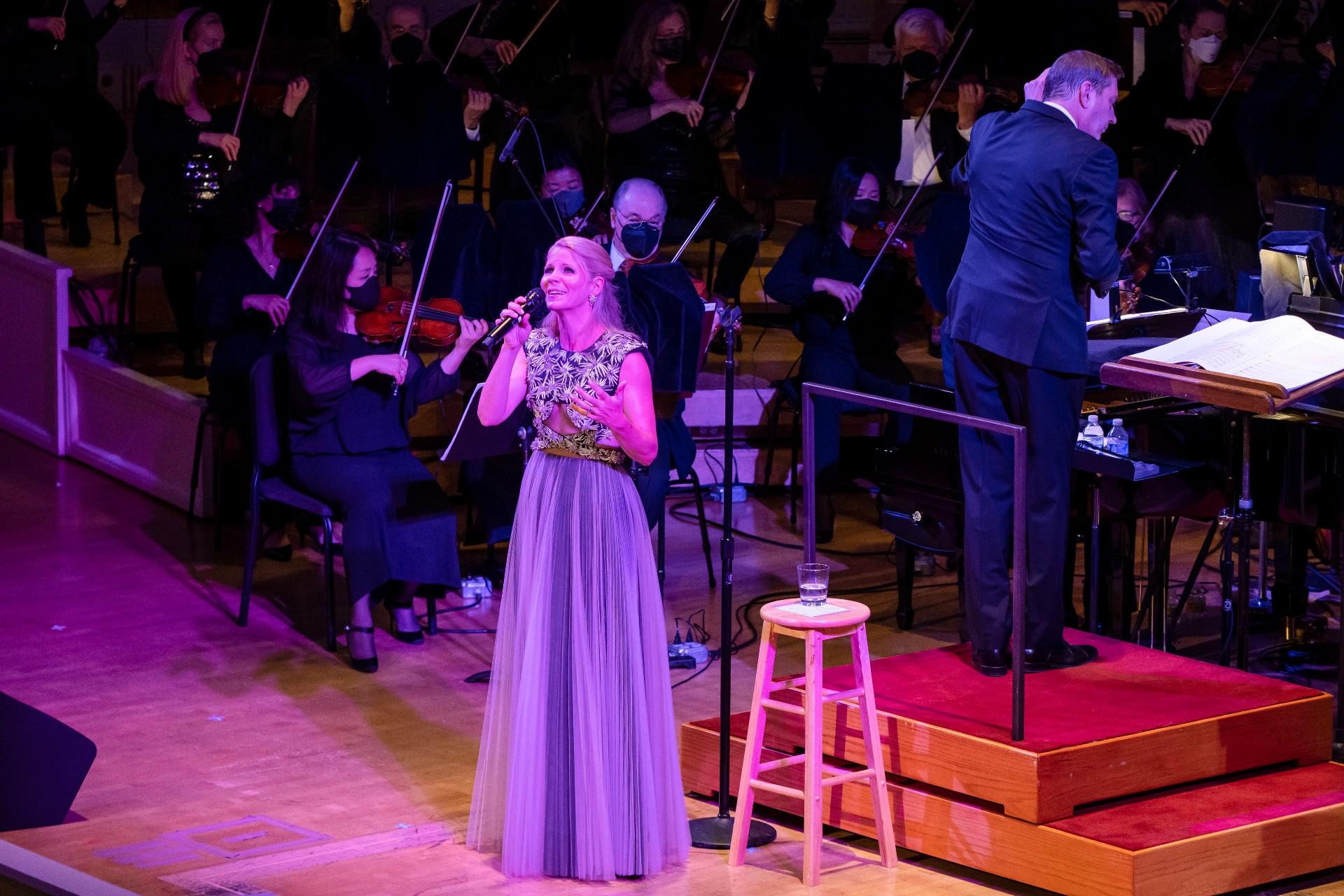 Kelli O'Hara performs with the CSO led by conductor Steve Reineke at 2022 Corporate Night event. (Photo credit: Todd Rosenberg)
There is a reason why Kelli O'Hara is a Tony Award-winning Broadway star. And the evidence could be found Thursday evening on the stage of Orchestra Hall as she performed a bravura solo concert accompanied by that ever dazzling "band," the Chicago Symphony Orchestra (conducted by Steven Reineke, music director of the New York Pops at Carnegie Hall).
O'Hara began her program with a slew of songs from Broadway musicals of the mid 20th century – a wonderful reminder of the geniuses who were at work during those decades, from Rodgers and Hammerstein, Lerner and Loewe, and Bock and Harnick to Cole Porter and Stephen Sondheim. And her clarion, wide-ranging voice (which can shift from coloratura soprano, to Broadway belt, to playful country western and more), along with her meticulous yet often subtly original phrasing, served simultaneously as a reminder of why these songs are not only enduring classics, but how they can be made to feel totally fresh.
Setting the concert in motion was a lush rendering of Richard Rodgers' overture to "South Pacific" (a medley of such unforgettable songs as "Bali Ha'i," "There Is Nothin' Like a Dame," "A Wonderful Guy," and "Some Enchanted Evening"). It was the perfect warmup for O'Hara's arrival on stage in a beautiful silvery gown, and after her spirited rendering of "A Wonderful Guy" she launched into a tribute to Stephen Sondheim with "What More Do I Need?," a terrific song from his ill-fated early musical, "Saturday Night." The relatively unfamiliar song perfectly captures how falling in love can suddenly make all the annoyances of life in New York (ideally captured in Sondheim's lyrics) suddenly seem unimportant. Then it was on to a lovely rendering of "If I Loved You" from "Carousel," with O'Hara hitting all its quasi-operatic high notes beautifully.
Among one of several show-stopping moments in the concert was a magnificent rendering of the title song from "The Light in the Piazza," a musical that arrived on Broadway in 2005 and is the work of Adam Guettel, who just happens to be a grandson of Richard Rodgers. The musical is about how a developmentally damaged young girl, on a trip to Italy with her mother, falls in love for the first time. And O'Hara illuminated the stage with her exquisite interpretation of a truly luminous song.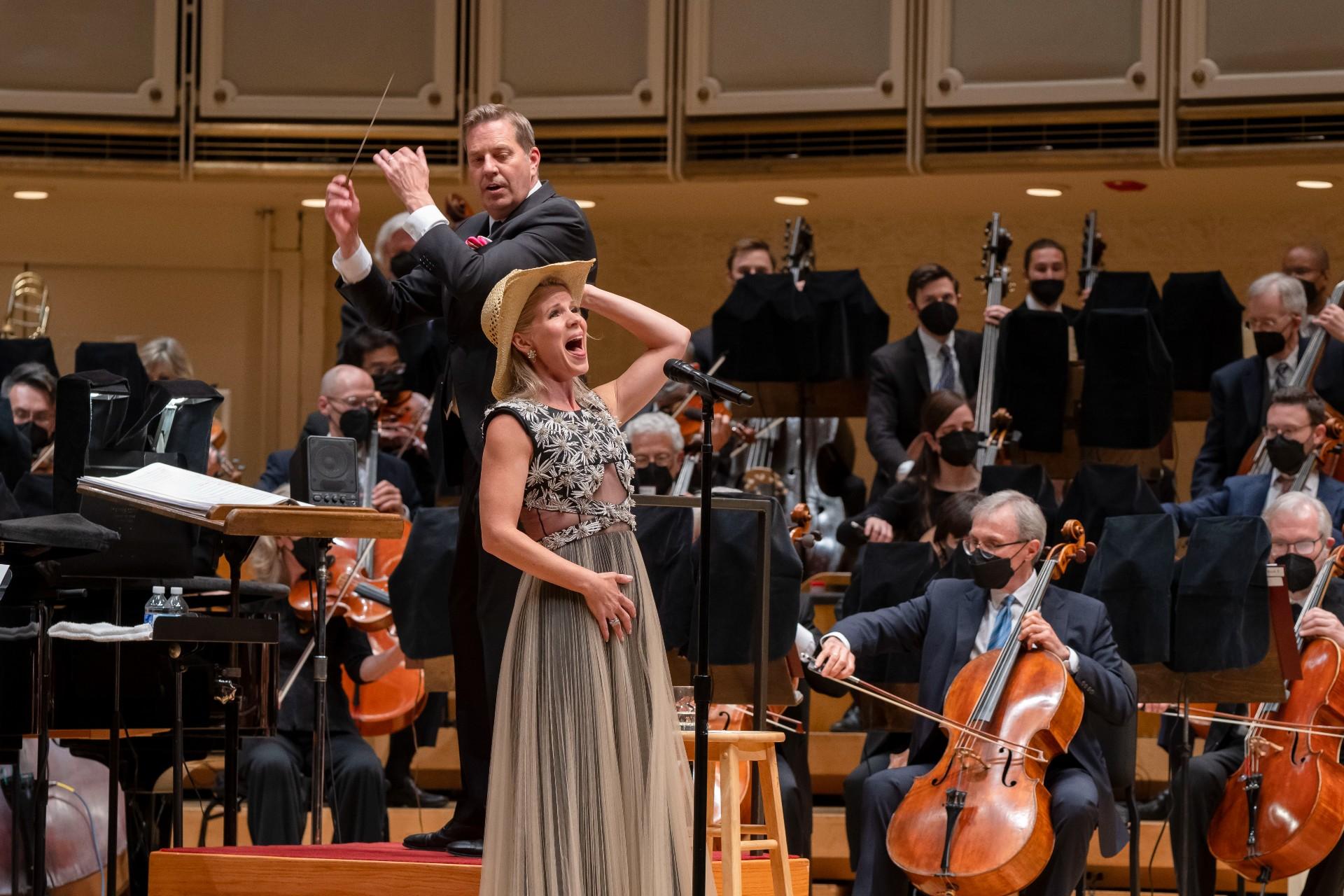 Kelli O'Hara performs with the CSO led by conductor Steve Reineke at 2022 Corporate Night event. (Photo credit: Todd Rosenberg)
Then it was on to "Hello Young Lovers," from "The King and I," a love song in which a widowed mother speaks from experience, with O'Hara vividly capturing the woman's memories. It was followed by "So In Love," the Cole Porter gem from "Kiss Me Kate" in which a woman is elated when she mistakenly believes her ex-husband has sent her the flowers meant to be delivered to his new love interest. And next came a song from "She Loves Me" from the Bock-Harnick musical of the same name (with the pronoun changed to "he" in this case), with the lyric "I'm incandescent, like some adolescent" just lighting up the stage.
O'Hara then returned to "South Pacific," singing the achingly beautiful "This Nearly Was Mine," the song about a perceived lost love that also is ordinarily performed by a male character with a sonorous, operatic voice. But O'Hara made it her own, using the operatic quality of her soprano voice to ideally capture the song's emotion.
And then it was back to Sondheim whose haunting wisdom shines through "Children Will Listen," the ever-timely song from "Into the Woods" (also sung by Bernadette Peters at this Sunday night's Tony Awards). And, in a surprise twist, O'Hara gave a deeply moving performance of "Both Sides, Now," Joni Mitchell's anthemic 1968 song about both love and "life's illusions."
Next came the concert's hilarious show-stopper, "They Don't Let You In the Opera (If You're a Country Star," something of a mini-musical written specifically for O'Hara by Dan Lipton, her music director and pianist. A true comic gem, and a vocal and dramatic tour de force, it draws on O'Hara's Oklahoma farm country roots, her initial thoughts about singing opera (She has performed at New York's Metropolitan Opera.), and finally reaches its coloratura climax in a knockout sequence in which she goes into labor (O'Hara is the mother of two children.), riffs about the Grand Ole Opry, and pushes out a baby. You really had to be there to appreciate all this.
And there was more as O'Hara sang "To Build Myself a Home," a deeply emotional song from Jason Robert Brown's musical, "The Bridges of Madison County," based on the novel by Robert James Waller. O'Hara starred in the show's 2014 Broadway premiere, playing the role of Francesca, an Italian war bride who has raised a family in Iowa but has a totally unexpected but potentially life-altering encounter with a photographer on assignment in her town. This song, too, is almost a mini-opera with its emotional sweep, and O'Hara nailed it.
Not surprisingly an encore to this wonderful concert was at the ready. It was "I Could Have Danced All Night" from "My Fair Lady" – a perfect return to an earlier era of Broadway brilliance.
Follow Hedy Weiss on Twitter: @HedyWeissCritic
---