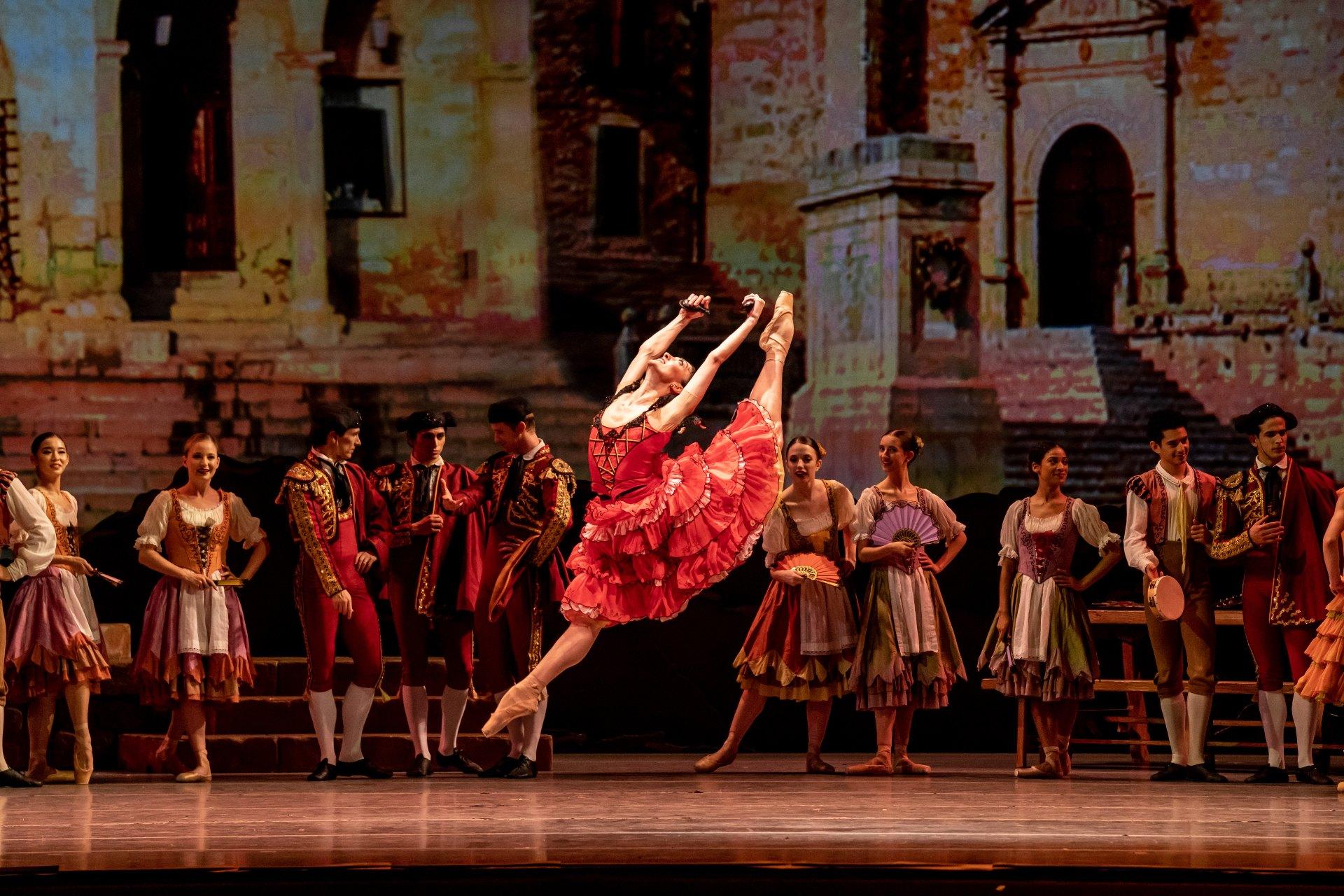 Victoria Jaiani as Kitri in "Don Quixote." (Photo by Cheryl Mann)
Published in full in 1620 and considered to be one of the greatest novels of all time, Spanish writer Miguel de Cervantes' "Don Quixote" also happens to be one of the most widely translated of works, and those translations are not just literary in nature.
Over the years, Cervantes' story of the grandly deluded older man with fantasies of knighthood and romance – and of the very real chaos that unfolds in a Spanish town in which a father attempts to determine who his beautiful and much-pursued daughter is to marry – has served as an inspiration for countless composers, choreographers, visual artists, filmmakers and musical theater creators. And in 2011, Yuri Possokhov, the internationally renowned, Russian-born dancer-turned-choreographer put his own elaborate twist on the story with a grand-scale interpretation of the work created as a world premiere for the Joffrey Ballet.
Now, after a planned revival of the work had to be canceled during the COVID-19 shutdown, the Joffrey has returned "Don Quixote" to the stage. And its elaborate production of the ballet remains an ideal showcase for the company's superb dancers, who are notable for their impressive acting flair as well as for their superb technical prowess. And not only does this ballet ideally capture the mix of the comical, satirical, fantastical and romantic aspects of Cervantes' story, but with its beautiful sets, costumes, projections, puppets and aerial tricks it also is an ideal showcase for the Joffrey.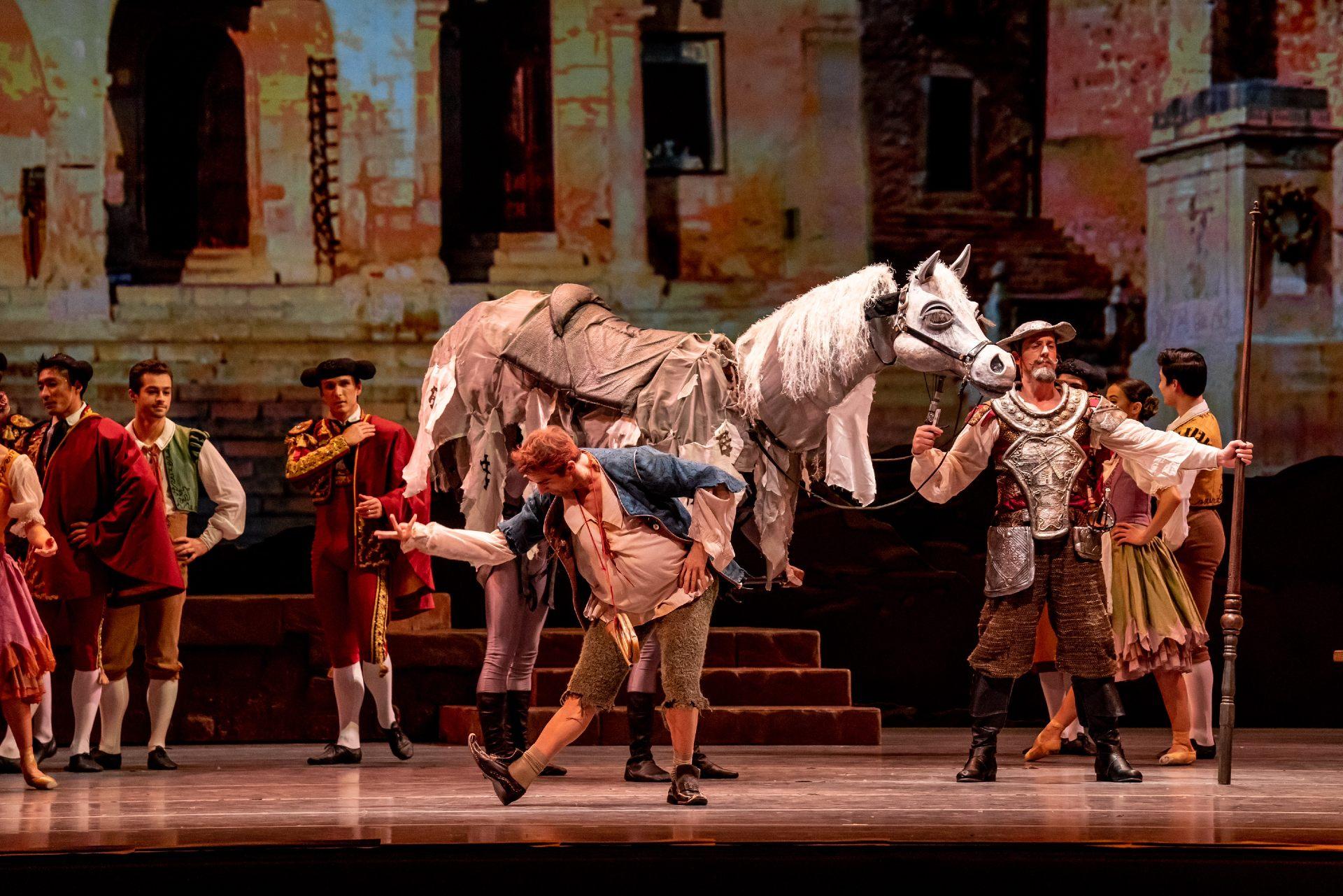 Derrick Agnoletti and Miguel Angel Blanco in "Don Quixote." (Photo by Cheryl Mann)
Set to the same Ludwig Minkus score created for choreographer Marius Petipa's original production for the Bolshoi Ballet in 1869, Possokhov has devised a multimedia treat that seamlessly incorporates challenging classical passages, fiery Spanish dancing and zany storytelling. The toreadors swirl their capes, the Spanish street dancers exhibit their full flair, the romantic leads (Kitri and Basilio, the barber who adores her) soar in their execution of bravura feats. But Kitri's father, Lorenzo, the local innkeeper, is set on having her marry Gamache, a wealthy nobleman and ridiculous fop.
Don Quixote, a tattered low-ranking nobleman, is instantly captivated by Kitri who he envisions as his ideal woman. And he is just deluded enough to pursue her, and to also "tilt at windmills" with a long pole taken from his bed. He is accompanied by his earthy sidekick, Sancho Panza, who joyfully wields a giant bag of sausages, and leads Quixote's raggedy horse as it trots along, powered by the legs of two male dancers.
Casting for this production varies from performance to performance giving many of the company's finest dancers a chance to shine.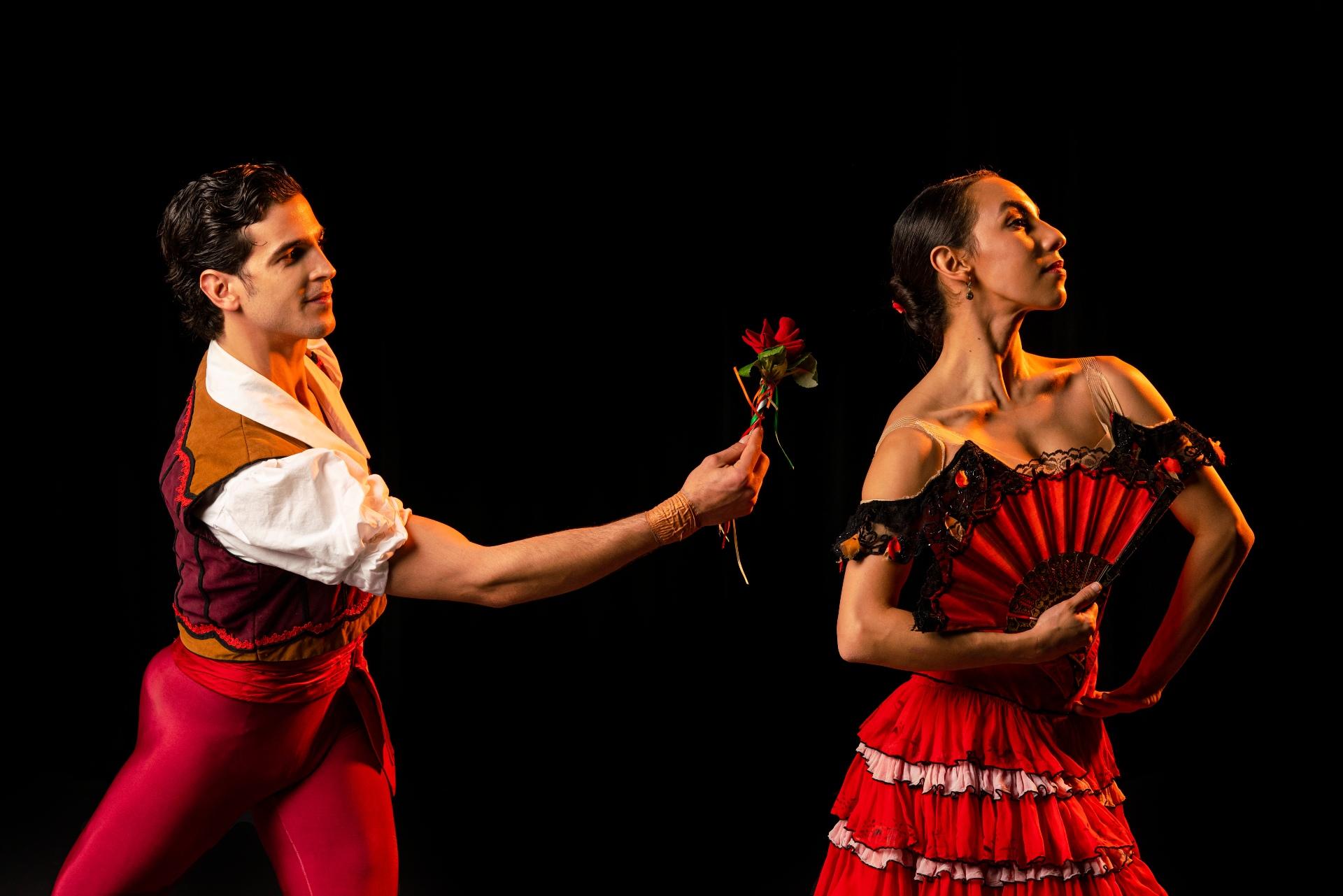 Alberto Velazquez and Amanda Assucena in "Don Quixote." (Photo by Todd Rosenberg)
The opening night performance featured an absolutely breathtaking turn by Victoria Jaiani as Kitri. Her idyllic long line, elegant flexibility and knockout technique – with leaps so stunningly suspended in mid-air you might think she is being lifted by wires – never ceases to amaze. And she was expertly partnered by Dylan Gutierrez as Basilio.
If there is a weakness in the ballet it is that Possokhov fails to give us enough Quixote, to the point where he feels like a subsidiary character when in fact his crazy daydreams are what should be driving the story. Miguel Angel Blanco captured the character's dreaminess, and the ever fleet and engaging Derrick Agnoletti nailed the wonderfully mischievous character of his comical squire, Sancho. But Quixote's presence in the ballet is just not nearly as fully developed as it should be.
Brooke Linford was all fire and ice as Mercedes, the street dancer pursued by Espada, a famous toreador danced by Stefan Goncalvez. As Kitri's friends, Amanda Assucena and Valeria Chaykina brought great Spanish flair to their flamenco-infused dancing. Fernando Duarte was an ideally laughable Gamache, and Raul Casasola played Kitri's bossy father.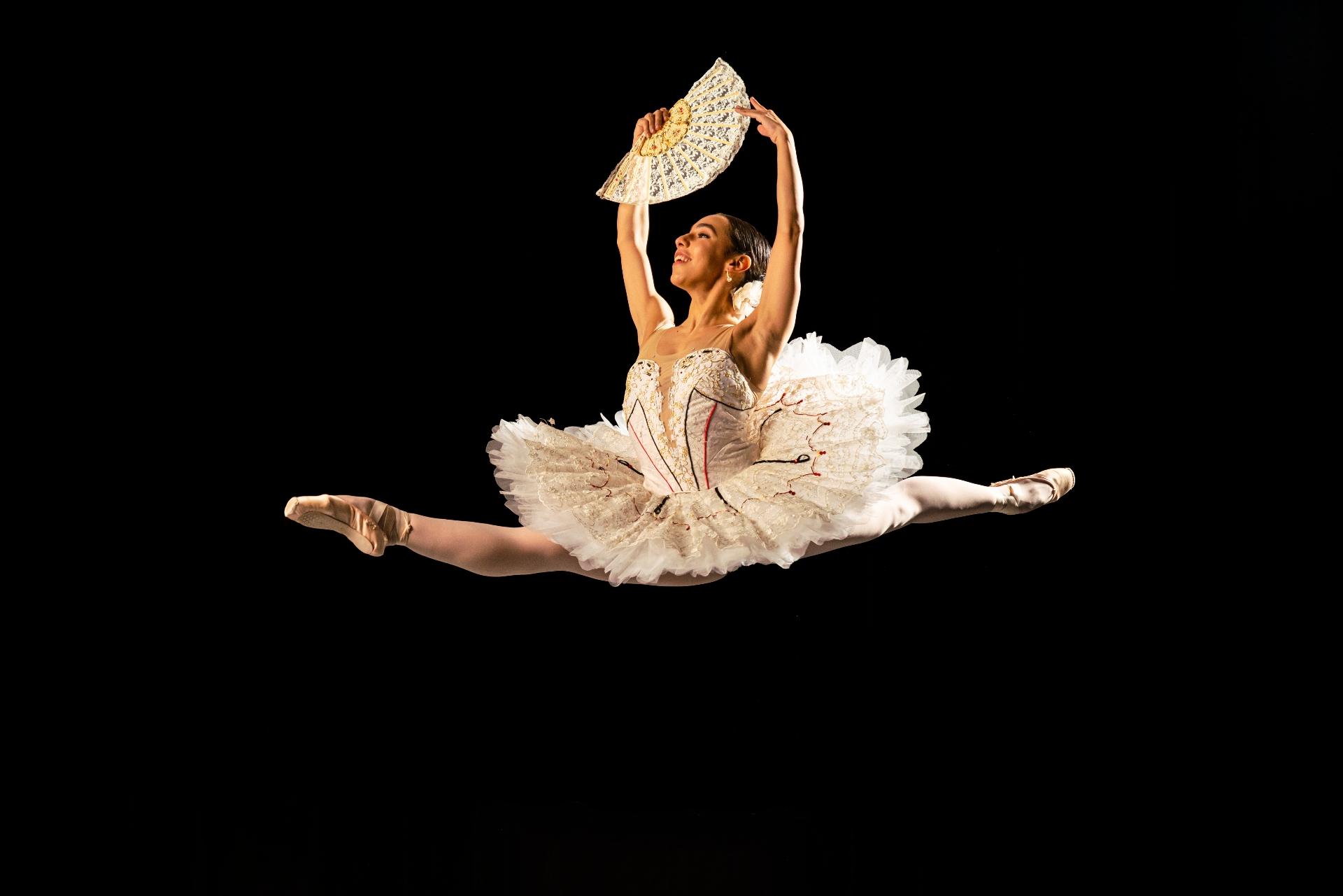 Amanda Assucena in "Don Quixote." (Photo by Todd Rosenberg)
Jack Mehler's sets and lighting – especially the beautiful golden-walled cityscape of the Spanish town where most of the action unfolds – is ideal, with stylish costumes by Travis Halsey, fantastical projections by Wendall Harrison and Paul Vershbow, and puppets by Vonorthal Puppets.
Of special note are the superb musicians of the Lyric Opera Orchestra and the absolutely impeccable work of Scott Speck, the Joffrey's veteran conductor. Speck seems to breathe along with the dancers, sustaining every note, and enhancing every step in his seamless communication with them.
"Don Quixote" runs through Sunday at the Lyric Opera House, 20 N. Wacker Drive. For tickets, visit joffrey.org.
Note: These performances also mark the final appearances by a total of nine Joffrey dancers who are either retiring or moving on to new endeavors.Dancing the roles of Kitri and Basilio in upcoming performances this week will be Gayeon Jung and Edson Barbosa (Thursday evening and Sunday matinee); Jeraldine Mendoza and Hyuma Kiyosawa (Friday evening); April Daly and Miguel Angel Blanco (Saturday matinee); and Amanda Assucena and Alberto Velazquez (Saturday evening).
Follow Hedy Weiss on Twitter: @HedyWeissCritic
---