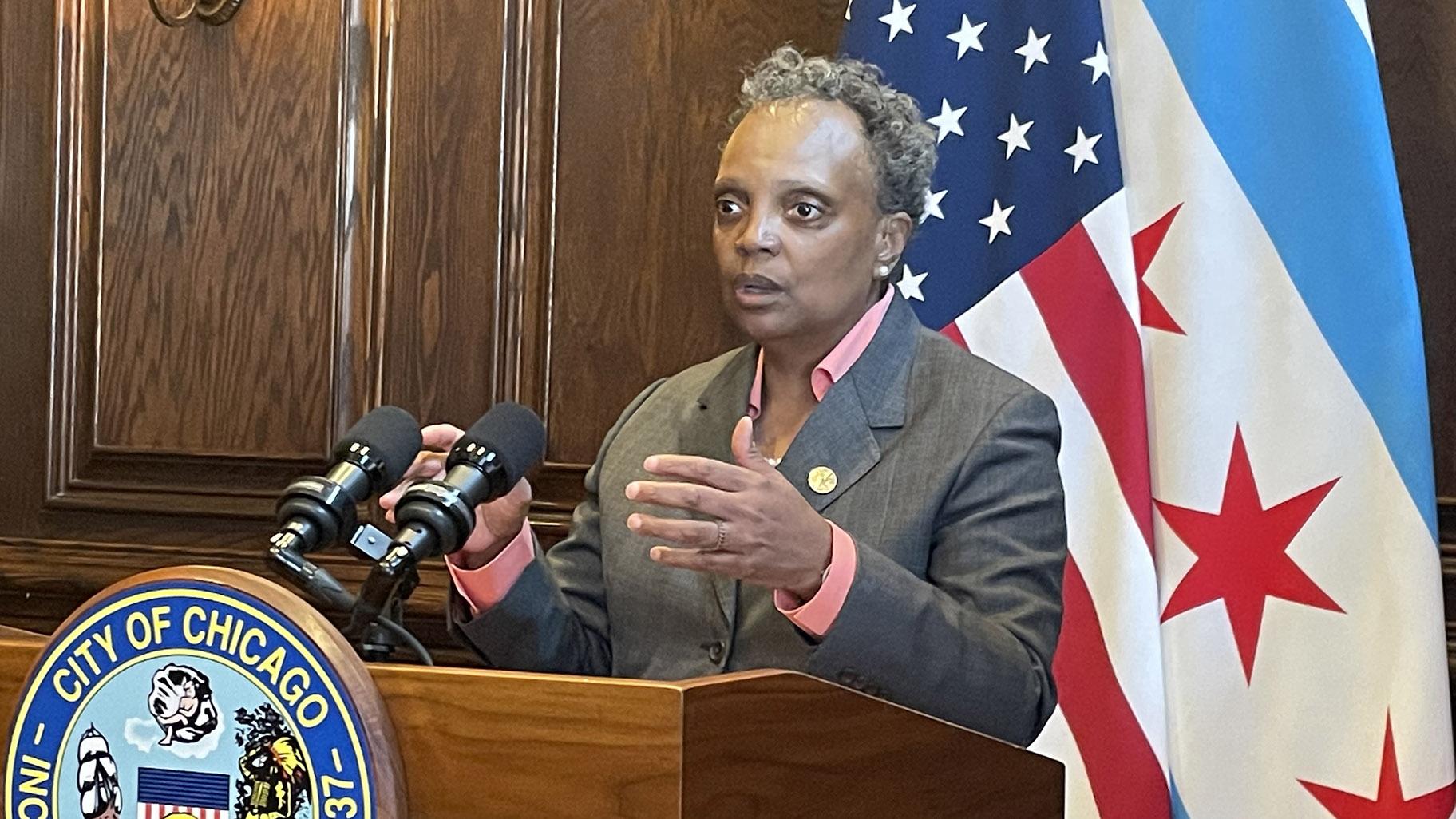 Mayor Lori Lightfoot addresses the news media Tuesday April 19, 2022. (Heather Cherone/WTTW News)
Mayor Lori Lightfoot said Thursday that she will formally ask Chicago voters for another four-year term as mayor next week — and left no doubt that she is prepared for a battle royale.
Ald. Roderick Sawyer (6th Ward) became the fifth candidate to challenge Lightfoot's expected bid to be the first woman to be re-elected as Chicago mayor. On Thursday, he slammed Lightfoot as "mean-spirited" and blasted what he called her "uncollaborative" style of governing in a series of interviews.
But shortly after kicking off the city's celebration of Pride month by dedicating Chicago's AIDS Garden along the Lakefront near Belmont Harbor, Lightfoot brushed off the criticism leveled by Sawyer, former CPS CEO Paul Vallas, state Rep. Kam Buckner, businessman and philanthropist Willie Wilson and Ald. Raymond Lopez (15th Ward).
"Another day, another man who thinks he can do his job better than me," Lightfoot said.
Lightfoot tapped Sawyer to serve as the chair of the City Council's Health and Human Relations Committee, and his candidacy is a stunning rebuke of Lightfoot and her leadership. Sawyer was first elected to the City Council in 2011.
Sawyer served as the chair of the Black Caucus under former Mayor Rahm Emanuel, and charted a moderate path during his administration. In 2019, Sawyer was forced into a runoff, but retained his seat, winning nearly 54% of the vote.
Sawyer's father, Eugene Sawyer, served as 6th Ward alderperson from 1971–87 and as Chicago mayor from 1987-89 after the death of Mayor Harold Washington.
Sawyer and Lightfoot clashed over a number of issues during the past three years, including efforts to create an oversight board of Chicagoans to oversee the beleaguered Chicago Police Department as well as a push to study whether and how the city should pay reparations to Chicagoans who are the descendants of enslaved African Americans.
In the face of opposition from the mayor, Sawyer dropped his push to create a commission, and agreed to form a subcommittee of the Health Committee. That body met only once, and Sawyer regretted bowing to the mayor's wishes, telling WTTW News she had "stonewalled" his efforts.
Lightfoot said again Thursday she is confident that she has a strong record to run on in her second political campaign, which will be centered on her efforts to lead Chicago during the COVID-19 pandemic that has sickened more 600,000 Chicagoans, hospitalized approximately 43,000 of them and killed 7,706 people.
Lightfoot began making her case to Chicago voters in a speech to the City Club of Chicago on April 19, telling Chicago's business community that Chicago is poised for "the best economic recovery of any big city in the nation, bar none."
But to win a second term as mayor, Lightfoot will have to fight serious headwinds caused by the surge of crime in Chicago that began as the pandemic swept the city and shut down schools and businesses, triggering a financial meltdown. 
Lightfoot has been quick to cite data that shows shootings and murders have dropped so far this this year, as compared with the same period in 2021. But last year was the most violent year in Chicago in approximately 25 years, putting Lightfoot and Chicago Police Supt. David Brown, her hand-picked choice to lead the department, on the defensive.
Nearly a year ago, Lightfoot told "Chicago Tonight" that 99% of the criticism she faces is spurred by racism and sexism.
Lightfoot told WTTW News on Thursday that nothing has changed during the past year.
"Women are always going to be judged by a different lens, and people of color are always judged by a different lens," Lightfoot said. "That's just the reality of our lives."
Lightfoot, Chicago's first gay mayor, said members of the LGBTQ-plus community also face unwarranted criticism because of who they are.
"I'm a big believer in playing the cards that were dealt," Lightfoot said. "I'm going to keep doing what I think is right on behalf of the residents of the city."
Contact Heather Cherone: @HeatherCherone | (773) 569-1863 | [email protected]
---