Chicago and other major cities are experiencing a "pandemic-spurred surge" in violence that officials are having success in fighting despite a rising number of shootings and homicides, Mayor Lori Lightfoot said during a one-on-one interview Tuesday on "Chicago Tonight."
"We've had a rough 15, 16 months," Lightfoot said. "We are making progress ... but we still have a long way to go in making sure that residents all over the city are in fact safe." 
Police are investigating two mass shootings that took place Sunday night, one in South Shore that left one dead and five injured, and another in Marquette Park that left one dead and 10 injured.  
READ: Chicago Police Believe Mass Shootings Sunday Night Were Likely Gang-Related
In all, seven people were killed over the weekend, alarming 20 aldermen who demanded on Tuesday in writing that police Superintendent David Brown immediately detail plans to keep shootings in check during the approaching 4th of July holiday weekend, typically one of the most violent of the year. 
Unless Public Safety Committee Chair Ald. Chris Taliaferro (29th Ward) agrees to hold a committee hearing about how officers will be deployed downtown and in the neighborhoods, the aldermen vowed to call a special City Council meeting on Friday. The deadline to schedule that meeting is Wednesday. 
Brown and other police leaders routinely brief aldermen, but not all aldermen participate in those sessions, Lightfoot said. 
Lightfoot once again blamed the city's escalating crime rate on the flow of illegal guns into Chicago from states with lax gun laws, and said she was "grateful" that President Joe Biden is stepping up enforcement of federal gun laws. 
READ: As Lightfoot Blames Court Shutdown for Violence, Aldermen Push Back
"We are awash in illegal guns," Lightfoot said, reiterating her call for the Cook County courts to reopen even after representatives of Chief Judge Tim Evans told WTTW News that the courts did not close but reduced operations to stop the spread of COVID-19. 
Even as nearly 40% of the City Council challenged Lightfoot's plans to keep Chicagoans safe and Wednesday's City Council meeting was abruptly adjourned amid rising acrimony, the mayor said her administration has "very strong relationships with a good working majority of the aldermen." 
The ability of two members of the City Council to block votes on controversial matters is being used frequently by alderpeople "who, frankly, want to turn the legislative process into some sort of stage performance." 
Lightfoot said she would not allow those "stunts to derail" efforts to improve Chicago government. 
During Wednesday's City Council meeting, Lightfoot argued publicly with Ald. Jeanette Taylor (20th Ward) after the South Side alderperson blocked a vote on the mayor's pick to lead the city's Law Department.
READ: Showdown on Lake Shore Drive Delayed as Acrimony Between Council, Mayor Reaches Fever Pitch
"About 99%" of the criticism Lightfoot gets as mayor is motivated by racism and sexism, Lightfoot told WTTW News. 
"Look at my predecessors," Lightfoot said, adding that former Mayor Richard M. Daley wasn't known for holding "tea sessions" with opponents and that former Mayor Rahm Emanuel wasn't known as a "polite guy who was a uniter."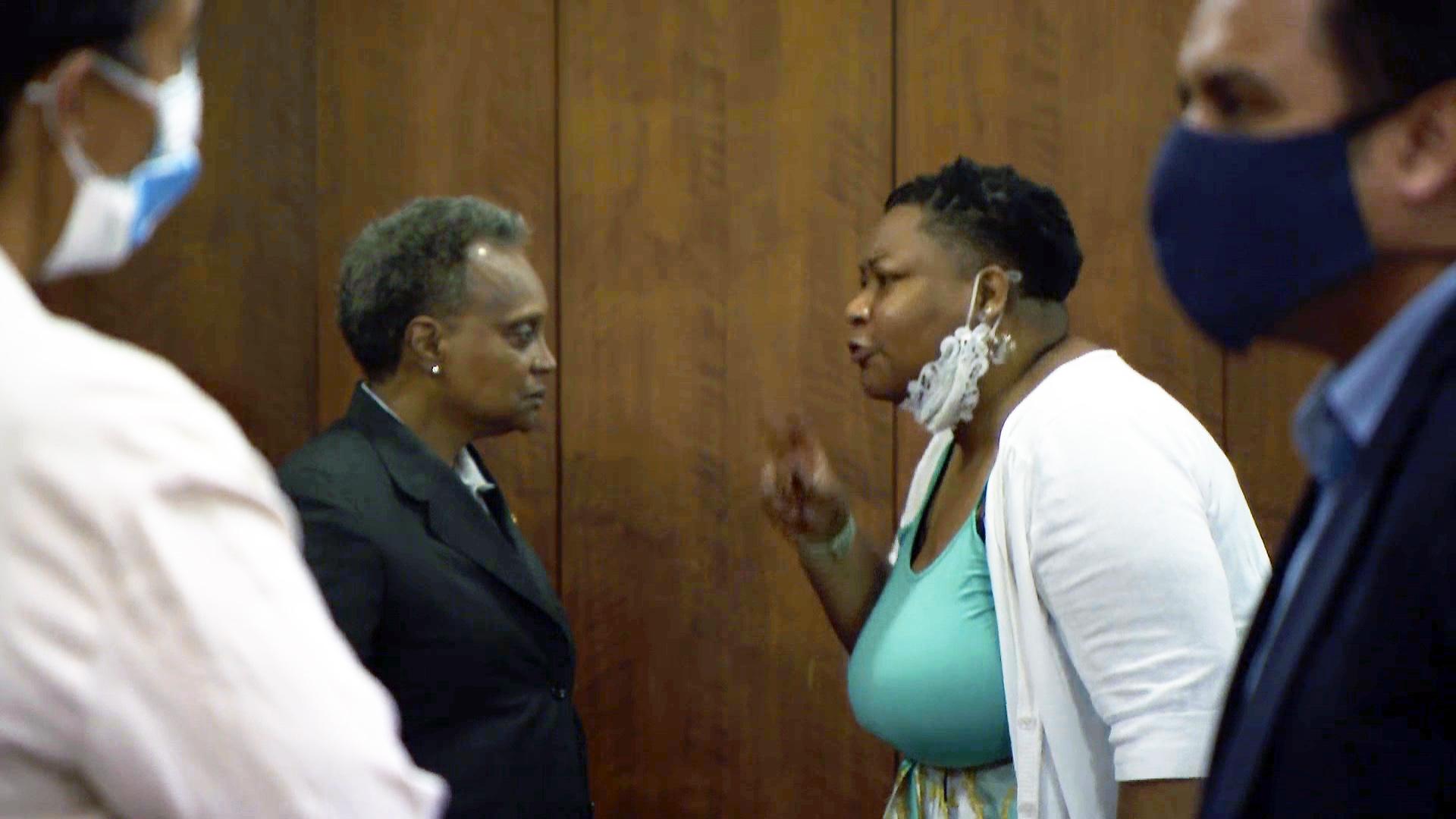 Mayor Lori Lightfoot, left, listens as Ald. Jeanette Taylor (20th Ward) responds to her request to allow the Chicago City Council to vote to confirm Celia Meza as the city's top lawyer at a City Council meeting Wednesday, June 23, 2021. (WTTW News)
"Women and people of color are always held to a different standard," Lightfoot said. "I've known that my whole life." 
Lightfoot said she was elected to "disrupt the status quo" and that is designed to make people uncomfortable but pledged to continue improving. 
Lightfoot said her critics are motivated to speak out because they "don't like to see a woman assume power."
---