Joseph Primes, Alfred H. Wilson, A.C. Smith, Jerod Haynes and Kierra Bunch in the Court Theatre's production of "Two Trains Running." (Credit: Michael Brosilow)
"Two Trains Running" is one of the finest plays in August Wilson's renowned 10-play "Century Cycle" that captures elements of Black life in each decade of the 20th century. And Court Theatre's latest revival of this seminal work — the ninth production of a Wilson play to be directed on its stage by Ron OJ Parson, and brought to vivid life by a cast including many of Chicago's finest and most enduring actors — is not to be missed.
Set in 1969 during the end of an exceptionally turbulent period in American history, "Two Trains Running" is far more than a vivid evocation of its time as it played out in a Black neighborhood of Pittsburgh, the city in which Wilson grew up, and which he used as the backdrop for all but one of his plays.
Set in a well-established diner located in a once thriving but now rundown area that has been slated for demolition (and, more likely, is facing gentrification rather than renewal), the play also is a wonderfully tragi-comic character study that captures the many different attitudes and responses of the six Black men and one woman who either work at the diner, or simply use it as a hangout or refuge.
Along the way there is talk of Black Power rallies, the earlier assassinations of both Martin Luther King Jr. and Malcolm X, ever-contentious legal dealings, the price of funerals, the quest for a job, the status that comes with owning a fancy car, the full range of money issues, the allure of playing the numbers, the quest for true love, the inevitability of a prison term, the search for a sense of inner calm, and above all, the pursuit of justice.
Yes, all this is at work in one play.
The owner of the diner is Memphis Lee (the ever formidable A.C. Smith), a strong-willed businessman who is hell-bent on having the city pay him what he believes is the fair price of $25,000 for his diner's property. His only employee at the moment is his cook and waitress, Risa (in an intense portrayal by Kierra Bunch), a woman who has clearly had a very difficult time with men, and who he bosses around with a palpable lack of respect.
Holloway (played with a deep sense of wisdom and inner calm by the always excellent Alfred H. Wilson), is the philosophical elder who has clearly made the diner his home away from home, and who has found guidance and spiritual rebirth from his visits to Aunt Ester, the quasi-mythical character said to be more than 300 years old — a "washer of souls" who looms large in many of the playwright's stories. And then there is West (the ever stylish Cedric Young), who plays the shrewd, status-conscious owner of the neighborhood's busy and highly profitable funeral home.
Other regular visitors to the diner are Wolf (Ronald L. Conner in a deft turn as a compulsive young numbers runner who, much to the annoyance of Memphis, uses the diner's pay phone to do business), and Sterling (ideally played by Jerod Haynes), a compulsive thief who has just been released from jail, cannot find a job, falls for Risa, and woos her in the most compelling way.
Last but by no means least there is Hambone (Joseph Primes in a bravura turn), a seemingly homeless and half-deranged man who for 10 years has been pursuing justice on his own terms with the clarion cry, "I want my ham" — his demand that the white butcher who was to have paid him with a ham gave him a chicken instead. And while he is tolerated by the men, it is Risa who feeds him and treats him with great kindness.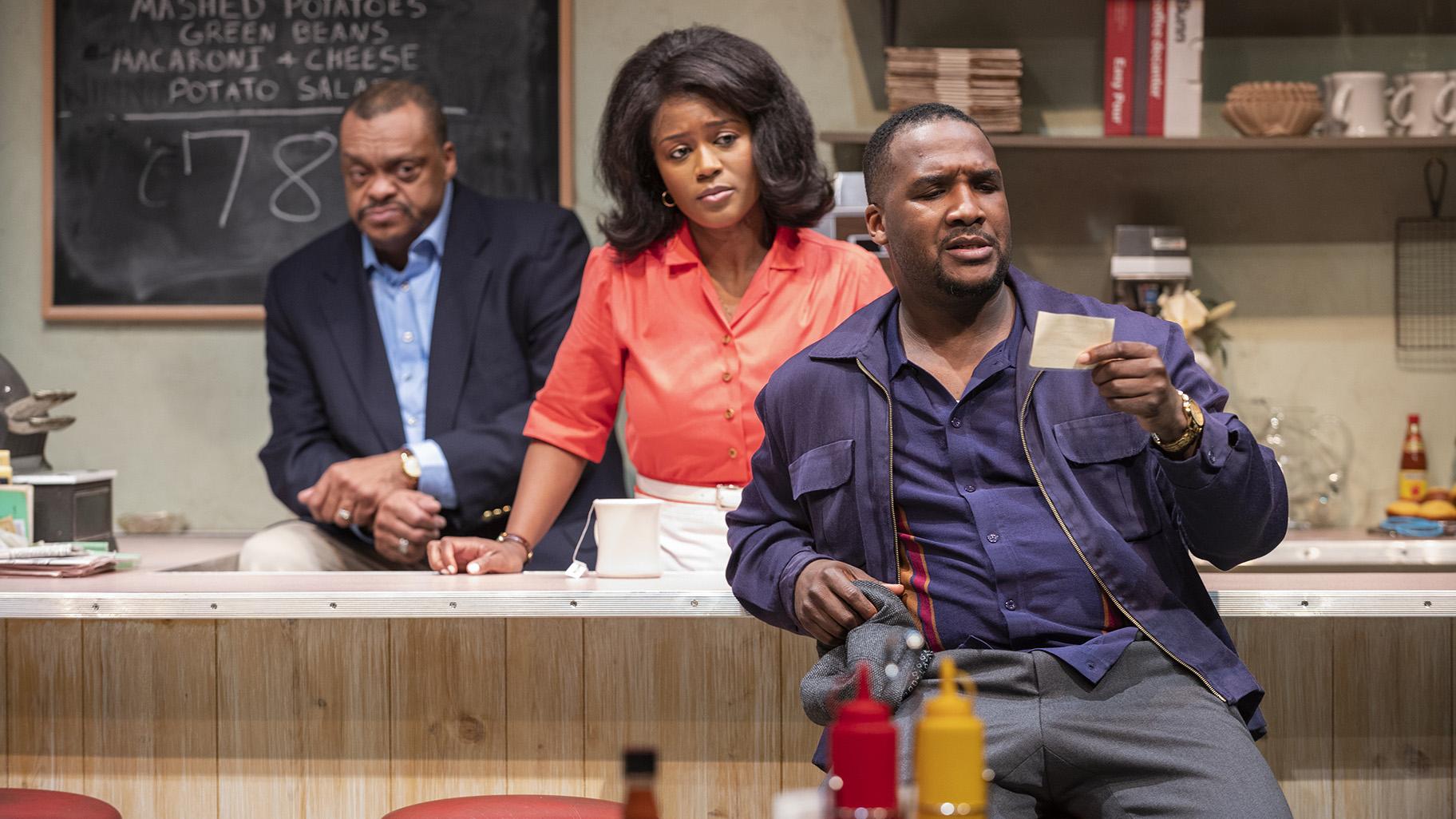 A.C. Smith, Kierra Bunch and Jerod Haynes in the Court Theatre's production of "Two Trains Running." (Credit: Michael Brosilow)
Parson's impeccable casting and direction once again reflect his ideal feel for Wilson's ability to capture the frustrations, rage and pain engendered by racism. And he and his actors ideally tap into their characters' very particular use of language. Some might object to the play's prolific use of a racial slur. But Wilson no doubt sensed that the hateful word can be interpreted in many different ways when used by his Black male characters — men who have, in their own way, taken a certain kind of possession of the word, and perhaps, in the process, robbed the white racists who use it of some of its power.
Finally, a note of praise for Jack Magaw, the masterful set designer who for decades has captured the ideal sense of a play's time and place. His rendering of Memphis' diner is spot on, from its colorful tile floor, vintage jukebox, and red plastic booth-style seating, to the hint of a construction crane hovering over the building and piles of lumber just outside its walls.
And then there is this news that comes at an ideal moment: Court Theatre, which has been in existence since 1955, has (finally) been named the recipient of the 2022 Regional Theatre Tony Award that comes with a grant of $25,000. The Tonys will be presented on June 12 and televised on CBS.
"Two Trains Running" will run through June 12 at Court Theatre, 5535 S. Ellis. For tickets visit CourtTheatre.org or phone 773-753-4472. And take note: There is a free parking garage immediately next to the theater.
Follow Hedy Weiss on Twitter: @HedyWeissCritic
---