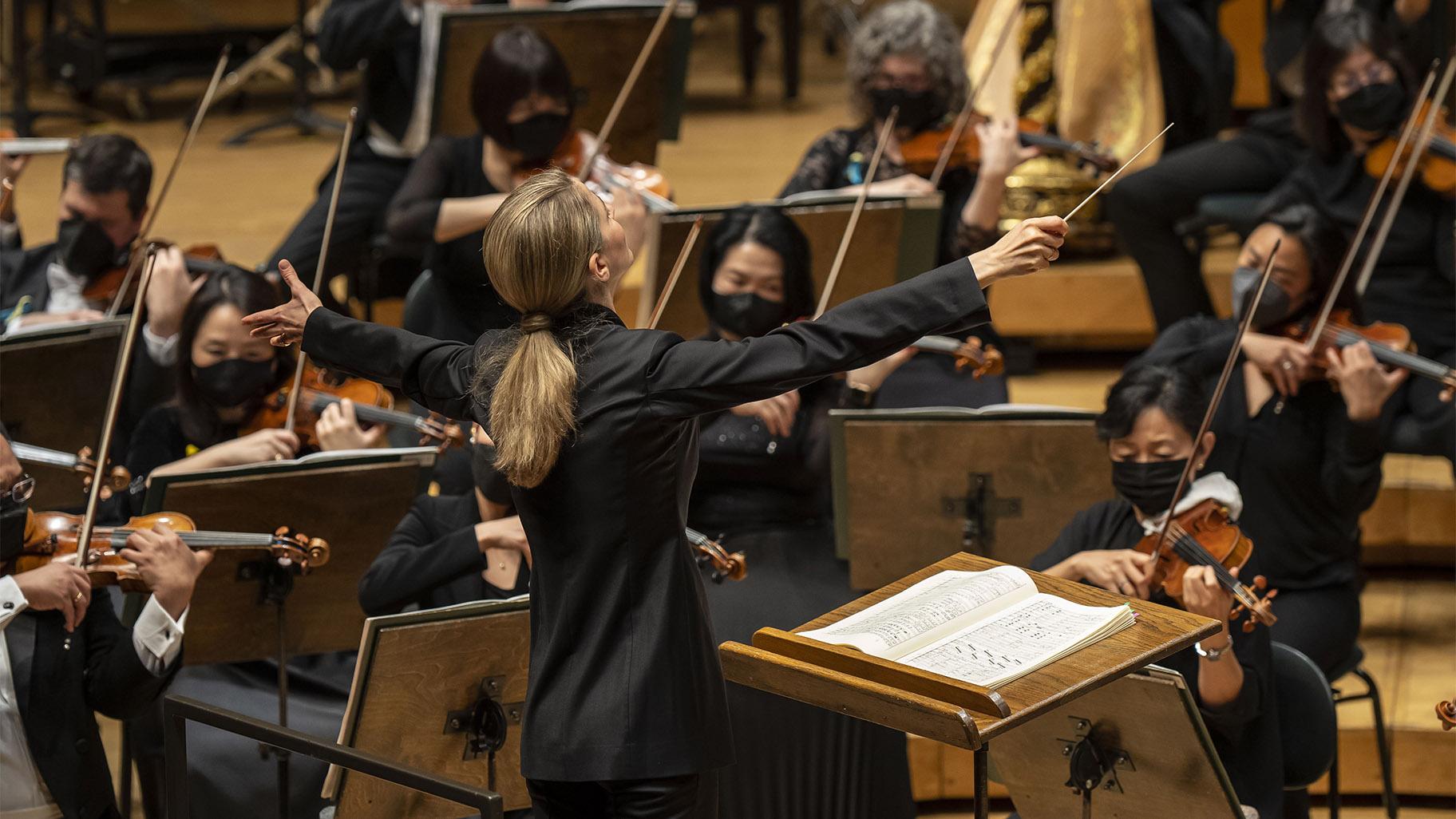 Conductor Karina Canellakis in her CSO debut led a program featuring music by Augusta Read Thomas, Robert Schumann and Richard Strauss (Credit: Todd Rosenberg Photography)
The Chicago Symphony Orchestra was in its usual incomparably brilliant form Thursday night. Guest conductor Karina Canellakis, in an impressive debut with the orchestra, made a formidable impression.
Canellakis led the CSO in "Brio" (a brief but dazzling piece by Augusta Read Thomas, the immensely gifted and prolific contemporary composer); Robert Schumann's lushly beautiful "Piano Concerto in A Minor" (featuring a bravura performance by pianist Kirill Gerstein); and finally "Ein Heldenlaben (A Heroic Life)," Richard Strauss' sweeping, fiercely emotional tone poem.
The New York-born Cannellakis is currently chief conductor of the Netherlands Radio Philharmonic Orchestra, and principal guest conductor of the London Philharmonic and Berlin Radio Symphony Orchestra. Throughout the performance, she demonstrated a crystal clear yet understated connection to these three-demanding works. A slender, graceful figure who could easily be mistaken for a dancer, she was precise and in ideal synchrony with the music and the musicians.
"Brio," Thomas' aptly named 11-minute piece, is scored for a large orchestra that includes a great array of percussion, as well as both a harp and celesta. It hooks you from the start. It's a kind of exuberant pointillist painting in music, with a fine riff on flute, the plucking of strings and the brief sound of chimes. In one segment all the instruments seem to be chatting with each other, some sonorous and others making themselves known with playful rhythmic flair. The shifts in mood — from a feeling of agitated city life complete with the crash of cymbals, to a brief tranquility — are finessed in quick succession. There's even a hint of Leonard Bernstein's "Jet Song" in a richly rhythmic sequence that also has a brief echo of Stravinsky's "Rite of Spring." A stormy build-up full of sonic surprises leads to a sudden silence and "the end." Thomas is a prolific composer and professor of composition at the University of Chicago, who served as the CSO's Composer-in-Residence from 1997-2006, and was on hand to take her bows.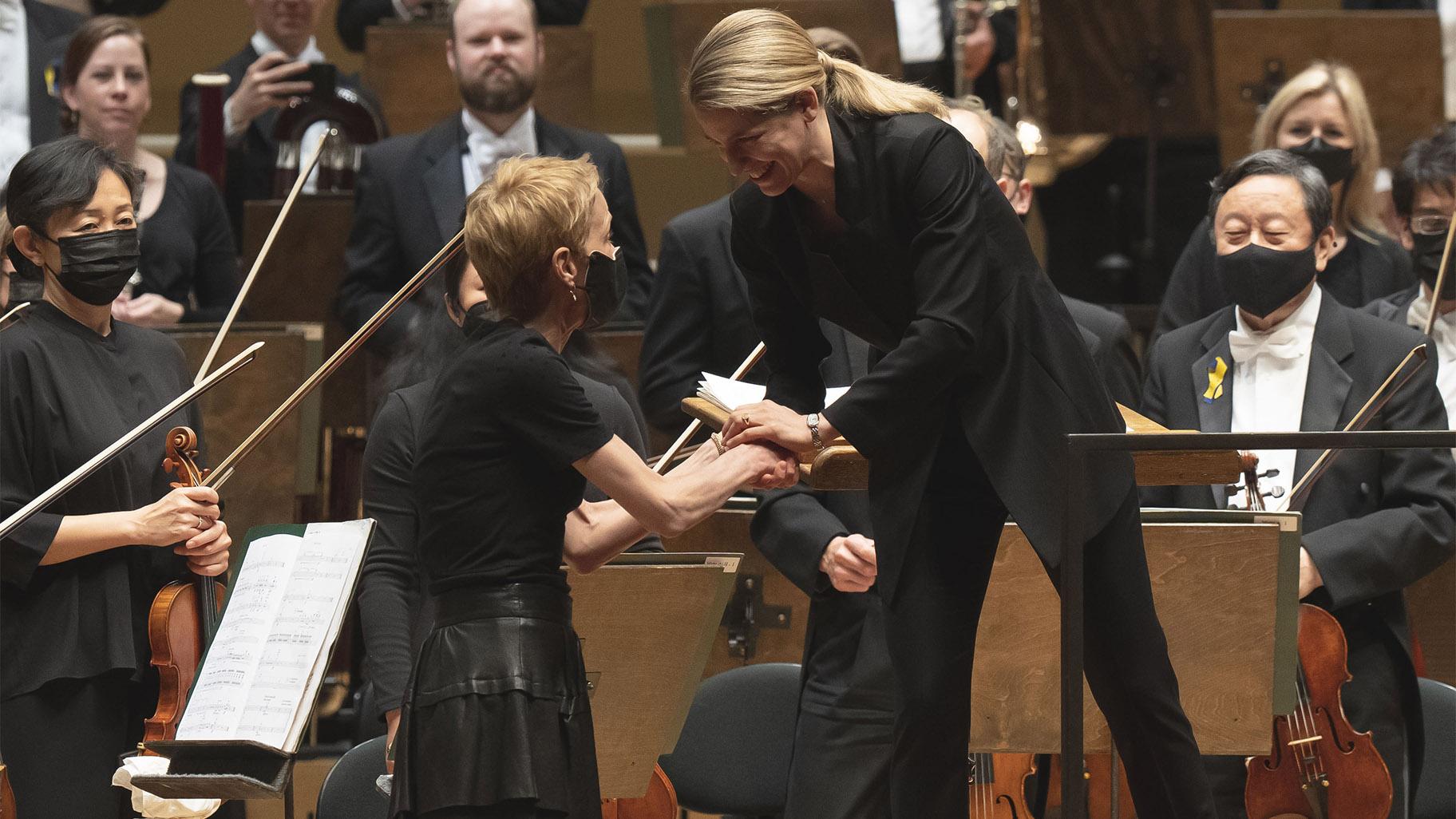 Karina Canellakis congratulates former composer-in-residence Augusta Read Thomas after the CSO's first performance of her 2018 work, "Brio." (Credit: Todd Rosenberg Photography)
Then it was on to Schumann's rapturous concerto with its wildly shifting moods of a quite different sort. Gerstein (who grew up in the Soviet Union, came to the U.S. as a teenage prodigy, studied jazz as well as classical music, and is now an American citizen who lives in Berlin), delivered a dazzling performance. And Canellakis again oversaw a superb understanding between orchestra and soloist.
A fluid opening arpeggio from the piano quickly moved to a beautiful melody from the strings and a sense of quiet anguish. A seamless blend of piano and orchestra conjured a quiet passion that grew into a storm, with the winds and brass joining the strings. And then Gerstein brought his intensity and feverish energy to bear, creating a gorgeous flow echoed by the orchestra in a way that was at once forceful, intensely lyrical and fluid.
The second movement began in a more light-hearted, peaceful mood, creating a sense of quiet rapture before shifting to a rapid, rippling, joyful sound. Gerstein listened closely to the orchestra at every moment, creating a seamless mix. Throughout, both the orchestra and Gerstein winningly captured Schumann's melodic gifts, emotional shifts and sense of poetry. The audience erupted in such wildly enthusiastic applause when it was all over that Gerstein returned to the piano for an encore. It was a wonderfully vibrant performance of Chopin's Waltz in A-flat Major" that had him playing with great power and something faster than the speed of light.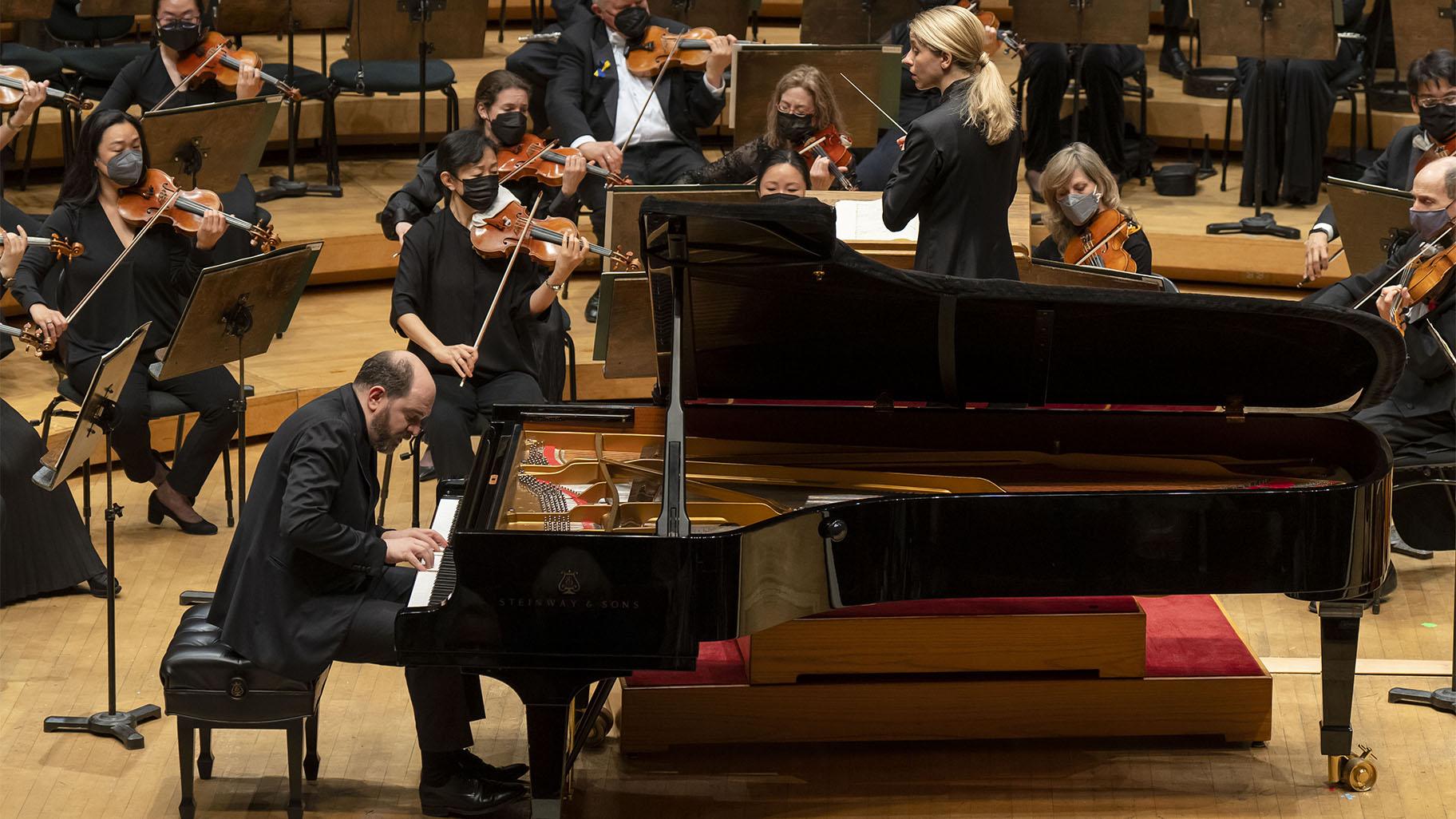 Kirill Gerstein joins the CSO and conductor Karina Canellakis in her CSO debut for a performance of Schumann's Piano Concerto in A Minor (Credit: Todd Rosenberg Photography)
Then it was on to the second half of the program which was devoted to "Ein Heldenleben (A Heroic Life)," Strauss' masterwork, first performed in 1899, and often described as the composer's musical self-portrait. It is a stunning, elaborately orchestrated work. It moves from a sweepingly melodic, altogether extravagant opening involving the full orchestra (including harps and timpani) before almost playfully injecting a moment of silence. It then fills the air with what sounds like a forest full of birds. Then comes an emotional sequence in which the winds speak, conjuring an almost confessional mood. This leads to a tense, agitated, but ravishing sound, with concertmaster Robert Chen's subtly golden tone on violin beautifully capturing a more delicate, romantic passage before there is a fine back and forth between the orchestra and his violin.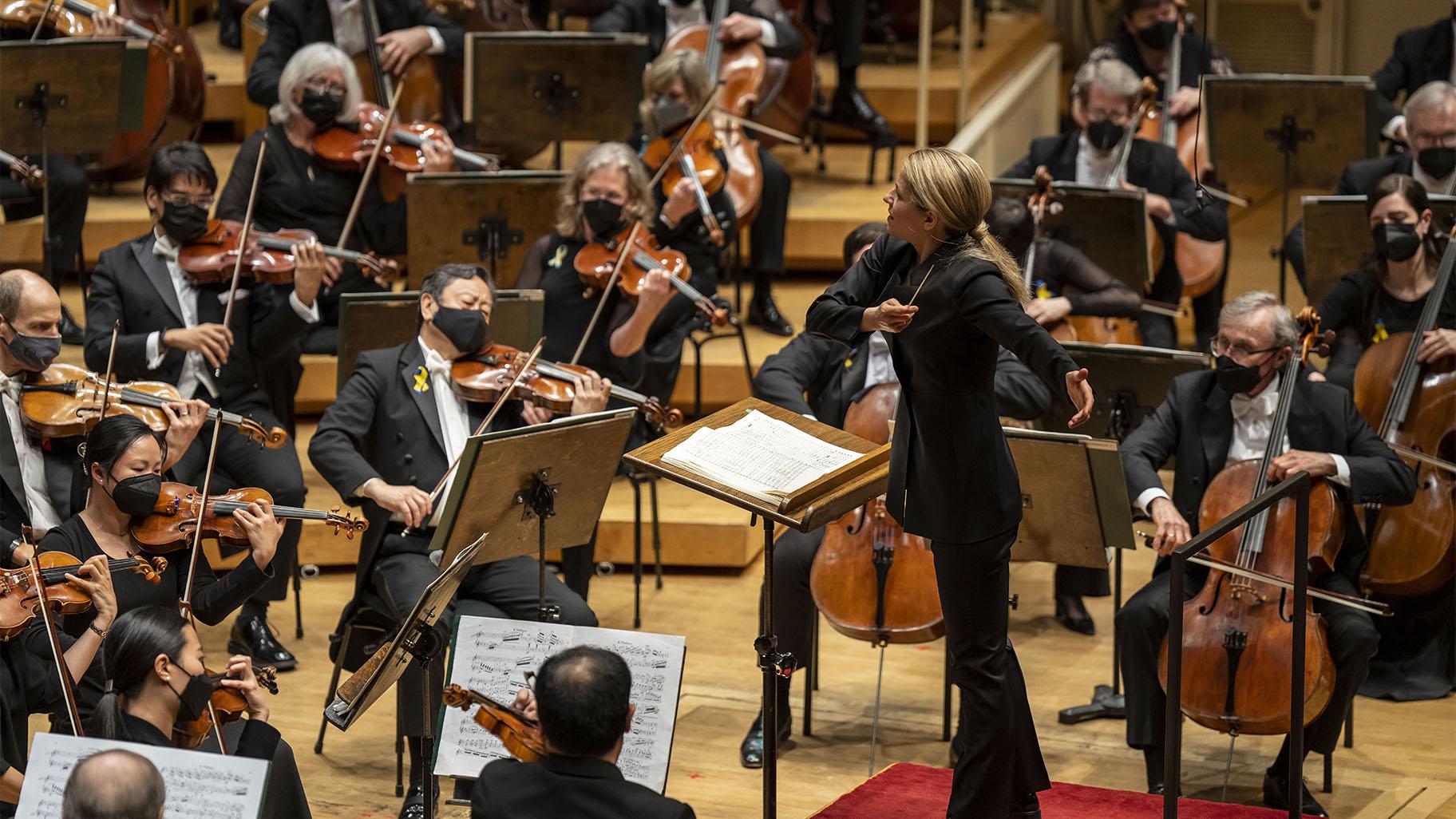 Conductor Karina Canellakis made her CSO debut leading a program that included Strauss' "Ein Heldenleben." (Credit: Todd Rosenberg Photography)
Throughout, Canellakis' conducting is meticulous but ever graceful and expressive, with the musicians ideally conjuring Schumann's sweeping crescendos and giving full weight to the composer's dramatic, wholly thrilling use of the many and varied sections of the orchestra as if they were human voices. Canellakis also sees to it that brief moments of tranquility seamlessly cede to moments of lush romanticism, to a thrilling, frenzied air of turmoil created by furiously bowed strings and powerful horns, to a sustained silence, and then to the almost dreamy sleep in the wake of a storm. The contrasting moods of peaceful, lyrical beauty and ferocious bursts of rage are impeccably captured from first note to last. Bravo to both this remarkable orchestra and an outstanding conductor.
This concert will be repeated Saturday May 21 at 8 p.m. and Sunday May 22 at 3 p.m.
For tickets visit cso.org or call (312) 294-3000.
Follow Hedy Weiss on Twitter: @HedyWeissCritic
---