Members of the Chicago City Council have exactly 30 days to reach a compromise over the map that will shape Chicago politics for the next decade and determine the balance of power between Black, Latino and Asian Chicagoans.
To avert the first ward map referendum since 1992, 41 alderpeople must agree on a map no later than May 19, the deadline for the June 28 primary election ballot to be finalized.
But if the racially divisive dispute remains unresolved — as it has for more than six months — Chicago voters will pick between two maps: one backed by the City Council's Latino Caucus and the other by the Black Caucus. In choosing between the maps, voters woule be deciding what the boundaries of the city's 50 wards will be for the next decade 
There appears to have been no substantive negotiations over the ward map boundaries since Jan. 31, when members of both caucuses met at City Hall behind closed doors and attempted to hash out an agreement but made no progress.
Ald. Gilbert Villegas (36th Ward), the Latino Caucus chair, told WTTW News on Monday no progress had been made in recent weeks, despite a flurry of letters and some meetings between individual alderpeople. There has also been no progress on efforts by the Latino Caucus to revise the map it submitted to the city clerk's office, triggering the referendum, to reflect changes leaders agreed to in order to win the support of Change Illinois.
In an April 6 letter released by Ald. Michelle Harris (8th Ward), a member of the Black Caucus who as head of the Rules Committee has overseen the map-drawing process at City Hall, Harris told Villegas that she would not "reopen the entire remap process" and accused him of engaging in "stunts" and "games."
Villegas said he did not respond to Harris' most recent letter.
Always fraught, this year's remapping effort is particularly tense because of the city's changing racial makeup. While Chicago's Black population dropped 10%, its Latino population jumped 5% and its Asian American population surged 30%, according to the 2020 census. 
State law requires Chicago wards to be "nearly equal as practicable" while being as "contiguous" and "compact" as possible while complying with the Voting Rights Act, which is designed to protect the voting rights of Black, Latino and Asian residents.
Since Chicago's population in 2020 was 2,746,388 residents, each ward should have 54,928 residents, according to data presented to the Chicago City Council.
The people of Chicago are 31.4% white, 29.9% Latino, 28.7% Black and 6.9% Asian, according to the 2020 U.S. census.
The City Council's Black Caucus has refused to accept a map that creates 15 wards with a majority of Latino voters as demanded by the Latino Caucus. 
The map supported by the Black Caucus crafts 16 wards with a majority of Black voters, one ward with a plurality of Black voters and 14 wards with a majority of Latino voters.
Thirty-three alderpeople support the map backed by the Black Caucus — eight short of the votes needed to avert a referendum in June. Two alderpeople have yet to back either map: newly appointed Ald. Nicole Lee (11th Ward) and indicted Ald. Ed Burke (14th Ward), who has pleaded not guilty to 14 counts of bribery, extortion and corruption.
The months-long dispute has grown increasingly acrimonious, with Harris calling members of the Latino Caucus "crybabies." Harris also serves as Mayor Lori Lightfoot's floor leader.
Lightfoot has refused to weigh in on the debate, and neither side has welcomed her support as she prepares to launch a re-election campaign.
Villegas has accused Black Caucus Chair Ald. Jason Ervin (28th Ward) of echoing racist rhetoric used by former President Donald Trump by crafting a map using the share of Chicagoans who are citizens older than 18, rather than the number of Chicagoans who are older than 18.
Ervin did not respond to a phone message left Monday by WTTW News.
Both groups are preparing to make their case to voters, with supporters of the map backed by the Latino Caucus raising $85,000 to tout their proposal, which they have dubbed the Chicago Coalition Map, according to records filed with the Illinois State Board of Elections through Monday afternoon.
Supporters of the map backed by the Black Caucus have also formed a campaign committee to support their proposal, which they call the Chicago United Map, but have yet to report raising any funds as of Monday afternoon.
A compromise remains out of reach even as a coalition of Chicago Asian American groups warned that a referendum — and what is shaping up to be a brutal campaign — "fans the flames of racial division."
Both sides are expected to try to link their opponents to indicted former House Speaker Michael Madigan in an attempt to taint their proposals. 
The map supported by the Black Caucus was shaped by attorney Mike Kasper, who worked closely with Madigan while he was speaker and the leader of the Democratic Party of Illinois. Kasper is not referred to or named in Madigan's indictment.
The map supported by the Latino Caucus was shaped by attorney Victor Reyes, who also has close ties to Madigan and whose law firm — Reyes Kurson — worked for Commonwealth Edison. The utility giant admitted hiring associates of Madigan to curry favor with the once all-powerful politician and agreed to pay a $200 million fine to federal prosecutors.
The 22-count indictment of Madigan included an allegation that Madigan's associates pushed with ComEd to keep paying Reyes Kurson, even as the utility sought to end that relationship. 
The indictment of Madigan refers to Reyes as "Lawyer A" and his firm as "Law Firm A" in the indictment. Reyes has not been charged.
Reyes contributed $10,000 to the campaign for the map backed by the Latino Caucus.
Images of a direct-mail campaign flyer first published by on the Capitol Fax blog ask voters how they could trust a map drawn by someone named in Madigan's indictment, echoing a news release from the Chicago United campaign.
Another campaign flyer first published by Capitol Fax features a picture of Villegas, a Latino man, stomping on Harris' head, asking "Why doesn't Gil Villegas respect women?" 
Harris, a Black woman, has repeatedly accused Villegas the Latino Caucus of disrespecting her because she is a woman.
Eileen Boyce, a spokesperson for the Chicago United campaign, did not dispute that the flyers were crafted by the campaign and said the glossy mailers could hit mailboxes as soon as May 7 in a statement to WTTW News.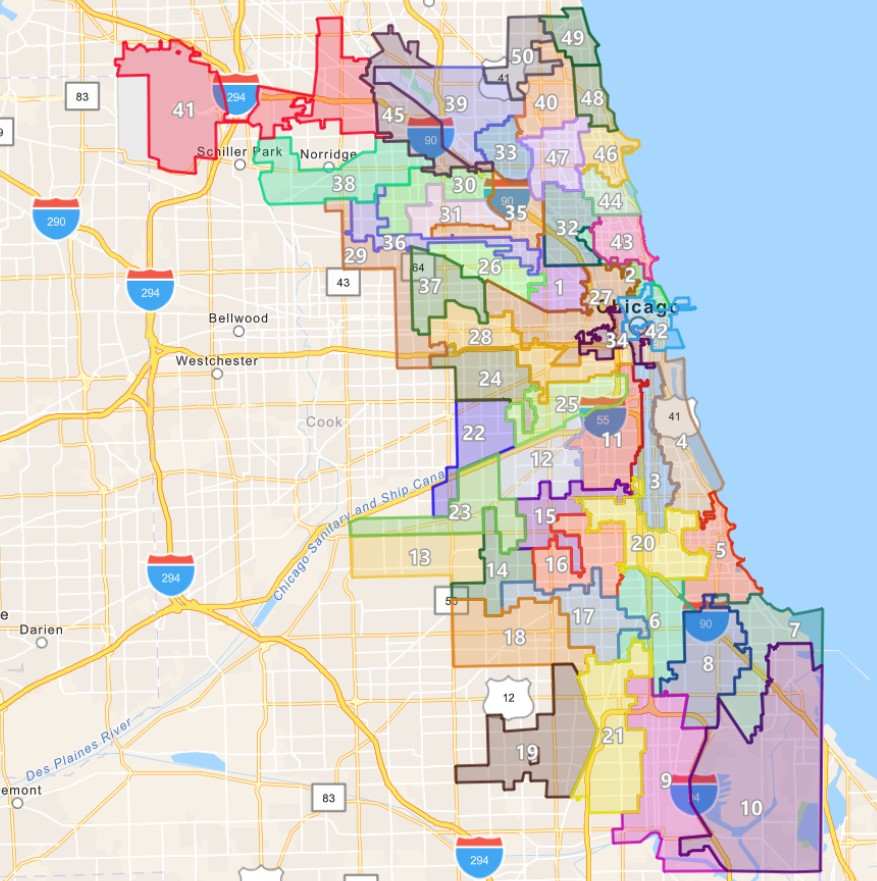 A proposed Chicago Ward Map supported by the Chicago City Council's Black Caucus. (Provided)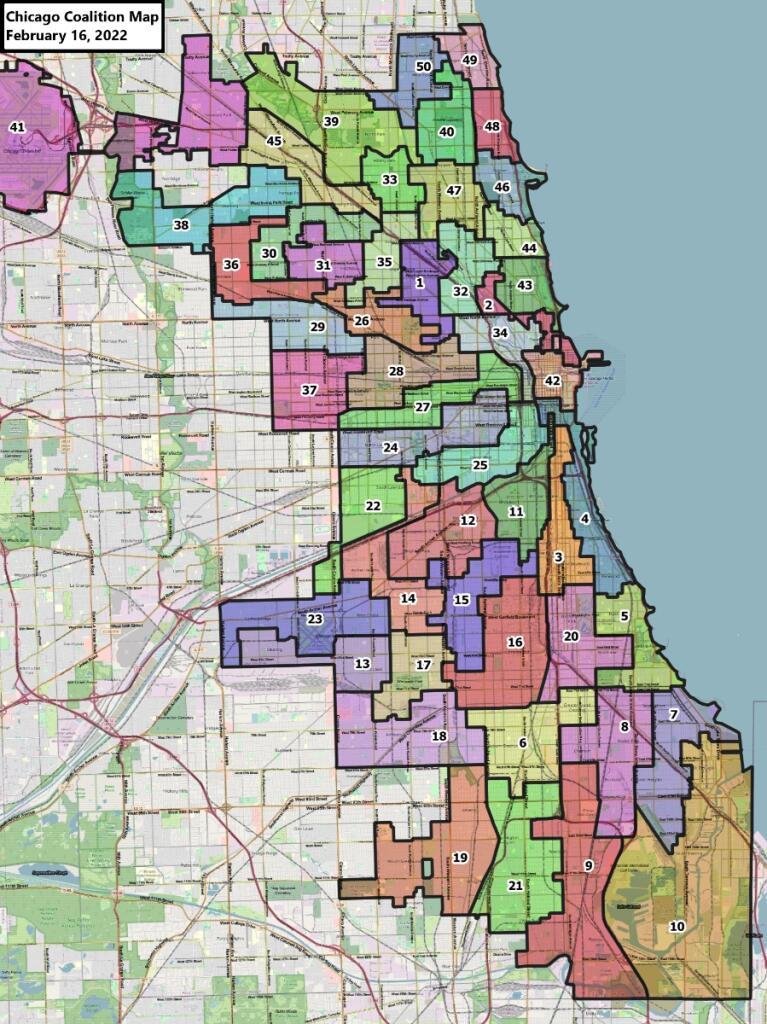 A proposed Chicago Ward Map endorsed by the Chicago City Council's Latino Caucus and Change Illinois. [Provided]
Contact Heather Cherone: @HeatherCherone | (773) 569-1863 | [email protected]
---