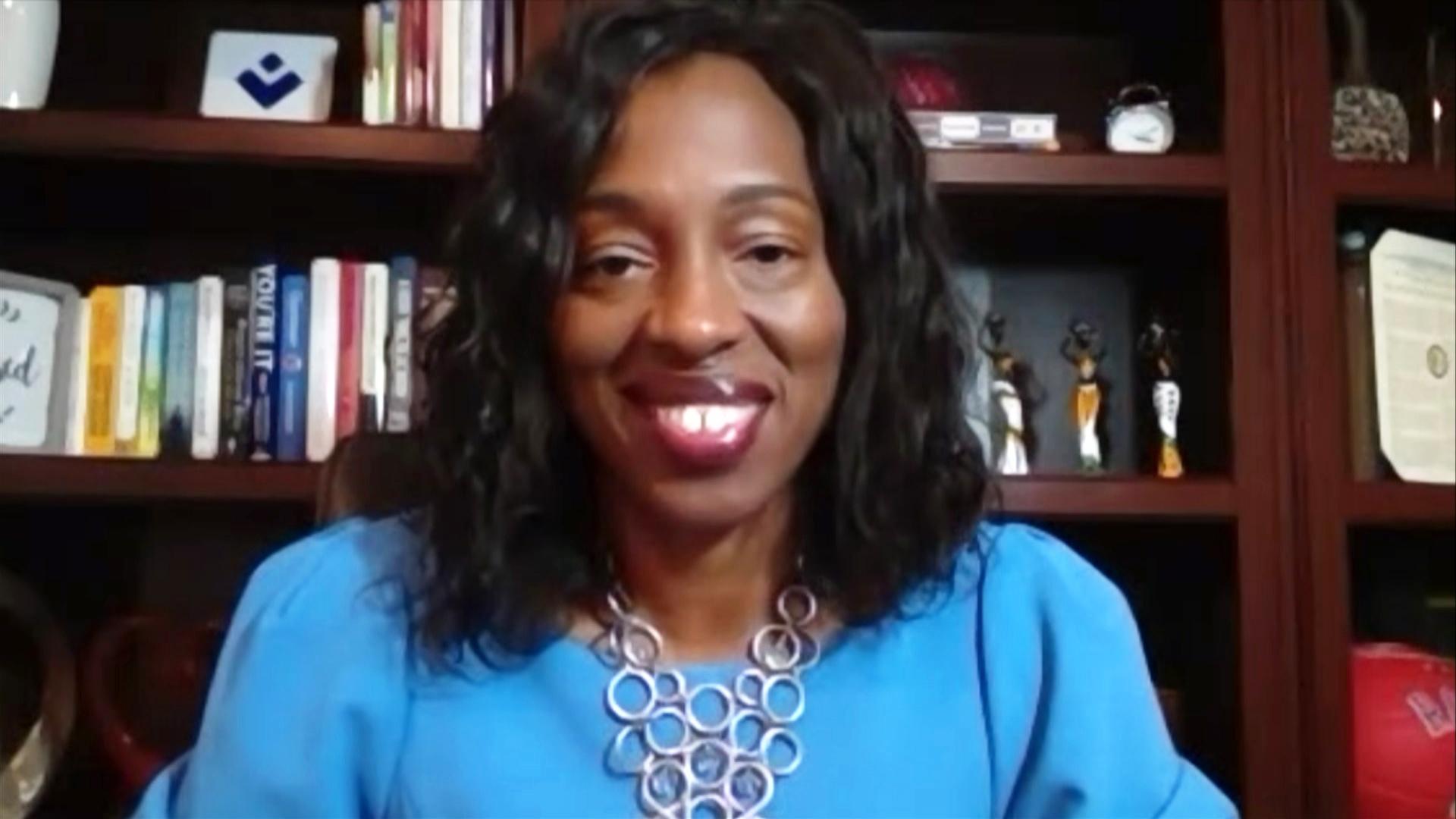 Dr. Ngozi Ezike appears via Zoom on "Chicago Tonight" on Wednesday, Sept. 29, 2021. (WTTW News)
Dr. Ngozi Ezike, who led the Illinois Department of Public Health during the height of the COVID-19 pandemic, has been named the new president and CEO of Sinai Chicago.   
"I received many calls about various opportunities over the past year, but this is the right choice for me and the right moment. Sinai Chicago is where I want to be," said Ezike in a statement.
Ezike stepped down from her role with IDPH on March 14 and will take over as leader of the private safety net health system on June 13. She'll be replacing Karen Teitelbaum, who led the health system for 15 years, according to a press release from Sinai Chicago.
"For more than 100 years, Sinai Chicago has cared for the most underserved communities in Chicago. I've dedicated my career to advancing health equity and working with underserved communities," Ezike said. "I am proud to take up the mantle of leading that legacy and continue my work, addressing issues of health equity that Sinai has been working on long before the COVID-19 pandemic brought them to brighter light."
Ezike, a board-certified internist and pediatrician, was selected after a monthslong nationwide search and will become the first Black woman to lead Sinai Chicago, according to the press release.
"We are excited to bring a leader with such experience and passion as Dr. Ezike to Sinai Chicago," said Sinai Chicago Board Chair Vincent R. Williams in a statement. "She is a strong, trusted and well-respected leader who has made a real difference in the lives of so many in the statewide response to the worst pandemic the world has seen in over a century. After an extensive selection process, we are confident Dr. Ezike has the vision and dedication to lead Sinai Chicago into its next century of service."
More than 1.5 million people on Chicago's West and South sides are served by Sinai Chicago, which employs more than 3,200 caregivers and includes Mount Sinai Hospital, Holy Cross Hospital, Schwab Rehabilitation Hospital, a network of community clinics, and the Sinai Community Institute and Sinai Urban Health Institute.
Prior to joining IDPH, Ezike worked for 15 years for Cook County Health and has also served as the medical director at the Cook County Juvenile Temporary Detention Center, as well as the Austin Health Center.
"I am looking forward to working with my fellow caregivers, as well as partners in the communities we serve and beyond to help people live better, healthier lives," Ezike said.
Contact Kristen Thometz: @kristenthometz | (773) 509-5452 |  [email protected]
---