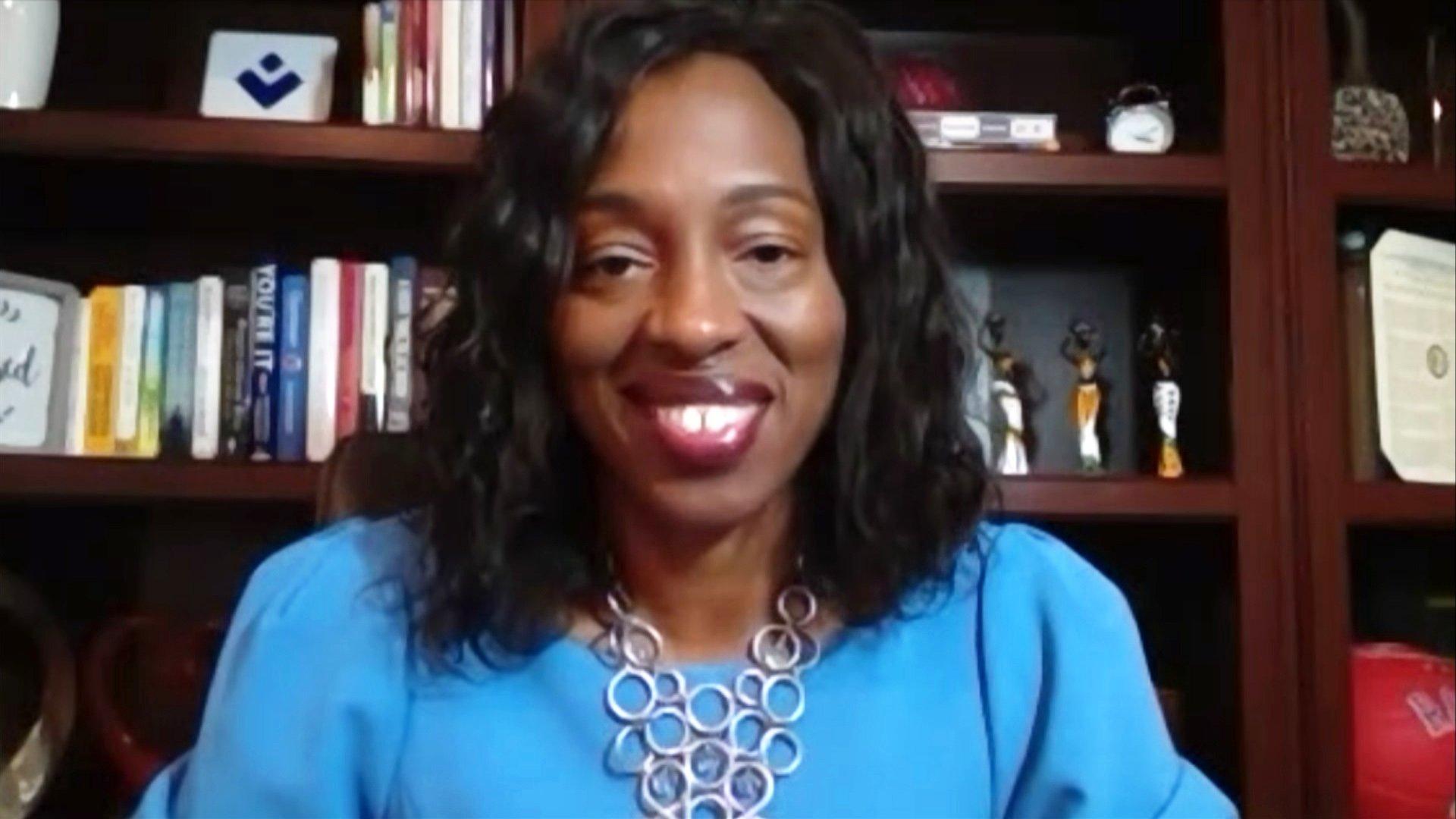 Dr. Ngozi Ezike appears via Zoom on "Chicago Tonight" on Wednesday, Sept. 29, 2021. (WTTW News)
Dr. Ngozi Ezike, Illinois' top doctor and the director of the Illinois Department of Public Health, will step down on March 14, Gov. J.B. Pritzker announced Tuesday.
The news comes as Illinois enters a new phase of the COVID-19 pandemic. Pritzker said he was loathe to accept Ezike's resignation, but acknowledged that she had held one of the "hardest jobs in the world" during one of the toughest times in Illinois' history, which began in January 2019 with the first diagnosed case of COVID-19 in Illinois has stretched for more than two years. 
At the height of the COVID-19 pandemic, Pritzker and Ezike held daily news conferences to update the progress of the pandemic, with Ezike always repeating her remarks in Spanish. 
"All of the people, and all of their stories, I will carry always in my heart. I acknowledge and mourn with the families of all the lives lost; not just to COVID, but to gun violence, to suicide, to drug overdose, to racism, to cancer and all the other diseases and ills that public health officials and all of our partners work tirelessly to curb," Ezike said.
Pritzker said he was honored to stand next to Ezike for one last COVID-19 news conference on Tuesday, which he said was the 161st session where she served as "a beacon of stability for millions during a time of tremendous uncertainty."
Ezike "saved lives, many thousands of lives," Pritzker said.
Struggling to hold back tears, Ezike said she was leaving in part to "make amends" to her family and children, who had sacrificed during the two years of the pandemic to allow her to serve the people of Illinois.
"I am so blessed to have been able to bring some measure of comfort to Illinoisans, to quiet some of the chaos and infuse some calm," Ezike said. "I'm glad that I served as a role model to young girls, girls of color, little Black girls, that they can be leaders in any field."
Ezike said her only immediate plan was to "catch a breather."
Ezike joins an exodus of state and local public health officials who are leaving their leadership positions after two years of working during a pandemic and facing withering criticism from those opposed to the measures they ordered to stop the spread of COVID-19.
More than 180 state and local public health leaders in 38 states have resigned, retired or been fired since April 1, according to an analysis by Kaiser Health News and The Associated Press.
Ezike will be replaced on an interim basis by her top deputy, Dr. Amaal Tokars, Pritzker announced.
Contact Heather Cherone: @HeatherCherone | (773) 569-1863 | [email protected]
---