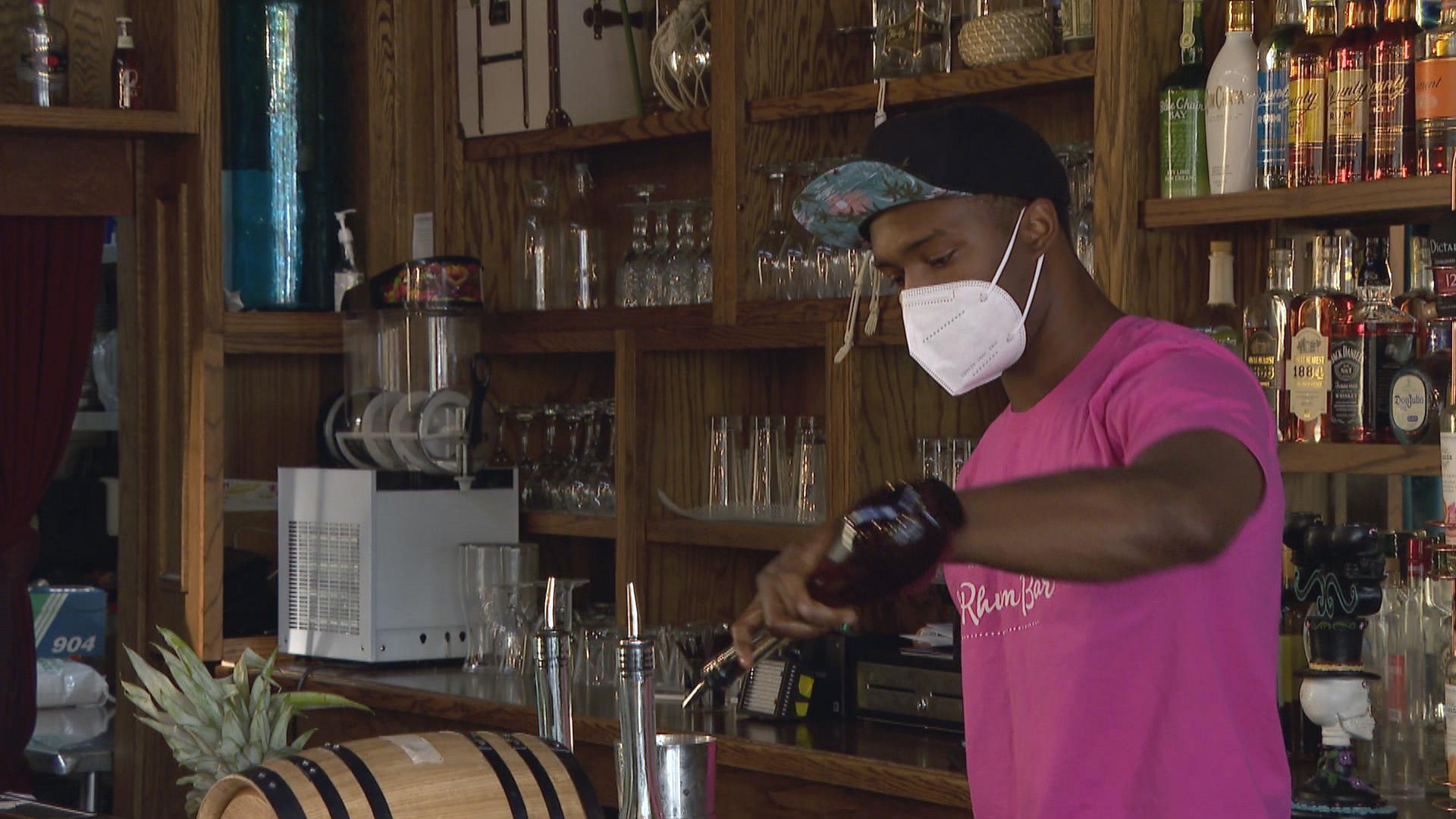 A bartender mixes a drink at the Chicago restaurant 14 Parish. (WTTW News)
Chicagoans are no longer required to wear a face mask indoors — or provide proof that they have been vaccinated against COVID-19 to enter a restaurant, bar or fitness center.
After 182 days, Gov. J.B. Pritzker lifted the statewide mandate on Monday as confirmed cases of COVID-19 and hospitalizations continued to drop precipitously after the surge driven by the omicron variant. The governor announced Feb. 9 he planned to end the mandate on Monday.
"Today, our hospitals are much better positioned to handle emergencies and more than half of all eligible adults have been boosted; this is the progress we needed to make to remove our state indoor masking requirements," Pritzker said in a statement released Friday. "As individuals, I encourage everyone to make the best choices going forward to protect your health, along with that of your family and community – and most importantly to treat each other with kindness and compassion."
In January, Illinois hospitals were nearly overwhelmed by those ill with COVID-19 and other maladies, prompting the governor to ask health care leaders to postpone elective surgeries and other procedures while sending rapid response teams to the most crowded hospitals. 
Mayor Lori Lightfoot also lifted Chicago's mask mandate on Monday after it had been in place for 192 days. In addition, the city will no longer require restaurants, bars and fitness centers to verify that their customers have been vaccinated against COVID-19. That requirement was in place for 56 days, and boosted Chicago's vaccination rate, according to city data.
An executive order, signed by the governor, required masks to be worn in Illinois schools. However, most Illinois school districts stopped enforcing that rule after an appellate court declined to reverse a decision by a Sangamon County judge who ruled Pritzker exceeded his authority in imposing the mandate. 
Pritzker announced late Friday students and staff will no longer be required to wear masks in Illinois schools as of Monday, after the Illinois Supreme Court declined to take up his request to overturn the appellate court decision.
However, federal rules mean masks will continue to be required in congregate settings, including hospitals, day cares and long-term care facilities, where people are forced to have close contact. The mask mandate for public transportation on airplanes, trains and buses is scheduled to expire March 18.
Businesses can still require patrons to wear masks, and cities and counties can impose tougher restrictions to keep their residents safe, Pritzker said.
Since Feb. 9, the number of Illinois residents hospitalized with COVID-19 dropped by 50% and the number of available intensive-care unit beds increased by 24%, according to data from the Illinois Department of Public Health. During the same period, Illinois' weekly COVID-19 case rate has dropped by 70%, Pritzker said.
Illinois residents must begin learning to "co-exist with COVID-19," said Dr. Ngozi Ezike, commissioner of the Illinois Department of Public Health.
All of Illinois was experiencing high transmission and masks should be worn in doors, according to Centers for Disease Control guidelines in effect on Friday. Cook County was experiencing "substantial transmission," one level lower than the state as a whole. Those metrics relied on the number of confirmed cases of COVID-19.
New rules announced Friday by CDC officials recommended that masks be worn indoors only communities where hospitals are not at risk of being overwhelmed.
The new rules are determined by how many people are being hospitalized for COVID-19 and how much hospital capacity their care requires, CDC officials said. That is a more accurate way of measuring the progress of the COVID-19 pandemic, now that everyone older than 5 is eligible to be vaccinated and effective anti-viral treatments are available, officials said.
The new rules no longer call for all students and staff to be masked in schools. Instead, only schools in communities at a high level of risk should require masks to be worn, CDC officials said.
Under the new guidelines, there is a "low" chance of contracting COVID-19 in Cook County and across Illinois.
"Using the new metrics, Chicago is at low risk, as we knew it would be," tweeted Dr. Allison Arwady, the commissioner of the Chicago Department of Public Health.
After Pritzker announced the state's mask mandate would end Monday, Lightfoot said Chicago would only follow suit two weeks after three of the four metrics health officials use to assess the risk of COVID-19 transmission hit a "lower rate." Two weeks is a full incubation period for COVID-19, according to federal health officials.
Chicago reached that point on Feb. 20, starting what Lightfoot said would be a 14-day countdown, according to data from the Chicago Department of Public Health.  
However, Chicago will have only spent nine days with three of the four risk metrics at a lower rate.
City officials assess COVID-19 transmission risk with four metrics based on seven-day average: the number of confirmed cases, the number of positive tests as compared will all tests taken, the number of hospital beds occupied by COVID-19 patients and the number of intensive care unit beds occupied by COVID-19 patients. Only the number of confirmed cases of COVID-19 remain at "substantial transmission."
Pritzker reimposed the state's mask mandate on Aug. 30 as Illinois began to experience a surge of cases driven by the delta variant of COVID-19 and has kept it in place ever since. Masks were not required for people fully vaccinated against COVID-19 between June 11 and Aug. 30, after being in place since the start of the pandemic in March 2020.
Chicago's mask mandate was reimposed on Aug. 20.
The mask mandate saved lives in the final four months of 2021, which saw two surges of COVID-19 driven by the delta and omicron variants, Pritzker said. Illinois had fewer COVID-19 hospitalizations per capita and fewer COVID-19 deaths per capita than the entire Great Lakes region, his office said in a statement.
Contact Heather Cherone: @HeatherCherone | (773) 569-1863 | [email protected]
---