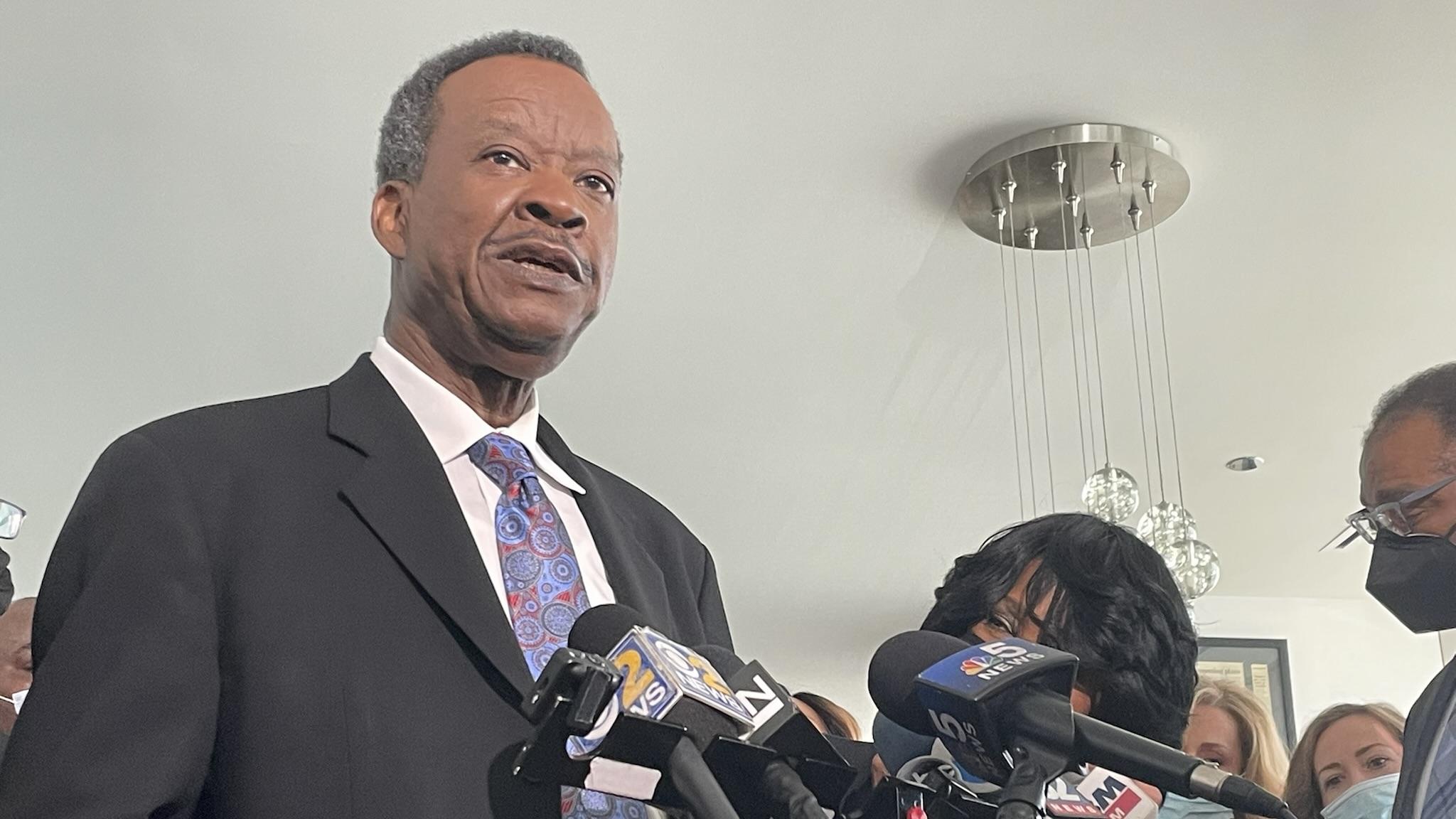 Willie Wilson announces he will run for mayor of Chicago. (Heather Cherone/WTTW News)
Philanthropist and businessman Willie Wilson announced Monday he will run for mayor in an effort to deny Mayor Lori Lightfoot a second term — after endorsing her during the 2019 runoff. 
Flanked by a large group of friends, supporters and religious officials, Wilson, 73, made the announcement in his condominium overlooking Lake Michigan and Navy Pier decorated with posters and news articles detailing his public life. 
Wilson vowed to put an end to the surge of violence that saw more than 800 homicides in Chicago in 2021. 
"The crime must stop," Wilson said. "The crime will stop."
Jobs in the construction trades and on the CTA are the way to keep people from committing crimes while rebuilding trust with the beleaguered Chicago Police Department, Wilson said. Lightfoot has also focused on jobs programs and police reform as a way to reduce violent crime. 
But while Lightfoot promised to consult Wilson during her tenure as mayor, he said she never did, and he broke with her not long after she took office. 
Wilson said he regretted that decision, and in an interview with WTTW News he apologized to the people of Chicago for that decision. 
"I made a mistake. I made a hell of a mistake," Wilson said at his news conference. "I've been very disappointed." 
In 2019, Wilson finished fourth in the mayoral election with 11% of the vote before backing Lightfoot in the runoff contest against Cook County Board President Toni Preckwinkle. Wilson won 13 of the city's 18 wards where a majority of Black voters live the last time he ran for mayor, making his endorsement critical. 
Lightfoot said at an unrelated news conference she was "comfortable" with her administration's record during a pandemic and an economic collapse, but declined to respond in detail to Wilson's criticism. 
After his wife, Janette Wilson, introduced him as a "modern-day Moses," Wilson said Lightfoot did not "deserve a second chance because she messed around with religious freedom." 
Lightfoot should not have ordered churches to close during the height of the COVID-19 pandemic, Wilson said. Chicago officials were required to enforce the stay-at-home order issued by Gov. J.B. Pritzker in March 2020 designed to stop the spread of COVID-19. The order was lifted at the end of May 2020, while capacity restrictions on indoor gatherings lasted until June 2021. 
"The lady had the nerve to come into churches and tell them to close down and give them tickets," Wilson said. "I resent that." 
Wilson said he would also roll back Lightfoot's requirement that all Chicago Police officers be vaccinated against COVID-19. 
Wilson defied those orders by worshiping in person at an Albany Park church and vowed to pay any fines levied against other churches for holding services. 
Wilson campaigned for Chicago mayor in 2018 alongside former Gov. Bruce Rauner, who was defeated by Pritzker. 
If elected, Wilson vowed to represent all Chicagoans, regardless of their race, religion or whether they are gay or straight. 
Wilson's third bid to be mayor of Chicago follows an unsuccessful third-party bid for the U.S. Senate in 2020. Wilson also ran for president in 2016 before saying he voted for former President Donald Trump. 
Wilson declined to tell reporters who he voted for in the 2020 election for president, and did not answer when asked whether President Joe Biden was fairly and properly elected president.
"You've never heard me say it was an unfair election," Wilson said. "I won't answer if I don't want to answer. I'm running for mayor of Chicago — not president." 
Following Trump's lead, many members of the Republican Party refuse to acknowledge Biden's victory and presidency as legitimate. Chicago's mayoral election is officially nonpartisan. Wilson said he is not a member of the Democratic Party, and considers himself an independent.
Wilson said he would donate the $216,210 salary earned by Chicago's mayor, telling reporters he spends more than that to take his wife on a cruise. 
Wilson told reporters that he had contributed $5 million to his campaign for Chicago mayor. While that contribution had not yet been reported by the Illinois State Board of Elections, once it is processed it would lift the state-imposed limits on contributions to candidates for mayor. 
Lightfoot has not yet announced whether she will seek a second term in office, although she has ramped up fundraising and hired additional staff for her campaign. A statement from her campaign released hours before Wilson's announcement said she was "gearing up for a re-election announcement."
Lightfoot has $1.7 million on hand for her campaign, according to the latest reports her campaign has filed with state officials. 
Ald. Raymond Lopez (15th Ward) announced Thursday he will run for mayor, and Fraternal Order of Police President John Catanzara has said he plans to run for mayor. U.S. Rep. Mike Quigley, who represents a North Side district, and former Chicago Public Schools CEO Paul Vallas are considering whether to run against Lightfoot. 
Wilson surged back into the headlines and the spotlight in March when he staged two high-profile events across the city to give away $1.2 million in gas, as prices soared amid robust inflation and Russia's invasion of Ukraine. 
Shortly after Wilson's giveaways, Lightfoot announced a plan to use $12.5 million in city funds to give away 50,000 prepaid cards that will cover $150 worth of gas as well as 100,000 passes that will cover $50 worth of CTA fares.
That proposal, blasted by members of the Chicago City Council as an election year stunt, has yet to advance.
Contact Heather Cherone: @HeatherCherone | (773) 569-1863 | [email protected]
---