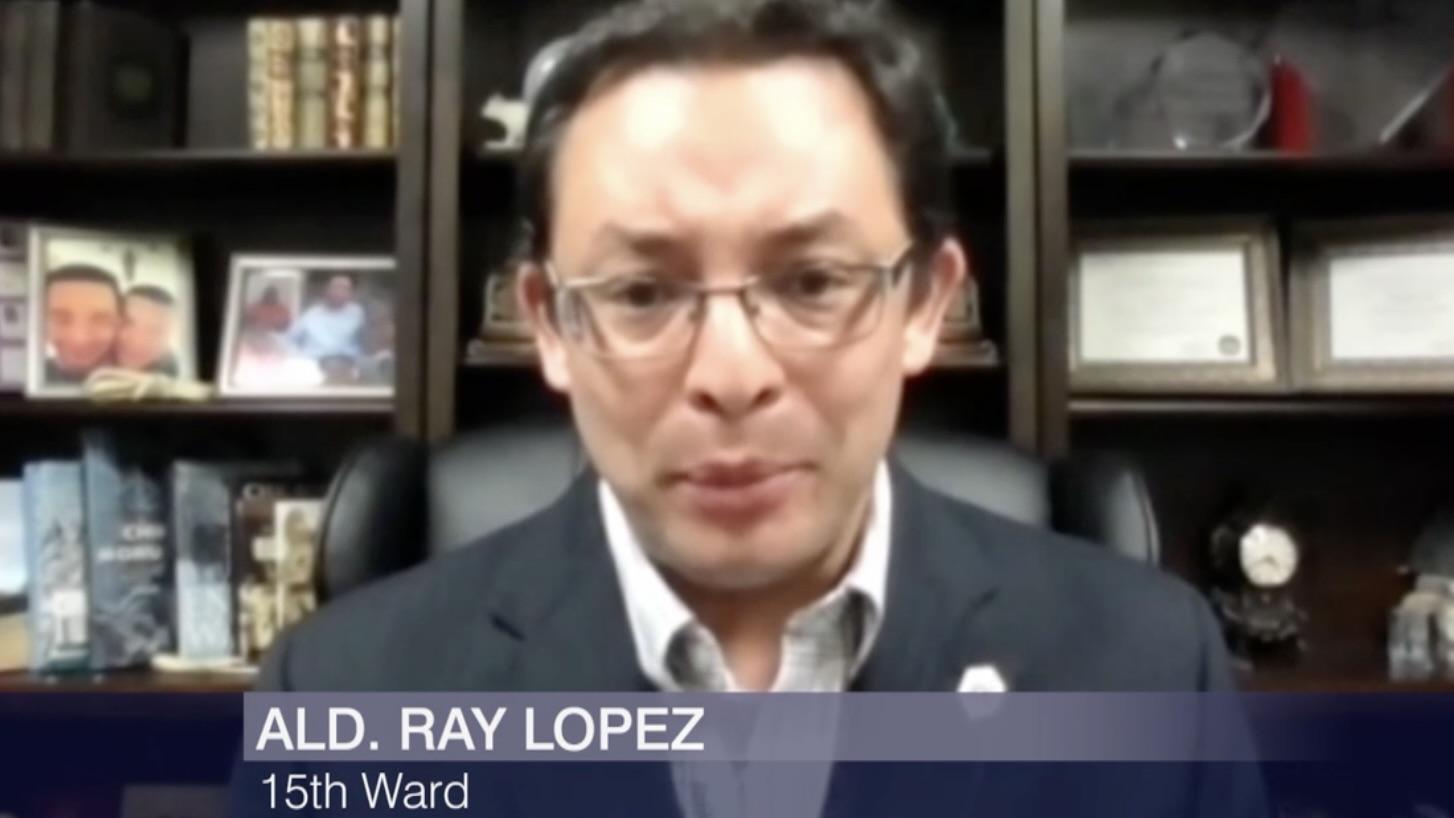 Ald. Raymond Lopez appears on Chicago Tonight by Zoom on May 20, 2021. (WTTW News)
Southwest Side Ald. Raymond Lopez announced Wednesday morning he would run for mayor with a Tweet, teeing up a challenge to Mayor Lori Lightfoot's widely expected bid for a second term.
Lopez, first elected to represent the 15th Ward on the Chicago City Council in 2015, has been one of Lightfoot's most frequent critics, blasting her approach to public safety, the COVID-19 pandemic and protections for undocumented immigrants.
"I love my city and, like most Chicagoans, I am sick and tired of watching Chicago flounder at the hands of a rudderless ship," Lopez said in a statement announcing he would formally kick off his campaign Wednesday afternoon. "The time is now to provide our great city with the compassion and leadership it deserves. I'm in, and I hope Chicago will join me."
Lopez would be Chicago's first Latino mayor if elected in 2023. A former skycap for Southwest Airlines, Lopez often appears in virtual meetings accompanied by his dogs and frequently advocates for the city's shelter. He and his husband, Hugo, live in Brighton Park. 
Lightfoot has not yet announced whether she will seek a second term in office, although she has ramped up fundraising and hired additional staff for her campaign. Philanthropist and businessman Willie Wilson is expected to announce Monday whether he will run for mayor, and Fraternal Order of Police President John Catanzara has said he plans to run for mayor.
Lightfoot has called Lopez a "minion" of indicted Ald. Ed Burke (14th Ward), accusing him of doing Burke's bidding to thwart her policies and initiatives. Burke has pleaded not guilty.
In response, Lopez said Lightfoot harbors a "deep innate racism towards Latinos."
Lopez is the only Latino member of the Chicago City Council who is not a member of the Latino Caucus. He left the group in 2019 after other members of the caucus endorsed his opponent in the race to represent Brighton Park, Back of the Yards and Gage Park and West Englewood.
Lopez has routinely used the City Council's rules of procedure to block Lightfoot's proposals and has joined with other conservative members of the Chicago City Council to force several special meetings designed to pressure Lightfoot on crime and her response to the COVID-19 pandemic.
Lopez led the opposition to Lightfoot's plan to permanently ban Chicago police from cooperating with federal immigration agents in all cases.
Lopez was one of eight alderpeople to vote against the change, telling his colleagues that "law-abiding" Chicagoans would be made less safe by laws designed to protect undocumented immigrants who commit crimes.
Lightfoot called Lopez's remarks "racist" and "xenophobic."
Lopez frequently opposes recommendations from city lawyers to settle lawsuits alleging misconduct by Chicago Police officers, and has said the city's willingness to make six- and seven-figure payouts encourages criminal activity.
After a Chicago Police officer shot and killed 13-year-old Adam Toledo in April 2021, Lopez called the teen a "gang recruit" and that while his death was tragic, the shooting was justified.
After protests and unrest swept the city in the wake of the police murder of George Floyd in May 2020, Lopez blasted Lightfoot for mishandling the police response to the violence and allowing the South and West sides of the city to be decimated.
During a virtual meeting at the height of the unrest, first reported by WTTW News, Lightfoot told Lopez he was "100% full of s--t."
"Well, f--k you then," Lopez responded.
"I understand you want to preen," Lightfoot told Lopez.
In addition, Lopez also opposed Lightfoot's bid for emergency spending power during the onset of the COVID-19 pandemic and then later sought to roll back Lightfoot's mandate that all city workers — including members of the Chicago Police Department — be vaccinated against COVID-19.
All members of the Chicago Police Department must be fully vaccinated by April 14 or face discipline and termination.
Lopez and 11 other alderpeople called Lightfoot's vaccine mandate for Chicago police a "clear and present danger to the safety, security and services" demanded by Chicago residents.
Even before Lightfoot was elected mayor, Lopez was a lightning rod for controversy, clashing profanely with former Mayor Rahm Emanuel over how to stop a spate of shootings and reacting to a gang shooting with high-powered rifles by telling reporters that he was glad "that no innocent lives were lost."
That remark drew threats from gang members, prompting Chicago police to assign a protective detail to Lopez. 
Contact Heather Cherone: @HeatherCherone | (773) 569-1863 | [email protected]
---