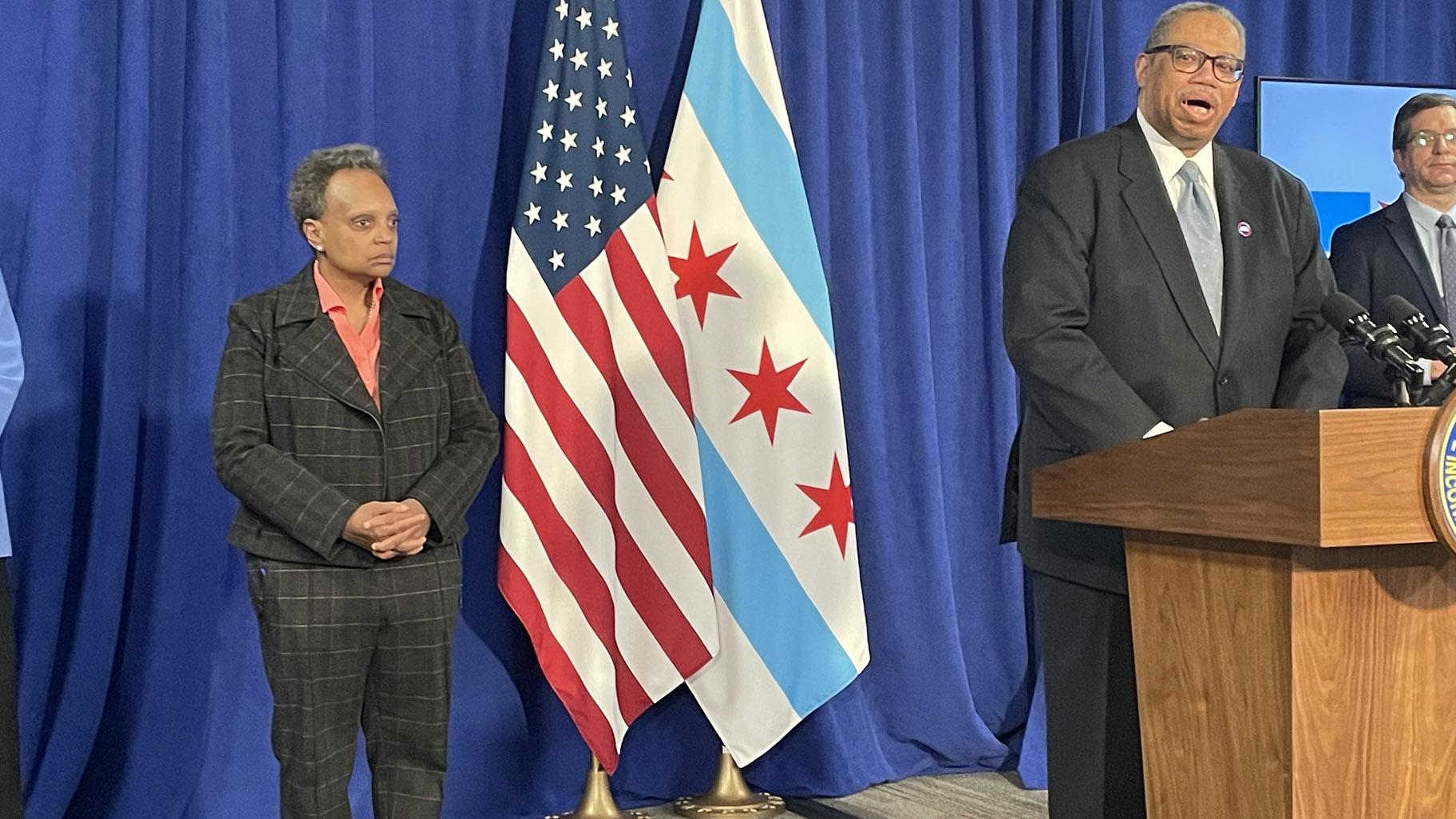 Mayor Lori Lightfoot looks on as CTA President Dorval Carver addresses the news media. (Heather Cherone / WTTW News)
Mayor Lori Lightfoot unveiled on Thursday a plan to use $12.5 million in city funds to help ease the pain Chicagoans are feeling at the pump.
The plan calls for offering residents 50,000 prepaid cards that will cover $150 worth of gas as well as 100,000 passes that will cover $50 worth of CTA fares. 
If approved by the City Council at its next scheduled meeting on April 27, eligible Chicago residents could apply to win one of the cards through a lottery by the start of May.  
The plan — dubbed "Chicago Moves" by Lightfoot — represents an abrupt reversal by the mayor, who initially proposed a plan to members of the Chicago City Council to cut the city's $0.08 portion of the gas tax by three cents. That plan would have opened an $18 million hole in the fund the city uses for road maintenance — and potentially violated a 2016 amendment to the Illinois constitution that prohibits lawmakers from using transportation funds for any other purpose. 
"Chicago is a city that moves," Lightfoot said. "People have to be able to get to work, school, places of worship, medical offices, grocery stores. The goal of this program is to help make those moves easier." 
As part of her 2021 budget, Lightfoot hiked the city's gas tax by three cents per gallon. 
The average cost of a gallon of gas is $4.58 in Chicago, according to AAA. A month ago, a gallon of gas cost $3.97. One year ago, a gallon of was $3.17. Lightfoot called that increase "shocking." 
That increase has hurt all Chicagoans and the plan unveiled Thursday will have "maximum impact," Lightfoot said. 
The proposal would use $5 million for the CTA passes and $7.5 million for the prepaid gas cards.  
To be eligible for the prepaid gas cards and CTA passes, applicants must be residents of Chicago and earn no more than 140% of the area median income in Chicago, which is $91,000 for an individual and $140,000 for a family of four.  
The plan strikes the right balance, Lightfoot said. 
"When you are paying $6 a gallon for gas as many people are across the city, that hits you," Lightfoot said. "We're hoping people that are of means and don't need the relief are not going to be the ones that apply." 
The program will earmark 75,000 of the CTA passes for residents of low-income areas, with neighborhoods with high rates of CTA ridership getting priority, officials said. 
The cost of the program will be paid for with the city's operating fund as well as federal COVID-19 relief funds, Lightfoot said. All of the cards will not be given out at once, but throughout the summer, she added. 
Lightfoot's announcement comes as the 2023 race for mayor shifts into high gear. While Lightfoot has not announced her bid for a second term, she has been hiring campaign staff and raising money to prepare for a re-election bid.  
Willie Wilson, who ran for mayor in 2019 and finished fifth with 11% of the vote, staged two high-profile events across the city that gave away $1.2 million in gas. Wilson, who has also run unsuccessfully for the U.S. Senate and president, plans to announce April 11 whether he will run again for mayor. 
Although Wilson endorsed Lightfoot in the run-off election, the two have had a notably cool relationship since then, especially during the pandemic when Wilson violated the stay-at-home order by participating in in-person church services. 
Wilson's first gas giveaway snarled traffic for hours and taxed city resources. 
The lottery will be as "painless as possible," Lightfoot said 
"You're not going to have to wake up at 4 a.m. and sit in a long line," Lightfoot said. 
Contact Heather Cherone: @HeatherCherone | (773) 569-1863 | [email protected]