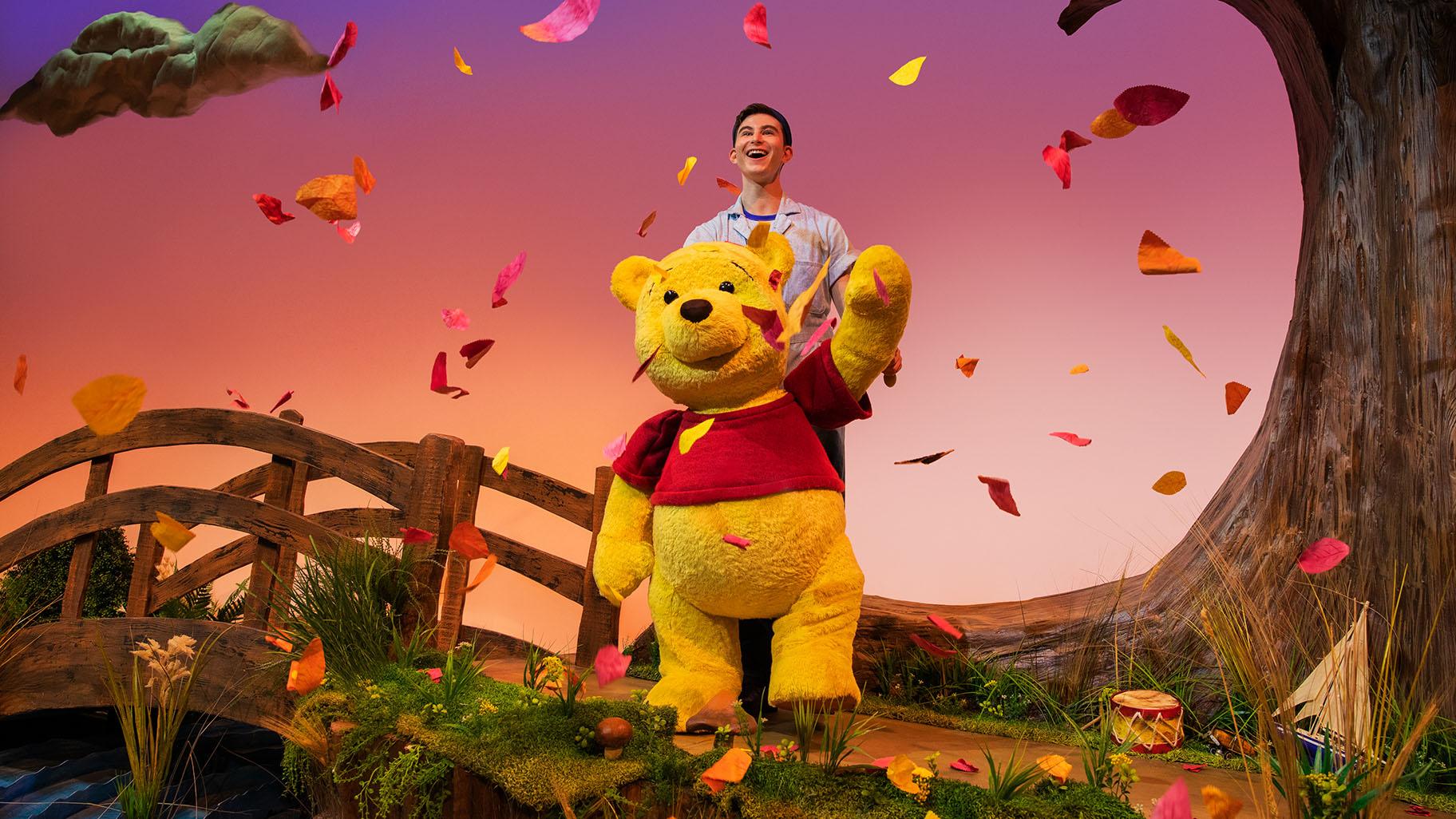 "Disney's Winnie the Pooh" features a cast of actors/puppeteers, including Jake Bazel as Pooh. (Courtesy of Rockefeller Productions)
There might be no better proof of theatrical success than to join an audience packed with tiny tots and watch as they sit (often perched on a booster seat or a parent's lap) and remain totally engaged with what is happening on stage for a solid hour.
That was the scene at the Mercury Theater on the opening night of its large-scale yet intimate production of "Disney's Winnie the Pooh," the new musical stage adaptation of British writer A.A. Milne's classic tales. The production was created and directed by Jonathan Rockefeller and brought to vivid life by a cast of six delightful actor/puppeteers who both operate and voice their larger (and sometimes smaller) than life characters.
Along with these animals (who possess many easily recognizable human personality traits, which keeps the adults in the audience laughing) is Christopher Robin, the young schoolboy who is a good friend of Pooh and his fellow creatures, and is played with the utmost natural charm by William Dally.
At the center of the story, which moves through the seasons (and features a score that draws primarily on the light-hearted songs composed for the 1966 animated film by the fabled Sherman Brothers, along with a few additional tunes by Carly Simon, Steve Nelson and the show's fine sound designer, Nate Edmondson) is Winnie the Pooh. The plump bear, with an engaging spirit and an insatiable appetite for honey, is winningly animated and voiced by puppeteer Jake Bazel. And in a particularly funny scene, the puppet spends quite a while stuck in a honey tree, with only his bottom and his chunky legs hanging out until he is rescued.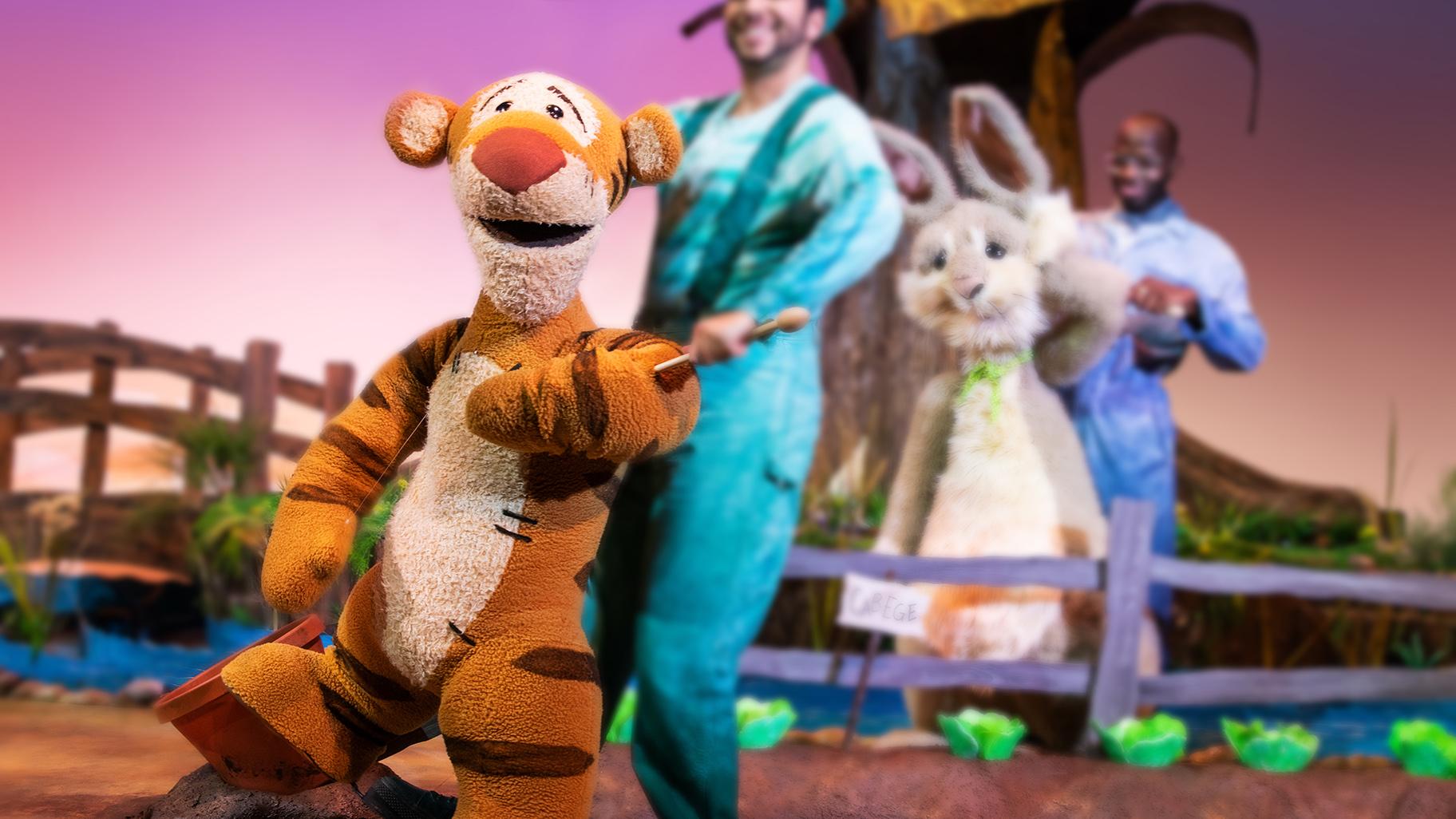 "Disney's Winnie the Pooh" features a cast of actors/puppeteers. (Courtesy of Rockefeller Productions)
Pooh's creature community, which inhabits the lovely Hundred Acre Wood (with a set design by Jack Golden that includes a lovely stream and footbridge, lighting by Zach Pizza, and whimsical, character-defining costumes by Lindsay McWilliams), is full of distinctive personalities. They include a demure little Piglet (Tina-Kim Nguyen), the kangaroo known as Kanga (Emilie Rose Danno), the self-important Tigger the tiger (Sebastiano Ricci), and Eeyore the elderly donkey, a self-assured Owl, and Rabbit, a serious carrot farmer (all played by Emmanuel Elpenord), with Carolyn Plurad as the cast's female "swing," who plays three of the animals in rotation. Butterflies and bees, suspended on thin poles, fly throughout the forest from time to time, too.
To be sure, there is great humor in these various animals' quirks, mischief, orneriness, very particular appetites and sense of self-importance. But the crucial threads that keep them together is a love for their natural environment, a tolerance for their neighbors, and a belief in the essential need for friendship and communal caring with each other, as well as with Christopher Robin, the boy with a love of adventure.
"Winnie the Pooh" runs through June 12 at Mercury Theater Chicago, 3745 N. Southport. For tickets visit: WinnieThePoohShow.com.
Note: The theater lobby is lined with giant shelves of "Pooh-themed" stuffed animals that are for sale, and they are sure to demand some attention.
Follow Hedy Weiss on Twitter: @HedyWeissCritic
---