When McCormick Place was taken out of the running as a potential site for Chicago's casino, environmentalists breathed a sigh of relief that the lakefront had been spared from a development many believed would have had disastrous consequences for wildlife, while also permanently tarnishing a shoreline viewed as the city's crown jewel.
Margaret Frisbie, executive director of Friends of the Chicago River, had little cause to celebrate.
Of the three casino proposals still in the running, two locations are smack on the Chicago River: One on acreage set to be developed as The 78, between the South Loop and Chinatown; the second near Chicago Avenue and Halsted Street, at what's now the Chicago Tribune's printing plant. (The third would be on the west side of DuSable Lake Shore Drive, across from Soldier Field.)
"Frankly, putting a casino on the river isn't any better than putting one on the lake," Frisbie said.
After decades of advocacy, cleanups and habitat restoration, the Chicago River is becoming healthier and healthier. Fish are returning, otters have made an appearance and heron are a common sight.
"We're so close to people believing the river is an actual resource, that it's alive and not dead," Frisbie said.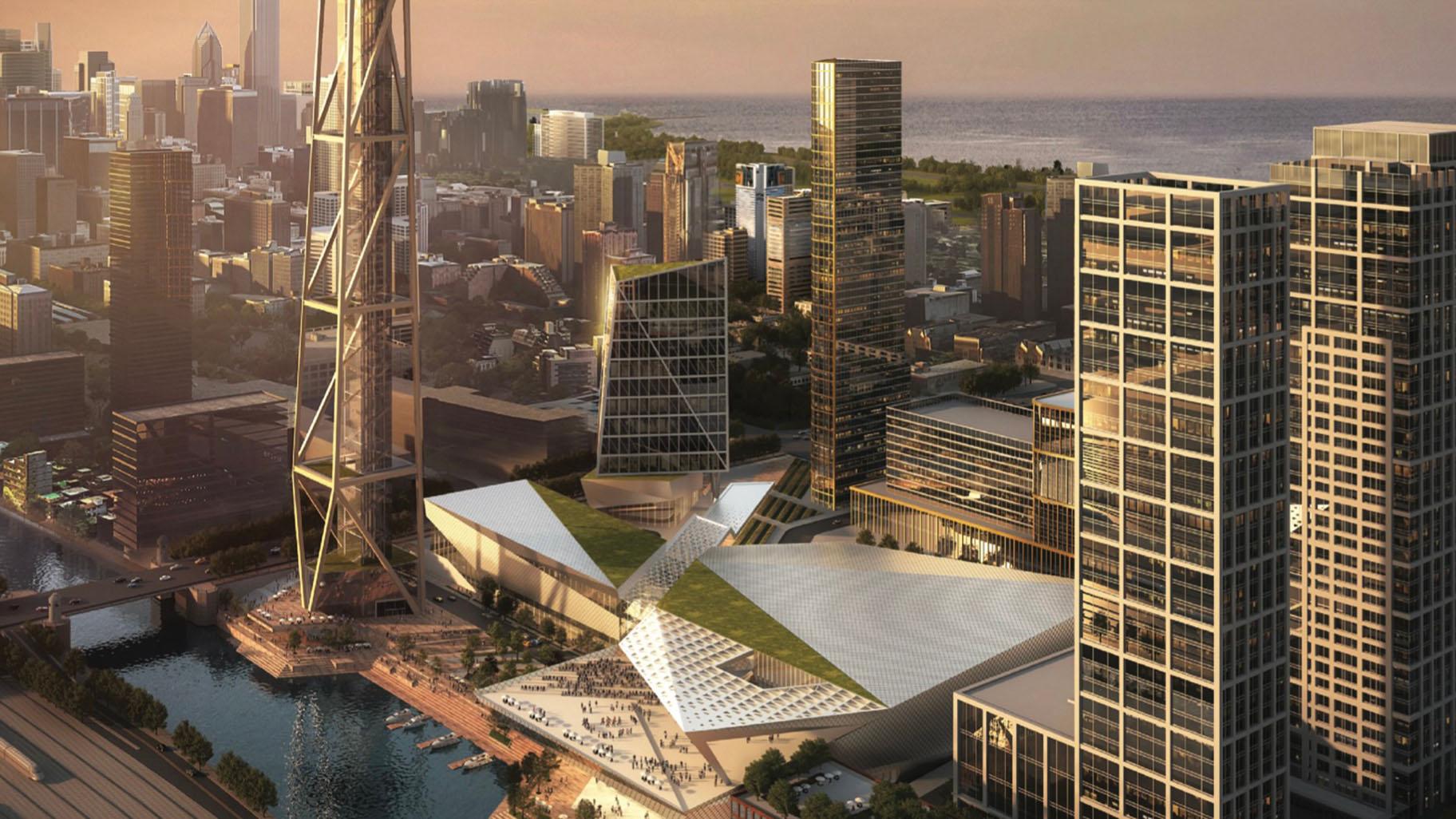 Rush Street has proposed a Rivers Casino as part of the under-construction 78 development on vacant land between the South Loop and Chinatown along the Chicago River. (Provided)
A casino — and the accompanying "resort" accoutrements of hotel, restaurants and entertainment venues — represents an intense use that will utterly change the character of any river location, she said. 
Renderings of the casinos show the developments extending to the very lip of the waterway, the opposite of the natural river edge the majority of Chicagoans have said they want to see along the banks, Frisbie said.
"The whole river shouldn't look like the Riverwalk," she said of the popular downtown attraction.
If a casino is coming to the riverfront, publicly accessible open green space should be a priority, as well as considerations for wildlife habitat, Frisbie said, and the buildings themselves should be held to the highest standards of sustainability and climate resiliency.
"We need to look at a new type of casino, the whole of it has to be rethought," she said. "These are some of the largest riverfront parcels, and we want to do it right. And 'right' means sustainable. Let's innovate for nature in Chicago."
Though the city is holding a series of community meetings April 5, 6 and 7 — one for each finalist — to allow for public comment on the proposals, Frisbie is concerned the window is too narrow for feedback to have any meaningful or substantial impact on the designs.
"It's all moving so fast, and that's where you lose the valid opportunity to weigh in," she said. "We will be reaching out to find out how we insert ourselves into the conversation."
All of the casino proposals were required to meet or exceed the city's Sustainable Development Policy, Peter Strazzabosco, deputy commissioner of the Department of Planning and Development, told WTTW News in an email.
LEED certification is required under Illinois' gaming statute, he added, noting that the riverfront developers have said they plan to seek LEED gold.
'We Can Do Better'
For those who objected to the McCormick Place site because of the thousands of birds the building kills every year, reassurances about LEED ratings or sustainable design features don't go nearly far enough when it comes to addressing the threat a casino on the river could pose in terms of deadly bird collisions.
According to Annette Prince, director of Chicago Bird Collision Monitors, there's documentation of a large number of bird strikes in the area around the Tribune site, with one nearby building on Superior Street killing hundreds alone.
"We know for sure there's a high concentration of birds using the Tribune site," Prince said.
The casino complexes, depicted in developers' renderings as gleaming, illuminated beacons, would be magnets for birds, especially migrants, she said.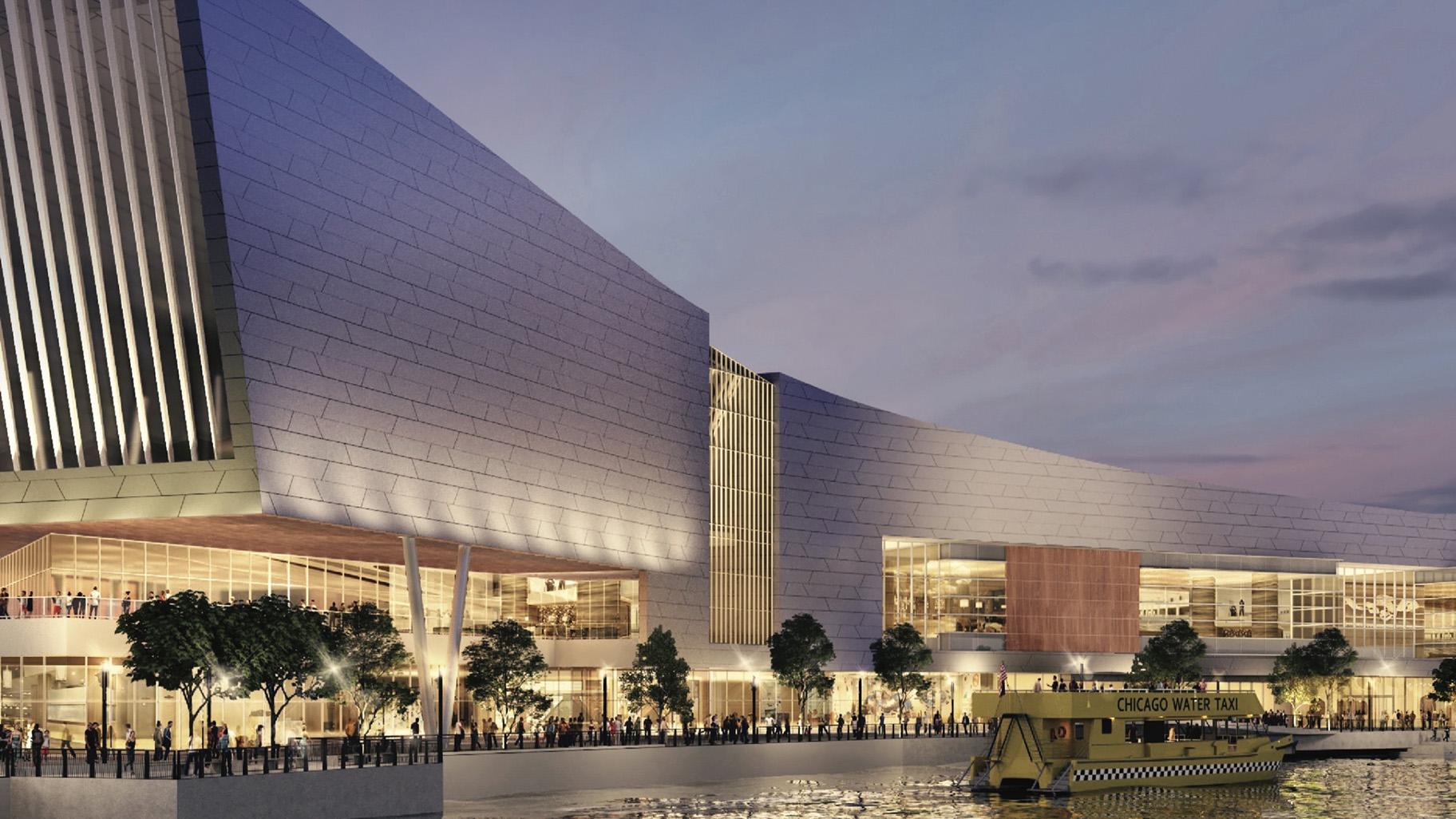 Bally's is proposing to build a casino and resort on what is now the Chicago Tribune printing plant and newsroom near Chicago Avenue and Halsted Street. (Provided)
A bird-friendly ordinance, passed by City Council in 2020, was supposed to lessen the danger Chicago's bright lights and glass towers pose to birds, at least in terms of new construction like the proposed casino. 
But bird-friendly mitigations — such as patterned or treated glass and lights out during peak spring and fall migration — were never made mandatory; instead, they're among the buffet of options developers can choose from in the Sustainable Development Policy.
Though the city has promised to strengthen the bird-friendly portion of the policy, without the force of law behind it, there's little incentive for developers to comply with what's been positioned as a request versus a requirement, said advocates including Prince and Judy Pollock, president of Chicago Audubon Society.
"There's no enforcement mechanism," said Pollock. "(Developers) can say whatever they want ... it's in their best interest to say, 'We'll treat the glass,' but when it gets down to it, they don't want to do it. Even if they have great intentions, that can change. It sounds cynical, but that's based on the reality of what we've seen."
Casino developers will want their buildings to be showstoppers, she said, and views of the river or lake are likely to be part of the appeal. Giving up those views to save birds, by treating glass with a coating or applying patterns that makes it less transparent, isn't something a developer is likely to do willingly.
"That's the crux of why this is so hard," Pollock said. "That's why we need legislation."
Every time construction begins on a new tower, Prince said she thinks of the ramifications for birds: "It will stand for 100 years and kill birds for 100 years."
Chicago's casino will be one of the highest profile transformational developments the city has seen in years. It can proceed with business as usual, or it can chart a new course. In gambling terms, Prince is pinning her hopes on a long shot: That the casino developers will, as a point of pride, add the best example of a bird-safe building to the city's illustrious skyline. And no, that doesn't mean it will have to sacrifice height or style, she said.
Chicago's 82-story Aqua Tower is notably bird-friendly. So is the 52-story New York Times Building in Manhattan. New York's Javits Center, originally designed as a "crystal palace," was formerly the Big Apple's biggest bird killer. After a retrofit with less reflective glass, collisions have been cut by 90%.
"We're not condemning people to ugly buildings," said Prince. "Let's get some design and craft behind this. We can do better."
A Glimpse of the Carnage
Anyone who thinks the issue of bird strikes in Chicago is exaggerated need only visit the Field Museum for a glimpse of the carnage.
The Field has the dubious distinction of housing what's likely the world's largest collection of salvaged birds. In the last 40 years, the museum has taken in some 40,000 birds, representing 150 species, all killed by McCormick Place Lakeside Center. 
On a recent weekday morning, David Willard, collections manager emeritus, was back in the lab, helping to process the week's specimens. 
There's no way to put it delicately: Skinned birds were piled in buckets, awaiting the plucking of stray feathers, the sampling of tissue and organs, and a look at their gonads to determine their sex. Next stop: A date with the Field's flesh-eating beetles, which will reduce the birds to skeletons.
This is just an average Wednesday, a Field staffer said of the routine.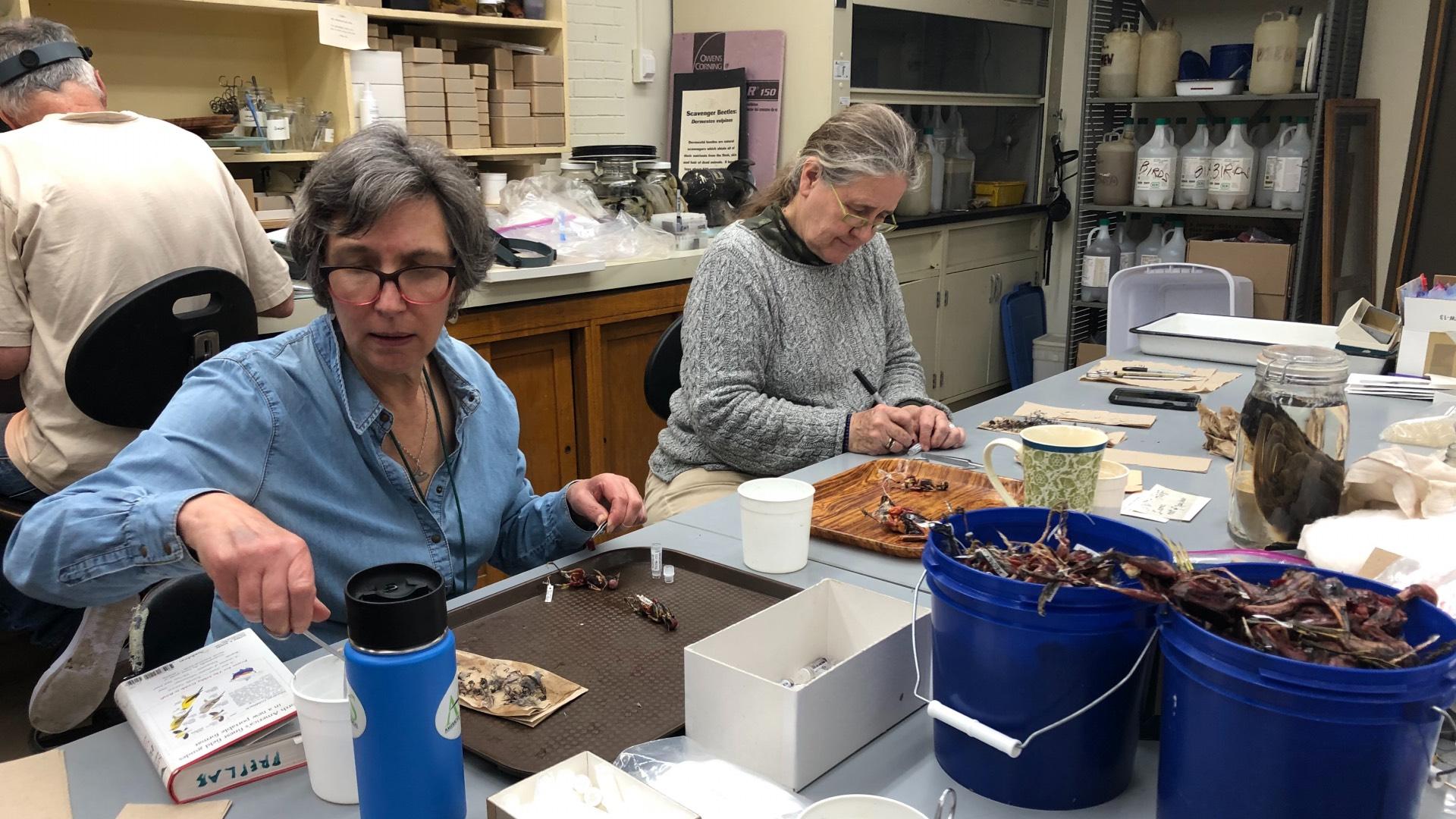 Volunteers at the Field Museum process birds killed by crashing into McCormick Place Lakeside Center. (Patty Wetli / WTTW News)
It's painstaking, time-consuming, grim and ultimately frustrating work. Though the Field has wrung a fair amount of research out of its accidental specimens, scientists like Willard would much prefer the birds had lived. It's hard to pinpoint, he said, why the death of so many birds, something humans have the knowledge and ability to prevent, is considered acceptable.
That's a question Prince has struggled with as well.
"We scratch our heads. It's all right there," she said of the evidence. "It's not speculation, like a unicorn or something. If there was a building Downtown and we knew this building killed 10 people a year, we would fix it. People matter to us. But birds aren't us. Birds are, in some people's minds, replaceable." 
They aren't, of course. The Cornell Lab of Ornithology has estimated the Midwest is losing 5% of its migratory land birds birds every year, said Pollock. "It hasn't sunk in," she said. "We have to acknowledge all the damage we've done, how much habitat we've destroyed."
The irony of a city like Chicago, deemed the deadliest in the nation in at least one study due to its density and position along a major migratory flyway, is that it's just green enough, just welcoming enough to lure birds with the promise of food and shelter. And then bam, we put a glass tower in their path.
"We've set up the situation," said Doug Stotz, senior conservation ecologist at the Field. "And we have some ethical responsibility to the birds."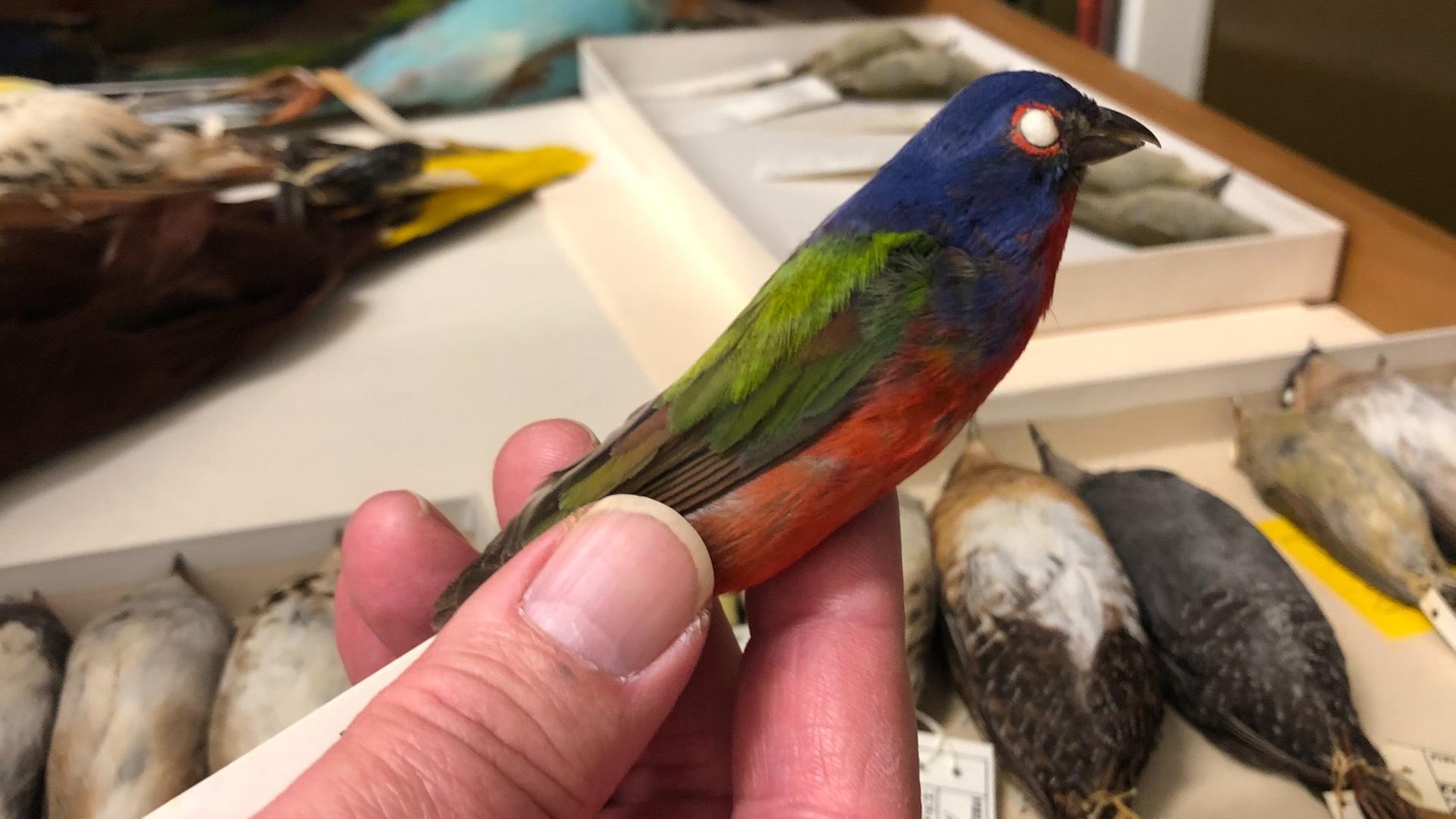 Painted buntings are a rare sighting in Chicago. This one was killed by crashing into McCormick Place Lakeside Center. (Patty Wetli / WTTW News)
Stotz has an encyclopedic knowledge of the Field's collection of taxidermied McCormick crash victims, which are organized by the trayful in locked cabinets. And each bird has a story, he said.
Here's a woodcock, an absolute charmer beloved for its funky bobble walk and soaring mating flight. One of spring's earliest migrants, woodcocks "come in low off the lake," said Stotz, and are among the most common victims at McCormick Place.
He pulls out another tray, this one of rarities, and lifts up a rainbow-feathered painted bunting, a beautiful bird so unusual in these parts that people will drive for hours to catch a glimpse of one. 
One of the bunting's tray-mates is a black rail, endangered in Illinois. Stotz, who's been observing birds for decades, has never seen a black rail in the wild. "And four of them have hit McCormick," he said.
Not that it should matter, but Chicago's buildings aren't doing birds some "survival of the fittest" favor by knocking out the weakest links. 
"The weak died along the (migratory) way," said Prince. "The balance of the birds we see in Chicago are the best, the strong that have survived. The ones that made it all the way from South America. And then we kill them."
Contact Patty Wetli: @pattywetli | (773) 509-5623 |  [email protected]
---