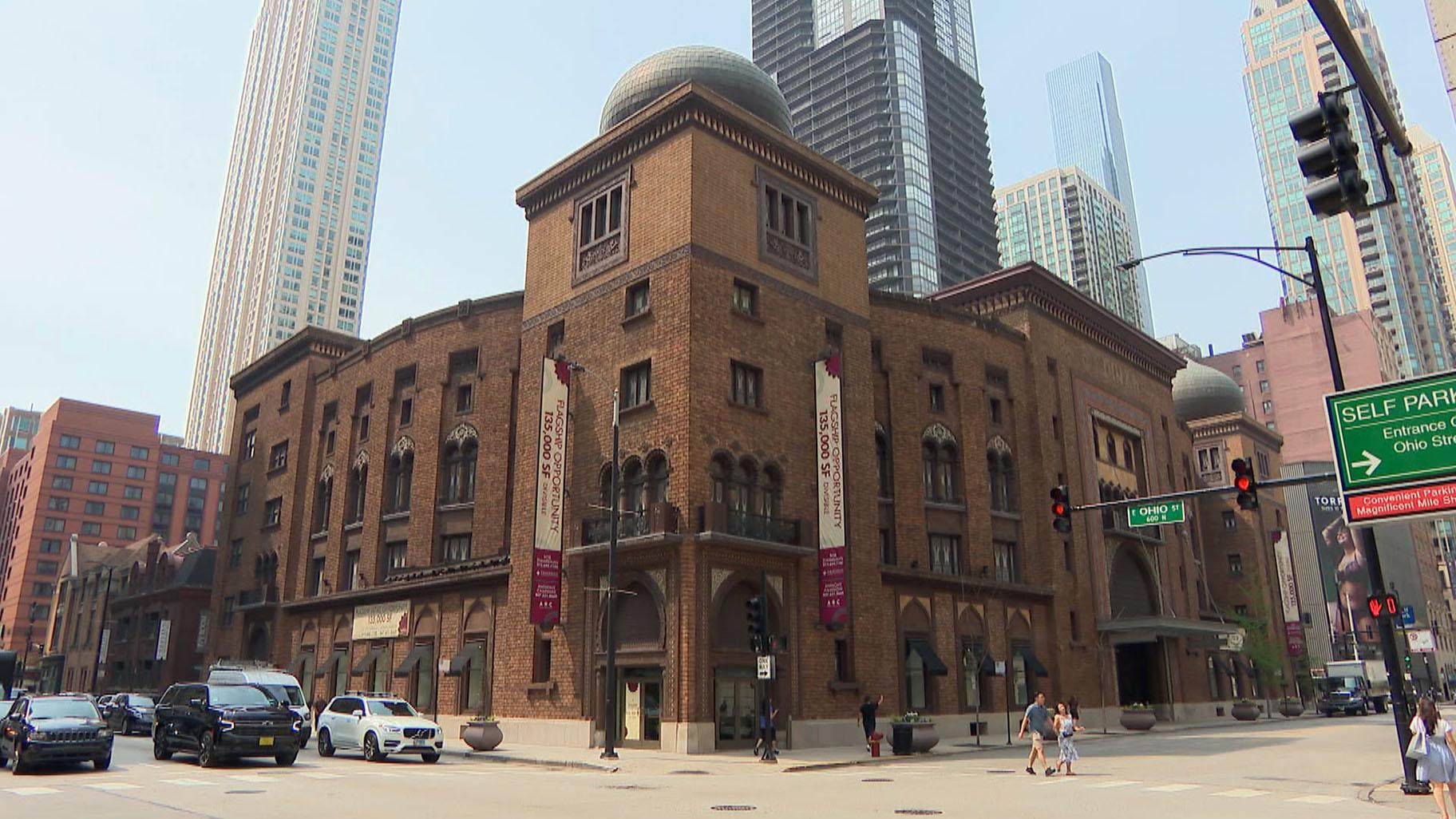 A Chicago landmark since 2001, the Medinah Temple was most recently home to a Bloomingdale's furniture store and is now set to become a temporary casino. (WTTW News)
State gambling regulators gave a green light Thursday to Bally's plans to open a temporary casino in the landmark Medinah Temple, moving the proposal one step closer to opening its doors in River North.
The unanimous vote by the Illinois Gaming Board came after months of investigation into everyone involved in the controversial project, from well-heeled investors to subcontractors, and represents a major step forward for the long-in-the works project.
Bally's now has "preliminary suitability" status, according to the Gaming Board, setting the firm up to get the final permits it needs to open.
"We've asked the city of Chicago to bet on Bally's and we're here to pay that bet off," Bally's Corporation Chairman Soo Kim told the board Thursday.
It is not clear when Bally's will be able to open a temporary casino in the century-old Shriner's temple at 600 N. Wabash Ave., with its distinctive domed ceilings and stained-glass windows. A Chicago landmark since 2001, the temple was most recently home to a Bloomingdale's furniture store.
In February, Bally's officials told state gaming officials they hoped to open the temporary casino in June.
Once it opens, Chicagoans and tourists will be able to try their luck at 750 slot machines and more than 50 table games.
But before the first bet is placed, the temporary casino must meet regulatory requirements and receive a permit from the state's gaming administrator as well as a permit from the city's Business Affairs and Consumer Protection department.
Approximately 500 people are expected to work at the temporary casino, and Bally's has pledged to make sure that 60% of those employees are Black, Latino, Asian or American Indian, 45% women, 5% military veterans and 5% people with disabilities.
In December, the Chicago City Council voted 39-5 to approve plans for a permanent casino on what is now the Chicago Tribune's printing plant and newsroom and to open a temporary casino in the Medinah Temple as early as this summer.
That vote came over the objection of Ald. Brendan Reilly (42nd Ward), who urged his colleagues to reject the plan crafted by former Mayor Lori Lightfoot because it will snarl traffic downtown and exacerbate public safety concerns.
Plans call for the permanent $1.74 billion Bally's casino and resort to open in 2026 on 30 acres in River West.
Bally's has told city officials they will meet the requirements imposed by city officials that 25% of the facility be owned by Black, Latino or Asian shareholders, 50% of its employees be from Chicago and at least 26% of the construction contracts go to firms owned by women or Black, Latino or Asian Chicagoans.
City officials are counting on a casino to boost the city's economy and funnel approximately $200 million into its police and fire pension funds, significantly easing the pressure on the city's finances, while creating thousands of jobs and drawing tourists — and their fat wallets.
Contact Heather Cherone: @HeatherCherone | (773) 569-1863 | [email protected]
---