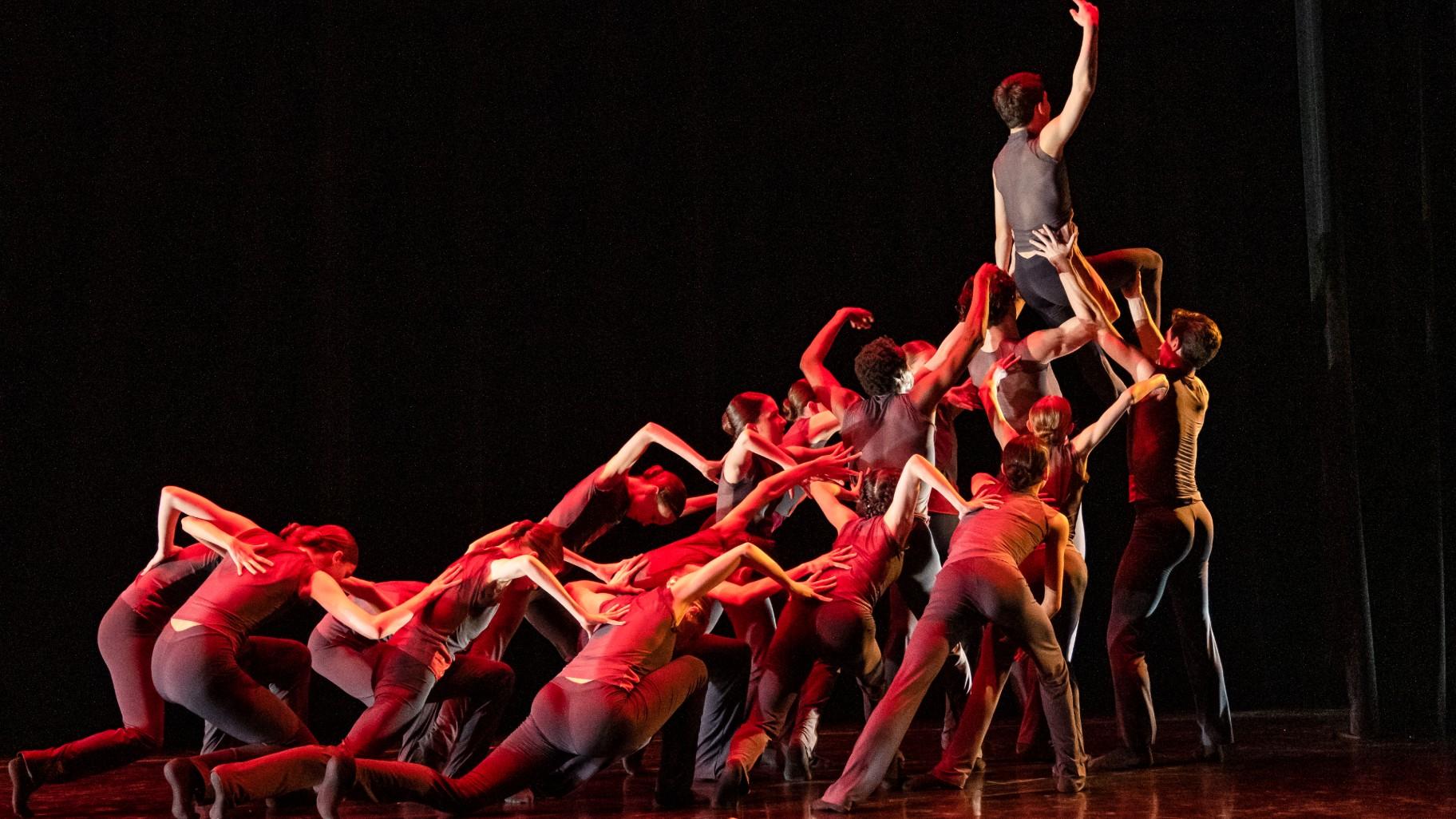 Joffrey Ballet's "Winning Works" program featured four world premiere pieces created for members of the Joffrey Studio Company and Joffrey Academy. (Credit Todd Rosenberg)
Throughout the past two years, as the performing arts suffered greatly because of the pandemic, the Joffrey Ballet demonstrated a remarkable ability to adapt and persevere. 
Its dancers somehow maintained their usual top form. The creation of exceptional new work in virtual forms helped keep both the artists and audiences engaged. And both the dancers and the Joffrey's artistic staff found ways to explore new opportunities in the areas of choreography and design.
The company returned to the stage last summer (at Ravinia), and moved on to its fall 2021 and holiday season in its new home on the Lyric Opera stage. And despite a postponed winter engagement, it has continued to forge ahead and to keep its training and outreach programs in high gear.
A primary example of the Joffrey's commitment to "the new" was this weekend's return of the "Winning Works" program, now in its 12th season, with four performances that served as a showcase of four world premiere pieces created by four different choreographers and performed on the stage of the Museum of Contemporary Art Chicago's Edlis Neeson Theater. 
Most importantly, all of these works were specifically created for, and performed by members of the Joffrey Studio Company (which prepares gifted young dancers of exceptional promise for careers with the Joffrey or other professional ballet companies), as well as the Joffrey Academy Trainee Program (a full-time program that can be one or two years in duration). And the talent on display was mightily impressive.
All of the programs were sold out from the start. But fear not: A video of each piece will be posted via the Joffrey's YouTube page and website. (See the end of this review for the schedule.)
In addition to serving as a vital training exercise for young, gifted dancers, the Winning Works program is a fine showcase for the four contemporary choreographers. And one of them, Derick McKoy Jr., noted that while the young dancers he worked with "may have been labeled 'pre-professional' they were, in fact, 'highly professional.'" And his assessment of the nearly two dozen performers involved was right on target. In addition, in what has long been part of the Joffrey tradition, they possessed notably strong dramatic skills.
And now, on to the dance, with works of complexity and considerable technical difficulty that dealt with varied and often troubled relationships (romantic and otherwise), that could be seen as riffs on the isolation and distancing that came with COVID.
The opening work on the program, Taylor Carrasco's "Not Now, But Now," was performed in pointe shoes and was the only piece set to classical music (works for cello and violin by Johann Sebastian Bach, whose timeless music can often seem as modern as that of any 21st century composer).
At the center of an ensemble of 13 dancers was a couple in turmoil – a young man (in a distinctively patterned sweater), who was clearly seriously interested in a young woman (in a red-orange dress) who was both teasing and painfully noncommittal. Swirling all around them was a great deal of activity, but the sense of the pursuit of love, (and its loss), was a dominant theme. Throughout, the technical challenges – including difficult but expertly finessed partnering, complex floor patterns and ensemble unity – were met with impressive confidence. And this was true in all that followed.
Next up was Audrey Baran's "Porcelain," set to a fascinating, percussion-laced modern score by Belle Chen and Yaej & OHHYUK. In the brief introductory video that preceded each piece and included commentary by both the choreographer and a couple of dancers, Baran noted her interest in improvisation. And her work, expertly performed by an ensemble of 16 dancers (in red and white costumes also designed by Luis Razo), involved many complex patterns and floor work.
Derick McKoy, Jr.'s aptly titled "Road to Flames" was set to a dynamic original composition by J.R. Stitt that, like McKoy's choreography, was an intriguing mix of classical and jazz impulses with a dramatic use of line and group formations, and a stand-out solo turn by Andre McGregor II.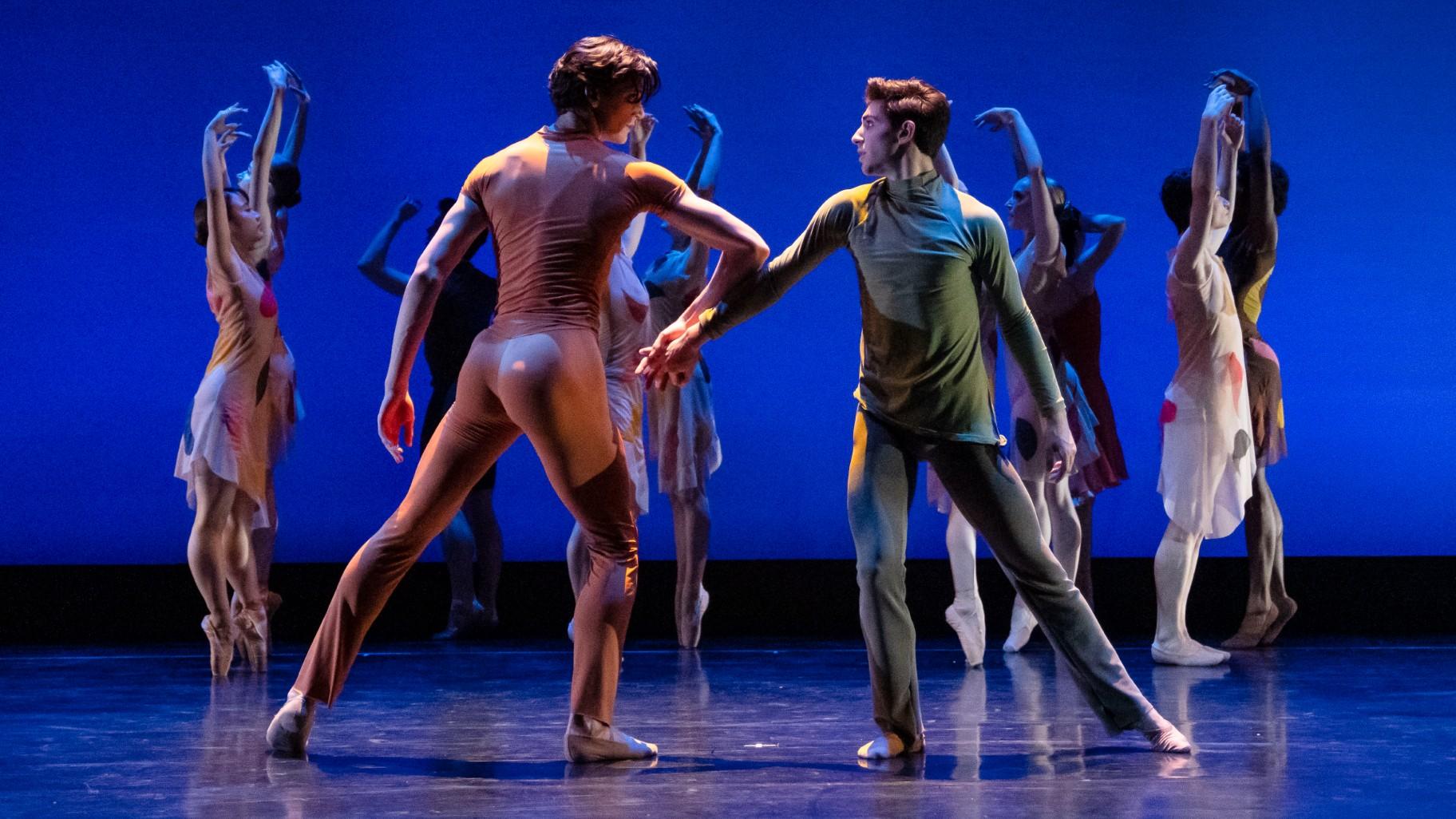 Joffrey Ballet's "Winning Works" program featured four world premiere pieces created for members of the Joffrey Studio Company and Joffrey Academy. (Credit Todd Rosenberg)
Closing the program was a wonderfully dynamic work by Edson Barbosa, one of the Joffrey company's most dynamic male dancers who clearly has a choreographic career on his mind, too.
Barbosa's "On the Same Boat," set to music by the Chinese/Irish musician Phildel Ng, and with delicate leaf-patterned costumes by Karen Mesquita, is the most overtly narrative work on the program. Again, relationships are of the essence with male and female pairings, gay couples, and several emotionally upsetting instances of unfaithfulness and unexpected attraction. But a happy ending is ultimately reached, and once again, the dancers' dramatic skills are as formidable as their technical prowess.
Here is the schedule for the posting of videos of each of the four ballets:
March 24: Taylor Carrasco's "Not Now, But Now"

March 25: Edson Barbosa's "On the Same Boat"
March 31: Derick McKoy Jr.'s "Road of Flames"
April 1: Audrey Baran's "Porcelain"
Follow Hedy Weiss on Twitter: @HedyWeissCritic
---