The Company of Tosca (Credit: Cory Weaver)
The most moving moments at the Lyric Opera this past Saturday evening came even before its lavish production of Giacomo Puccini's "Tosca" began. Yet in many ways those moments dramatically intensified the story that was about to be told.
As the curtain rose, the massive, ever-formidable Lyric Opera Chorus, dressed in black and already in place, sang the Ukrainian national anthem as the audience stood in observance of the nightmare now unfolding courtesy of a brutal despot. And, as it happens, it is yet another brutal despot who is the force behind much of the tragedy that unfolds in "Tosca." The opera — with a libretto by Luigi Illica and Giuseppe Giacosa — is at once a love story, and the tale of artists who are destroyed by the twisted power broker who drives them to death.
"Tosca," premiered in 1900 but takes place a century earlier and at a time of complex political upheaval. The kingdom of Naples, then under the control of Rome, is being threatened by Napoleon's invasion of Italy. It opens as the artist, Mario Cavaradossi (Russell Thomas) is at work on a painting of Mary Magdalene in a corner of the grand Church of Sant'Angelo. Thomas is an American tenor whose acting skills are as formidable as his magnificent voice, which leaves you wishing he had even more to sing than he already does. And the church is the first of the production's three elaborate sets, created many years ago by the late French set designer Jean-Pierre Ponnelle.
At the same time, Cesare Angelotti (bass Rivers Hawkins), the former Consul of Rome who is now a political prisoner on the run, sneaks into the church to collect a package containing a disguise that his sister, the Marchesa Attavanti, has hidden there for him. Very soon Cavaradossi promises he will help him escape and hide in his villa in the countryside.
As it happens, the Marchesa — who we never see — had previously caught the eye of Cavaradossi when she was praying in the church, and she became the inspiration for his painting. Not surprisingly this causes quite a scene when his jealous lover, the famous opera singer Floria Tosca (played by the fiery American soprano Michelle Bradley, in her Lyric debut) arrives at the church and vents her anger after realizing that it is not her likeness, but the Marchesa's, that has been captured in the painting.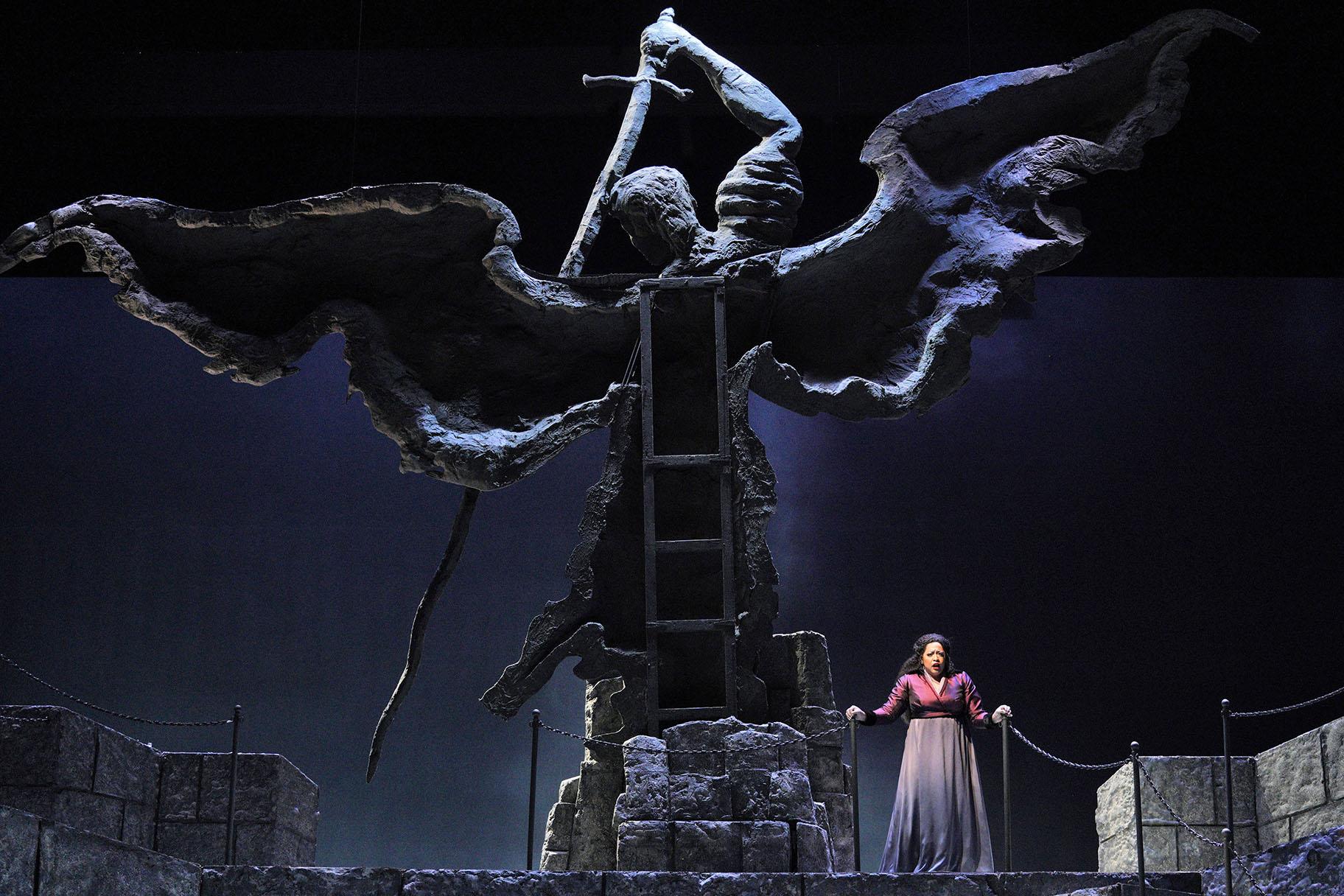 Michelle Bradley as Floria Tosca (Credit: Cory Weaver)
The artist calms her down and promises they will spend the night together. But as soon as she is gone there is more chaos as a cannon shot signaling that Cavaradossi has escaped sends both him and the artist racing away to the villa. At the same time there is news of Napoleon's defeat, with Tosca set to perform in a celebratory concert at the Palazzo Farnese. And then there is the first appearance of the evil, ever-manipulative Chief of Police, Baron Scarpia (Argentine baritone Fabian Veliz in a deftly icy, manipulative, Putin-esque turn) who is in pursuit of Cavaradossi. Upon Tosca's return to the church, he also realizes that he might finally have his chance to seduce her.
The second act is set after the victory celebration. It finds Scarpia in his grand apartment in the Palazzo Farnese to which Cavaradossi has been brought for questioning about Angelotti's whereabouts. Tosca arrives there too after her big concert, as summoned by Scarpia. She is forced to hear the cries of her lover who has been taken into an adjoining room and subjected to brutal torture with the expectation that she will save him by revealing Angelotti's hiding place. When news of Napoleon's return to power arrives, Scarpia immediately orders Cavaradossi's execution. He also makes a despicable false bargain with Tosca, saying that in exchange for agreeing to being seduced by him he will oversee a fake execution of her lover and arrange for their safe escape.
This is where the ordinarily tempestuous Tosca reveals her more sensitive soul in the heartbreaking aria "Vissi d'arte" ("I lived for art, I lived for love"). And Bradley does quite a beautiful emotional reverse turn before saving her own soul, and her lover's life, by stabbing Scarpia to death.
Then comes the third act with a set capturing a cold, massive gallows structure and a gated underground prison as the visible proof that all of Tosca's efforts were in vain. Of course, Puccini, ever the tragic romantic, and a composer of exquisite, pain-streaked melodies, supplies Cavaradossi with an aria in the form of a love letter to Tosca, and also gives the two what will be their final love duet.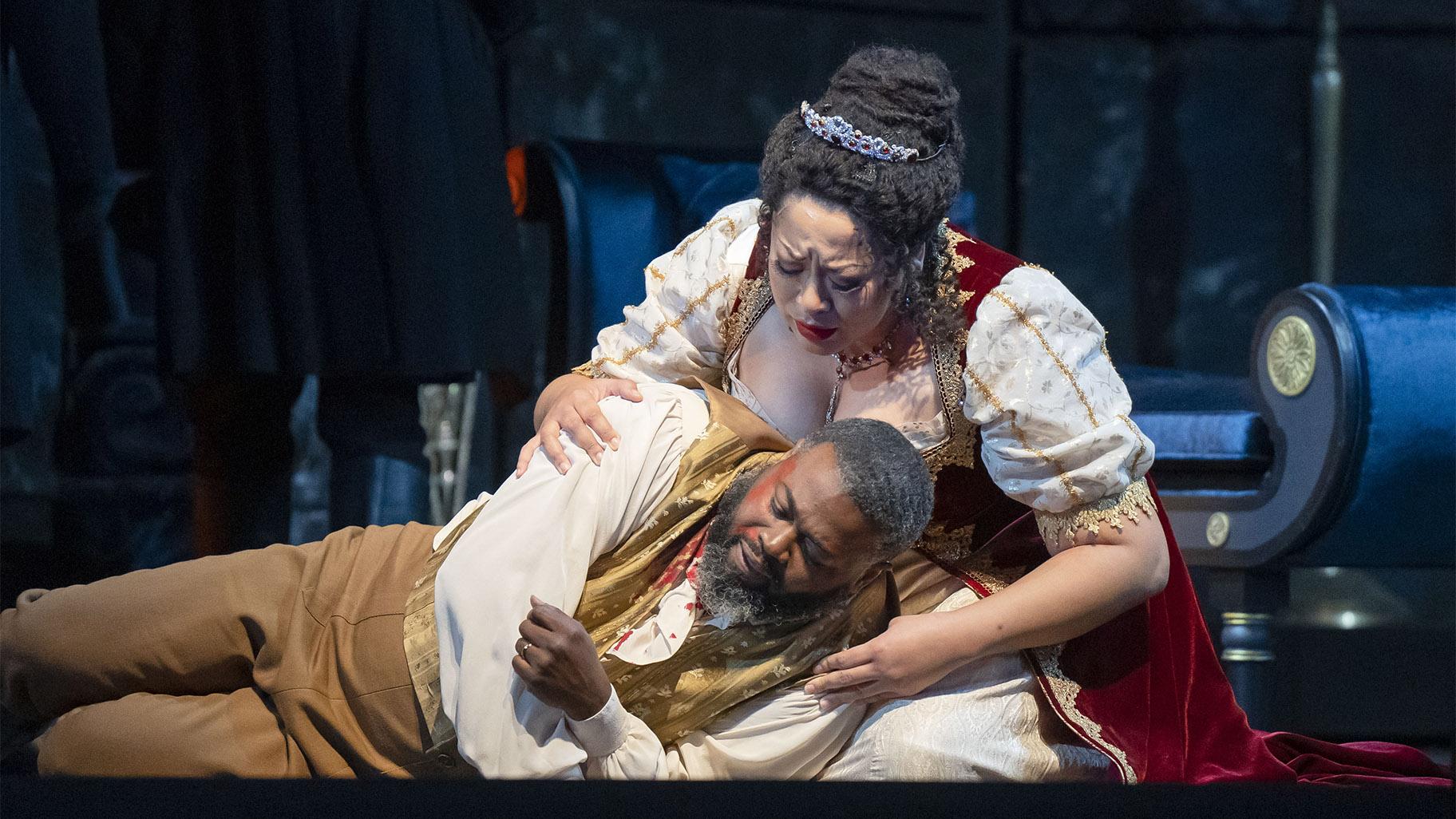 Russell Thomas as Mario Cavaradossi and Michelle Bradley as Floria Tosca (Credit: Todd Rosenberg)
The production, efficiently directed by Louisa Muller, featured solid supporting performances by bass-baritone Alan Higgs as the sacristan (overseer of the church), and tenor Rodell Rosel as Spoletta, captain of the riflemen. And along the way there was a brief, but as always splendid contribution by the Chicago Children's Choir led by Josephine Lee.
Last, but in many ways most thrilling aspect of the production was the lushly beautiful, impeccably modulated sound of the Lyric Opera Orchestra as led by Eun Sun Kim, the acclaimed Korean conductor making a mightily impressive Lyric Opera debut on the heels of her recent appointment as the San Francisco Opera's first female music director. I hope a return visit is already in the works.
The remaining performances of "Tosca" (performed in Italian with English supertitles) are March 18, 23 and 26 and April 3, 7 and 10. For tickets visit lyricopera.org or call (312) 827-5600.
More on this story
Coming up next at Lyric is "Fire Shut Up in My Bones" (March 24-April 8), the acclaimed opera that had its world premiere at the Metropolitan Opera this past Fall. It has a score by Terence Blanchard, and a libretto by Kasi Lemmons (based on the memoir of New York Times columnist Charles M. Blow), and will star baritone Will Liverman, reprising the role he performed at the Met.
Follow Hedy Weiss on Twitter: @HedyWeissCritic
---