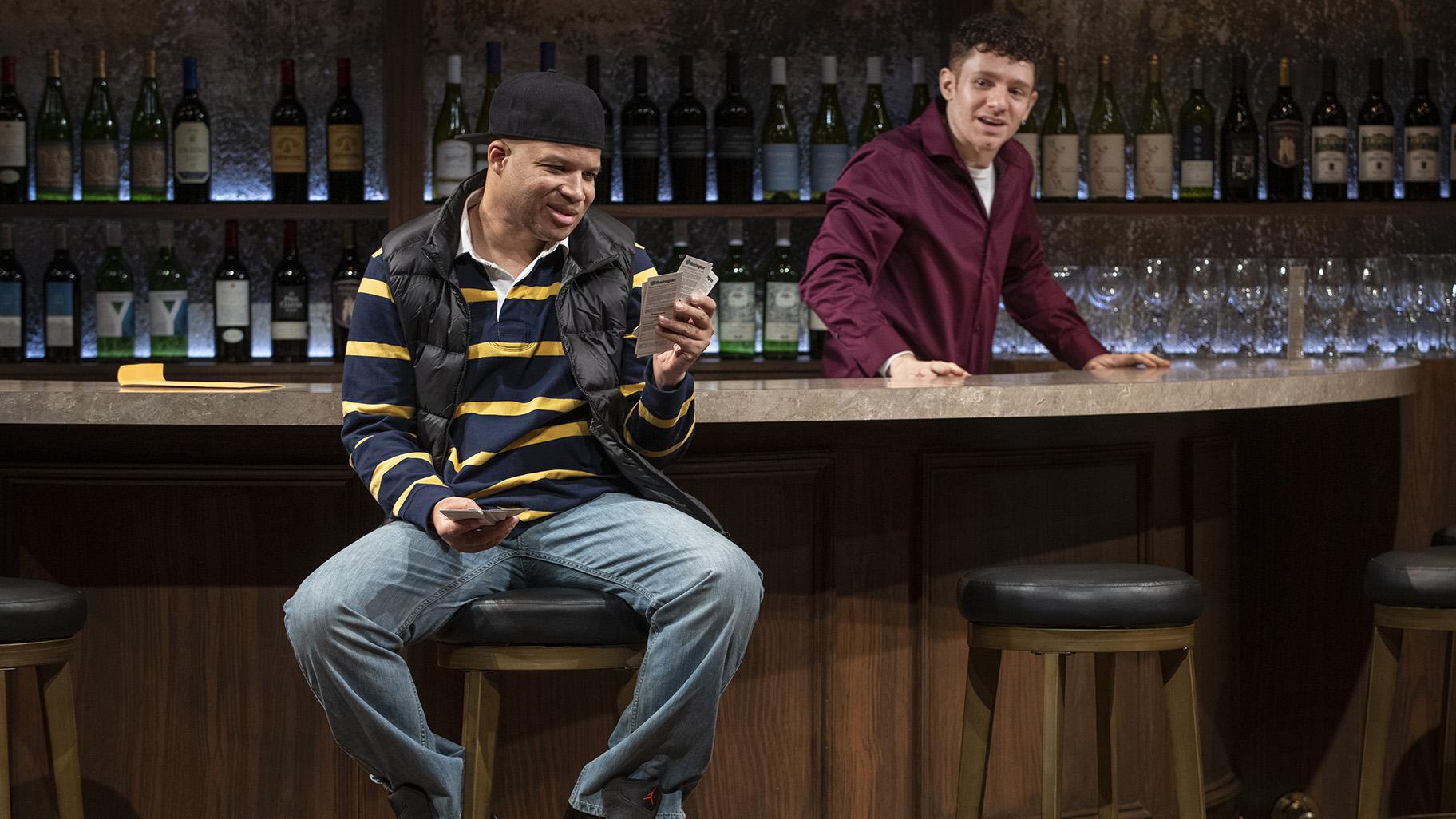 Ensemble member and Artistic Director Glenn Davis, left, and Chris Perfetti in Steppenwolf Theatre's world premiere production of "King James" by ensemble member Rajiv Joseph. (Credit Michael Brosilow)
Friendships that endure over many years can be as complex and checkered as marriages. And just as in marriages (or other serious romantic relationships) there can be painfully rocky periods, dramatic life changes, profound irritability and damaging missteps. Despite all that, an enduring connection can somehow survive.
This is the essential notion driving "King James," Rajiv Joseph's sharply observed play that captures the often tense bond forged between two rabid, twentysomething basketball fans whose frequently diverging lives are followed over the course of a decade or so. And it is now receiving a terrific world premiere by Steppenwolf Theatre that has been tightly directed by Kenny Leon. The play, expertly performed by Glenn Davis (an artistic director at Steppenwolf), and Chris Perfetti (a New York actor with both Broadway and film credits), is what might best be described as a marathon two-act duet. (Kudos also to Khloe Janel, the DJ perched in a balcony box, who moves like a dancer and oversees the show's irresistible pop playlist during intervals.)
The "King" of the title is "King" LeBron James, the acclaimed Ohio-born basketball player who played for the Cleveland Cavaliers from 2003 to 2010, moved on to the Miami Heat, returned to the Cavaliers in 2014, led the team to an NBA Championship in 2016, and now plays for the Los Angeles Lakers. Along the way, James has been hailed as the only player to rival Michael Jordan.
The two men in "King James" first meet in La Cave du Vin, an elegant wine bar operated by Matt (Perfetti), who is having financial difficulties and wants to sell his valuable season tickets for a hefty price. Arriving to make a deal for the much-coveted seats is Shawn (Davis), who for the first time in his life has a couple of thousand dollars with which to splurge. The two fans of the Cavaliers bargain hard, but a deal is made. And along the way we learn a good deal about both men.
Matt, who is white, has never been a great student, and has a strong sense that his parents view him as a failure. His mother owns a hodgepodge antiques shop called Armand (named after the taxidermy specimen of an armadillo). Shawn, who is African American, works at several menial jobs, seems to have little connection to his family and writes stories on the side. We learn that over the years of his friendship with Matt, he establishes a bond with Matt's mother that her own son never seemed able to forge. Shawn also gets accepted into an elite graduate screenwriting program in New York that he hopes will propel him into a job in Hollywood.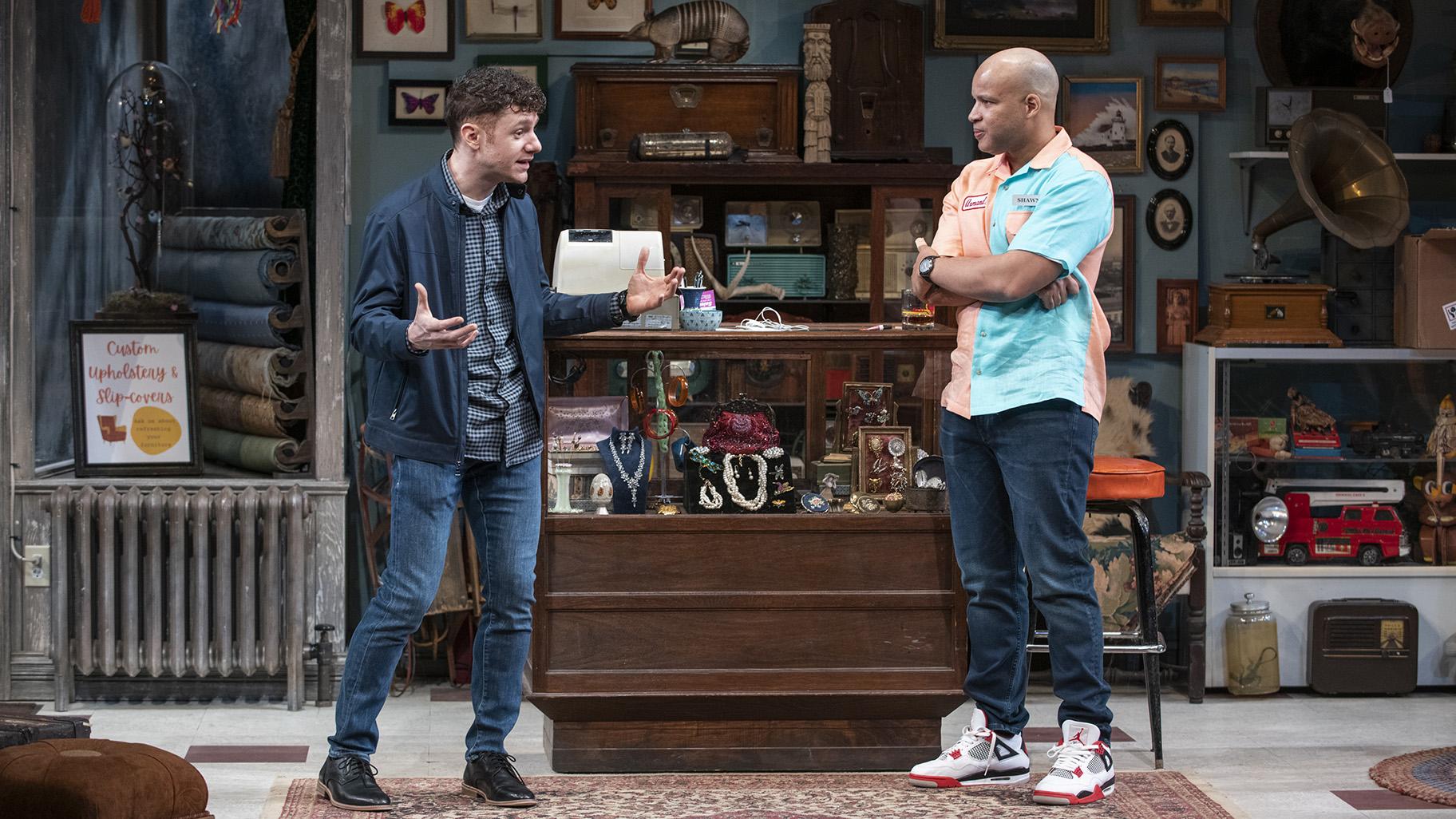 Chris Perfetti, left, and ensemble member and Artistic Director Glenn Davis in Steppenwolf Theatre's world premiere production of "King James" by ensemble member Rajiv Joseph. (Credit Michael Brosilow)
Along the way, a great moment of anger erupts when it is announced that LeBron James is leaving Cleveland for the Miami Heat — a change that Matt sees as a betrayal but Shawn justifies as a smart career move. And over the years, matters of money, success, prestige, girlfriends, family, loyalty, and not surprisingly, a bitter encounter triggered by what is perceived as a racial insult come into play.
Joseph (whose exceptional, and very different work, "Bengal Tiger in the Baghdad Zoo" was a Pulitzer Prize for Drama finalist in 2010) is a playwright with a superb ear for dialogue. And the way the ordinary conversations between these two men over the years defines each of them, and reflects their very different sense of self at many points in their friendship, is spot on, as are the actors' portrayals.
I will not divulge the winning surprise that comes with Todd Rosenthal's ever brilliant set design. Suffice it to say that it captures defeat in a most vivid way in this "championship" play.
"King James" runs through April 10 at Steppenwolf Theater. For tickets visit steppenwolf.org or call 312- 335-1650.
Upcoming Steppenwolf productions include "The Seagull" (April 28-June 12), the Anton Chekhov classic to be directed by Yasen Peyankov in the company's new in-the-round theater, and "Choir Boy" (June 16-July 24), Tarell Alvin McCraney's play, directed by Kent Gash.
One final anecdote: For some reason basketball has been the only sport that I've ever enjoyed watching, probably because of the way the speed, grace, leaps and jumps if the game connected to my ballet training. Growing up in New York, I loved watching the outdoor, cement-court games played in the West Village. And after a long-ago boyfriend took me to several Knicks games, and I watched TV news footage about the players' frequent injuries, I wrote a letter to Red Holzman, the team's famous coach at the time, explaining that I'd love to teach the team a ballet-style warm-up that would keep them safe. Not surprisingly, I received a very polite note in return, but no job. I hope you are laughing.
Follow Hedy Weiss on Twitter: @HedyWeissCritic
---