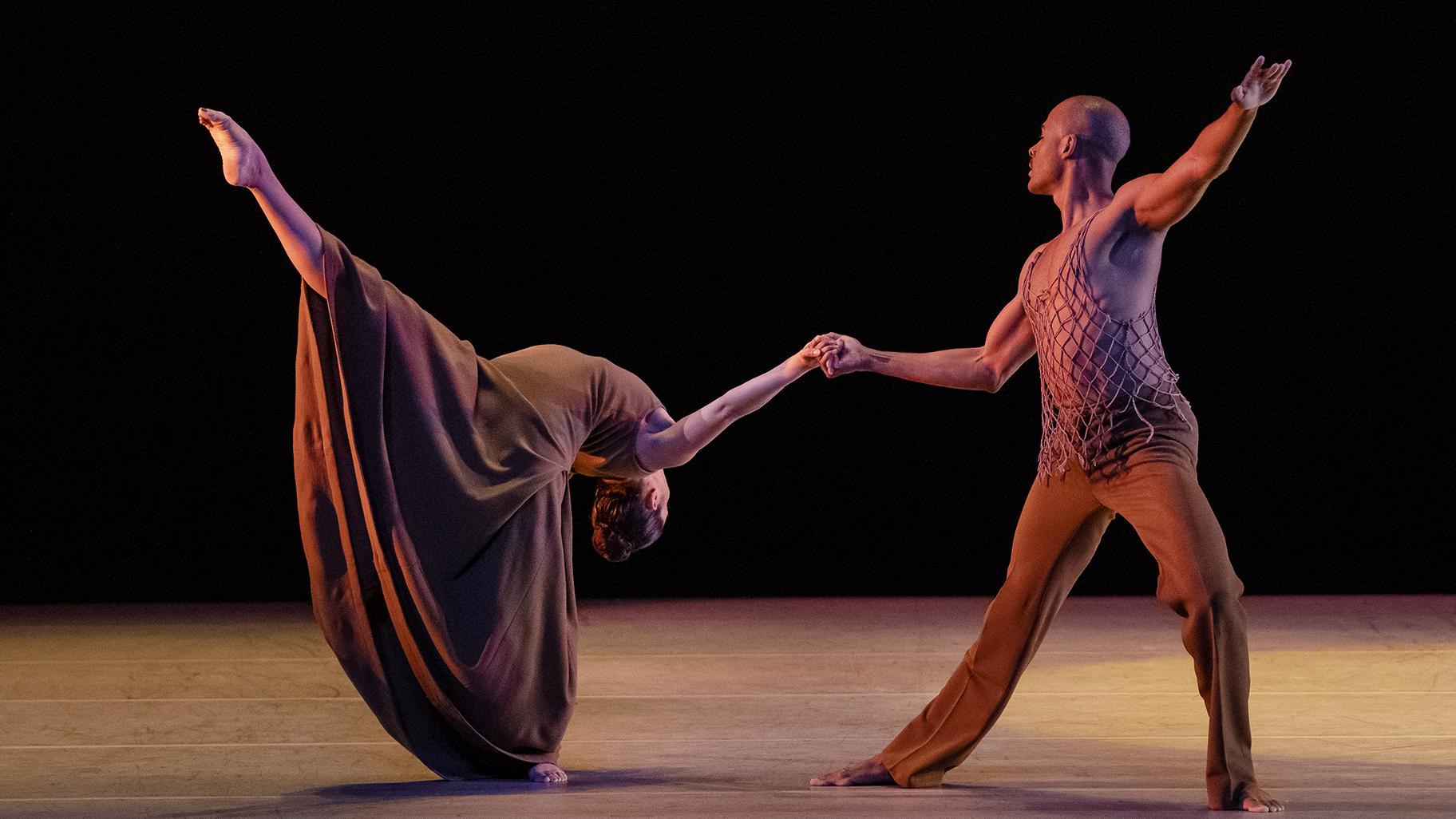 Sarah Daley and Yannick Lebrun perform in Alvin Ailey American Dance Theater's "Revelations" on March 2, 2022. (Credit: Paul Kolnik)
Pardon the pun, but watching Wednesday night's sensational return of the Alvin Ailey American Dance Theater to the Auditorium Theatre — its first visit to Chicago since the outbreak of COVID — what came to mind was this brief expression: "Battle ready."
And it means a great deal more than "being emotionally and physically ready for action." In fact, it should be seen as a tribute to Robert Battle, the Ailey's artistic director since 2011 — the dancer and choreographer who followed in the giant footsteps of Ailey and dancer Judith Jamison. Battle has done a superb job of both preserving the company's heritage and driving it thrillingly into the 21st century.
The first half of Wednesday's opening night performance was devoted to seven rousing works, all created by Battle, and was followed by a second act devoted, as tradition demands, to Ailey's enduring signature piece, "Revelations."
In one way or another the driving force in all of Battle's wonderfully varied work is the rhythm, which also becomes the key to his storytelling. And those rhythms run the gamut from a contemporary classical score by John Mackey, to composer-singer Sheila Chandra's hybrid of pop and Indian kathak beats. They also include recordings by Nina Simone, Ella Fitzgerald, Wynton Marsalis and opera diva Leontyne Price.
The evening began with "Mass" (from 2004), which in many ways echoes Ailey's faith-infused classic but is pure Battle in its incredible energy. Set to a driving, soulful score by Mackey, it opens against a gray-toned, deep-perspective projection of a road that suggests the way to a higher state of being. And as 16 of the company's stunning dancers gather — their arms often raised toward the heavens as they alternately gather in fluid but intense circular formations, or roll on the floor — their long, clerical-like robes in rust and rose hues (designed by Fritz Masten), move with them until a delicate "sky" of lights designed by Fritz Masten illumines their way.
The 16 swirling, reaching dancers, who often move as one, included Jeroboam Bozeman, Samantha Figgins, Jacqueline Harris, Ashley Mayeux, Kanji Segawa, Ashley Kaylynn Green, Constance Stamatiou, Brandon Michael Woolridge, Chalvar Monteiro, Caroline T. Dartey, Christopher R. Wilson, Ghrai DeVore-Stokes, Miranda Quinn, Jermaine Terry, Michael Jackson, Jr., and James Gilmer.
Alvin Ailey American Dance Theater performs Robert Battle's "Mass" on March 2, 2022. (Credit: Paul Kolnik)
Next up was "In/Side," a heart-wrenching solo brilliantly danced by Yannick Lebrun. It's about a man desperately in love with someone who may have left him, set to Nina Simone's dramatic, pleading recording of "Wild is the Wind."
Next up, and with a terrific change of mood, was "Ella," set to her recording of "Air Mail Special (Good Enough to Keep)," one of Fitzgerald's most phenomenal scat-singing and rhythmically breathtaking escapades, and here featuring marvelous dancing by Ghrai DeVore-Stokes along with James Gilmer, Brandon Michael Woolridge and Lloyd A. Boyd III.
In "For Four," two couples in sharp black and white costumes who move at lightning speed (Renaldo Maurice, Solomon Dumas, Belen Indhira Pereyra and Samantha Higgins) charged onto the stage, moving to "Delfeayo's Dilemma," a wildly jazzy piece by Wynton Marsalis. Great fun.
And then, for a total tonal reversal, there was "Unfold," an exquisite pas de deux, danced with great passion by Jacqueline Green and Jeroboam Bozeman, and set to soprano Leontyne Price's magnificent recording of "Depuis la Jour," an aria from the French opera, "Louise," by Gustave Chapentier.
There was more, too, including a knockout solo performance by the impossibly fleet and precision-tuned Kanji Segawa (in fiery red pants) whose razor-sharp "physical diction" matched the fascinating rhythmic beats of Sheila Chandra's verbally percussive "Speaking In Tongues II."
Finally, to bring Battle's rhythmic smorgasbord to a close was an excerpt from "Love Stories," set to Stevie Wonder's irresistible recording of "Fingertips Parts I and II," and danced with great zest by Jacqueline Harris, Sarah Daley-Perdomo, Courtney Celeste Spears, Caroline T. Dartey, Belen Indira Pereyra, Kanji Segawa, Michael Jackson, Jr., Chalvar Monteiro, Brandon Michael Woolridge and Solomon Dumas. The audience happily followed the song lyrics' instructions to clap along.
As for Ailey's "Revelations," the enduring masterpiece he created in 1960 (just two years after he founded his company), the audience can speak for itself. Those who have watched it countless times almost dance and sing along from their seats, taking delight in its 10 different scenes that draw on spirituals and other Black American music.
From the opening "group prayer" set to "I Been Buked," to the intense duet, "Fix Me Jesus," (danced with impressive control by Sarah Daley-Perdermo and Jermaine Terry), to "Sinner Man," the thrilling male trio (with terrific performances by Jerome Bozeman, James Gilmer and Kanji Segawa), to the fan-flapping grand finale, "Rocka My Soul in the Bosom of Abraham," there is just nothing quite like this gospel according to Ailey.
Note: The Ailey company will be at the Auditorium through March 6, and will repeat this program of Battle's works at 8 p.m. Saturday, March 5. It will present its program featuring only works choreographed by Ailey tonight (Thursday, March 3 at 7:30 p.m. and Saturday, March 5 at 2 p.m.), and a program featuring Rennie Harris' "Lazarus" (on Friday, March 4 at 7:30p.m. and Sunday, March 6 at 3 p.m.).
As always, "Revelations" will be the final piece on every program. For tickets, visit AuditoriumTheatre.org or call (312) 341-2300.
Follow Hedy Weiss on Twitter: @HedyWeissCritic
---