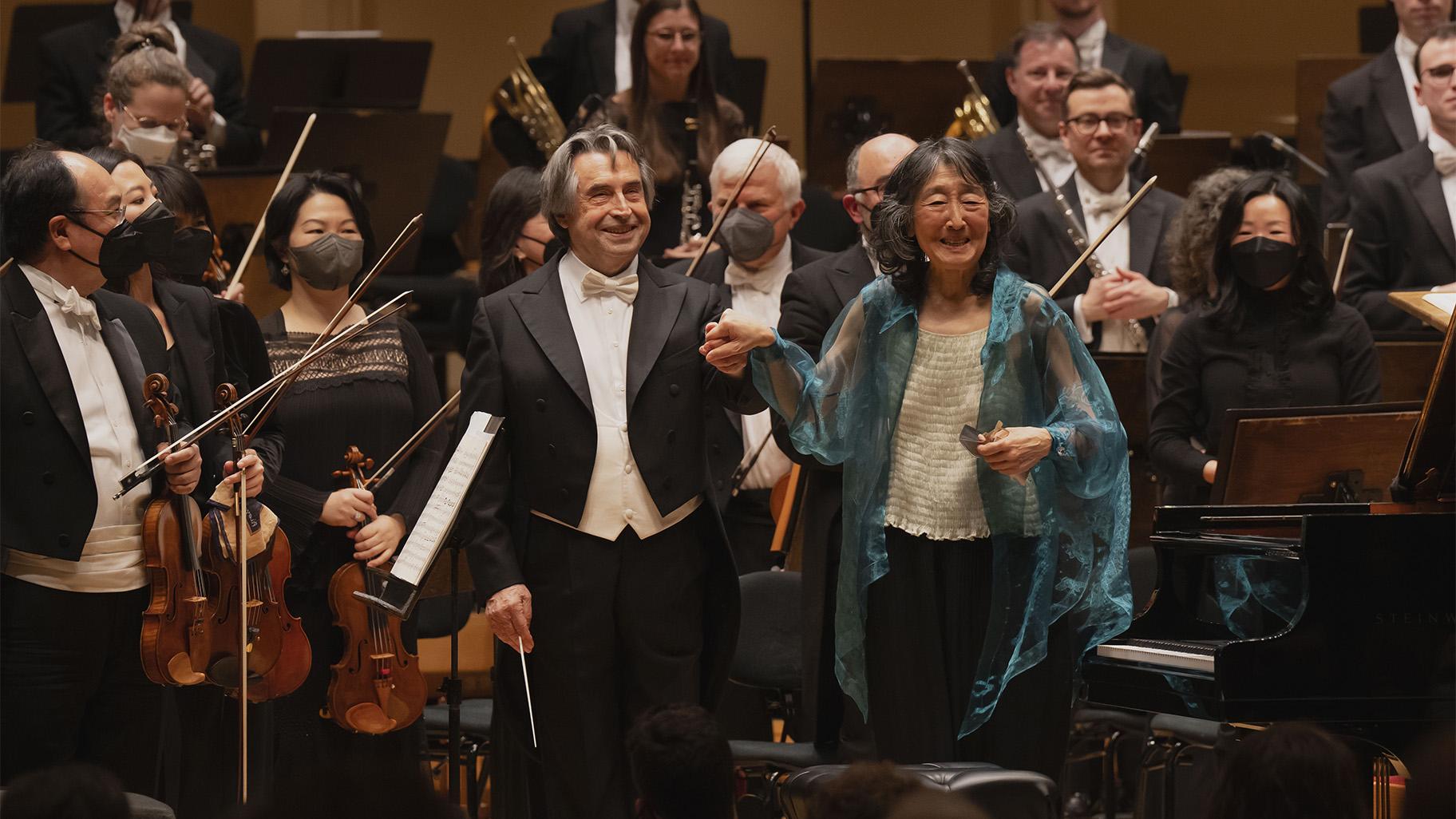 Zell Music Director Riccardo Muti and soloist Mitsuko Uchida acknowledge the audience following a performance of Beethoven's Piano Concerto No. 4 with the Chicago Symphony Orchestra, Feb. 17, 2022. (Credit : Todd Rosenberg Photography)
Friday night's concert by the Chicago Symphony Orchestra was an altogether bedazzling example of what can happen when a concert juxtaposes two works of genius that span more than two centuries, and when both are performed with breathtaking virtuosity by every artist on the Orchestra Hall stage, and with maestro Riccardo Muti back in command on the podium.
The pairing began with Beethoven's demonically difficult 1806 "Piano Concerto No. 4 in G Major," with Mitsuko Uchida as the incomparable soloist. And it was followed by Philip Glass' "Symphony No. 11," which had its world premiere in 2017, and now received a volcanic rendering by a monumental gathering of CSO musicians. The piece turns out to be a fascinating suggestion of how classical music has evolved over the centuries, at once capturing the temper of the time in which it is composed while also employing the essentials of the "classical music" language.
First, the Beethoven — a familiar masterwork, but one to which Uchida brought both her highly distinctive interpretive powers and her astonishing technique. Listening to her astounding ability to modulate every note and chord brought to mind Leonardo da Vinci's meticulous drawings that so ideally captured the movement patterns and varied forces driving waves and water currents.
The concerto opens with a sense of quietude and then builds to rapid-fire finger work rendered with impeccable clarity and fluidity. Uchida's articulation is brilliant, and though physically slight she can bring immense power, speed and weight to her playing, as well as a lacelike delicacy. And at the end of the concerto's first movement, where Beethoven (himself a gifted pianist and violist) challenges the soloist by simultaneously setting the right hand into a hard-driving vibrating mode while the left hand plays a thrilling, keyboard spanning melody, Uchida finessed both challenges. And she drove Friday night's audience into spontaneous outbursts of sheer amazement.
No matter what the challenge, Uchida put her distinctive stamp on the work. And the orchestra (with beautiful work by the strings, winds, brass and timpani) followed Maestro Muti's intense attention to her distinctive, jewel-like phrasing that felt incredibly modern in its way. All in all, a musical lovefest on every level.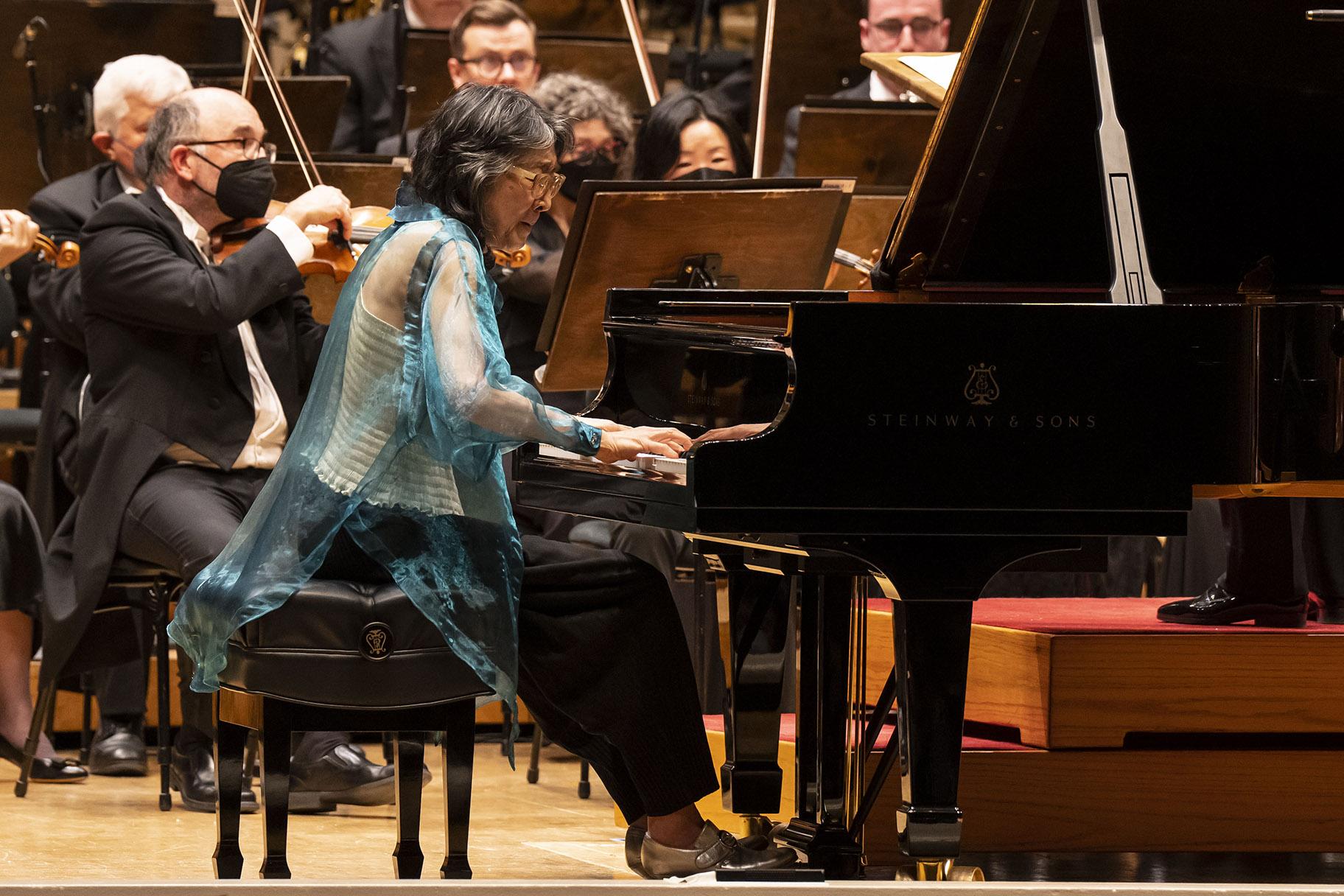 Soloist Mitsuko Uchida performs Beethoven's Piano Concerto No. 4 with the Chicago Symphony Orchestra. (Credit : Todd Rosenberg Photography)
And now, on to Glass' monumental "Symphony No. 11," which he wrote to celebrate his 80th birthday. (He is now 85).
In a wonderfully personal note inserted into each CSO program the composer (renowned early on for his frequent use of repetition, for such groundbreaking operas as "Einstein on the Beach," "Satyagraha," and "Akhnaten," and for a great deal more) noted that he considered Chicago one of his artistic homes. As a student at the University of Chicago (where he studied math and philosophy in the 1950s before moving on to Juilliard in New York, and to mentoring by Nadia Boulanger in Paris) he attended concerts by the CSO when Fritz Reiner was its music director. And he added that it was then that he "heard much of what turned out to be the masterpieces of twentieth century music ... and learned more about symphonic music during that time than perhaps any other." He also noted that this concert marked the first performance of one of his symphonies in Chicago, and that he was thrilled to be in the company of the CSO, maestro Muti and Uchida.
The 11th Symphony is scored for an immense orchestra that barely fit on the Orchestra Hall stage and included a piano, celesta, harps and an unusually large percussion section complete with snare drum, tenor drum, bass drum, triangle, hi-hat, suspended cymbal, tam-tam, anvil, temple blocks, tom-toms shaker, tambourine, woodblock, glockenspiel, xylophone and vibraphone. And Glass' wonderfully ingenious use of every instrument on the stage was thrilling, and out of the ordinary, and driven by the sort of elaborate rhythmic patterns and repetitions that signaled this work could only be a "Glass-work," while also being infused with a subtle streak of dreamy, modern romanticism, rich theatricality and a hypnotic unpredictability.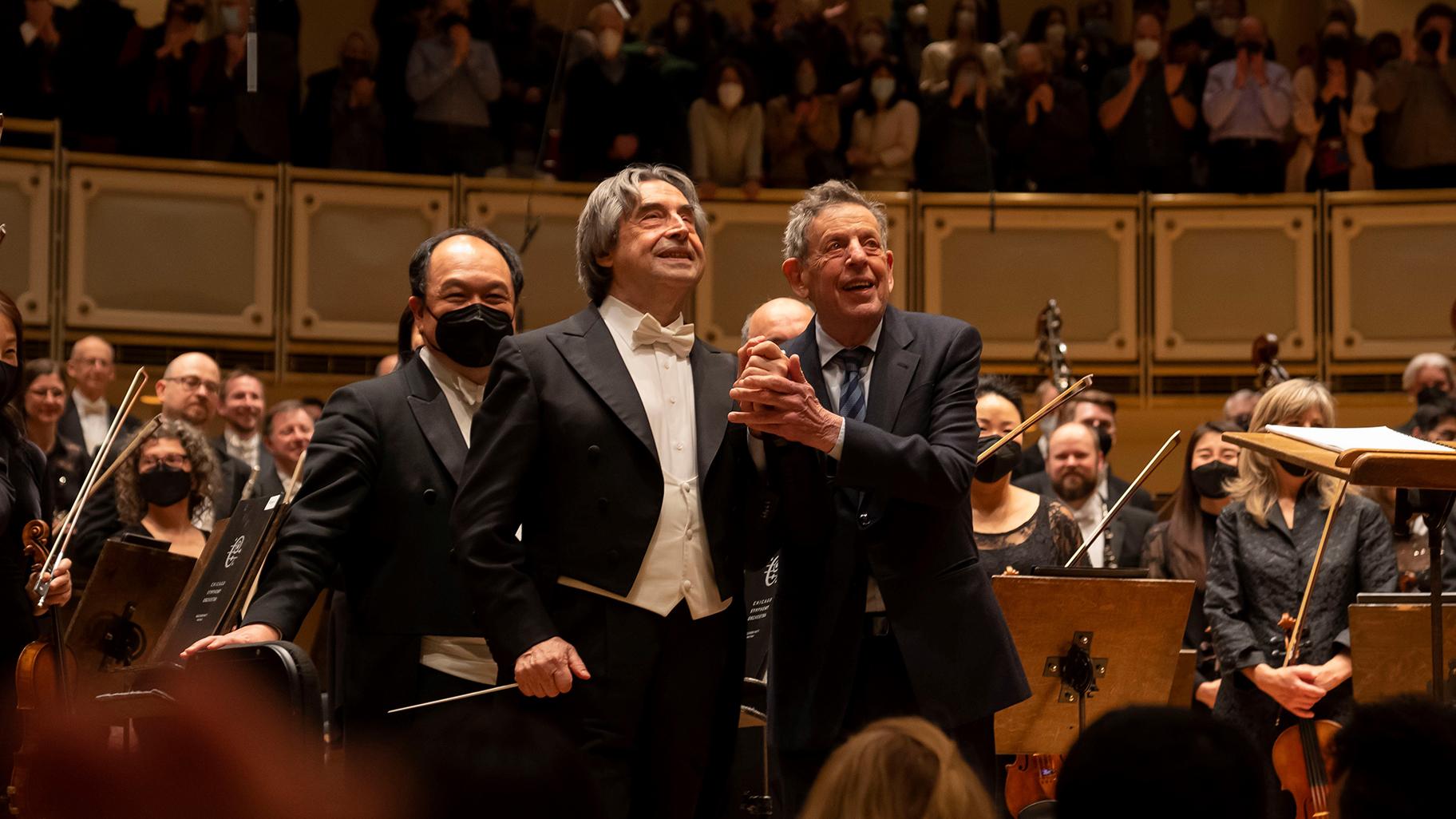 Maestro Muti and Philip Glass at the CSO's Feb. 19, 2022, performance of Glass' "Symphony No. 11." (Credit: Todd Rosenberg Photography)
Maestro Muti was clearly having a fabulous time with this challenging piece (which I wish the CSO could record). And before raising his baton to conduct the work he turned to the box where Glass was seated and playfully quipped: "I've spent many nights working on your piece so I expect that when it's over you will come onstage." And indeed, he did, with countless bows and thunderous applause.
Meanwhile, I left the concert wondering what Beethoven would have thought about both Glass' symphony and Uchida's performance of his concerto. He might well have been awestruck by both.
And one final note: Anyone who believes that great artists can "age out" of their peak might consider that Glass is 85, Muti is 80 and Uchida is 73. Every one of them continues to be at the very height of their formidable powers.
Follow Hedy Weiss on Twitter: @HedyWeissCritic
---