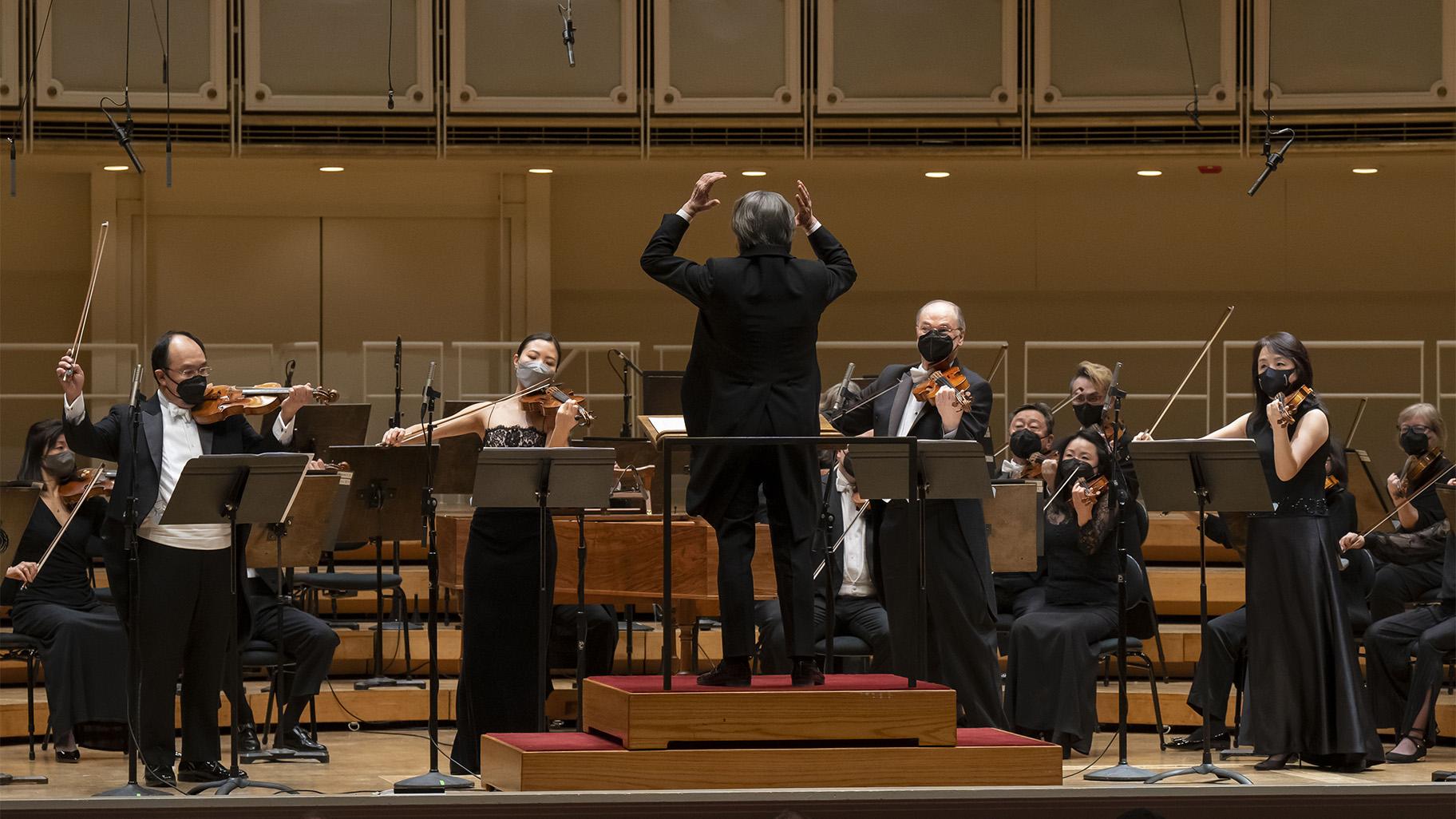 Zell Music Director Riccardo Muti leads Chicago Symphony Orchestra Concertmaster Robert Chen, Associate Concertmaster Stephanie Jeong, Assistant Concertmaster David Taylor, and Assistant Concertmaster Yuan-Qing Yu in Vivaldi's Concerto in B Minor for Four Violins and Cello. (Credit Todd Rosenberg Photography)
For the last of his three different concerts with the Chicago Symphony Orchestra this month maestro Riccardo Muti has traveled back in time with a program comprised of a beguiling mix of works by two early 18th century Baroque masters - Antonio Vivaldi (the Italian priest, longtime music director of a Venetian orphanage for girls, and virtuoso violinist), and George Frideric Handel (the German-born composer and keyboardist who won great fame in London with his oratorio, "Messiah," as well as "Water Music," a series of three suites, the first of which is being played as part of this concert.
To be sure, we no longer live in the world of the Baroque, that period of ornately decorative art whether in the form of architecture, painting, dance, or its many different musical manifestations that are at the root of what is now called "classical music." Our society, our methods of communication, our musical instruments, and even our way of listening has changed, yet the allure of this music is enduring. And of course, when it is played by contemporary musicians for contemporary audiences it can sound simultaneously "era specific" and surprisingly refreshing with its high energy and virtuosity that in so many ways sidestep the psychological storms of later times.
The first half of the program is devoted to three brief concertos by Vivaldi that condense the CSO into what might best be described as a galvanic chamber orchestra.
It begins with the Italian composer's "Concerto in B Minor for Four Violins" (featuring flawless and feverish violin virtuosos drawn from the orchestra, including concertmaster Robert Chen, associate concertmaster Stephanie Jeong, and assistant concertmasters David Taylor and Yuan-Qing Yu), along with additional string players and the impeccable Mark Shuldiner on harpsichord. And in what feels like spirited conversations that might be overheard in the busy little public squares of Italy, the solo violins engage in a series of beautiful, richly animated riffs that move from the exuberant to the solemn with speed, lightness and a sort of bejeweled mix of emotions.
Next is the composer's "Flute Concerto in G Minor (La Notte or The Night)," a splendid showcase for Stefan Ragnar Hoskuldsson, the CSO's superb principal flute, and a work that wonderfully shifts moods from the quietly dark, to the dreamlike, to jaunty and dance-like moments of great speed and birdlike song along the way. 
The last of the Vivaldi works is the "Concerto in C Major (Per la solennità di San Lorenzo)," written to celebrate the feast day in memory of the Christian martyr of the title. This concerto — one of the more than 500 Vivaldi wrote — is scored for a far larger number of musicians, including two flutes, two oboes, two clarinets, a bassoon, two solo violins, plus a large additional contingent of strings.
The piece opens with a golden, formal sound and a quietude that then erupts into a burst of joy that marks just one of the many shifts of mood from the strong to the delicate, including a wonderful conversation between Chen and John Sharp, the orchestra's ever formidable principal cello, and a be soulful solo clarinet riff winningly played by Stephen Williamson. All in all, the concerto feels very much like a very elaborate, wonderfully indulgent dessert.
The concert's second half features the first of the several suites that comprise Handel's "Water Music," the 1717 work that delighted England's King George I as it was initially performed for members of English nobility afloat on an open barge on the Thames River. The buoyant sound of two French horns, along with two oboes, a bassoon and strings, set the piece afloat, with the sound of such dances as a lively minuet and a high-spirited bourree suggesting both the formality and ease of the lives of royalty.
Throughout the evening Muti shaped both the Vivaldi and Handel works with wonderfully balletic moves and meticulous cueing. The result was a concert that served as a reminder that it is the musicians of the CSO that are members of the true "royal family" that calls Orchestra Hall its castle.
This concert will be repeated Saturday Jan. 29 at 8 p.m.  Maestro Muti's next residency with his beloved orchestra will begin Feb. 17 when he leads the CSO in Philip Glass' "Symphony No. 11," and Beethoven's "Piano Concerto No. 4," with pianist Mitsuko Uchida as guest artist.
Meanwhile, this week will conclude with a solo concert by Jan Lisiecki, the 26-year-old Canadian pianist renowned for his performances of works by Chopin.
For tickets visit CSO.org or call (312) 294-3000.
Follow Hedy Weiss on Twitter: @HedyWeissCritic
---