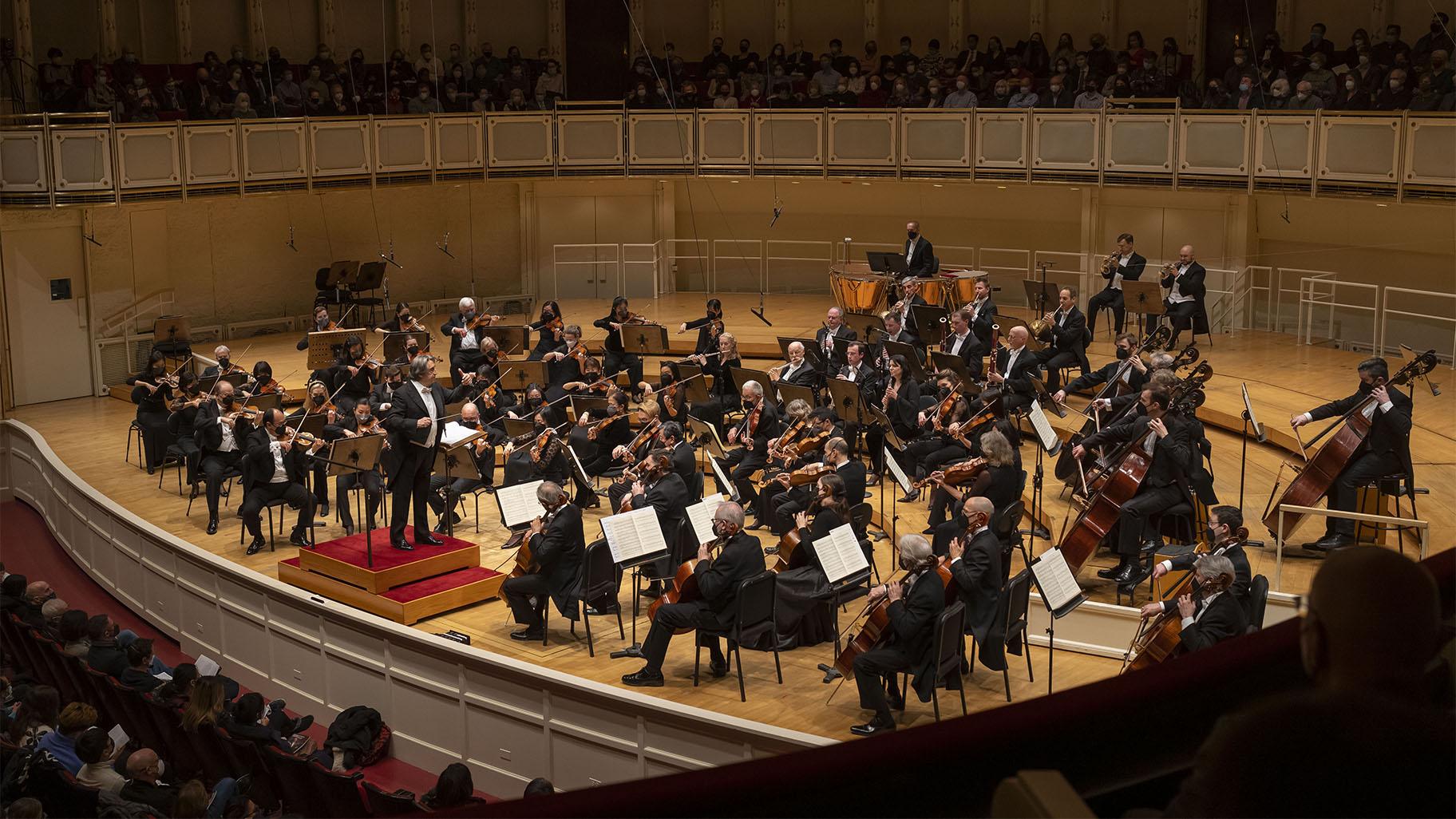 Zell Music Director Riccardo Muti leads the Chicago Symphony Orchestra in an all-Beethoven program on January 13, 2022. (Credit Todd Rosenberg Photography)
Maestro Riccardo Muti returned to Orchestra Hall on Thursday evening with a bravura all-Beethoven program to open the 2022 season.
Muti was in stellar form. He clearly is in love with the indomitable musicians of the Chicago Symphony Orchestra, and they return that passion with a magnificent combination of sound and fury and absolute beauty. That love affair extends to the audience as well, held in thrall by this remarkable concert. With Muti in his most dynamic mode, the impressively full house erupted in a massive standing ovation at the concert's conclusion. It could have gone on and on were it not for the Maestro's playful habit of finally waving an appreciative "goodnight."
It has become fashionable these days to disregard classical music and the great roster of geniuses who composed it. By extension, it fails to celebrate the musicians who continue to play it with such technical brilliance and emotional ferocity. But listening to the CSO perform Beethoven's galvanic Symphonies No. 5 and 8, as well as his brief but beautiful "Coriolan Overture," there could be no doubt that these works elude any fashion of the times. They feel astonishingly modern and of the moment, awash in great sweeps of emotion that are at once an evocation of our crazily chaotic current existence and a profound force for hope and healing.
In his program note for the "Coriolan Overture," an eight-minute work dating from 1807, Phillip Huscher, the CSO's superb program annotator, explains that Beethoven was familiar with two plays written about the Roman general of the title (one by his friend, the Austrian playwright Heinrich von Collin, and the other by Shakespeare), but that he chose to focus on Collin's work. Either way, the overture suggests the innate theatricality and emotional heat in all of Beethoven's music, as well as his ability to radically shift moods in the most seamless and thrilling ways.
"Coriolan" opens with a blast of sound that establishes an instant intensity and sense of drama. It then quickly moves into a lyrical riff by the strings, proceeds to capture a mood of great ferocity involving the winds, horns and timpani, and finally settles into a gently mournful, introspective mood conjured by the cellos and basses. It is a mood that hints of Coriolan's suicide.
Zell Music Director Riccardo Muti acknowledges the Chicago Symphony Orchestra following a performance of an all-Beethoven program on January 13, 2022. (Credit Todd Rosenberg Photography)
Next on the program was the "Symphony No. 8 in F Major," written in 1812. A work of immense power and beauty, it is just another testimony to Beethoven's ability to shift emotions with both absolute clarity and a wonderful sense of surprise.
There is total confidence in its declarative opening, with the winds and horns suggesting there is something in the air. And then, out of that dynamism and strength comes a burst of lyricism with a waltz-like theme. But there is always a sense of a storm lurking in the air with Beethoven. Indeed, the orchestra caught full fire before switching to the delicacy of plucked strings and then erupting into palpable excitement with the addition of clarinet and flute and a thrilling massing of all the orchestra's voices.
The work's second movement comes with the sounding of winds and French horns, with plucks on the low strings, and with a playful teasing quality as the various sections of the orchestra engage in dramatic conversation with each other. Every "voice" in this orchestra has a crystalline beauty and unique ability to mesh gorgeous gradations of sound. The symphony's final movement is frenetic at the start and marked by the orchestra's mix of razor sharp precision and lightness. The richness of sound from the timpani, the riffs by the winds and cellos and the celebratory nature of the finale were just further evidence of Beethoven's timelessness and immediacy.
Finally, it was on to the composer's widely familiar but ever revelatory 1808 work, the "Symphony No. 5. in C Minor." The opening pronouncement is a series of four beats repeated with a sort of Morse Code punctuation and urgency, followed up by the drive of the horns, clarinet and timpani that conjure a compelling rhythmic drama.
The second movement is set in motion by a gorgeous use of the lower strings and a kind of call-and-response of many voices. There is a beautifully sustained triumphant sound here, with Beethoven's sense of building to a surprising moment and deploying the full grandeur of the orchestra — with a notably rapturous use of the bassoon and clarinet — in full evidence.
The strings enter again in a restrained mood, but then the horns signal that something's coming. And it is, with Muti's magnificent signaling of each part of the orchestra as it drives with escalating speed and excitement to a grand, celebratory, knockout finale.
This concert will be repeated Sat. Jan. 15 at 8 p.m. For tickets visit cso.org or call (312) 294-3000.
Note: Maestro Muti's upcoming concerts with the CSO include a program of suites from two of Tchaikovsky's most famous ballet scores, "Sleeping Beauty" and "Swan Lake," along with Emil Reznicek's overture to the comic opera "Donna Diana," and John Stauss' "Emperor Waltz" (Jan. 20 at 7:30 p.m. and Jan. 23 at 3 p.m.)
Then comes a program of Baroque masterpieces, including three concertos by Vivaldi and Handel's "Water Music, Suite No. 1." (Jan. 27 at 7:30p.m. and Jan. 29 at 8 p.m.)
Follow Hedy Weiss on Twitter: @HedyWeissCritic
---