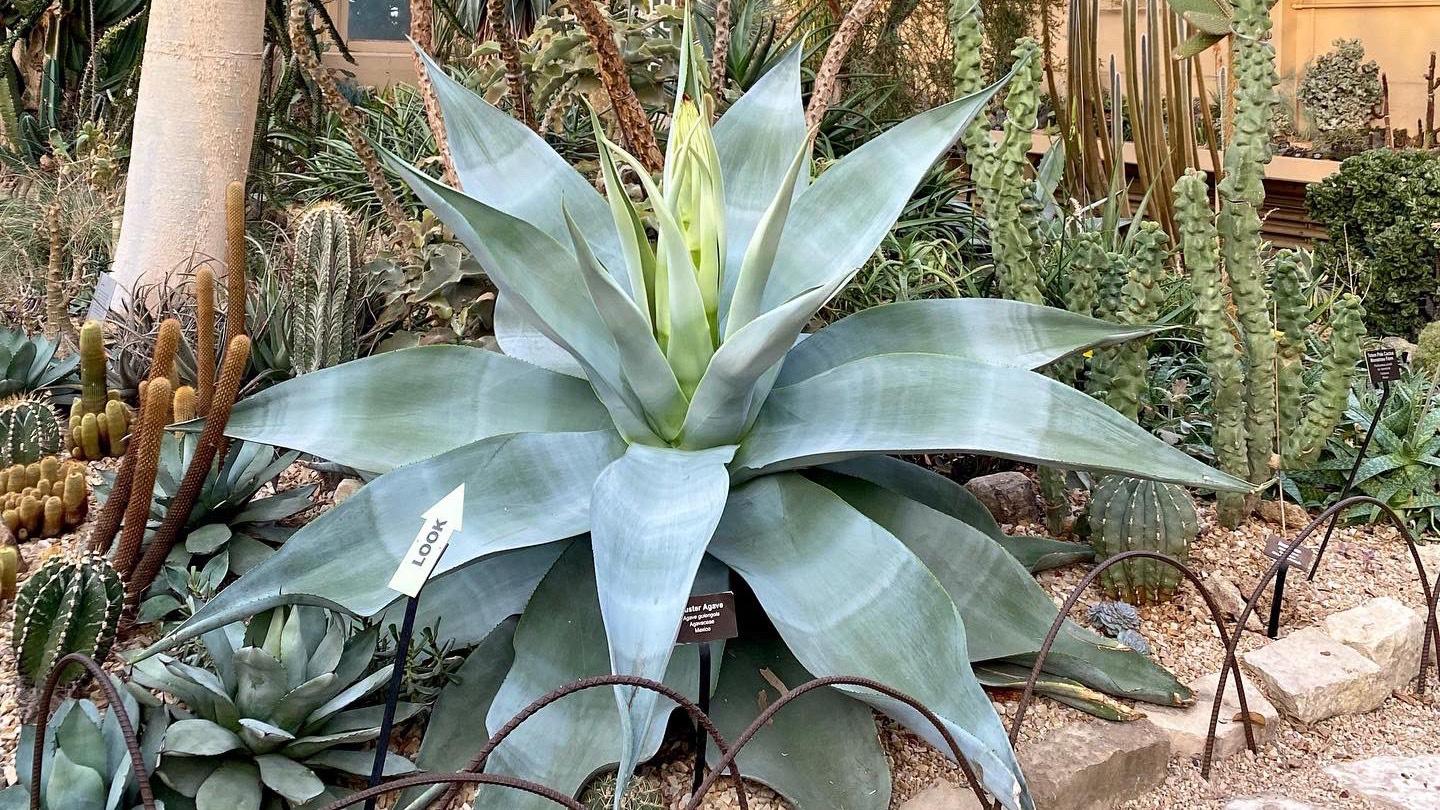 The spike of an agave plant at Garfield Park Conservatory is just beginning to emerge, and should reach 6 feet. This is the beginning phase of the plant's first, and last, bloom. (Courtesy of Garfield Park Conservatory)
File this under the category of weird but true: Visitors to the Garfield Park Conservatory have a rare and exciting opportunity to witness a plant in its spectacular death throes.
Staff are on "agave watch" as an agave guiengola in the conservatory's Desert House prepares to flower for its first and last time. In a quirk of an agave's life cycle, when it's ready to reproduce — typically at the age of 10 but in rare cases as old as 80 — it shoots up a towering stalk, known as a quiote, that spells its own doom. 
The conservatory floriculturist estimates the guiengola is 30-35 years old, noting that captive agaves tend to live much longer than those in the wild due to the care and attention they receive.  
The spike of Garfield Park's agave guiengola is expected to top out at 6 feet, well below the height attained by the conservatory's glass-ceiling-busting agave americana (aka, century plant), which bloomed in 2019 and is the subject of a documentary short film.  
"But it's still fun," staff posted on social media of the 2021 bloom.
Blooms will branch off from the stalk and then gradually the plant dies. For those wondering if the plant can be saved by just whacking off the quiote, the mere emergence of the spear is a signal the plant has reached its end stage. 
But all is not gloom and doom. Agave "parent" plants leave behind "pups" at their base, which begin the entire process anew. 
Agave Watch: The quiote from the Agave guiengola has fully emerged and is 3 feet tall. She is growing quickly! See our Instagram Story Highlight "Agave Watch" for growth updates and further details. https://t.co/wFi8hlCwAz pic.twitter.com/dvrAzvLVYb

— Garfield Park Conservatory (@gpconservatory) December 15, 2021
---
The big Agave guiengola in the Desert House looks like it's ready to flower. The spike should only be about 6+ feet tall w/flowers starting at the base but it's still fun! Our specimen is larger than the typical plant in its natural habitat which is usually 30-40 in. in diameter. pic.twitter.com/obQ7gZsKHp

— Garfield Park Conservatory (@gpconservatory) December 13, 2021
---
The process of an agave bloom can last for months as the stalk grows and flowers appear. The Garfield Park Conservatory is open Wednesday through Sunday. Admission is free, but timed ticketed reservations are required. 
Contact Patty Wetli: @pattywetli | (773) 509-5623 |  [email protected]
---