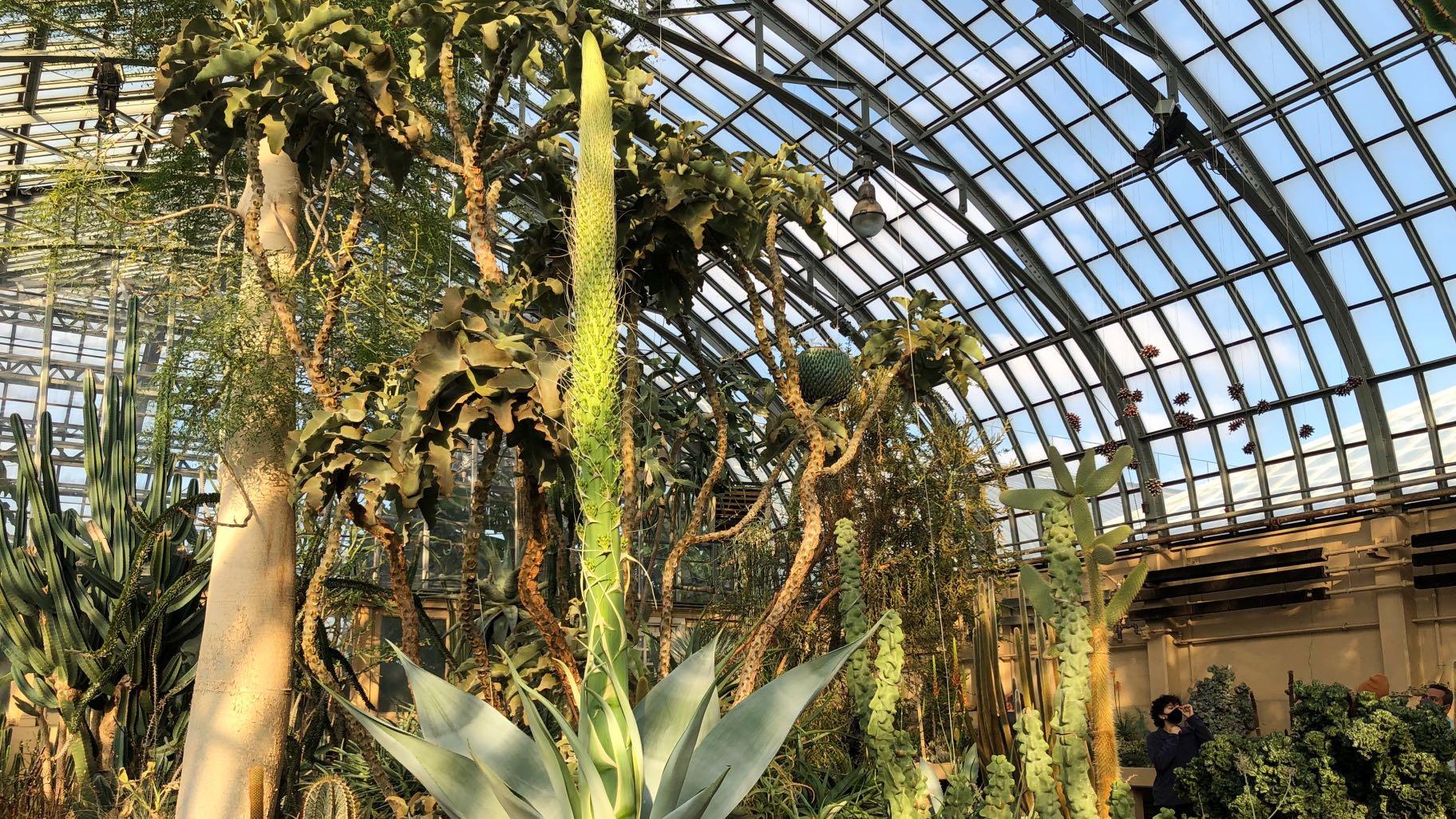 "Guien" on its upward trajectory, photographed Dec. 26, 2021. The stalk is growing 3-4 inches a day. (Patty Wetli / WTTW News)
For floriculturalist Ray Jorgensen, 2022 is giving him a serious case of deja vu.
It was around this time in 2019 that Jorgensen, who tends to plants in the Desert House at Garfield Park Conservatory, began to witness the astounding growth of an agave "death bloom" — the stalk an agave shoots up for a once-in-a-lifetime flowering before the plant calls it quits.
That particular agave, nicknamed Maya, eventually hit 38 feet. Its stalk, called a quiote, literally busted through the conservatory's glass roof.
Jorgensen is once again hauling out the ladder and measuring tape as yet another agave, this one dubbed Guien (pronounced like "Gwen"), reaches for unknown heights.
"Does it get old? No. No, it's not at all 'been there, done that,'" said Jorgensen. "It's super cool and impressive."
In his 22 years at the conservatory, Jorgensen has only seen a handful of agave bloom, and most of them maxed out under 10 feet. "Maya was so much bigger," he said.
Guien is a completely different species — an Agave guiengola — and Jorgensen has zero experience in terms of what to expect. So when the plant's quiote first appeared in December, he consulted what many consider the agave bible, "Agaves of Continental North America."
The spike, according to the text, should peak at 4-6 feet. Another reliable source raised that bar to 8-10 feet. 
Guien's blown away both those estimates. The stalk measured 14.5 feet on Tuesday, when WTTW News spoke with Jorgensen, and is adding three to four inches a day, he said.
There's no saying when she'll stop. "The plant has a lot more emerging and growing to do," said Jorgensen.
Most of the literature on agaves is related to observations of "in habitat" behavior. Because there aren't many greenhouses the size of the conservatory where similar plants are kept in captivity, Jorgensen doesn't have many authorities to tap for comparisons or share notes.
"It's a guessing game," he said.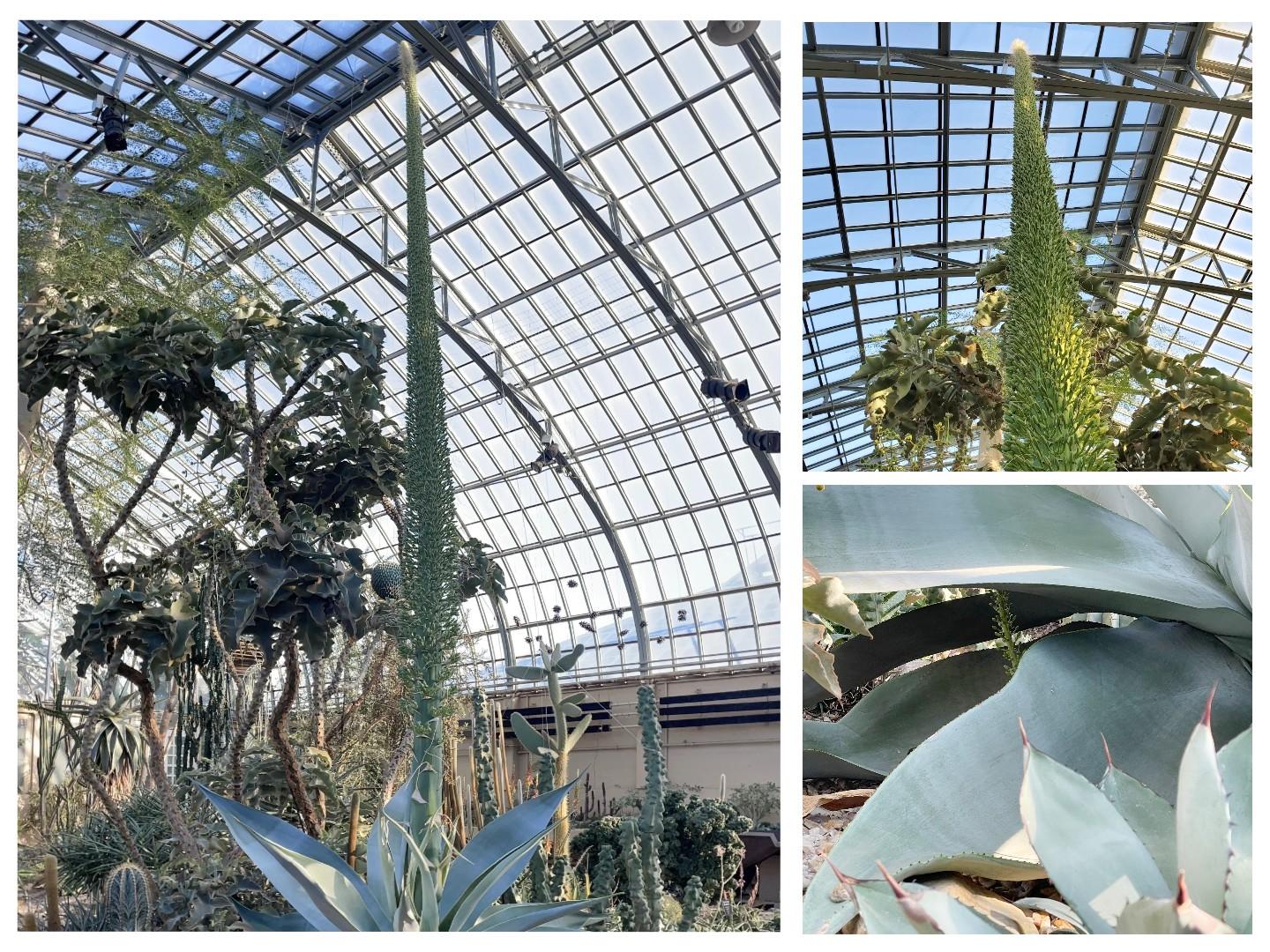 At 15-feet, "Guien" has blown away estimates for her peak height, which ranged from 6 to 10 feet. (Courtesy of Chicago Park District)
Is there something in the air or soil at the conservatory that's given Guien a leg up? Is it all the spoiling the plant's received? "It's like an agave spa here," Jorgensen joked.
Still, "it's hard to call conditions optimal in the Midwest," he said. Even factoring in the conservatory's ability to control temperature and moisture levels, the lack of intense sunlight is less than ideal, he noted.
At some point, Guien's stalk will stop growing, and pale yellow flowers — something Jorgensen's never seen — will cover the quiote. Once it's finished blooming, the plant will die, and Jorgensen will have another hole to fill.
"Damn these agave, they gotta stop," he said.
But that's a month or two away, or possibly longer. Today he's got daily measurements to log and maybe he'll give Guien a bath. There's been some construction going on in the Desert House and she got dusty.
Like he said, she's spoiled
To keep track of Guien's progress, follow Garfield Park Conservatory's "agave watch" on Instagram. For perspective, below is Guien in early December.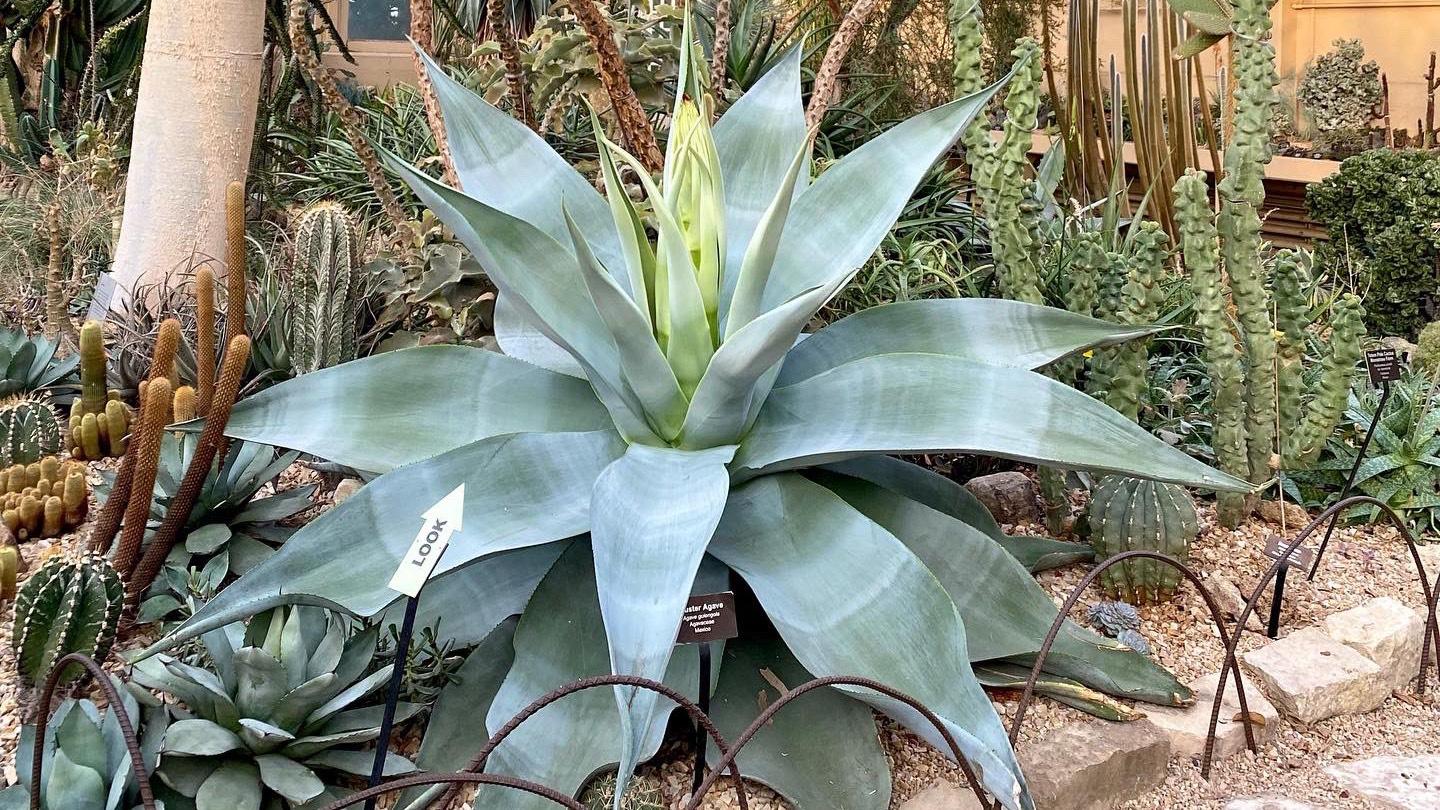 Guien, in early December 2021, when the stalk first appeared. (Courtesy of Chicago Park District)
---
Contact Patty Wetli: @pattywetli | (773) 509-5623 |  [email protected]