Video:  A towering plant is spiking to its death at the Garfield Park Conservatory. We show you what's up. (Produced by Joanna Hernandez)
---
It's counterintuitive for most plant parents, but Ray Jorgensen has reached the point where he needs to give his prized agave a little less care.
"I've let up on watering it a little," said Jorgensen, a floriculturalist who tends to plants in the Garfield Park Conservatory's Desert House.
Maybe with a little less to drink, and maybe if he lowers the temperature in the room just a smidge, Jorgensen can get the plant, nicknamed Guien (short for agave guiengola), to stop growing.
Guien's spike, a towering stalk known as a quiote, first began shooting up in December. All the research he consulted assured Jorgensen that the spike wouldn't get much taller than 6 feet, maybe 8-10 feet if she stretched. All the research was wrong.
At one point Guien added 9 inches in a single day, and now stands at 20 feet, 7 inches. By the looks of the tip of the quiote, she's not finished, Jorgensen said.
"She's trying to be a skyscraper," he said.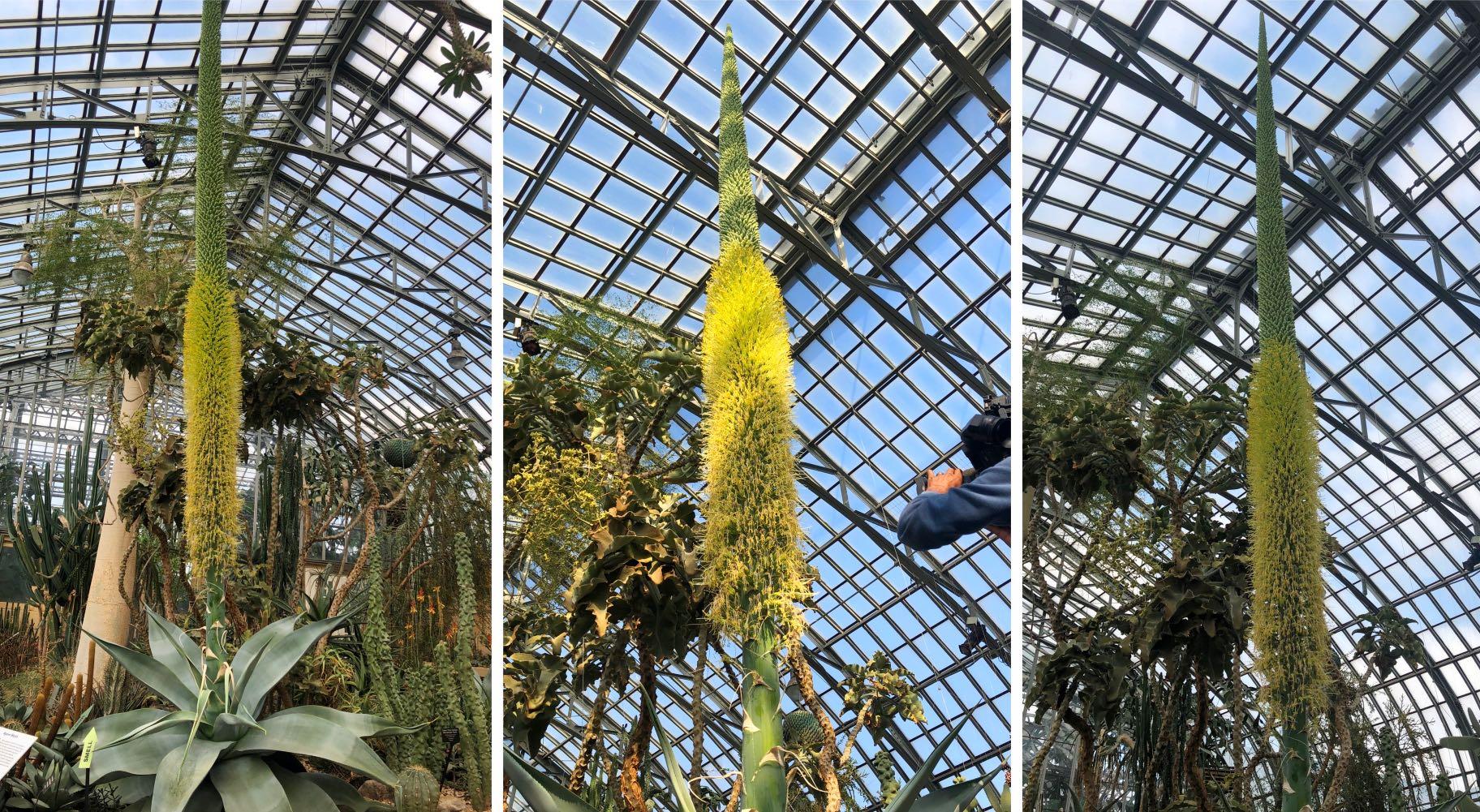 Guien the agave, at Garfield Park Conservatory, Feb. 7, 2022. (Patty Wetli / WTTW News)
But with the conservatory's ceiling just 25 feet high, Guien needs to slow her roll. In 2019, the quiote of a different species of agave busted through the conservatory's roof, ultimately maxing out at 38 feet. Back then, staff removed a glass panel to allow the agave, dubbed Maya, to reach her peak. Maya had the good sense to bloom in spring, though. February in Chicago is a different ballgame, and so Jorgensen is aiming to stunt Guien's ascent.
Though the appearance of an agave's quiote typically signals the plant's once-in-a-lifetime flowering before it dies, there's still plenty of time to visit the conservatory and witness Guien in her full glory. Jorgensen thinks she's got at least a month before she completes her bloom, but that's just a guess for a plant that has managed to eclipse all expectations.
Because Guien can be hard to take in all at once, let's break her down into some her most intriguing features.
Bottom's up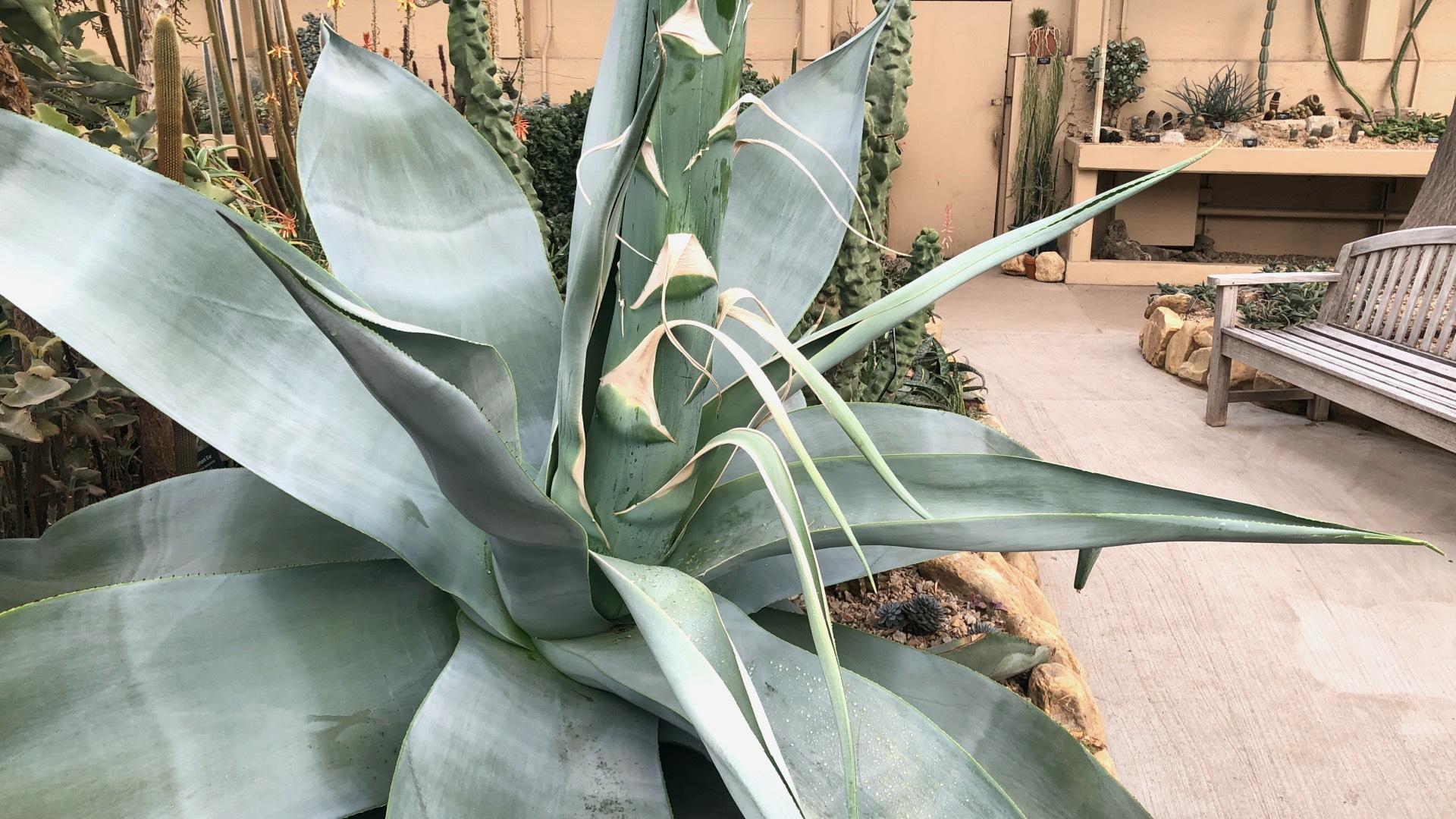 Guien's solid base provides the energy needed for the quiote to soar ever upward. But the plant's reserves aren't endless and Jorgensen said he can already see the signs that Guien's becoming exhausted. "She's going to shrivel," he said. But not yet. Not yet.
The spot at which the quiote begins to emerge from the plant is also where the agave's membership in the asparagus family becomes most noticeable. Once you see it, you can't not make the connection.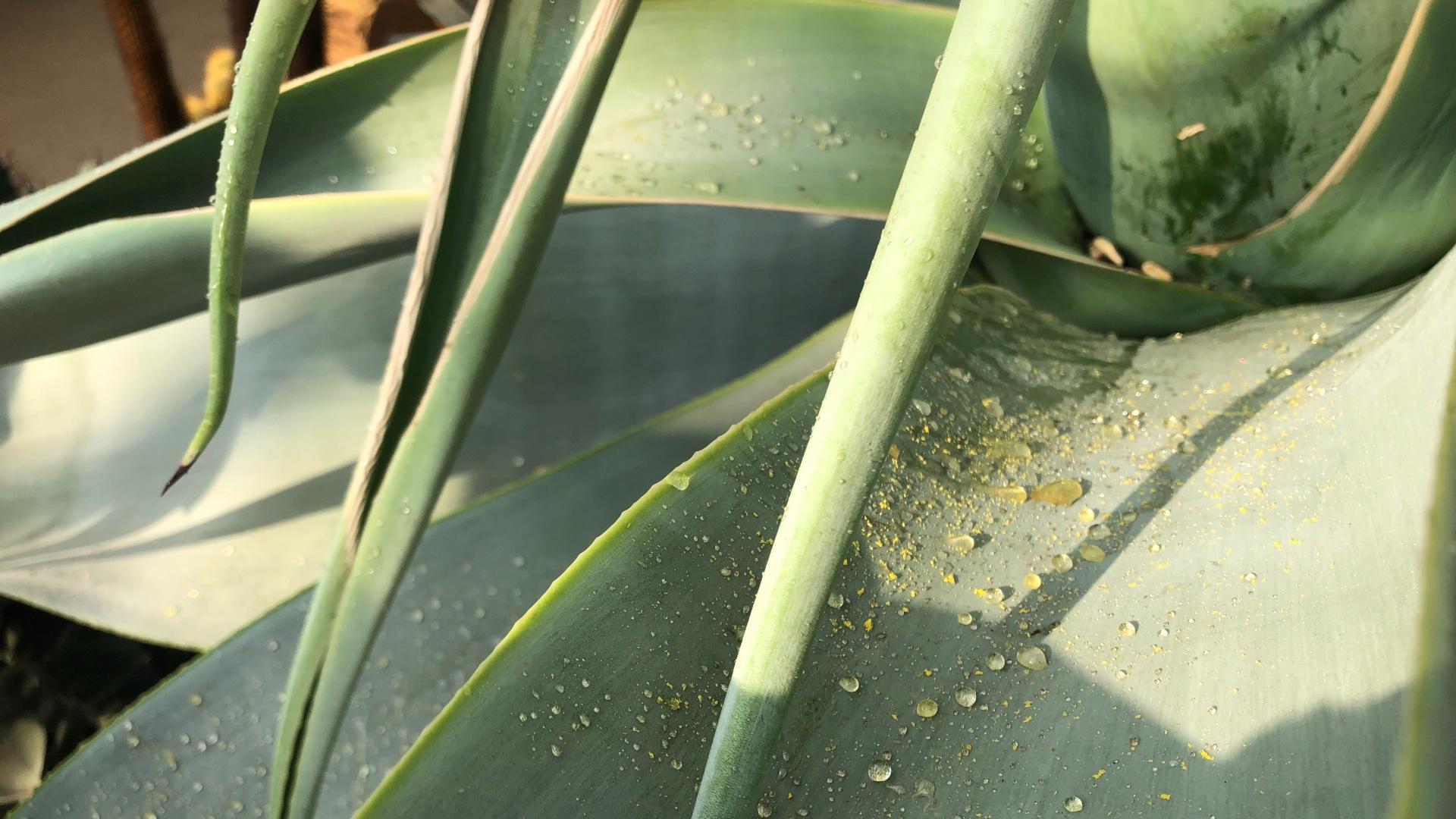 What looks like drops of dew is actually nectar. Jorgensen encourages visitors to dip their fingertips into the sticky syrup and have a taste. "It's kind of musky," is how he describes it. We thought there were vague hints of something familiar, like broccoli, until we realized the obvious — asparagus. 
---
Bloomin' lovely
The agave takes its one shot at flowering and turns it into a production. Guien's buds started blooming a few weeks ago, beginning at the bottom of the stalk and gradually opening up higher and higher. Jorgensen thinks she's at her mid-way point — half flowers, half buds.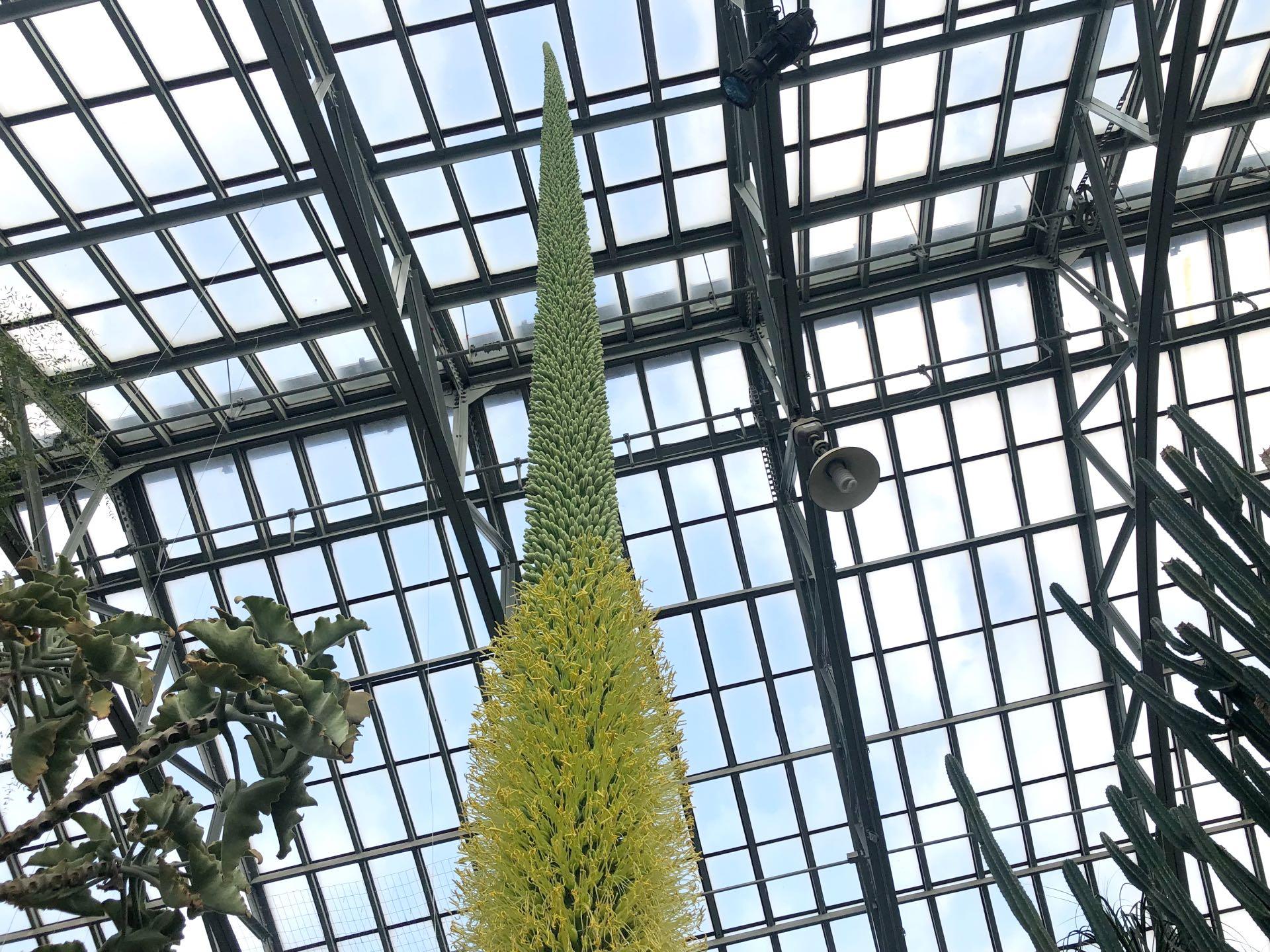 The yellow flowers give Guien the look of a partially denuded bottle brush. Though delicate, the blossoms are also quite dense, providing cover for a runaway garden gnome.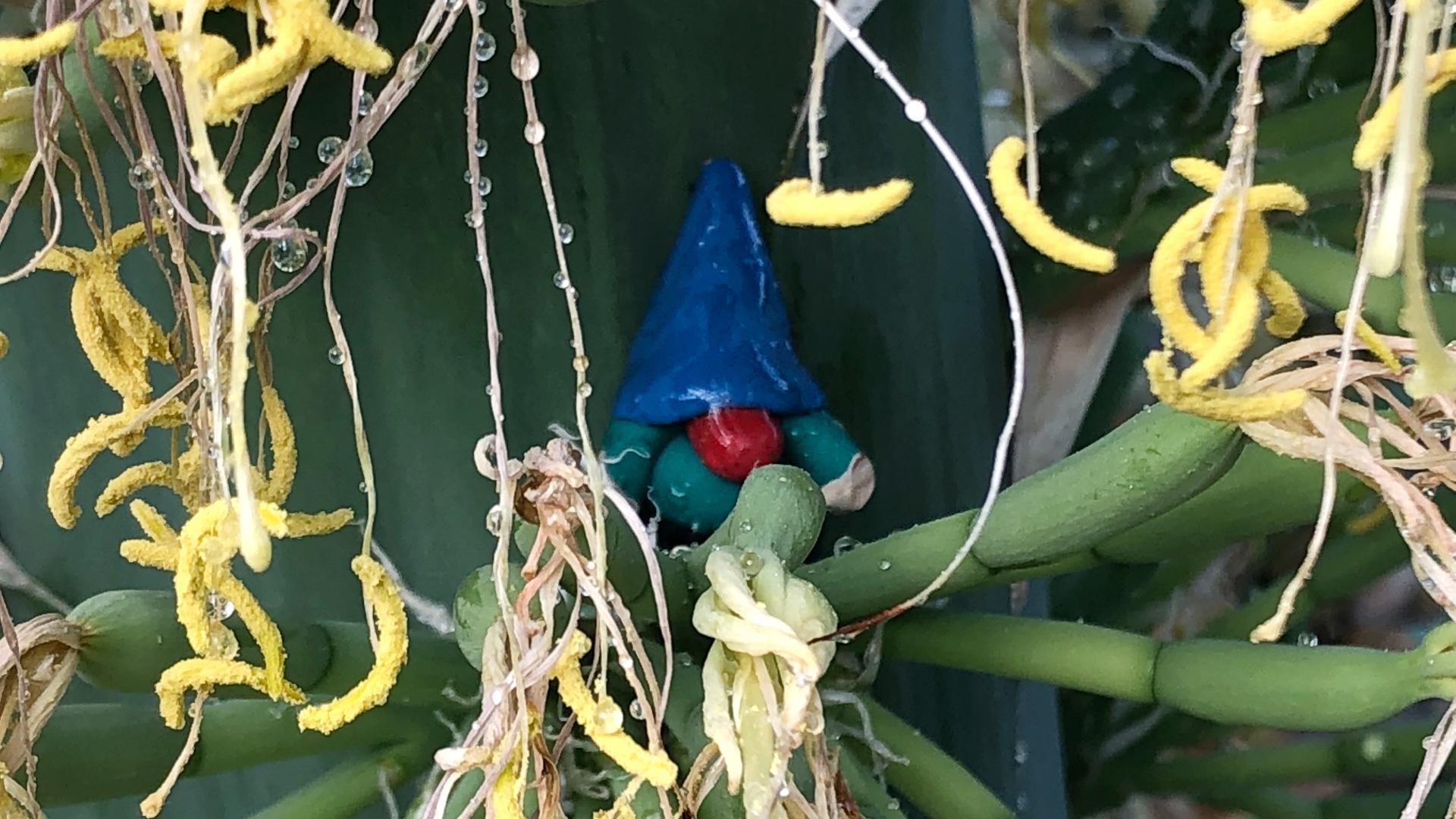 As beautiful as the flowers are to look at, they serve a practical purpose — reproduction. But an agave's natural pollinators — mainly bats and moths — are absent from the conservatory.
So Jorgensen and his fellow caretakers have added pollination to their to-do list, giving nature an assist in the form of an artist's brush, which they use to gently set pollen free to do its thing.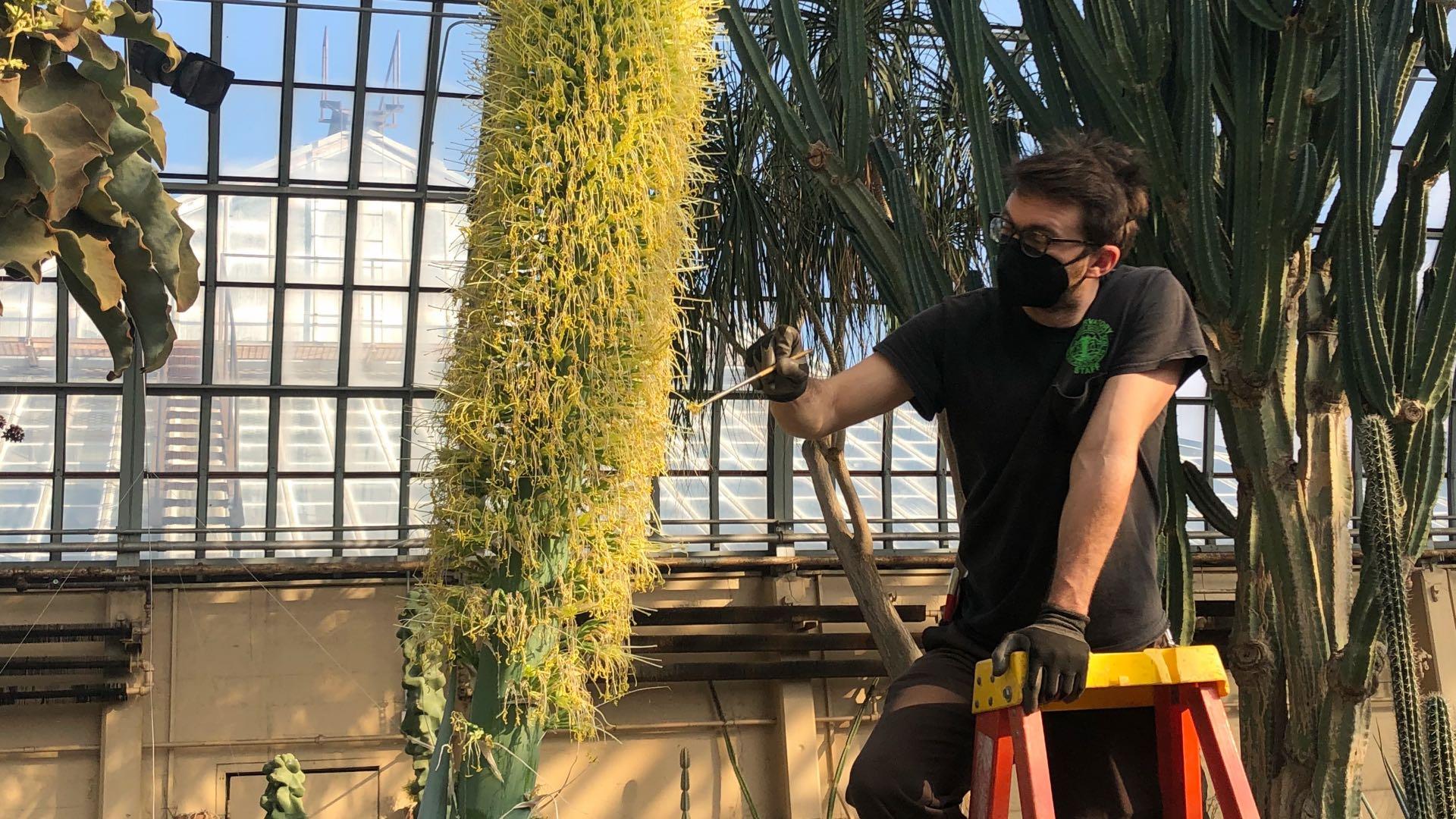 Some of the pollen will hopefully find its way into the appropriate receptacle — if Guien produces seeds, mission accomplished — but plenty also winds up on the agave's leaves and even the top of Jorgensen's hat.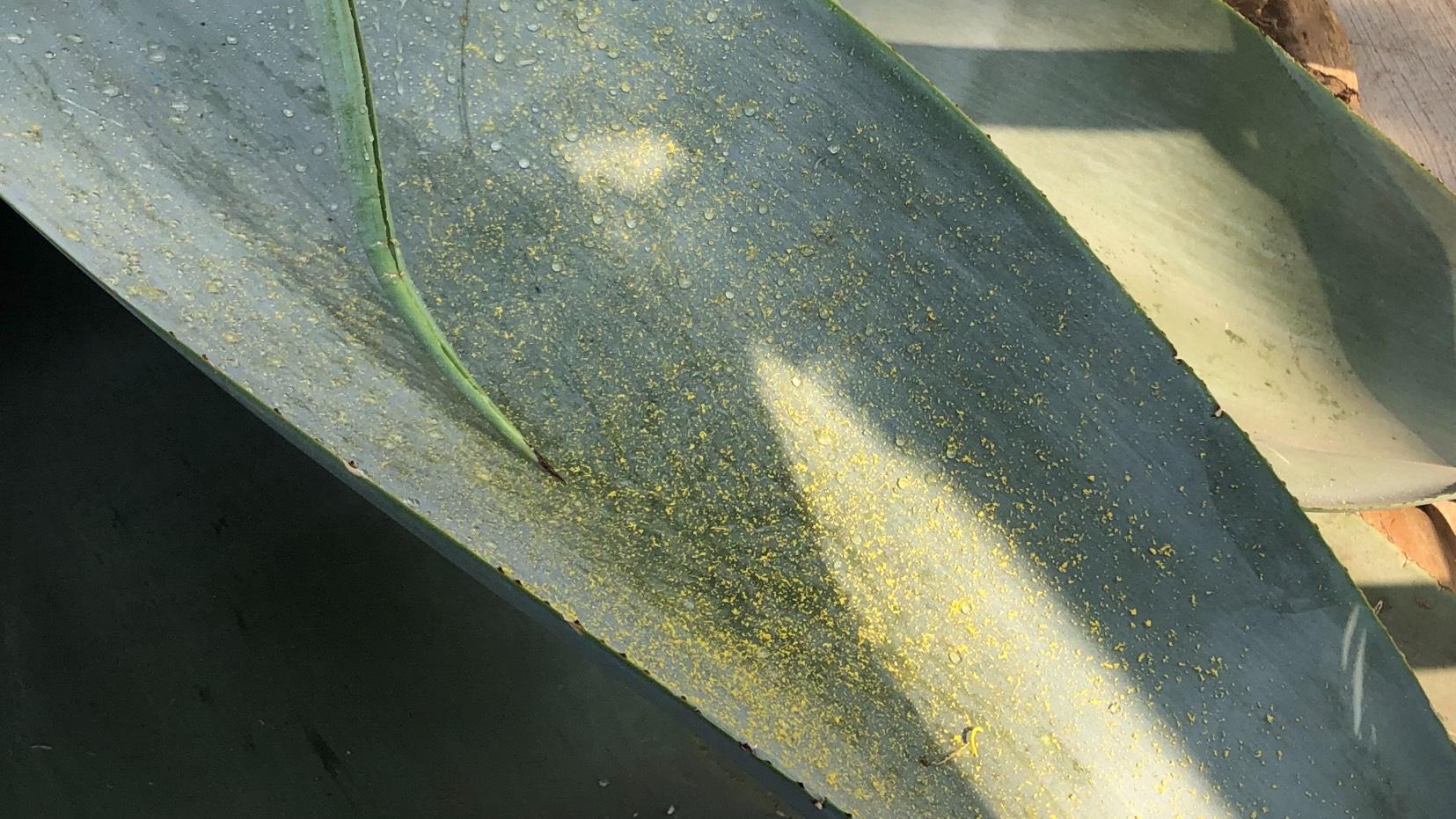 ---
Tip-top shape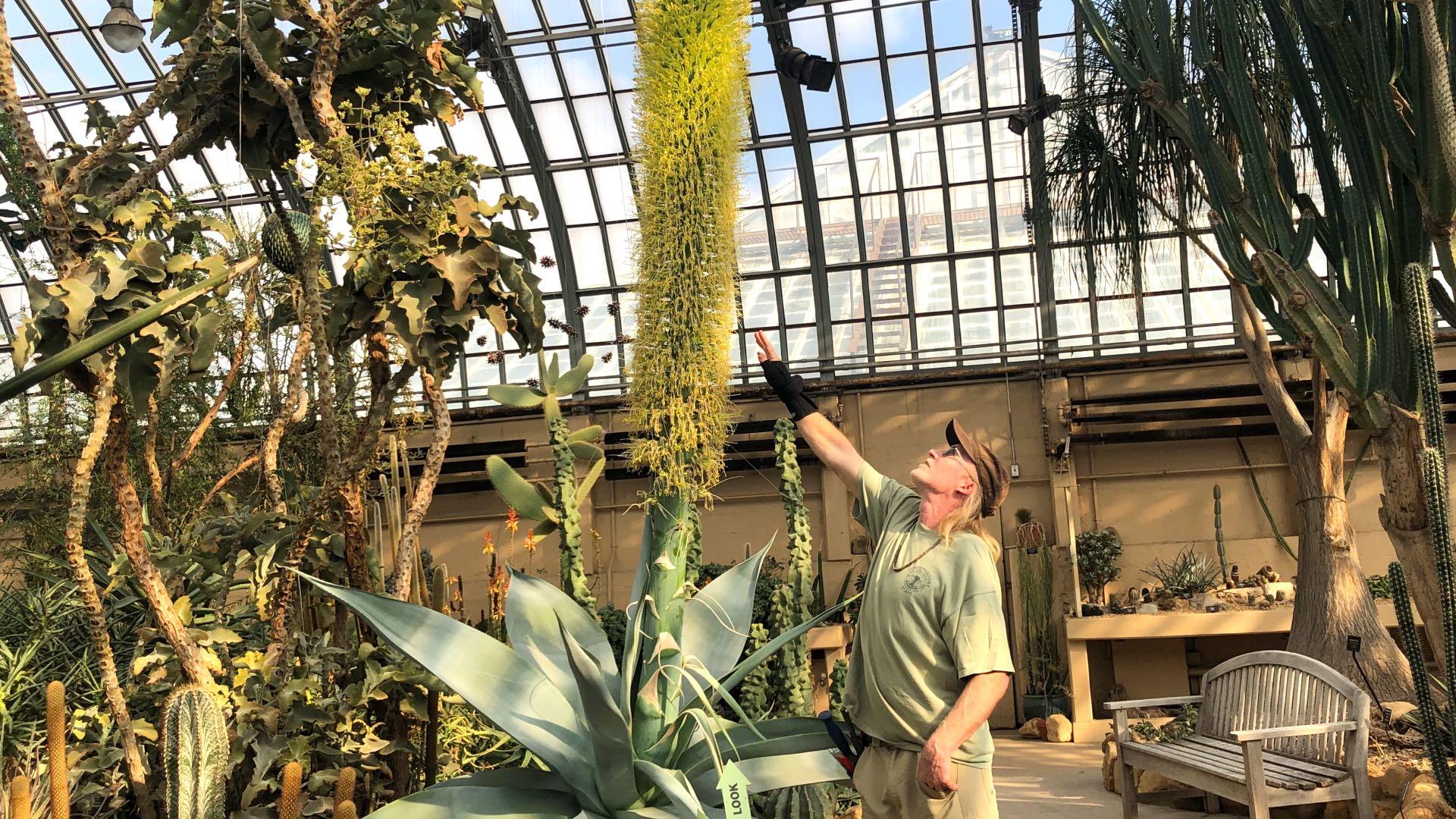 Guien has been a big draw at the conservatory, and Jorgensen is leaning into her celebrity. "I love it when plants make a splash and get people interested in nature," he said.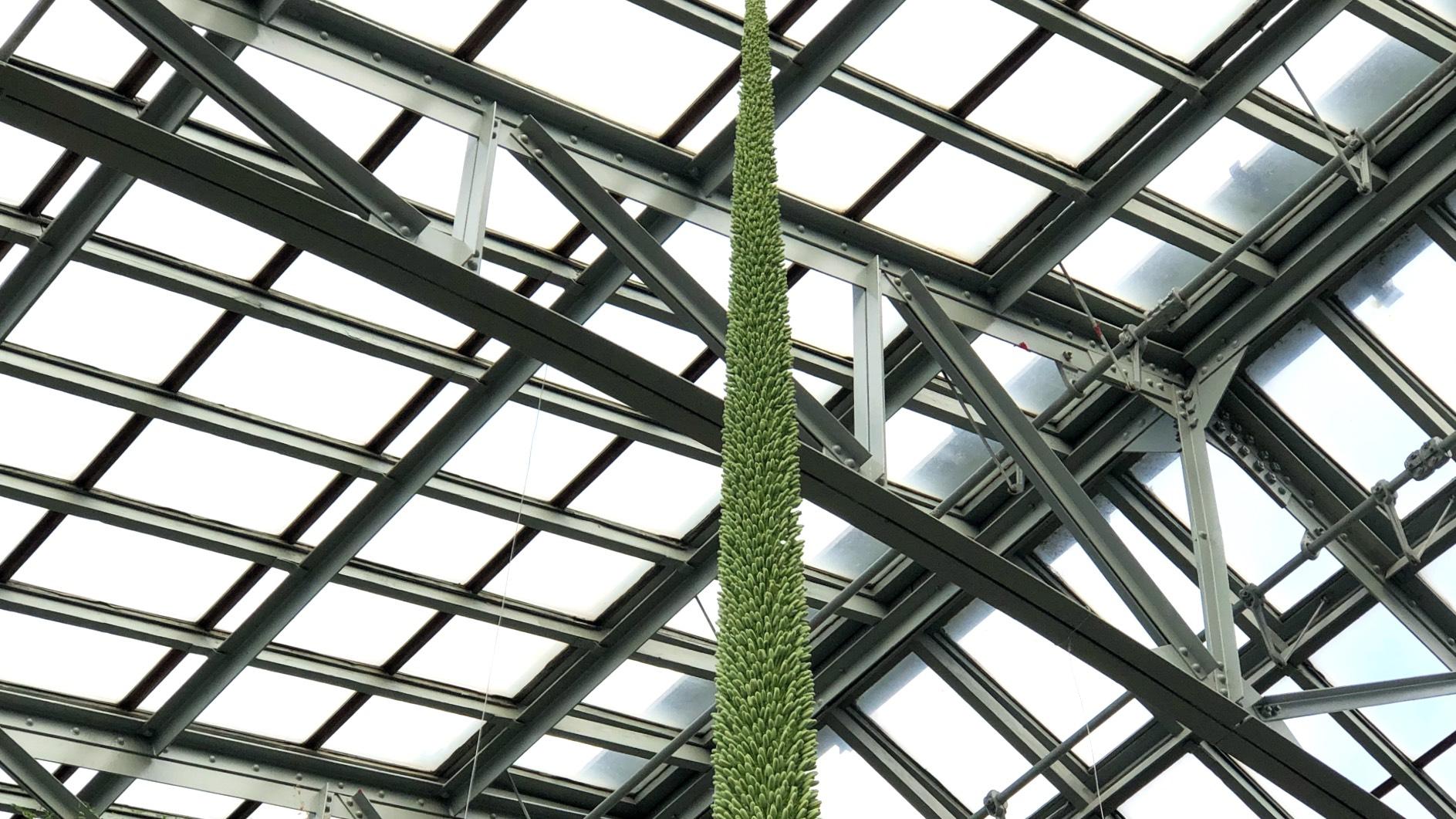 At the moment, he's enjoying Guien's constant surprises, whether its marveling at her height or taking delight in the tiny puddle of nectar pooling beneath one her leaves. The tight buds at the quiote's tip top seem to suggest she'll get a bit taller yet, but Jorgensen knows the end is coming. What's left of Maya stands just a few feet away, like a monument. Like a reminder.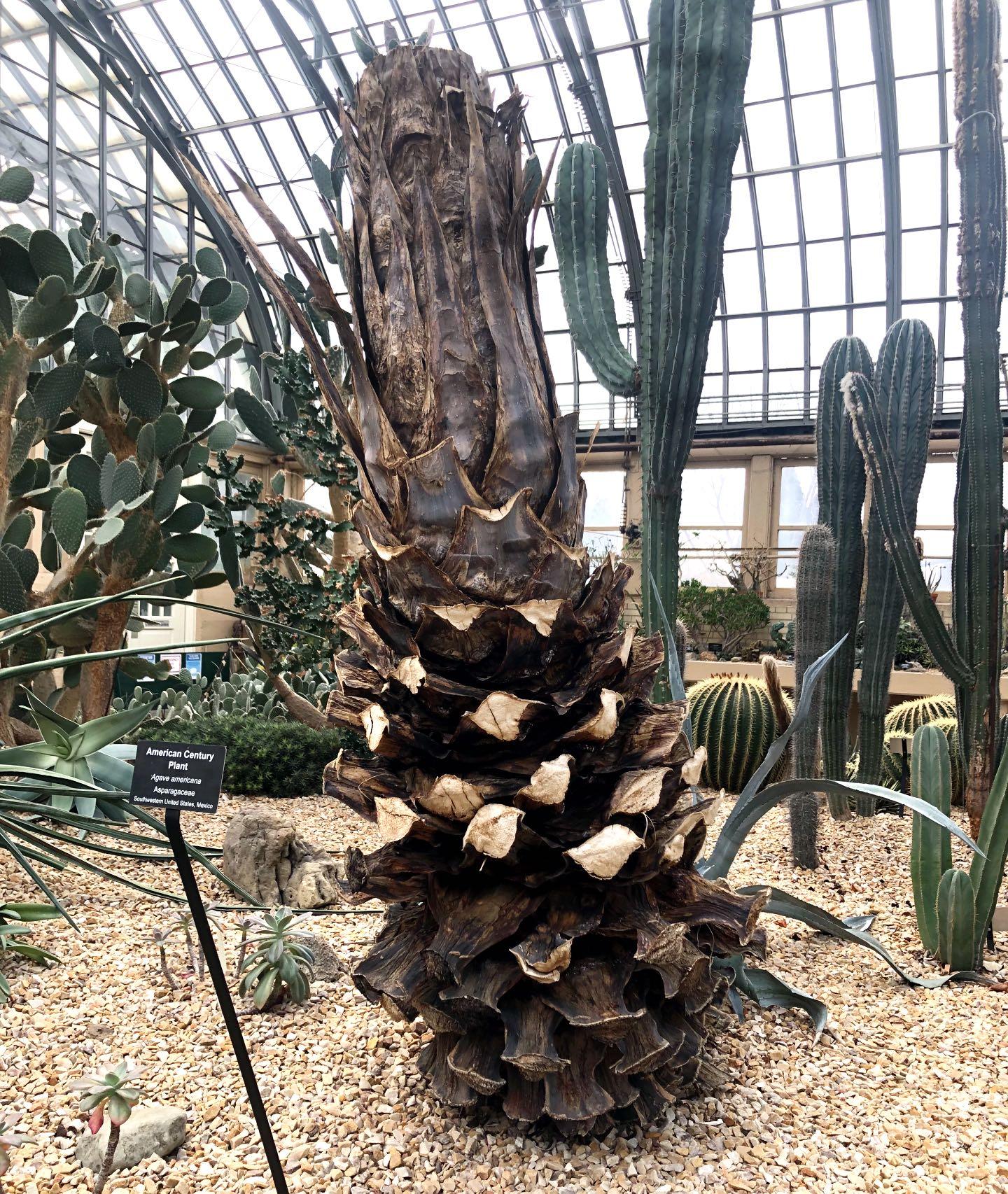 ---
Garfield Park Conservatory, 300 N. Central Park Ave., is open Wednesday through Sunday. Admission is free, but advance registration is required. Its gardens include the Desert House, Palm House and Fern Room, the last of which was designed to take visitors back in time to prehistoric Chicago. The conservatory's Show House mounts seasonal flower shows, including the upcoming spring show, opening Feb. 26, which will feature plant-themed, knock knock jokes.
Contact Patty Wetli: @pattywetli | (773) 509-5623 |  [email protected]
---