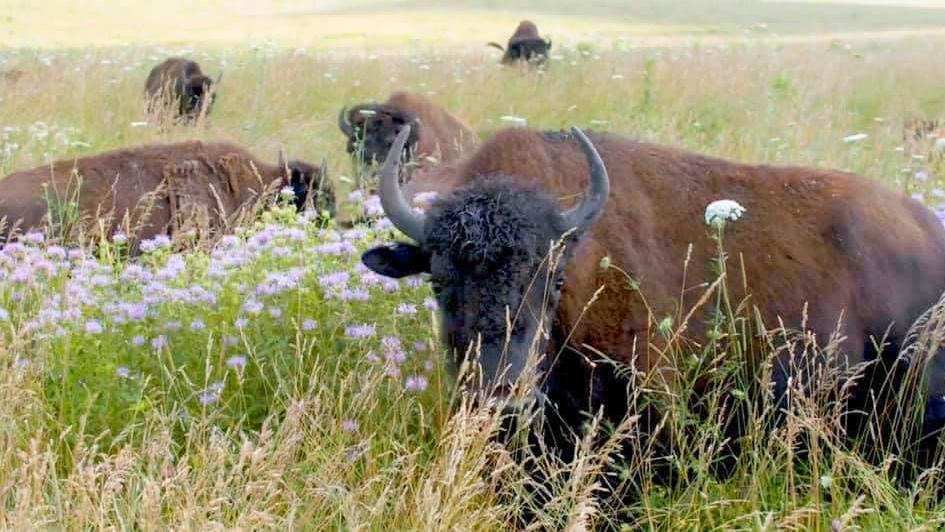 Bison at Midewin National Tallgrass Prairie. (USDA Forest Service)
Bison once roamed Illinois' tallgrass prairies in some of the largest herds east of the Mississippi, but they're so rare in these parts today, a single escapee from a Lake County farm is creating a social media stir.
Nicknamed Tyson, the bison has been on the lam since September when she gave her handlers the slip while being unloaded at a farm near Route 176 and Darrell Road in Wauconda Township, according to reports.
She's been sighted several times around Cary and generally wanders along the border of Lake and McHenry counties, but thus far has eluded capture. There is plenty of food and water for her to survive on in the wild, officials said.
Her owners are waiting for snowfall to be able to better track her, according to the Lake County Sheriff's Office, which is warning people to steer clear if they do encounter Tyson.
"You won't be able to wrangle her with 'handcalfs,' and she can be a bit 'imbullsive' so if you see her, please don't approach her," the sheriff's office cautioned in a pun-filled Facebook post shared this week.
Male bison can weigh up to 2,000 pounds and females can tip the scales at 900 pounds. Bison can also jump as high as six feet and reach sprint speeds of 35-40 miles per hour.
Neighbors are rooting for Tyson to remain on the loose, responding to the sheriff's post: "Run Tyson run. Be free!"
Contact Patty Wetli: @pattywetli | (773) 509-5623 |  [email protected]
---