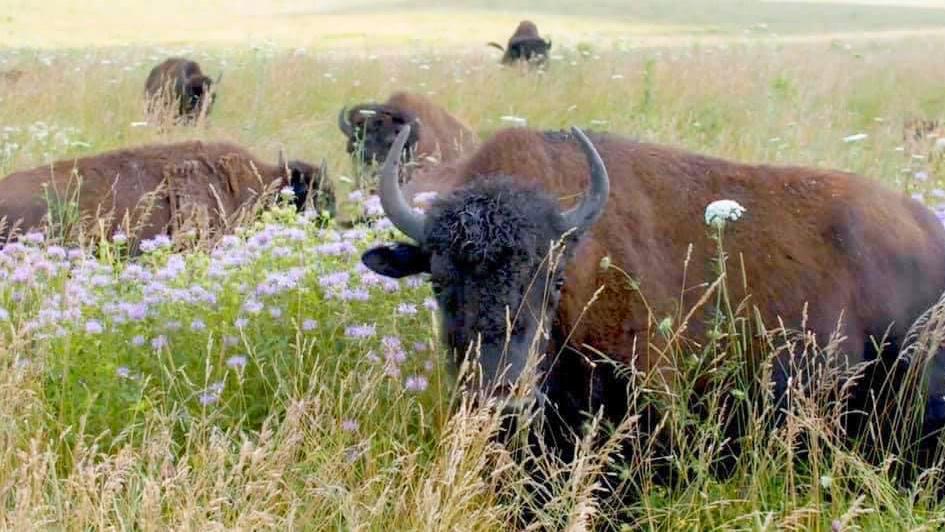 Bison at Midewin National Tallgrass Prairie. (USDA Forest Service)
The revival of the bison is one of the great conservation success stories.
This mammoth, shaggy beast, brought back from the brink of extinction, was named America's National Mammal in 2016 and is especially celebrated in July, which is designated National Bison Month.
Most often associated with the Great Plains, the bison was also once very much at home in the Midwest. Within the past decade, herds have been reintroduced at preserves in Illinois and Indiana, as part of efforts to restore native prairie habitats — this uniquely American animal being a key component of prairie ecosystems.  
Here's where you can catch sight of bison, without roaming too far from home:
Midewin National Tallgrass Prairie, southeast of Chicago and outside of Joliet, is the largest tallgrass prairie restoration east of the Mississippi. Bison were introduced in 2015 as part of a 20-year conservation experiment. The herd roams 1,000 acres.  
Midewin's trails are open daily from 4 a.m. to 10 p.m. The Iron Bridge Trailhead is a good starting point for bison viewing, approximately five miles north of Wilmington, east of Highway 53. 
To learn more about Midewin, tune into a four-part web series that streams at 10 am. on July 11, July 25, Aug. 8 and Aug. 28. Click here to log into the webinars, no registration or fee required.
Nachusa Grasslands, 100 miles west of Chicago, is open daily from dawn to dusk. The preserve welcomed 30 bison in 2014 and the herd has now grown to more than 100. Staff typically lead public tours of the fenced-off bison areas every summer, but those events have been canceled for 2020 due to the coronavirus. Visitors can still attempt to catch a glimpse of the bison from the roadside, just be sure to bring binoculars. 
Kankakee Sands in Northwest Indiana is the latest preserve to add bison to its prairie restoration project, introducing a herd in 2016. A bison viewing area is open daily from 7 a.m. to dusk.
Don't attempt to break the rules by jumping fences to get up close and personal with bison at any of these sites. Bison, especially bulls, can be aggressive and weigh up to 2,000 pounds. Bison can also jump as high as six feet and run as fast as 35-40 miles per hour. Don't mess with them.
IS IT BISON OR BUFFALO?
Per Nachusa Grasslands' FAQ, bison is the correct term. The actual genus and species name for the bison that's indigenous to North America is Bison bison.
American Buffalo is also acceptable, but "buffalo" all by itself is not. 
Early settlers can be blamed for the mix-up, referring to bison as "buffalo," mistaking them for Water Buffalo or Cape Buffalo, native to Africa and Asia.
---
Note: An earlier version of this story mischaracterized the location of Nachusa Grasslands. It is 100 miles west of Chicago. 
Contact Patty Wetli: @pattywetli | (773) 509-5623 |  [email protected]
---