Video: Hedy Weiss and Gary Griffin, director, discuss Stephen Sondheim. (Produced by Marc Vitali)
---
Since the death of music theater master Stephen Sondheim on Friday, at the age of 91, the question most frequently asked is: "What was your favorite musical?"
I cannot give you an answer. With close to 20 musicals to his credit, and with stories that span a remarkable range, I can only make the most radically abbreviated list of unforgettable memories, starting from the moment I first saw the film version of "West Side Story" and was wholly captivated by Rita Moreno dancing up a storm as she sang "America."
Growing up in New York, and then, after moving to Chicago, frequently returning to that city to catch Broadway productions, my Sondheim memories span many decades. I will never forget the original Broadway production of "A Little Night Music," starring Glynis Johns and Len Cariou, or "Sweeney Todd," with Cariou in the title role and Angela Lansbury as Mrs. Lovett, or "Sunday in the Park With George," starring Mandy Patinkin and Bernadette Peters.
But over the years, Chicago's theater companies – both large and small – have made Sondheim one of their own, with director Gary Griffin and the Chicago Shakespeare Theater often leading the way. Why, you might ask, has a Shakespeare theater been so devoted to Sondheim? Well, consider this: Sondheim's first two blockbuster hits: "West Side Story" (1957) and "Gypsy" (1959) are musicals for which he wrote only the lyrics. He became both composer and lyricist for all the shows that followed, beginning with "A Funny Thing Happened on the Way to the Forum" in 1962 – the rollicking comedy starring Zero Mostel. And while his music was invariably as profound as his lyrics, his command of language, his razor-sharp wit, and his intention to never let the music change the true rhythm of the words, could easily open him up to a comparison to Shakespeare.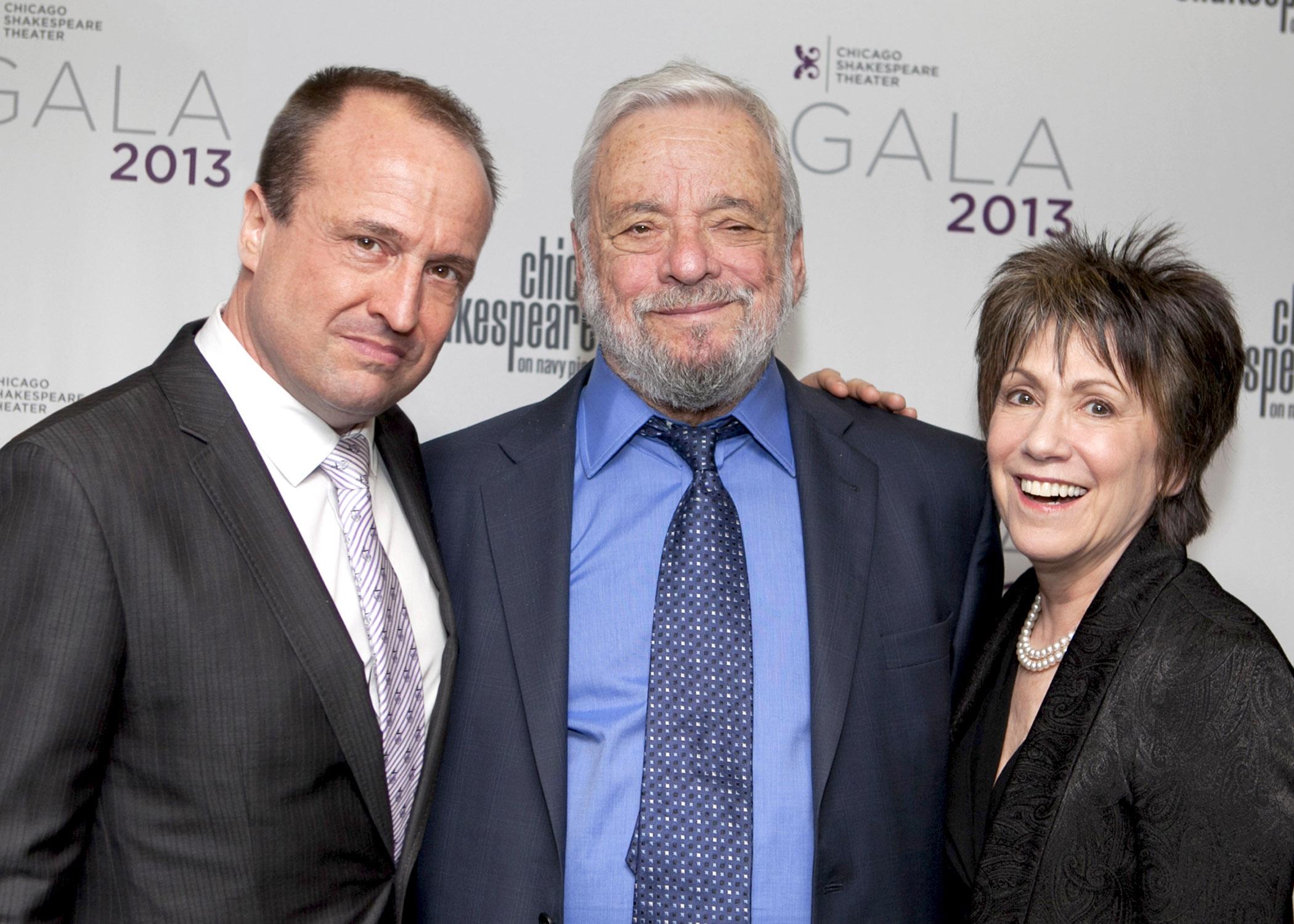 Gary Griffin (left), Stephen Sondheim and Chicago Shakespeare Theater Founder Barbara Gaines pose for a picture. (Courtesy of Michael Litchfield)
So, here is the briefest of rundowns of unforgettable Chicago productions and performances of Sondheim musicals:
–"Pacific Overtures," a rarely revived work about a Japanese man recalling the arrival and "westernization" of his country by America's Commodore Matthew C. Perry during his boyhood. Griffin directed, and his 2001 production later transferred to London. I cannot get the song "Someone in a Tree" out of my head.
–"Follies," also at Chicago Shakespeare, was a grand spectacle, with a priceless cameo turn by Mike Nussbaum as a Ziegfeld-like Broadway impresario.
–"Passion" the story of a strange, obsessive love affair between Fosca, a very ill woman (superbly played by Danni Smith), and a sensitive young soldier received an exceptionally powerful staging in the intimate confines of the Theo Ubique Cabaret Theater.
–"Sunday in the Park With George," another Chicago Shakespeare Theater production directed by Griffin, had a remarkable power for many reasons, particularly because it brought to life the Seurat masterpiece that hangs so close by in the Art Institute of Chicago.
–"Sweeney Todd," the brilliantly imagined Victorian horror story that has been staged here both on a grand scale (at the Paramount Theatre in Aurora, directed by Jim Corti and starring Paul-Jordan Jansen and Bri Sudia), and on the most intimate scale (by Theo Ubique) worked its magic both ways.
–"A Funny Thing Happened on the Way to the Forum," a Porchlight Music Theater production directed by Michael Weber, starred Bill Larkin and Matt Crowle as the most comical Roman slaves imaginable.
–"Gypsy," a 2018 Porchlight production, starred E. Faye Butler, and she knocked it out of the park as Mama Rose, the relentless stage door mother who wanted more than anything to be a star herself.
Follow Hedy Weiss on Twitter: @HedyWeissCritic
---