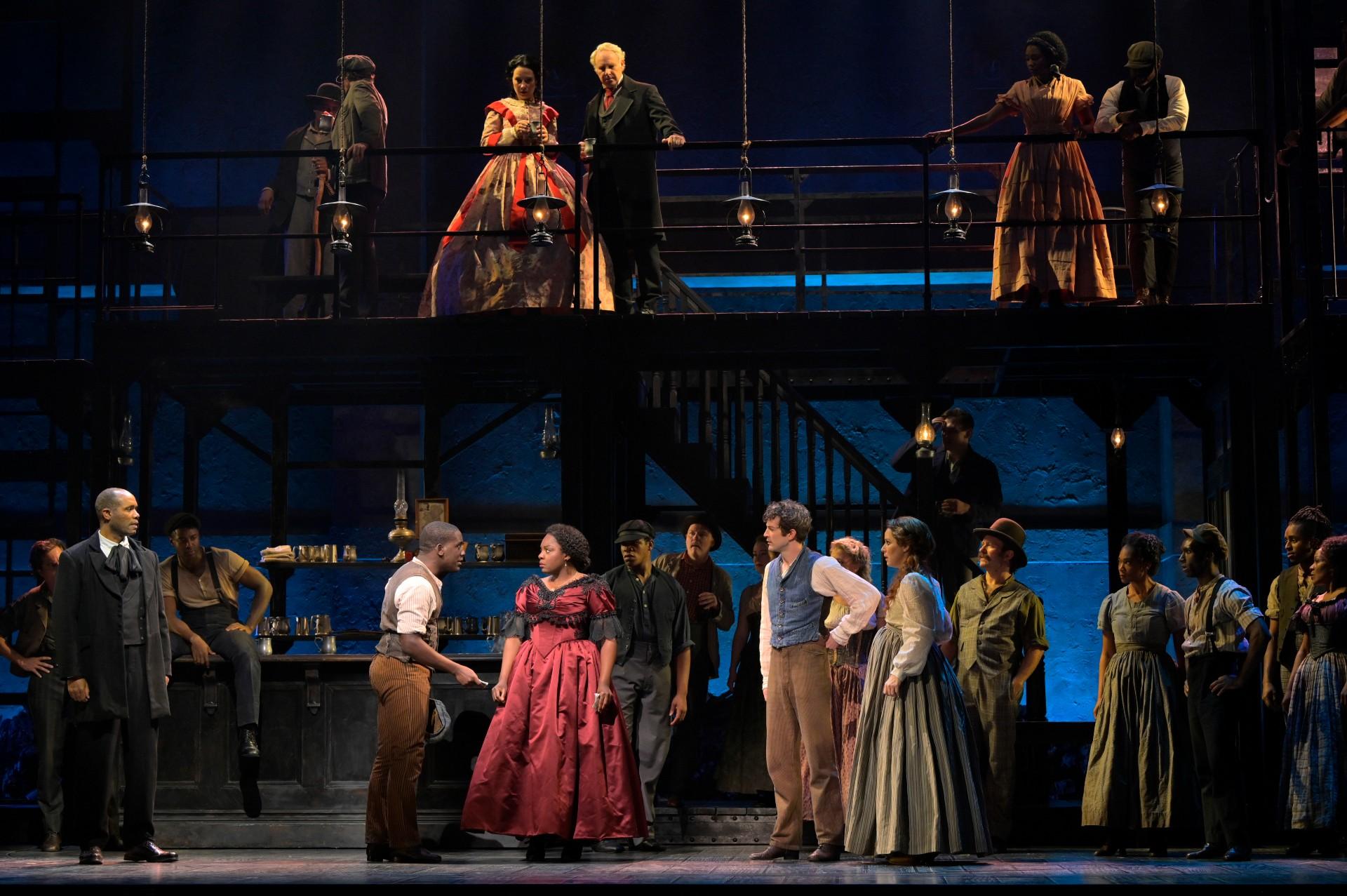 Bottom: Nathaniel Stampley, Sidney DuPont, Joaquina Kalukango, A.J. Shively, Chilina Kennedy; Top center: Erica Spyres and John Dossett and Ensemble in "Paradise Square." ( © Kevin Berne)
The time is the summer of 1863, midway through the Civil War. The place is the Five Points neighborhood on Manhattan's Lower East Side, a slum-ridden neighborhood where impoverished Irish immigrants who fled the famine back home intermingle with freeborn Blacks, as well as slaves who have managed to escape from Southern plantations but are still being pursued. But amid that poverty and disenfranchisement there is a saloon, owned and operated by Nelly O'Brien, an indomitable Black woman married to a white man who is off fighting in the Union army.
Nelly's saloon – something of an anomaly in many ways – is called Paradise Square. And it welcomes both the Irish and Blacks of the neighborhood, both of whom can dance up a storm, and in a few cases intermarry. But if there is a joyful spirit of competition and mutual support at work in the bar, it is, not surprisingly, short-lived. For while Black men are forbidden to serve in the Union Army, poor working-class white men are suddenly subjected to a draft. And issues triggered by the bitter competition for jobs is exploited by manipulative white political bosses who serve the wealthy "uptown" crowd and intensify the highly destructive racial tension that will upend one brief moment of coexistence.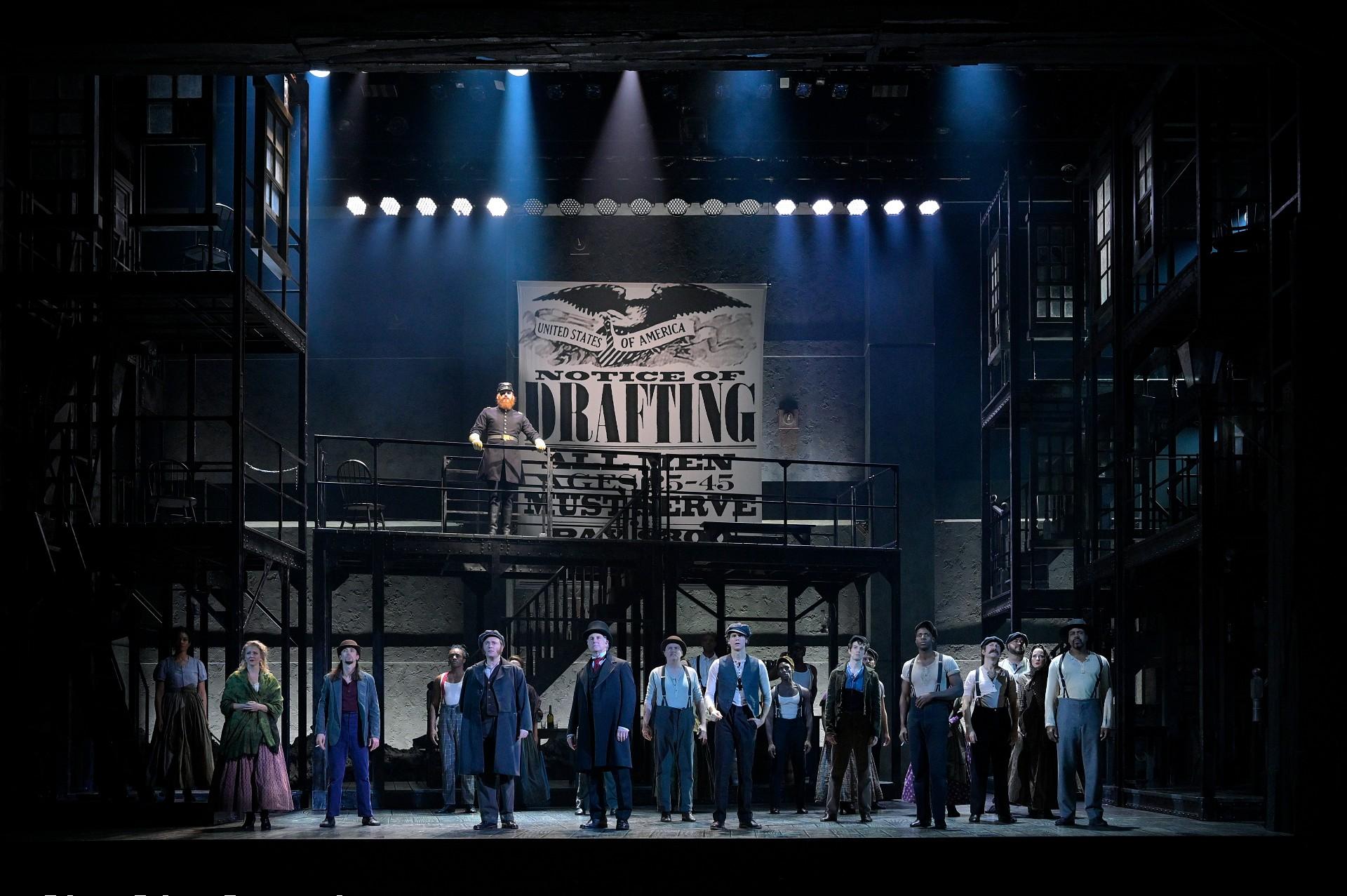 Kevin Dennis, John Dossett (5th and 6th from left), A.J. Shively (6th from right) and Ensemble in "Paradise Square" (© Kevin Berne)
And there you have the essential elements of "Paradise Square," the grand-scale musical brought to life by a cast of megawatt talents. Conceived (and long in development) by Larry Kirwan, the show, which has now arrived at the Nederlander Theatre for a pre-Broadway Chicago tryout, in many ways feels like a prequel to "Ragtime," another musical epic about race, class, and the fractured nature of the American dream. (And while it is the creation of an entirely different artistic team, it comes by way of the same producer, Garth Drabinsky). 
Directed by Moises Kaufman (with musical staging by Alex Sanchez), it is fueled by a fervent (and at moments semi-operatic) score, with music by Jason Howland and fiery lyrics by Nathan Tysen and Masi Asare. Its book, by Christina Anderson, Marcus Gardley, Craig Lucas and Kirwan, could use some tightening.
What really blows this show out of the park is its knockout dancing, and the brilliant choreography by Bill T. Jones that in many ways is more potent than any spoken dialogue as it sets the phenomenal rhythms and moves of both Irish step dancing and African juba into a brilliant competition that reveals the genius of both "languages."
Sidney DuPont as Washington Henry, A.J. Shively as Owen Duignan and Ensemble in "Paradise Square" (© Kevin Berne)
While the dance speaks volumes at every turn in this show, the driving historical events that fuel its crucial drama (and that might not be widely known at all), take too long to emerge. In brief: Blacks were not permitted to serve in the Union Army until late in July of 1862 when President Lincoln issued the Emancipation Proclamation (which he had feared would alienate those in the "border states" and drive them to secede). Meanwhile, as the working-class white men who managed to return from the front sought jobs they resented the fact that many of those jobs were being given to Black men. And New York politicians, hungry for the votes of Irish (and other) immigrants, stirred up that resentment which was further fueled by the Draft Act of 1863 that allowed wealthier whites to buy their way out of military service. The fallout came in the form of massive riots that claimed many lives and caused immense destruction during what became known as the New York Draft Riots. (The show's penultimate song, "Let It Burn" – though far from a constructive healing solution to this country's enduring problems – nevertheless received a boisterous standing ovation at Wednesday's opening night performance.)
But now to the characters in this story, and the galvanic performances that bring them to extraordinarily vivid life.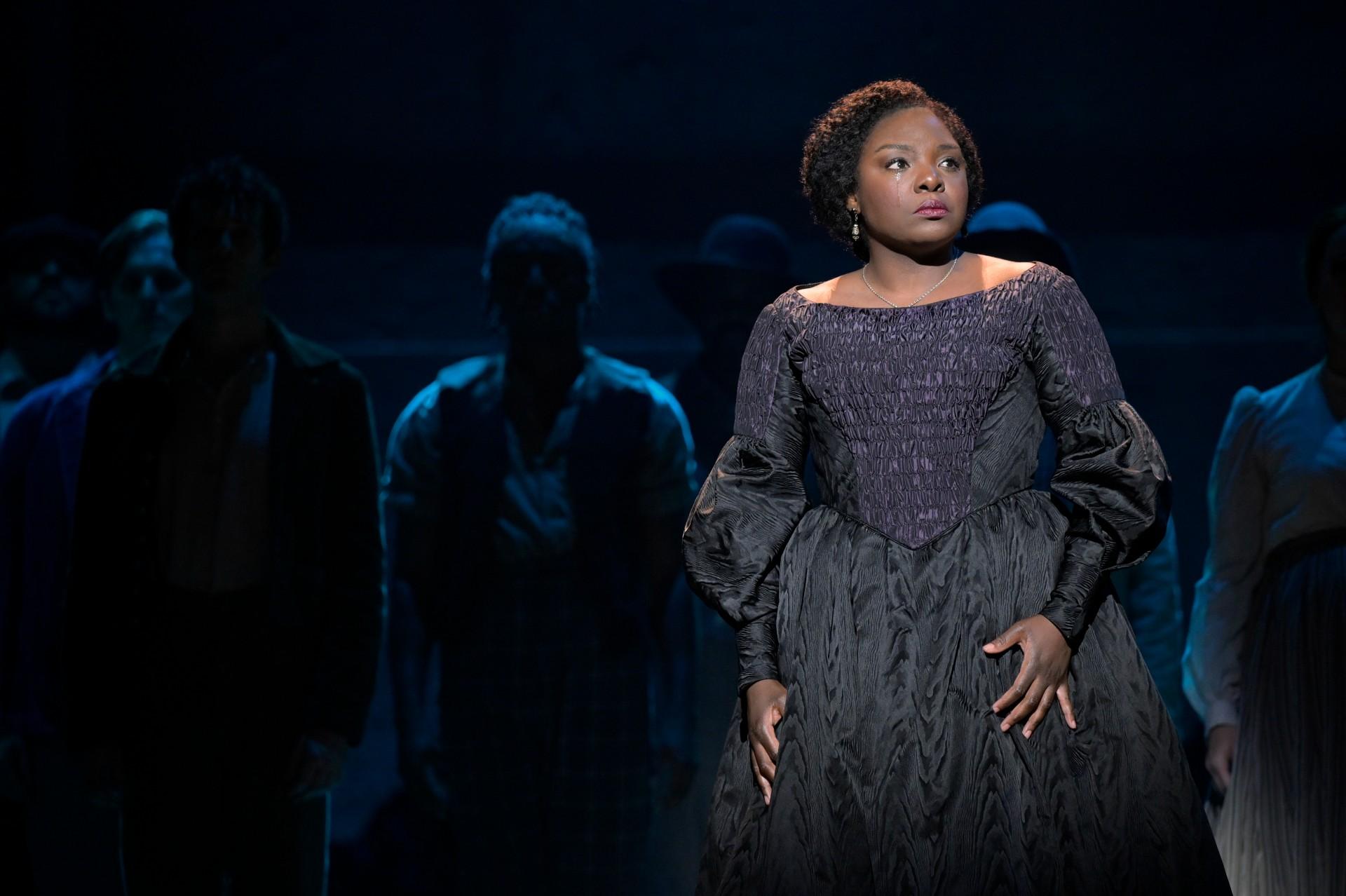 Joaquina Kalukango as Nelly O'Brien in "Paradise Square." (© Kevin Berne)
With a powerhouse voice and a personality to match, Joaquina Kalukango plays Nelly O'Brien, a woman who can give as good as she gets. On the one hand, she can provide shelter to the desperate, and on the other, she can fearlessly face off against the corrupt powers that be. Kalukango is a force to reckon with on every count.
And then there are the two pivotal young men in the story who dance up a fabulous competitive storm, and also are exceptional actors and singers. A.J. Shively plays Owen Duignan, the newly arrived Irish immigrant (and gives a transcendent performance of the heart-wrenching song "Why Should I Die in Springtime?"). Sidney DuPont plays Washington Henry, the runaway slave from Tennessee who brings a sense of deepest despair to "Angelina Baker," the song about his profound fear that his beloved wife (played by Gabrielle McClinton) might never make it to New York. His dancing is phenomenal.
Nathaniel Stampley (an actor who has often worked in Chicago) brings his remarkable, understated aura of quiet authority, dignity and decency to the role of the Rev. Samuel Jacob Lewis, a Black man married to Nelly's white business partner, Annie Lewis, and who also works as a foreman and must make some very difficult hiring decisions. Annie (played by the witty, golden-voiced Chilina Kennedy) is winningly captured in the couple's ironically titled song, "Gentle Annie."  (Nelly and Annie memorably bond with the beautiful song "Someone to Love.")
The show's "real-life" character is Steven Foster (Jacob Fishel), the fabled American composer of minstrel songs who, in a down-on-his-luck period, assumes the name Milton Moore and convinces Nelly to hire him as her house pianist.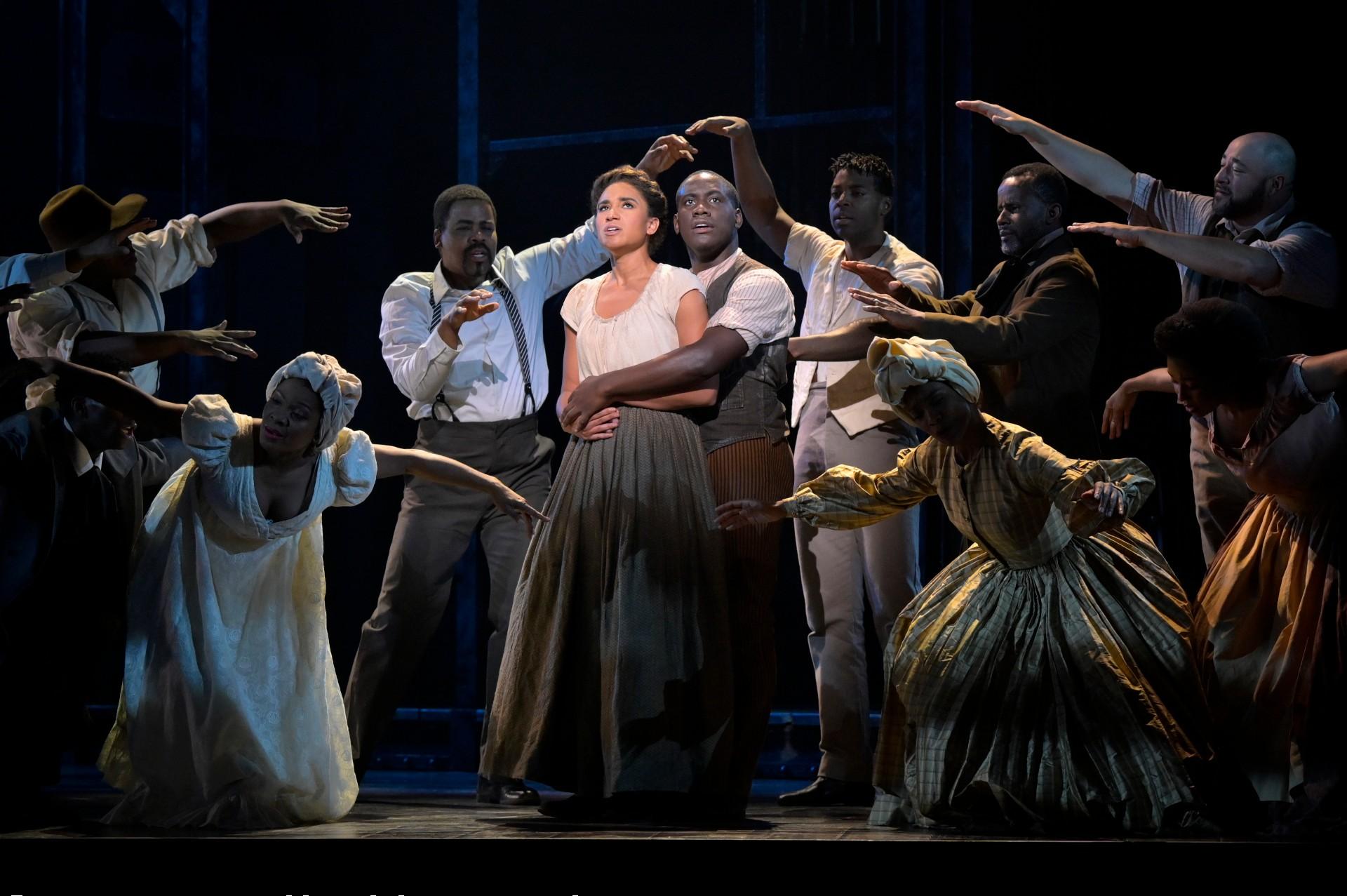 Gabrielle McClinton, center, as Angelina Baker, Sidney DuPont as Washington Henry and Ensemble in "Paradise Square." (© Kevin Berne)
John Dossett brings just the right chilly, anti-abolitionist arrogance to the role of Frederic Tiggens, the New York political boss who stirs up the deadly racial chaos that brings an end to the short-lived racial Eden suggested by the Paradise Square saloon. And there are strong turns by Kevin Dennis and Matt Bogart – both Union Army victims.
Allen Moyer's steely set and bar interior, with lighting by Donald Holder and costumes by Toni-Leslie James, set the mood.
But again, it is in many ways the dancing that most brilliantly and eloquently captures the connection and disconnection in this story.
By the end of "Paradise Square," you might find yourself wondering if there will be a couple of musicals that provide epilogues to "Paradise Square" and "Ragtime." In a strange way "Hair" might fill the space for the 1960s, but a story set in and around 2020 and 2021 is still to be created.
"Paradise Square" runs through Dec. 5 at the Nederlander Theatre, 24 W. Randolph St.. For tickets, visit broadwayinchicago.com. The show is slated to open on Broadway on March 20, with previews beginning Feb. 22.
Note: Coming up next by way of Broadway in Chicago is a slew of shows, including "Frozen"; "Pretty Woman: The Musical"; "The Play That Goes Wrong"; "Oklahoma!"; "Hairspray"; "Come From Away"; "The Simon & Garfunkel Story"; "Moulin Rouge! The Musical"; "Hadestown"; "Six"; "The Prom"; "Jersey Boys"; "To Kill a Mockingbird"; "Fiddler on the Roof"; "Ain't Too Proud - The Life and Times of The Temptations"; "My Fair Lady"; "Jesus Christ Superstar"; and "The Devil Wears Prada."
Follow Hedy Weiss on Twitter: @HedyWeissCritic
---